When you want to know about something, ask an expert.
We caught up with  Tony P's Dockside Grill co-owner Tony Palermo, to ask him a few questions about the Marina.   If you're looking for a source of information about Marina del Rey, you can't do much better than  Tony Palermo.
ABOUT MARINA DEL REY:  Marina del Rey is a little gem just south of Venice, California.  It is a short bike/walk/skate from Venice.   Marina del Rey's the Marina  houses a wide variety of estaurants, hotels, bars, boats and a beach.  In addition to great entertainment options, one can find fishing and whale watching tours, parasailing, stand up paddle boarding and more.
ABOUT TONY PALERMO:
Family man
Co-owner of Tony P's Dockside Grill in Marina del Rey.  This year, Tony P's is celebrating their 19th year of operation and has become the place to be!
Tony P's Dockside Grill  wins an unprecedented seven Best of the Westside  in 2015
Tony P's Dockside Grill recently earned its eighth consecutive California Gold Award from the Southern California Restaurant Writers Association
Tony P's Dockside Grill was awarded the 2012 Business of the Year Award from Senator Ted W. Lieu
Tony served as Chairman of the Board of the LAX Coastal Area Chamber of Commerce for the 2012 / 2013 year
Founding member of the Santa Monica College Trade and Tourism Advisory Committee, the Playa Sunrise Rotary Club and the Marina del Rey Sheriff's Station Support Unit
Boys and Girls Club of Venice's 2006 Community Leader of the Year
Click here for more of Tony's story.  The list goes on!
Q & A's with TONY PALERMO
.
1. Two things we should know about you?
I am a great dancer and love throwing parties!
2. What is your perfect day in the Marina?
Early in the morning when the water is like glass and scary quiet, you can look east to the hustle and bustle of L.A. and be glad that you are here!
3. If a visitor  had only one day to experience the Marina, what would you suggest as Marina essentials?
Hit the bike path in the morning from Tony P's to the Santa Monica Pier and back, it is about 8 miles. Then, go to lunch at Tony P's, rent a small boat from Marina del Rey Boat rentals and tour around the marina. It is a whole different Marina from boat level.   Hit happy hour back at Tony P's  and then go out on the late boat from Marina del Rey sports fishing and watch the sunset and the lights go up over Los Angeles!  It's something very special.
4. What are some interesting or unusual destinations in Marina that even locals might not be aware of?  Hidden Marina treasures?
At Chase Park, if you walk out to the Helmsmen Statue at the end of the park, there is a great cross wind. You can throw a kite in the air and takes off!! I used to take my kids there and put up 4 or 5 kites and have big fun! When they were little they would go with other people to different parks and couldn't figure out why it was so hard to fly a kite!  LOL
5. What are a few of your favorite Marina things?
The proximity to L.A. and the airport, but it's like a totally different country. I like kayaking around and letting the day float by!
6. Where are your Marina happy places?
Of course, Tony P's Dockside Grill and doing anything on the water or cruising the Bike Path.
7. Favorite annual Marina event?
The "Cruise N Brews" event.  40 different Brewery's on the 550 passenger cruise ship The Entertainer.  An afternoon of great beer and friends cruising around the Marina!  2016 date tbd.  Visit www.LAXChamber.net.   Click here for photos from our last "Cruise N' Brews" event.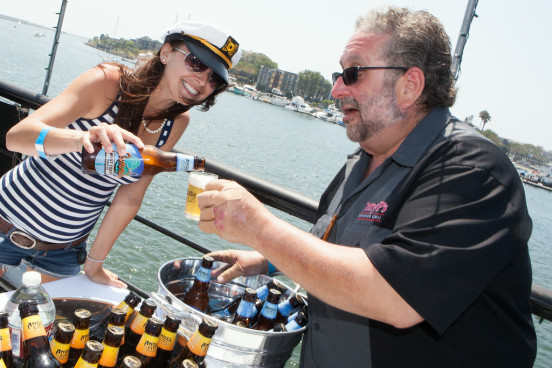 8. Anything else about Marina that you would like to say?
It's great to be a part of L.A.'s Marina, Marina del Rey!  Make sure you say hi when you are at Tony P's Dockside Grill.  See you soon!
ABOUT TONY P'S DOCKSIDE GRILL:  
ABOUT TONY P'S TAVERN:    Voted the Westside's No. 1 tavern and loaded with eight 65″ LED Large Screen High-Definition TVs, they offer a fabulous array of more than 100 beers from all over the world and feature more than 16 California breweries. They also have a rotating selection of brews each month with more than 12 different choices. They offer more than 50 wines by the glass from some of the finest wineries in California as well as variety of original and traditional mixed drinks. Try one of their original martinis,(hand-shaken at your table) or relax with one of their after-dinner coffee drinks and an incredible dessert.
TONY P'S DOCKSIDE GRILL EVENTS:
.
Happy hour Mon. -Thurs. 3-6 p.m. & every Friday Night Happy Hour goes from 3 pm until 7 pm. $6 Appetizers, to many drinks specials to list!!   Check the Tavern section on www.TonyPs.com
Toast to the weekend with $5 Fireball shot every Friday
Every Sat. & Sun., 9 am. -11:30 a.m. Weekend Brunch with Bottomless Mimosas.  All breakfast come with freshly made biscuits.  Don't forget to try their award-winning Bloody Marys or buttermilk pancakes.
Join Tony P's Dockside Rewards Members.  Receive 25% off your meal every Monday Night after 6 PM. (On our patio or dining room only)
Tony P's Annual Christmas Beer Dinner date TBD
.
4445 Admiralty Way, Marina del Rey, California, CA – 90292.   |  310-823.4554   |  www.TonyPs.com 
.