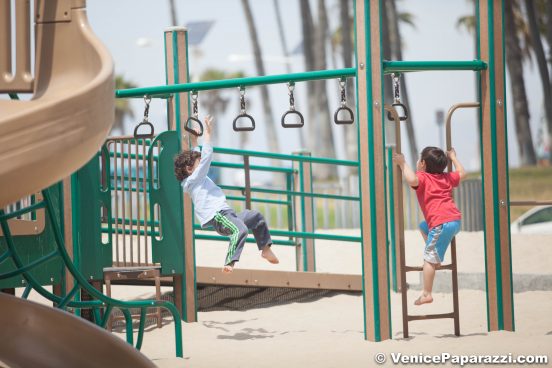 Venice Kids Activities Checklist! 
.
Hang out at Venice beach!  Splash around or body surf the waves for family fun!  Shell and rock hunting on the beach is always fun.
Enjoy a Venice Boardwalk performance!
Have a family fun day at Venice Beach Recreation and Parks – Outdoor Muscle Beach Gym, also known as the sand pit has rings, balance bars, climbing ropes and balance beams.  Good times for the kids.
Let the kids run free at the outdoor playstation by the beach!  Venice Recreation and Parks has two play stations with swings and slides, skate park, sand pit, basketball and more!  Park one:  Right beside the Venice Recreation and Parks office.   Park two:  On the beach at Rose Ave and the Venice Beach Boardwalk (Oceanfront Walk)
Bring the family to ShoWorks Entertainment's children's musical "the Fabulous Fables of Aesop," at Edgemar Center! A Musical for all ages every Saturday and Sunday through July 31.
–

Ride or skate the bike path.  The bike path that runs along the sand in Venice is 17 miles long and extends from Palos Verdes through Pacific Palisades, with a brief in-land detour. Its smooth concrete surface is great for bicycles, roller skates and skateboards alike.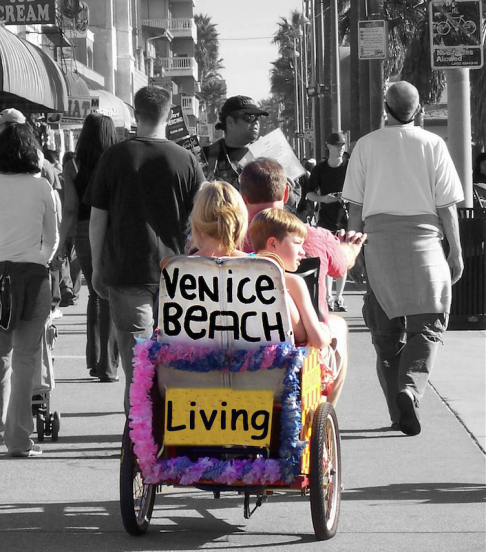 RENT A BIKE, SEGWAY, SKATEBOARD, IO HAWK, BLADES OR ROLLER SKATES! 
Jay's Rentals Venice Beach:  Jay's has bikes, tandems, blades and skates for cruising the path.  Rent hourly or by the day.  And, when you are done they can teach you to surf!   1501 Ocean Front Walk  Venice, CA  (310) 392-7306
Maui and Sons:  Rent a skateboard, take a lesson and drop into the big bowl at the Venice Skate Park!  Maui and Sons is the only place in the V that gives full on skate lessons.  They will equip you and show you how it done!  Or, you can rent a board and skate the bike path. Either way it will be rad!  And, they also do full package surf lessons!  1415 Oceanfront Walk Venice, CA (310) 392- 6284
Rent a Segway or an IO Hawk at Venice Segway Rental!  Cruise the town in style and get around quickly.  Enjoy the sights on some of the new transport machines around.  The Segway and the IoHawk (the original hover board developed by Tony Hawk) are  super fun and a must try activity.  1501 Oceanfront Walk, (424) 216-0822 or (310) 399-0700.
.
Dance and drum at the Music in the Garden Concert Series!  Ecole Claire Fontaine​ hosts Music in the Garden every first Saturday of the month. Event features local musician or band followed by a drum circle. Kids and families welcome!  Bring your drum and join the circle!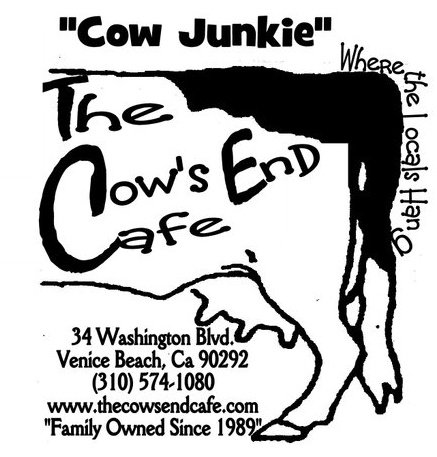 Kid's Sing Along at the Cow's End Cafe (by the Venice Pier).   Free Children's Music Class Mon. & Thurs. from 10:30am~11:15am. A different kids music artist leads a fun sing-along great for ages 0-3.  Admission is free, but tips are encouraged.  Please no outside coffee or food, unless it's for your child.
Have the kids sprint down the Venice Pier for breath taking views!
Toddler story time every Wednesday and Thursdays at the Venice Library (for ages 0-36 months).   Join us for stories, music, laughs and more (for ages 0-36 months) every WEDNESDAYS at 11:30am & THURSDAYS at 3:30pm.
Have another beach day at Mother's Beach!  Swimming (no surf), Children's playground, Picnic Tables, Windsurfing, Kayaking, Free boat launch for hand-carried boats, Restaurants, Hotels, Restrooms, Showers
Spend the day at the Santa Monica Pier!   The Santa Monica Pier contains Pacific Park, a family amusement park with a large Ferris wheel. It also has a carousel from the 1920s, the Santa Monica Pier Aquarium, shops, entertainers, a video arcade, a trapeze school, a pub, and restaurants. The end of the pier is a popular location for anglers.
Discover and explore at the Santa Monica Pier Aquarium:  The Santa Monica Pier Aquarium is Heal the Bay's public marine-education center The family-friendly  interactive facility is home to more than 100 species of marine animals and plants – all found in the Santa Monica Bay.
Click here for more family friendly activities!