–
"Known the world over as the best place to people watch in Los Angeles!"
–
Located on the Venice Boardwalk at Venice Beach, the Sidewalk Cafe is an ideal location to eat, drink and people watch. Serving a variety of American, Mexican and Italian cuisine, in addition to signature drinks from the full bar, Sidewalk Cafe is open for breakfast, lunch and dinner. Happy hour specials and live acoustic music in the evenings make the Sidewalk Cafe the perfect place for hanging out at the beach.
–
Monday – Sunday: 8:00 a.m – 11:00 p.m.
Large outdoor patio.
Beachside setting with view of boardwalk entertainment
Serene mornings & beautiful ocean sunsets in the evenings
Weekday happy hour from 3 – 7 PM
Taco Tuesdays.  $5 Tacos 8 p.m.-10 p.m.
Saturday & Sunday champagne brunch
Full service bar
–
A Venice Boardwalk landmark for 39 years, The Sidewalk Cafe offers fresh, high-quality, well-prepared food with generous portions. And all of our soups and sauces are homemade. The outdoor covered patio provides a beautiful view of the beach and ocean while street performers and an eclectic crowd continuously entertain.
–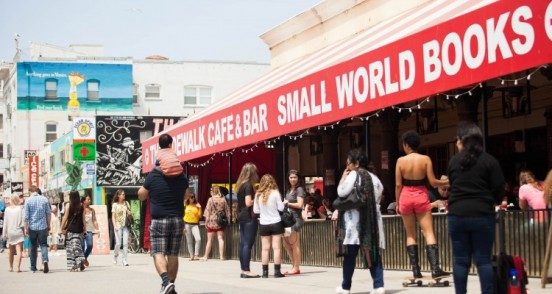 – 
Also under the red and white awning you can find 
Small World Books,
a wonderful independent bookstore. It is a great place to find out more about Venice. Small World Books offers a wide collection of literary fiction and poetry, and is frequently used as a resource for entertainment industry researchers.
The Sidewalk Cafe features a full service bar!
-Enjoy mixed drinks on the patio.
-Come inside to play pool
– Watch the game –
Play arcade games
-Sports bar with many satellite sports packages
– Ten TV's including three big screens
Relax and enjoy the sunset during happy hour, weekdays from 3:00 PM to 7:00 PM
Enjoy $5 Taco Tuesday every Tuesday at the Sidewalk Cafe.  All you can eat 8p.m.-10p.m. Bar Only
Venice History:
–
In 1905, after winning the Venice land on a coin flip with his partners, Abbot Kinney built Venice-of-America to be a personal monument to Venice, Italy. He built a fantasy city with real canals, a wood boardwalk and piers with rides and water slides. It was a huge hit! Celebrities like William Randolph Hearst and Marion Davies strolled the Venice Boardwalk. Sarah Bernhardt performed in the Venice Auditorium; Charlie Chaplin clowned in Abbot Kinney's auto races, and Mary Pickford was rowed in her own gondola. Venice was the place to be!
The building that now houses the Sidewalk Café was one of the last of Abbot Kinney's Venice buildings and was originally designed to be four stories tall, but only the first floor was constructed was built.
The building sold to the Harrah family (of gambling fame) and was turned into a bingo parlor (later called bridgo because bingo was illegal). During prohibition, Abbot Kinney's underground utility tunnels were modified to accommodate bootleggers who delivered liquor at night under the pier. In the 1950s and early '60s the building housed artists' studios and served as the crash pad for beatnik writers and poets such as Jack Kerouac. The building stood vacant for many years until 1976 when Mary Goodfader's bookstore, Small World Books, lost its lease in Marina Del Rey. Bob Goodfader, while bicycling on the bike path, saw the building and called the phone number graffitied on its front. The Goodfaders and their friends, Walter (Skip) and Penny Dixon bought the building as a new location for the bookstore.
Bob and Skip decided to open a small takeout place on the side, not in use by the bookstore. The eatery was such a hit that they expanded it into a patio restaurant. Venice experienced a rebirth with roller skating and skateboarding in the 70s.
The Boardwalk's unique entertainers, skateboarding's Z-boys, Muscle Beach's bodybuilders and Venice's basketball players attracted worldwide attention. The Sidewalk Café offered great food and a front row seat to the circus. Small World Books is one of the last surviving independent bookstores in Los Angeles and is still run by Mary. See what treasures that their staff can help you discover.
Bob passed away in 2002, but the Sidewalk Café is still being run by the people he trained including his son Jay, his protégé Steve, his general manager Kristen and his head cook Luciano.
Visit http://www.thesidewalkcafe.com for more info!
.