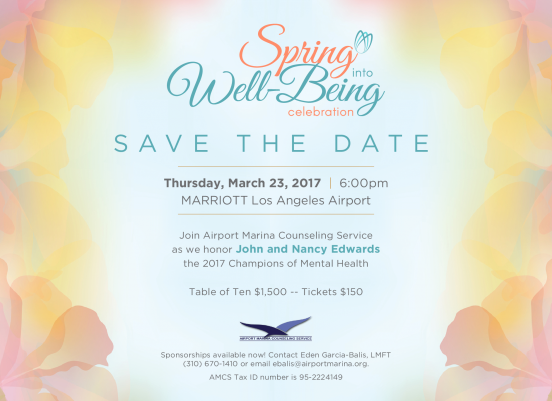 Venice Paparazzi will be rolling out the red carpet for Airport Marina Counseling Service's 2017 "Spring into Well-Being" Celebration!  Join Airport Marina Counseling Service as they honor John and Nancy Edwards at the 2017 Champion of Mental health!  Support Airport Marina Counseling Service, and get your tickets for this amazing event!
.
About Airport Marina Counseling Service: AMCS provides affordable, community-based mental health services for people of all ages, & to train pre-licensed therapists. Serving the Greater LAX, South Bay, West LA, & other areas of Los Angeles.  www.airportmarina.org
About the March 23 Spring into Well-Being Celebration: Our signature fundraiser, this annual event brings together our community and supporters to provide generous support for our services and to celebrate our mission of providing affordable, community-based mental health services to all in need, especially to those who are under-served or uninsured. At Airport Marina Counseling Service we provide an array of services to meet the needs of people of all ages. We have great success in helping our clients remain employed and functional community members. We are a top-tier training facility for emerging mental health therapists and have at least 50 interns in training at all times. No one at AMCS is ever turned away for economic reasons alone and our fees are determined on a sliding scale based on clients' ability to pay. We offer a caring and nurturing environment to the over 400 clients we see each week.
Location: Marriott Los Angeles Airport.   Time:  6:00 p.m.
.
.
For more info:  http://www.airportmarina.org/2016/12/2017-spring-celebration/