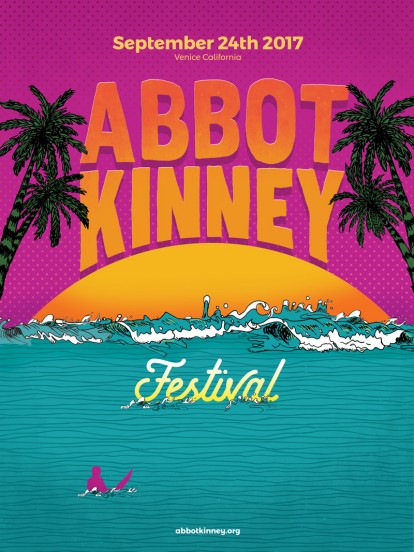 Save the date Sept. 24th for the Abbot Kinney Festival!
.
Once again Team Venice Paparazzi will be the official photographers of the Abbot Kinney Festival!  Woo hoo!
//
ABBOT KINNEY FESTIVAL CELEBRATES 33 YEARS OF GIVING BACK
Indie Music, 300 Artisans Vendors, Great Food & Drink, KidsQuad, 120,000 Attendees
.
The annual Abbot Kinney Festival returns for its 33rd year on
Sunday, September 24, 2017
, from 10am to 6pm, celebrating the best of world-famous Abbot Kinney Boulevard. "This year's festival is better than ever! The street packs in a mile of FREE fun! There really is something for everyone" says Kim Sharp, Abbot Kinney Festival Association (AKFA) Board Member. "We're proud to keep up this annual Venice tradition while reinvesting the proceeds into numerous local nonprofits and community organizations through our
Community Grants Program
."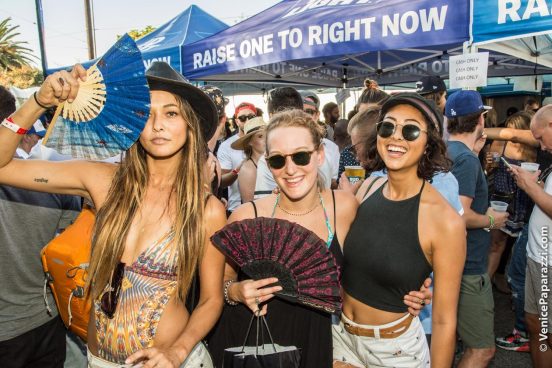 The festival includes food trucks, beer and spirit gardens, live music and handcrafted goods framed by the eclectic brick-and-mortar boutiques, renowned restaurants and art galleries that make Abbot Kinney a singularly unmatched destination. Music includes four stages; The Brig All Vinyl stage, Andalusia Local stage, Westminster Indie Artists and KidsQuad Family Stage. In addition to the KidsQuad Family stage, the outdoor expansive family area will have a surf machine, mega slides, ferris wheel, rock climbing, arts & crafts, awesome games and so much more!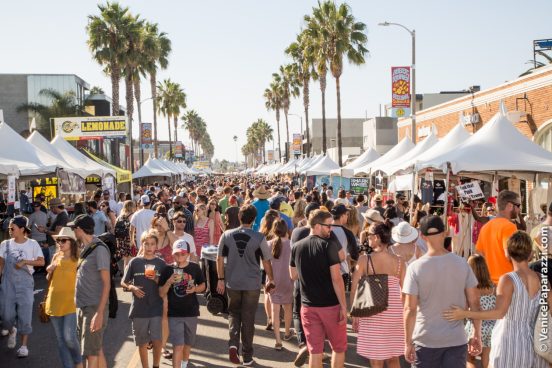 .
The festival is a fundraiser for the Abbot Kinney Festival Association, a 501(c)(3), grant making organization, that supports community-based organizations in Venice with an emphasis on youth, community, and the
arts. This year AKFA is funding 22 local organizations! Creating Better Communities, Friends of Broadway, Friends of Coeur d'Alene, Friends of Walgrove Elementary School, Friends of Westminster, Girls PACT, Hacker Fund, Harvest Home, Open Temple, Pacific Area Boosters Association, Pluribus, ReDiscover Center, Seeds to Plate at Mark Twain Middle School, The Children's Lifesaving Foundation, The Electric Lodge, Westminster Elementary School, Venice Art Crawl, Venice Arts, Venice High School STEMM Magnet, Venice Oceanarium, Venice Public Art, Venice Resistance,
.
Highlights this year include:
4 music stages

featuring; The Brig All Vinyl stage, Andalusia Venice Locals stage, Westminster Indie Artists, KidsQuad Family Stage.

Beloved Dogtown skater Jesse Martinez signs posters promoting the skateboarding documentary

Made in Venice!

3-D interactive Chalk Art Festival

300+ quality vendors, art, jewelry and handcrafted goods

3 beer gardens, featuring Golden Road, Bud Light and Firestone Walker

Dozens of top food trucks and booths; Roy Choi's Kogi & Locol, Aussie Pies, Bento Boxes, vegan offerings and an array of artisanal foods.

KidsQuad

of games, music, rides & activities

Great drawing to win a Linus Bike

Early Bird Beer & Spirit Garden

Fast Pass

, to skip lines and access a dedicated bartender

Artist David Kaul, ADS Studio commemorates the 33

rd

annual festival with exclusive artwork, available for sale as t-shirts, posters, and more at the official festival merchandise booth. Proceeds from festival merchandise support the AKFA Community Grants Program.
/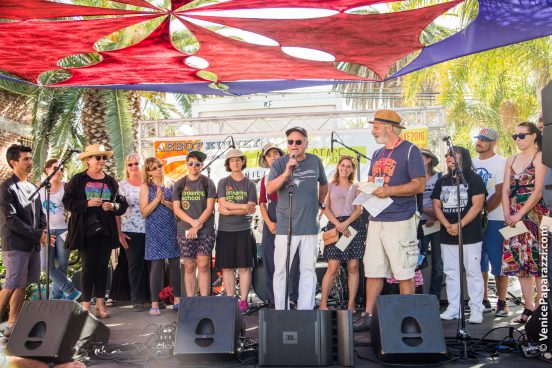 /
In addition to awarding community grants, AKFA has recognized exemplary residents and stakeholders nominated by the community for their contributions to the spirit, creativity and uniqueness of Venice. The first

Spirit of Venice Award

was presented in 1989 to descendants of Abbot Kinney, the founder of Venice, CA. Also that year, West Washington Boulevard was renamed to Abbot Kinney Boulevard in his honor.
Awardees this year include:

Marianne Brown,

Community Contributor.  

Master Gardener Seeds to Plate program at Mark Twain Middle School

Steve Weller (Posthumous)

Community Contributor.  

Director LAPD Homeless Task Force – Venice Pastor – Venice Foursquare Church

Regina Weller,

Community Contributor.  

 

LAPD Homeless Task Force

Elisa James,

Community Contributor.  

Board of Directors, Abbot Kinney Festival Association.  Co-Chair Abbot Kinney Merchants Association.   Community liaison with many homeless agencies
//
/
The
KidsQuad
has expanded to a NEW location! Check out the fun at Abbot Kinney and Brooks. Kicking off with a festive parade to usher in the festival at 9:45 am, the family fanfare continues all day, featuring:
A surf machine, rock climbing wall, slides, ferris wheel, and more.

Live entertainment on the KidsQuad Stage, from the School of Rock all-kid classic rockers to The Superbroke brass, tin and strings marching band!

Arts & crafts: glitter tattoos, tie-dye T-shirts, macrame and face painting.

Adventure & games: treasure hunts, ball tosses, plinko and of course a high striker!
/
WHEN:
Sunday, September 24, 2017 – 10:00 a.m. to 6:00 p.m.
WHERE:
Abbot Kinney Blvd., a mile-long stretch from Venice Blvd. to Main St. in Venice, CA
WHAT:
Southern California's largest free community festival, the annual Abbot Kinney Festival includes over 300 artisans & curated exhibitors, four music stages, two free bike valet stations, and multiple food courts. The event features a kid's area with amusement attractions, cultural performances, and art activities for all ages.
WHY:
Primarily run by volunteers, the Abbot Kinney Festival celebrates the vibrant creativity of Venice, California. Revenue generated from the festival through exhibitor booth sales and sponsorship fund the AKFA Community Grant Program. The Community Grant Program supports organizations who specifically serve the community of Venice.  
WHO:
 120,000 shoppers, music lovers, foodies, families & the eco-conscious.
For more info:   AbbotKinney.org!
.
VP LOCALS TIPS
;
Hey Party Peeps! Avoid the Beer Garden entrance lines all day in any of the 3 Beer Gardens at the Abbot Kinney Festival with a Fast Pass- this Sunday 9/24! Exchange your ticket for a wristband at the event and the first drink is free! Must be 21 years old. www.abbotkinney.org/akf2017-tickets
Beer gardens featured at the Abbot Kinney Festival include Golden Road Brewing, Bud Light, Firestone Walker Brewing Co..
/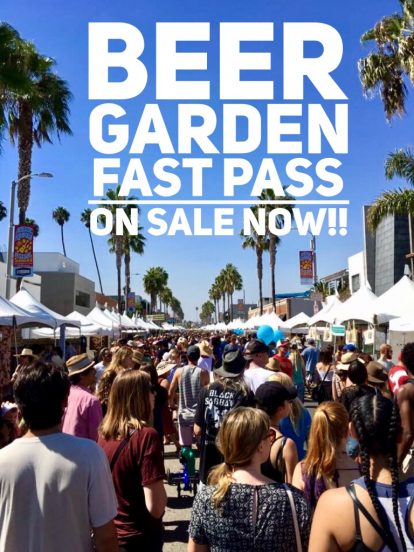 .
GRAB A SLICE OF VITO'S PIZZA AT THE ABBOT KINNEY FESTIVAL!  
Vito's Pizza
 is popping up at the
Abbot Kinney Festival
this Sunday, 9/24 from 11a-5p! Located at the intersection of Palms and Abbot Kinney Blvd (next to The Brig), we will be serving up fresh slices of Vito's famous pizza with a variety of toppings along with his signature salads. We'll have soft drinks along with cold Saint Archers Beer and Rosé wine!  
Grab a slice, a cold drink and some shade at Vito's Pop Up!
    For more info on Vitto's Pizza, check out 
www.vitossm.com
.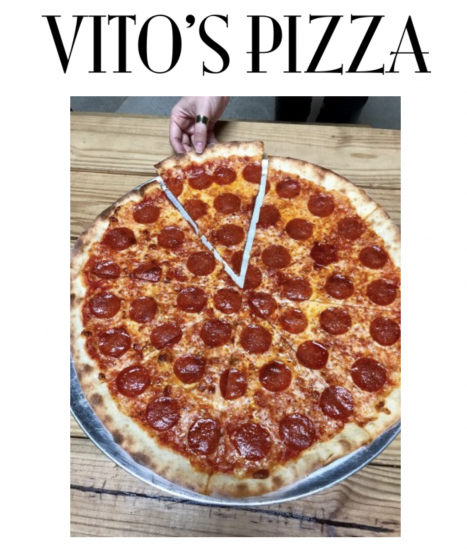 ABKF's Kid's Quad is bigger and better!  Find all the fun at Abbot Kinney and Brooks!  Click on flyer for larger version.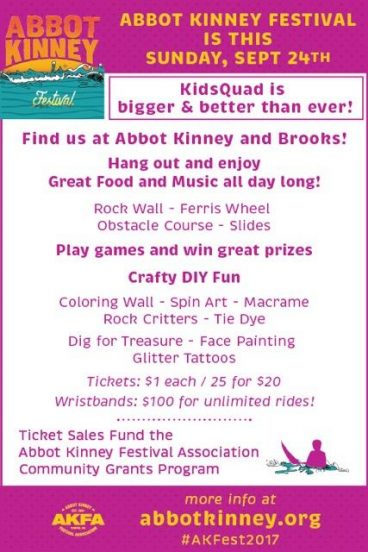 ..-
View last year's experience through the lens of Venice Paparazzi. 
.
All photos by Team Venice Paparazzi.  HireVP.com for your next event!
.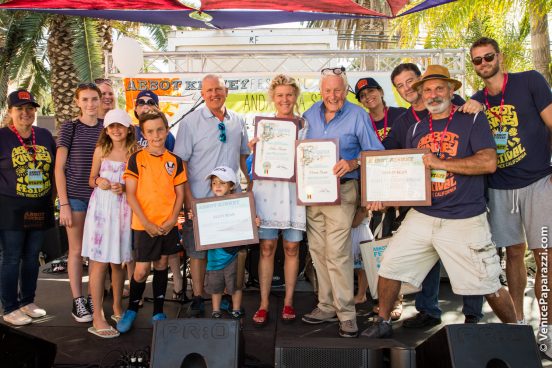 Councilmember Mike Bonin presents Alley and Orson Bean with a LA Certificate of Recognition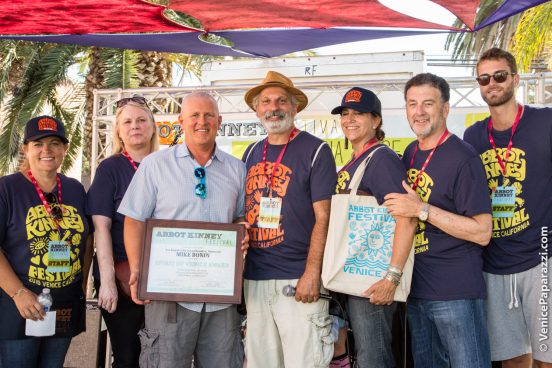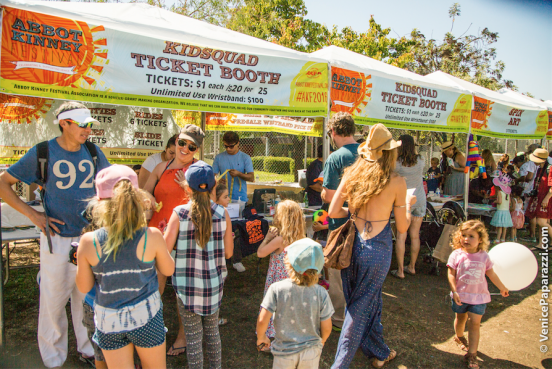 Kids' Quad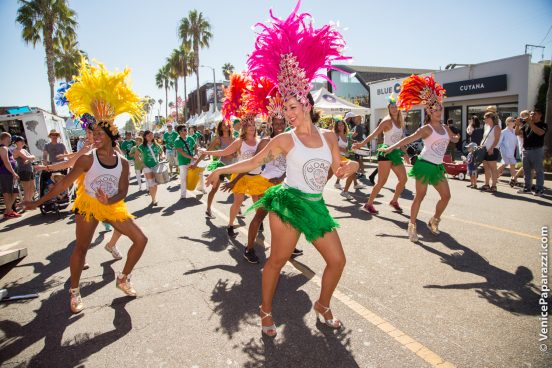 Family parade with the Samba-Raggae beat , Samba da Mudanca and Sandra Sandia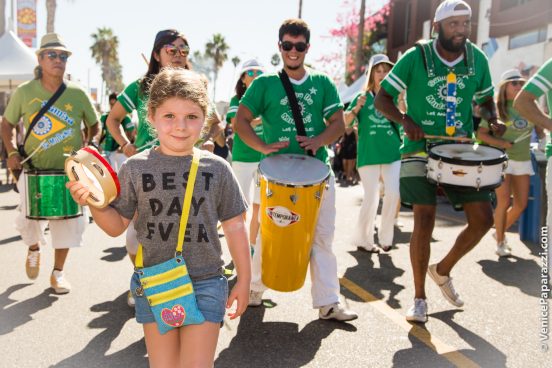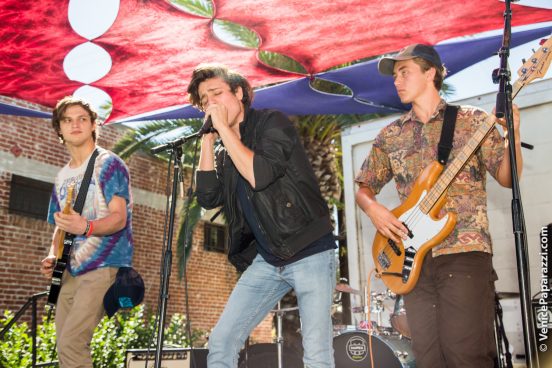 FOUR great live music stages.  View line up here!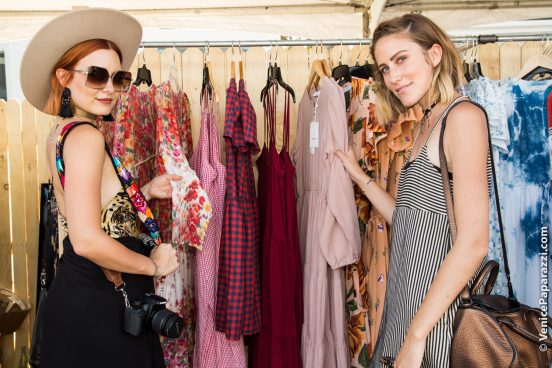 Interested in being a AKF vendor?  Details here!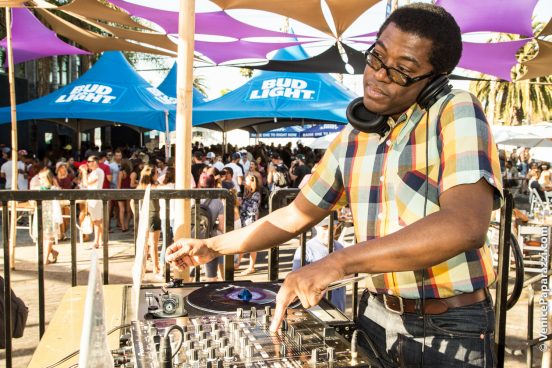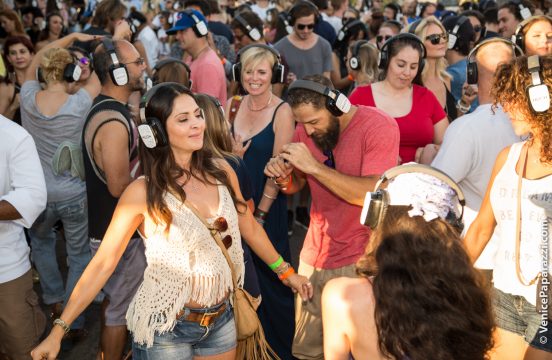 Spritzer Love Lounge and HUSH Silent Disco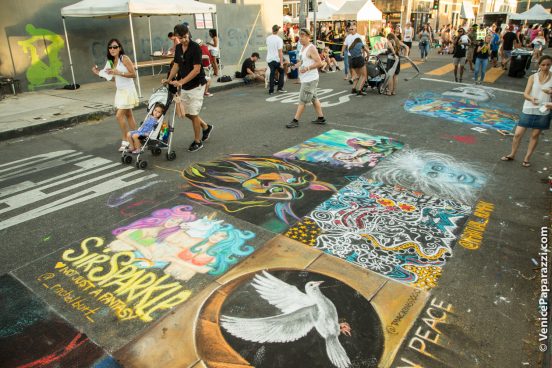 Chalk Art on Wesminster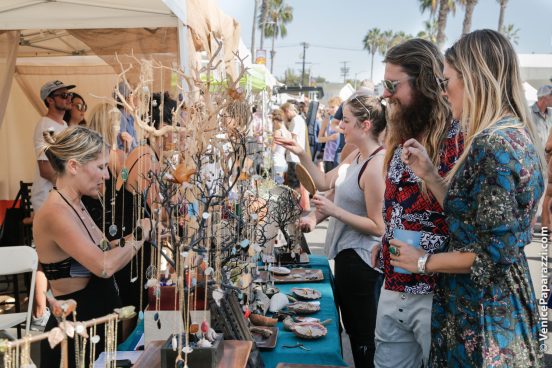 300+ quality artisan and fine art vendors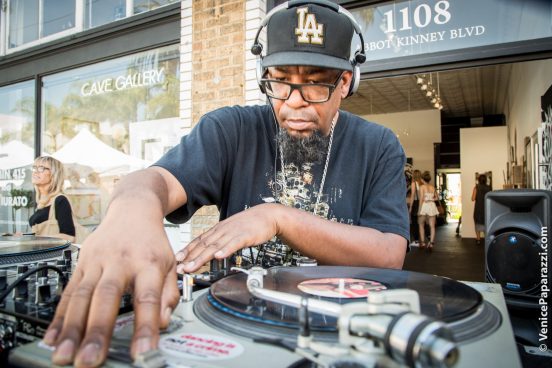 Venice Beats – DJ Mr. Numberonederful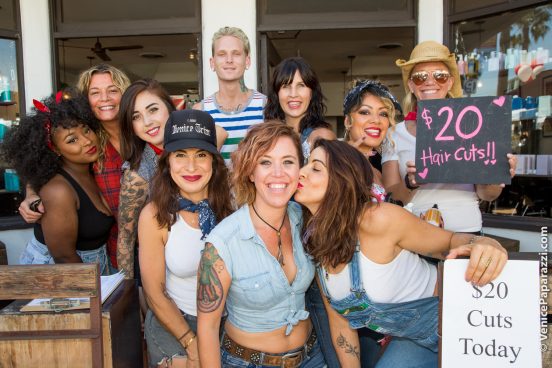 Fun times and cool cuts at trim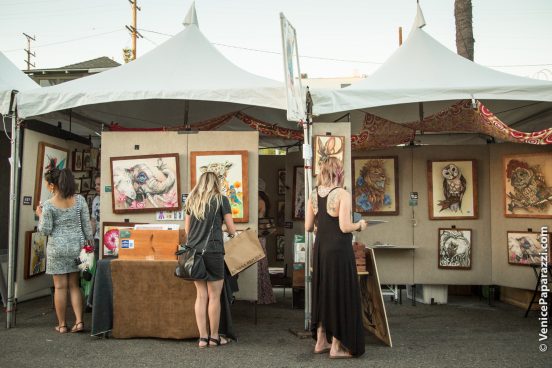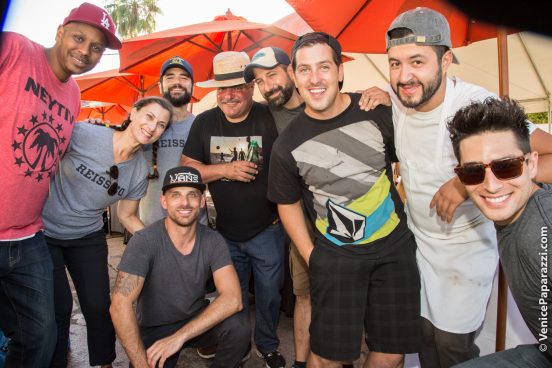 The Brig and Sunny spot crew!  Good times!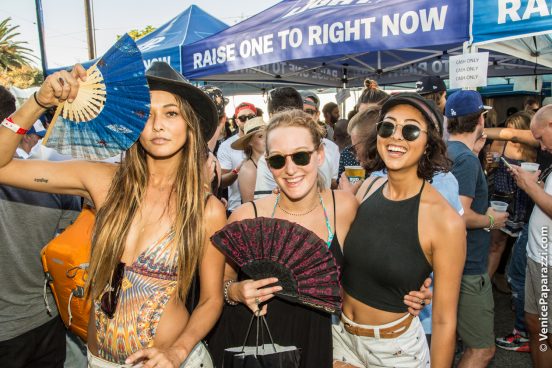 Three beer gardens.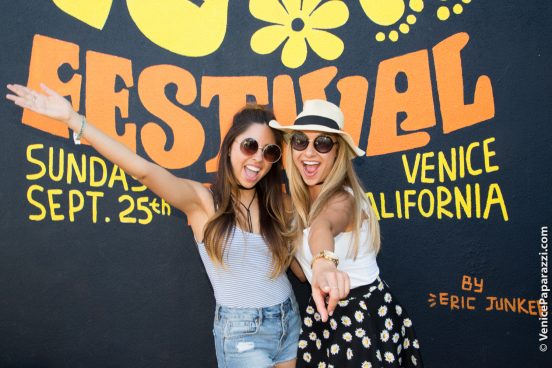 .
;
 HireVP.com for your next event.

See you on Sun. Sept. 24, 2017 for #AKF2017!    For more info:   AbbotKinney.org!
Fan and follow Abbot Kinney Festival on Twitter, Facebook & Instagram!