"Networking  can help you enhance your reputation, develop leads, and build ongoing, mutually beneficial business relationships. You might even make some new friends!"
Join  the Venice Chamber at  Surfside Venice on Nov. 16th for their All Committee Mixer!   This event is a casual opportunity to make new connections and build relationships with all members of the Venice Chamber Committees at a fun, new restaurant and bar. Step off the busy boardwalk and enjoy the great drinks and food provided by Surfside while mixing and mingling with friends and colleagues.  Venice Paparazzi and Venice Art Crawl will be there!
.
Date: Thurs., Nov., 16th, 6:00 – 9:00 pm at Surfside Venice..
Admission: $10.00
Surfside Venice, 23 Windward Ave, Venice, CA 90291
For more info: www.venicechamber.net/events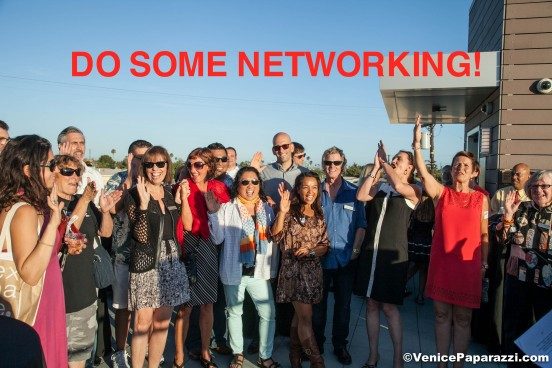 About Surfside Venice:  Surfside is your place to kick back and be comfortable: a haven from the lovable madness that is Venice Beach. Step off the busy boardwalk and relax into a long lazy afternoon with locals. All you need to do is take a moment to sit down & unwind!  You'll find us at the Venice Breakwater on the corner of Windward & Speedway. If you know the hood, you'll find us! All your friends are here, we've got the beer & great food – join us for dinner and we'll even do the dishes!  www.SurfsideVenice.com
About the Venice Chamber of Commerce:  The Venice Chamber of Commerce is an organization of business leaders who actively serve as advocates for the ever-growing Venice business community. Through dynamic networking events and diverse committees, we support the interests of area businesses and contribute to improving the vitality of the local economy; positioning Venice as the "creative soul" of Los Angeles.
Join a VCC Committee!   To maximize their networking opportunities, members are encouraged to participate in at least one of the Chamber's Committees. These include: Abbot Kinney Merchants, Boardwalk, Chamber In Action, Education, Events, Governmental Affairs, Marketing, Membership, Venice Art Crawl, Venice Beach Young Professionals, Venice Legislative & Legal, Venice Tourism, and Venice Sign.
.
For more Venice Chamber info, visit www.VeniceChamber.net.
.
Venice Paparazzi celebrates 10 years of Venice Chamber membership, and 8 years of being on the Board of Directors. View 10 years of Venice Chamber event photos by Venice Paparazzi below!
.
.
Need event photographers or photo booth for your next event?  Hire Venice Paparazzi!  Visit www.HireVP.com for more info on our services!
.
See you on November 16th at Surfside Venice!   www.venicechamber.net