Alex Stowell here from Venice Paparazzi.  We all knew it was coming.  The rumors were confirmed more than a year ago, and the it became not "if", but "when."  And that "when" is closing down on us.  But, it appears that it is going as well as could be hoped.  The new  owners have the full endorsement of owners Stefan and Susi Bachofner, and from reading the press release, it looks like they will keep much the same.  So, that my dear readers is a good one.  A win for the V, the locals, and  the Waterfront community, given the myriad of options that could of happened.
Top photo:  On the Waterfront Cafe's owners Stefan and Susi Bachofner with their sons Michael and Lucas.  Missing from this photo is their oldest daughter Alice.  
.
Here is a message from On the Waterfront family.  
It's time for us to say: So long, Farewell auf Wiedersehen, Goodbye!  Our last day at the On the Waterfront Cafe will be Sunday, December 10th, 2017.  A huge shout out to our loyal patrons!  We truly appreciate your friendships knowing of all the choices you have, you chose us.  It has been our great pleasure serving you throughout these past 23 years.  We could not have done it without you – Thank you, Dankeschön, Gracias, Merci!  Have a Merry Christmas and a Happy New Year filled with luck and laughter.
.
– Stefan and Susi
,
We would like to introduce you to Jake and Heather.  We wish them all our best for their new Waterfront adventure!
"We feel very lucky to have the opportunity to follow in Stefan and Susi's footsteps. For 23 years they have made On the Waterfront Cafe a second home for many in our community. We plan to keep the name and will do our best to preserve the magic that has made the Waterfront Cafe a Venice original. The new menu is still a work in process. We promise to have an outstanding Burger, Fish Tacos, great Vegetarian options, and of course, a giant pretzel."
,
– Jake Matthews & Heather Tierney
.
Their last day is Sunday, December 10th, 2017.  Stop by, have a drink and say "Farewell auf Wiedersehen and Goodbye" to the Bachofner family.   On The Waterfront Cafe, 205 Ocean Front Walk. Venice,  California  90291.
.
Re-live their 20 Year anniversary party in 2015 by Venice Paparazzi
.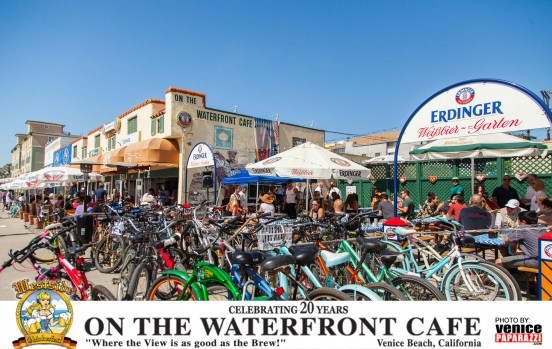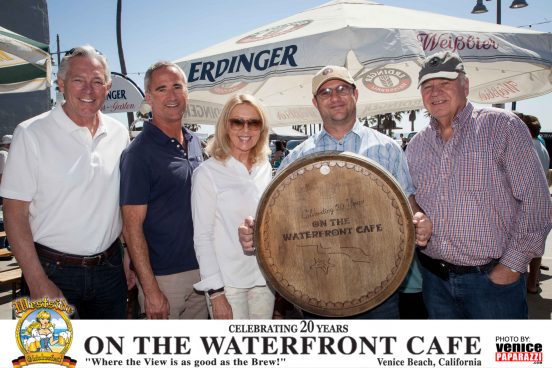 In this photo: Glenn McDonald (Erdinger USA), Daniel Cabo (Erdinger South America), Waltraut Kaiser (President of Export Erdinger, Germany), Stefan Bachofner (Chalet Edelweiss & On the Waterfront Cafe), and Micheal Meinardus (CEO Bitburger USA)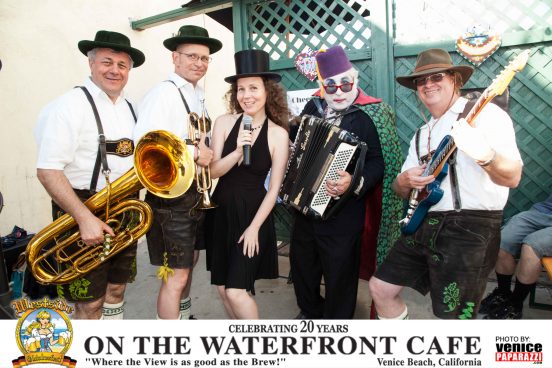 Performers:   Alex Hast and his Band the Blue Birds, Christina Linhardt and Count Smokula