About:  Marina del Rey's the Marina is the world's largest man-made small craft harbor with 19 marinas.  It has the capacity for 5,300 boats and is home port to approximately 6,500 boats.  The marina houses a wide variety of restaurants, hotels, bars, boats and a beach.  In addition to great entertainment options, one can find fishing and whale watching tours, parasailing, stand up paddle boarding and more.
MARINA PARKING:  Public Lot #4 – 13500 Mindanao Way.  Public Lot #5 – 4545 Admiralty Way and Dock 52 – 13501 Fiji Way.  Marina del Rey, 90292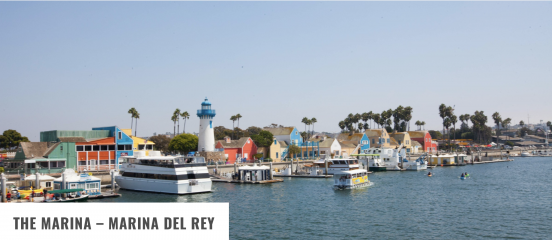 .
SUGGESTED MARINA ACTIVITIES: 
Explore the Marina with the Water Bus!  (Summer activity) Park your car and take our WaterBus for a unique water's-eye view of Marina del Rey. Eight boarding stops throughout the Marina offer opportunities to shop, dine, and recreate in one of the most beautiful Southern California residential and tourist areas.  Bikes and strollers welcome aboard.  Ride cost $1. Treat your family and friends!  Best time ever!  Starts June 16
Enjoy the areas best steaks, seafood, BBQ, and more while watching the sunset over the Marina at Tony P's Dockside Grill

!
Visit Burton Chase Park!  Burton W. Chace Park has 10 acres of lush lawn and trees that extend into the Marina's main channel. Here you will find magnificent boat and ocean vistas.  In addition, the park offers picnic tables, barbecues, pergolas, picnic shelters, guest docks, and is host to numerous year-round events. Click here for all Burton Chase events!
Visit Fisherman's Village!   Fisherman's Village is a 1970s' era replica of a New England seaport and fishing town. You can still stroll the quiet harborfront to enjoy views of the Marina. There are several restaurants, and a smattering of shops and galleries. You can also rent a boat, go parasailing, or take a harbor dining cruise on the weekends. Free weekend concerts year round.
Have a beach day at Mother's Beach!  Swimming (no surf), Children's playground, Picnic Tables, Windsurfing, Kayaking, Free boat launch for hand-carried boats, Restaurants, Hotels, Restrooms, Showers
Paddle boarding at Mother's Beach is a must do activity!
Go Deep Sea fishing or Whale watching.  
Visit or join the California Yacht Club!  Located in picturesque Marina del Rey,the California Yacht Club is among the top private clubs in the nation and for over ninety years, our yachting tradition and history has beckoned those who love the water as well as those that love to socialize and live life to the fullest.
Find food trucks at  "The Beach Eats" at Mother's Beach!   Head to the parking lot at Marina Beach on Thursdays, May 4 through September 28, for dinner with a waterview! A rotating selection of food trucks sell food from 5 to 9 p.m. Bring chairs or a blanket for a picnic on the sand, or grab a table under the covered picnic pavilion. The list of trucks will be updated at lotmom.com/beacheats.
Marina del Rey Farmers' Market is held every Saturday from 9:00 a.m. -2:00 p.m.  in parking lot next to the Cheesecake Factory.  Via Marina @ Panay Way Marina del Rey, CA 90292
Free Marina Movie Nights At Burton Chace Park.   The Department of Beaches and Harbors Presents Free Movie Nights in Burton Chace Park. This summer park your picnic baskets and bring your family out to the park on Saturday nights to enjoy your outdoor screening under the stars.
.

ONGOING AND ANNUAL MARINA EVENTS:
.
BEST PLACE TO DINE!

Eat at Tony P's Dockside Grill .  Voted by local newspapers and T.V. Stations!
Tony P's Dockside and Grill has the best steak, seafood, outside dining, beer selection, bar food, blood Mary!  Westside #1 Sports Tavern and Happy Hour.  One of top three fish and chips, American BBQ and martinis!   Weekend Breakfast with Bottomless Mimosas at Tony P's! Great patio with Marina view! Happy Hour Mon-Thurs. 3-6 p.m. Fri.'til 7p.m.  4445 Admiralty Way, Marina del Rey, California, CA – 90292.  www.TonyPs.com