Greetings!  Alex Stowell here.
When Venice was founded in 1905 it was its own city.  In 1926, six years after Abbot Kinney's death, Los Angeles annexed Venice and has governed over it ever since.
Now folks are thinking it is time to go back to being our own city.   The Venice Neighborhood Council is having a meeting on April 19, 2018 to discuss just that.
Given the current state of affairs: tent cities, bad road designs, unpopular developments being pushed on residents, and zero accountability , it is no surprise.
There has been grumbling, disappointment and outrage! There has been name calling, finger pointing and sheer disbelief.
Now the people of Venice  have had enough!   The battle cry is  "rise up Venice,  and declare independence just like the founding fathers!"
View 04.19.18 Uprising: VEXIT Town Hall Discussion event details below.
While we are here, let's take a moment to learn the real story of Venice!
Venice was founded by tobacco millionaire Abbot Kinney on July 4, 1905. Kinney's idea was to created a place dedicated to health, higher learning, and education.  A place where people would come to relax and enjoy the ocean air while following intellectual pursuits.  After opening, Kinney brought in professors and writers to deliver lectures to what he thought would be well attended seminars…  Read more here 
Here is a message from the Venice Neighborhood Council.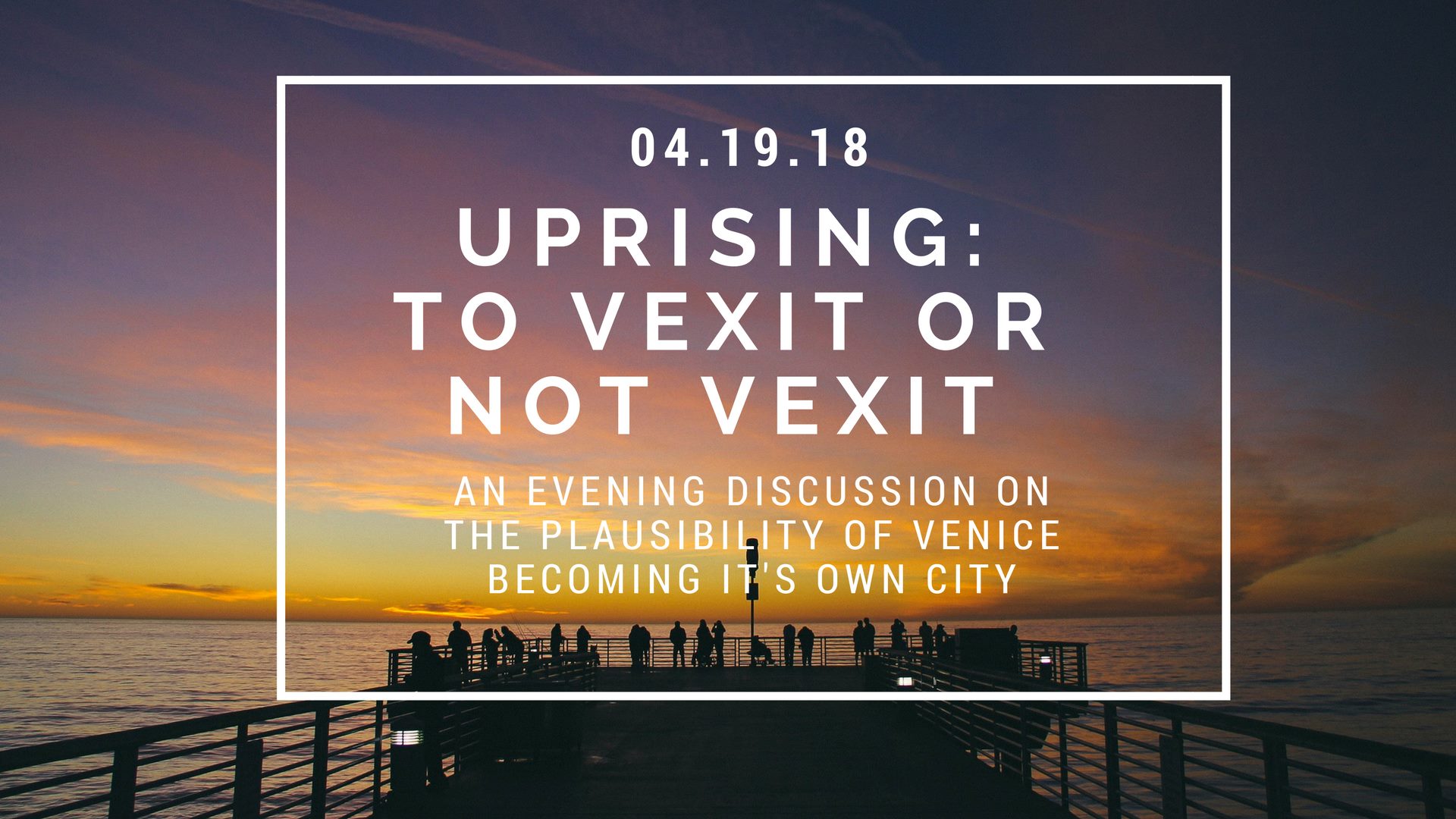 Does detachment from Los Angeles make economic sense for Venetians?
The Outreach Committee of the Venice Neighborhood Council  would like to invite you to engage and listen to a panel discussion on the future of Venice on April 19th, location TBA, from 7p – 9p.
The goal of the evening is to hear from a series of city experts from the media, government, academia and special interest organizations that have followed the growth and change of this urban beach enclave.
Note: this event is completely non-partisan in nature and is not supporting or rejecting the notion of cityhood, but providing Venetians this topic as a governmental alternative and how one could in fact travel the VEXIT option.
This event is about serious public policy options, not politics or partisanship.
View 04.19.18 Uprising: VEXIT Town Hall Discussion event details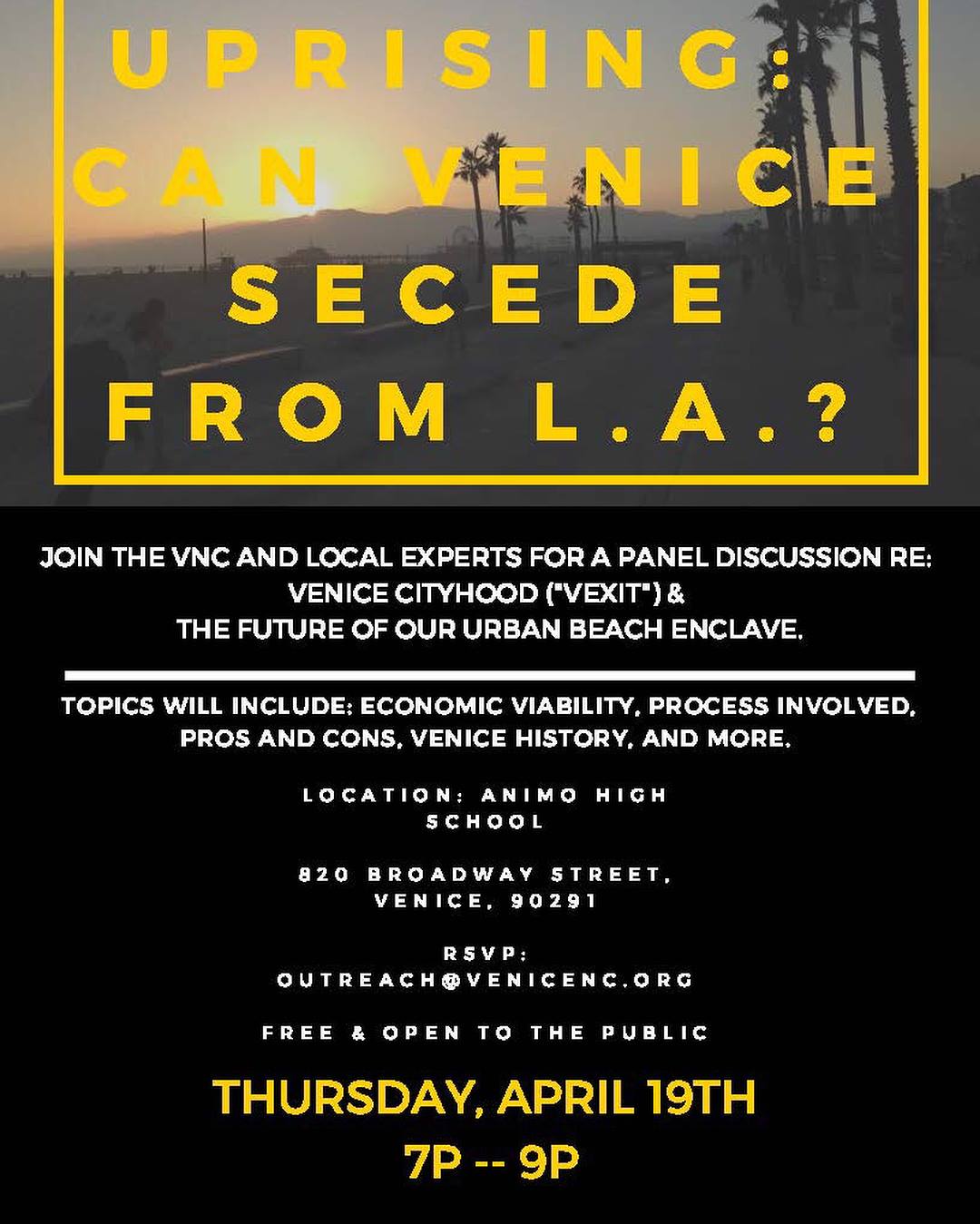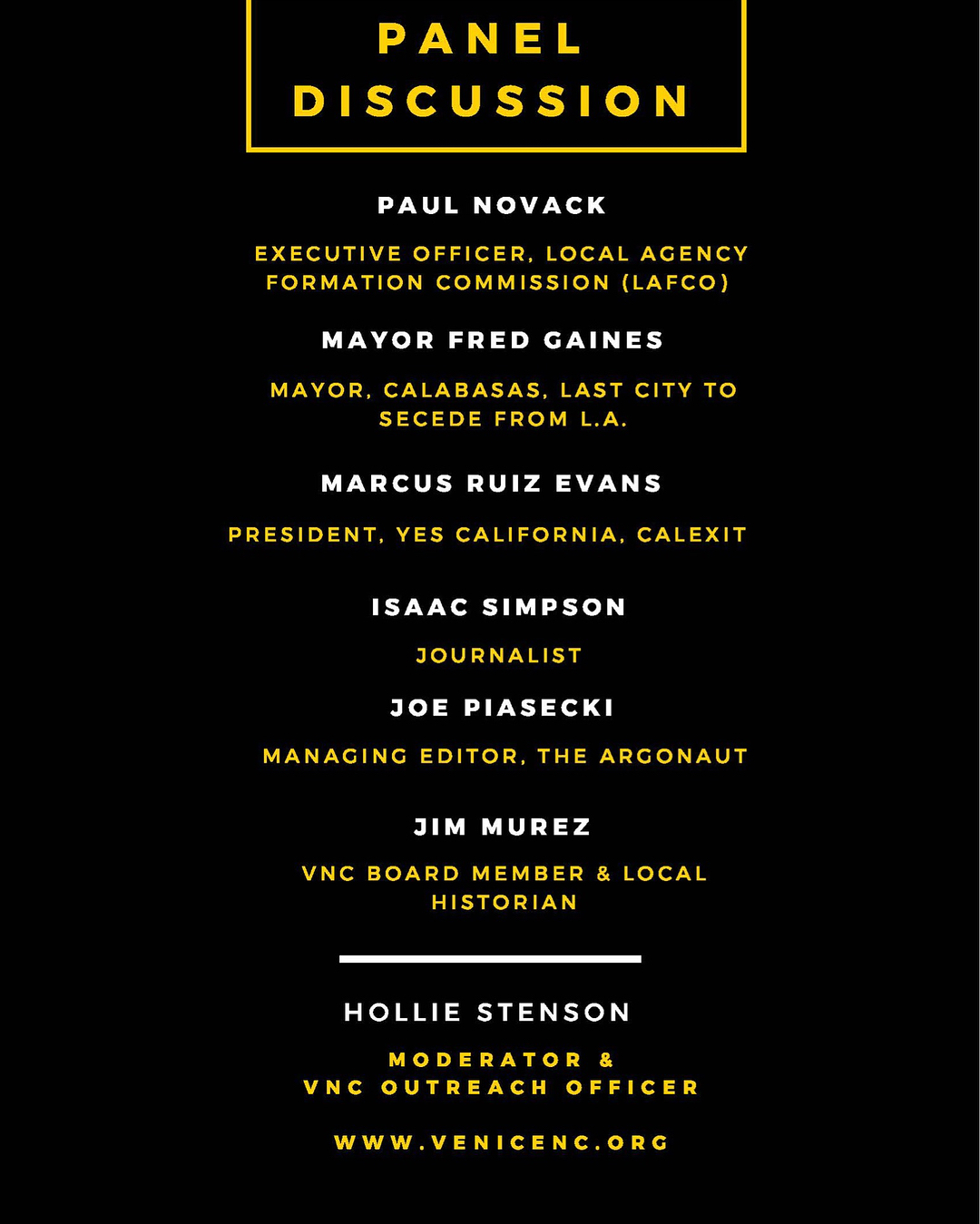 More info:   
Venice was once a city from 1905 to 1926 and in many ways continues to have a parochial and home-rule aspect to its residents, culture and vibe.
The landscape of Venice has changed greatly through redevelopment, gentrification while still battling social issues such as homelessness which has reached epidemic proportions.
Venice has changed from a sleepy artist locale to the home of many high technology firms and start-ups that have brought national attention to this unique community by-the-sea.
For more 04.19.18  VEXIT event info:  facebook.com/events/436025400173252
For more VNC info:  www.venicenc.org