Let's have a short history lesson on this magical place. 
Tobacco millionaire Abbot Kinney introduced the world to Venice  on the 4th of July, 1905.  Kinney's idea was to created a place dedicated to health, higher learning, and education, a place where people would come to relax and enjoy the ocean air while following intellectual pursuits.  After opening, Kinney brought in professors and writers to deliver lectures to what he thought would be well attended seminars.  Much to his dismay, the idea flopped!  It turned out people were much more interested in carnival rides and side show attractions.  So, Kinney gave the people what they wanted. He built and amusement park, a pier, a miniature steam train, 16 miles of canals with gondola rides, and more.  Click here to read more!
Here are some fun ways to celebrate Venice on the 4th of July.
1.  Get your photos with the Venice Sign, and @VeniceSign and @VeniceBeachFun
The Venice Chamber will celebrate the 113th Birthday of "Venice of America" and 4th of July, with the annual changing of the historic VENICE Sign to red, white and blue bulbs.   The Venice Sign will shine red, white and blue starting  July 2nd at 12 midnight.  Group photo above taken in 2013.
About the Venice Sign:  Spanning across Windward Avenue at Pacific, the VENICE Sign in lights is a modern day replica of the one originally installed in 1905 by the legendary Abbot Kinney.  It is a defining symbol of Venice, past and present.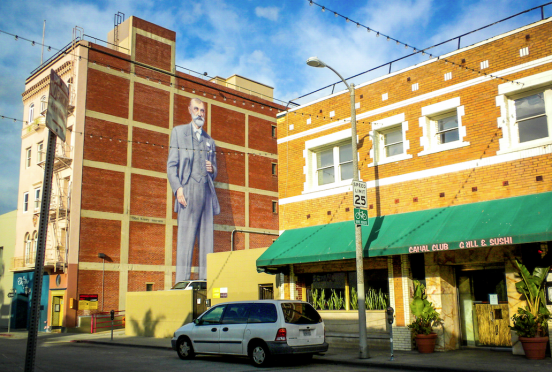 2.  Take a selfie with Venice's founder Abbot Kinney himself and @VeniceBeachFun.  
The Abbot Kinney mural by Rip Cronk is located on North Venice Blvd. next door to James beach and the Canal Club, 60 North Venie Blvd. Venice, California.  90291.
3.  Toast to Venice and Abbot Kinney!   
Check out the best bars/restaurants in Venice, California and have a toast to our founder Abbot Kinney.
4.  Check out Detour's audio tour "Venice: Abbot Kinney's Impossible Dream," narrated by  Venice Paparazzi's Edizen Stowell!
Discover how Venice was created — and almost destroyed — and meet the spirit of town-founder Abbot Kinney. When Abbot Kinney bought land on the Southern California coast over 100 years ago, it was nothing but a swampy marsh. But Kinney was a world traveler and had a wild vision — to transform this acreage into his very own "Venice of America."