Let's start 2019 the right way, by enjoying a day in our paradise by the sea!  Here is a list of the best activities, brunches, lunches, dinners, entertainment and more, all handily mapped out for your! Enjoy!
Check out this Venice Beach Fun list!
l
Celebrate the New Year with food and drink at the following locations. 
Start your day at the Cow's End Cafe! 
Family owned since 1989. This is where the locals hang! Stop by and grab a coffee, tea, muffin, smoothie, or breakfast burrito and walk the Venice Pier. The perfect way to start the New Year in Venice! 
TheCowsEndCafe.com
Bring the family to The Sidewalk Cafe!  
A Venice Boardwalk landmark for 41 years, The Sidewalk Cafe offers fresh, high-quality, well-prepared food with generous portions. And all of our soups and sauces are homemade. The outdoor covered patio provides a beautiful view of the beach and ocean while street performers and an eclectic crowd continuously entertain. View menu on   thesidewalkcafe.com
Brunch at James' Beach!
James' Beach is a Venice Beach institution. An iconic restaurant and bar now celebrating 23 years, a ½ block from world famous Venice Beach and the Pacific ocean.  James' Beach has over the years earned a loyal following of lovers of American Comfort food, great drinks, an award winning wine list plus marvelous people watching. 
JamesBeach.com
Celebrate the New Year at Brennan's!  Dogs welcome on their large outdoor patio!
Brennan's
is open for all you recovery needs!  Check out the games and have a little hair of the dog, Irish style! 
BrennnansLA.com
Dine at Hama Sushi!  Did you know that udon or ramen soup is the perfect cure for hangovers?
Established in 1979, Hama Sushi can be traced back in time to being one of the first sushi restaurants on the westside. Known for it's unique ambience and casual setting, Hama brings the freshest and friendliest service. Locals, tourists and newcomers can all enjoy traditional Japanese cuisine with unique fusion dishes. Located on the circle of Windward/Main street, a block from the famous Venice Boardwalk, Hama has been a part of Venice Beach's history for the past thirty years.
HamaSushi.com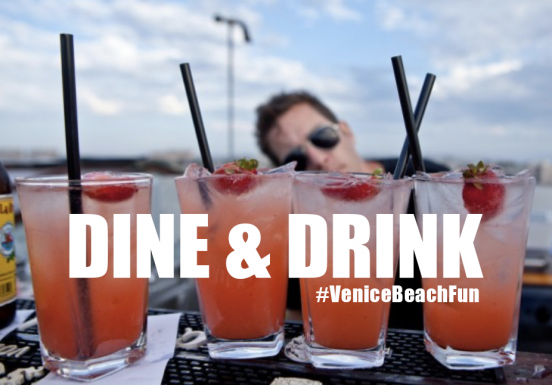 New Year's by the Venice Pier at Simmzy's! 
Simmzy's easily has the best draft and bottled beer selection of anywhere in the vicinity, and a breezy beach vibe patio that says "let's chill here." And, the food as well is fantastic! Their burgers are boss, and with offerings from short rib salad to tuna poke Simmzy's has something for every palette.  Simmzy's: "A local's pub serving artisan foods, craft beers & small production wines. www.simmzys.com.
Brunch at Surfside Venice!   
Surfside is your place to kick back and be comfortable: a haven from the lovableSurfside is your place to kick back and be comfortable: a haven from the lovable madness that is Venice Beach. Step off the busy boardwalk and relax into a long lazy afternoon with locals. All you need to do is take a moment to sit down & unwind! You'll find us at the Venice Breakwater on the corner of Windward & Speedway. www.SurfsideVenice.com..
Celebrate a New Year at Tony P's Dockside Grill in the Marina! 
Chill out with a marina view while dining on crab legs, creole, bloody Mary's and beer. Or relax and watch the game in Tavern while dining on wings, fish and chips, pizza or pretty much anything you like. Either way, Tony Ps' has you covered!  
www.TonyPs.com
Dine and drink at Barlo Kitchen and Cocktails!   
At Barlo, we strive to provide our guests with first-rate food and beverage by sourcing our ingredients from the highest quality local and artisan producers. To the greatest extent possible, we source from local producers that we feel embody the values and principles that mirror our own: locally produced, artisan quality, organic, sustainable, humane animal treatment, and minimal processing.  hotelerwin.com/barlo-kitchen-and-cocktails
Start the New Year with healthy habits at Muscle Beach Nutrition and Muscle Beach Juice Bar!
Muscle Beach Nutrition delivers the most cutting-edge, innovative, and highest quality nutritional supplementation products to athletes, trainers, and fitness experts around the world. 
Muscle Beach Juice Bar and Muscle Beach Nutrition is located on the Venice Beach Boardwalk across from the world famous Muscle Beach Gym. 
MuscleBeach.com
.
Want more Venice Beach Fun?

   
VisitVeniceCA.com features organized lists of information helpful to visitors and locals alike!  As the sister site to the famed VenicePaparazzi.com, we are Venice's #1 events, activities, local deals, and information source! Have fun exploring our sites.