Recent event covered:
July 2nd
Date:
Saturday, July 2nd 2011.
Locations targeted:
Mercede's Grille, Arbor, Cabo Cantina and C-Street's July 2nd Charity event.
—————–
Note

:

To view all the photos taken at this event, click on the "view photos" button  found at the bottom of this page.
Courtesy of Venice Paparazzi an C-Street, get your free digital photos from this gallery.
—————–
First Stop:

Mercede's Grille for brunch

For good company, great service, tasty latin fusion cuisine, mojitos and margaritas, visit Mercedes' Cuban Grill.   Mercedes Grille. Breakfast, Caribbean, Cuban, Latin American restaurant.
A melting pot of Cuban, Caribbean and Latin Cuisine with Creative American Grill Influences.
Full Bar * Breakfast * Lunch * Dinner * Weekend Brunch * Now Delivering 310.827.6209.
For Mercedes Grille menu visit
http://www.mercedesgrille.com
————————-
Second Stop:

Arbor
Photo:  Baby's first skateboard… an Arbor board.  Even cooler is that the board was presented and sold by Arbor's co-founder Bob Carlson.  Note:  The
Arbor
Collective uses environmentally friendly natural materials to produce snowboards, skateboards…  For more info, visit
www.arborcollective.com/
————————-
———–
Check out some of Cabo Cantina's neighborhood specials.
– 2-for-1 priced Happy Hour lasts from 4-8pm, 7 days a week…and we have a 2-for-1 Late Night Happy Hour
-All you can eat Tacos.  $4.95 every Tuesday.
-$9.95 bottomless margaritas and Bloody Mary's Friday, Saturday and Sunday till 3:00 p.m.
—————–
Next stop: 

C Street's July 2nd Charity event!
This event was going off when we got there.  Unfortunately it was shut down by the police due to a noise complaint and some red cups.  Too bad!  Come on people, where is the love for the music, and people having a good time on a holiday day.   Check out the photo event coverage below.  To view all photos from this event, click on the "view photos" button below.
—————–
ABOUT THE ORGANIZERS:
Mission Statement
C Street Production, Inc. is the brain child of a community collective lead by residences including actors, singers and artists that provides a friendly and progressive environment for the arts through organized neighborhood gatherings.
Objective
The primary objective of C Street Production is to host social gatherings while bringing awareness of the charities important to our community and offer a true and complete artistic perspective of the people and activities that build the unique culture of Southern California.
CHECK OUT THE INTENDED BAND LINE UP: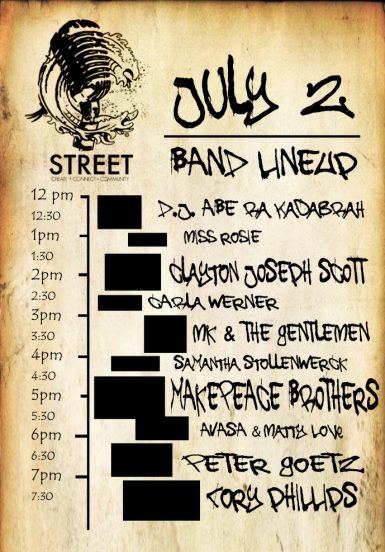 Photo:  Andrew Keegan on the mic
Photo:  Hso and the Raw Bar!
Happy 4th of July everyone!
————-
Note:  Did you know that July 4th is also Venice's birthday?
Here is some Venice history for you. Following insert taken from http://en.wikipedia.org/wiki/
Venice of America was founded by tobacco millionaire Abbot Kinney in 1905 as a beach resort town, 14 miles (23 km) west of Los Angeles. He and his partner Francis Ryan had bought two miles (3.24 km) of oceanfront property south of Santa Monica in 1891. They built a resort town on the north end of the property called Ocean Park, which was soon annexed to Santa Monica. After Ryan died, Kinney and his new partners continued building south of Navy Street in the unincorporated territory. After the partnership dissolved in 1904, Kinney built on the marshy land on the south end of the property, intending to create a seaside resort like its namesake in Italy.
When Venice of America opened on July 4, 1905, Kinney had dug several miles of canals to drain the marshes for his residential area, built a 1,200-foot (370 m)-long pleasure pier with an auditorium, ship restaurant, and dance hall, constructed a hot salt-water plunge, and built a block-long arcaded business street with Venetian architecture. Tourists, mostly arriving on the "Red Cars" of the Pacific Electric Railway from Los Angeles and Santa Monica, then rode Venice's miniature railroad and gondolas to tour the town. But the biggest attraction was Venice's mile-long gently sloping beach
————-
To view all the photos from July 2nd and this event, click on the "View photos" button below

.
Courtesy of Venice Paparazzi an C-Street, get youfree digital photos from this gallery.
————-
If you like Venice Paparazzi, please join our fanpage and twitter.