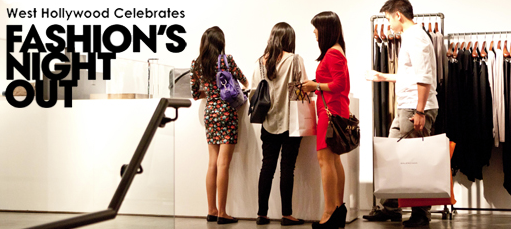 For the 3rd year in a row, Venice Paparazzi will be the official photographer for the City of West Hollywood's FNO.   See you there!
Fashion's Night Out 2012 marked West Hollywood's third year of participation in the global shopping phenomenon – a collaboration established by American Vogue, the Council of Fashion Designers of America, NYC & Company, and the City of New York.  Many of the city's retailers  extended their hours and held in-store events on September 6, 2012 from 6:00 p.m. to 11:00 p.m.  Retail locations included:  3.1 Phillip Lim, Christian Louboutin, Cerre, John Varvatos, Stella McCartney, Alberta Ferretti, and Maxfield.  The second annual after party was  held at The Standard in West Hollywood.
West Hollywood Celebrates Fashion's Night Out is supported by The Avenues, The City of West Hollywood, West Hollywood Marketing and Visitors Bureau, the West Hollywood Chamber of Commerce and the Sunset Strip Business Association.
Fashion's Night Out (FNO) West Hollywood – Sept. 6, 2012
Website: http://www.FNOWestHollywood.com
Facebook: http://www.facebook.com/fnowesthollywood
Twitter: @FNOWeHo, hash tag #FNOWEHO
View photos of West Hollywood's FNO 2010,  2011 & 2012 events.  Photos by Venice Paparazzi.