Hosted by City of Los Angeles Department of Recreation and Parks, and Venice Beach Recreation Center.  Event produced by The Skate Park Association International & Concrete Disciples.
Top photo:  Stella Reynolds.  Photo by Chris Hooten.;
.
Here is a message from Salt Rags and Skate Advocate Heidi Lemmon!
.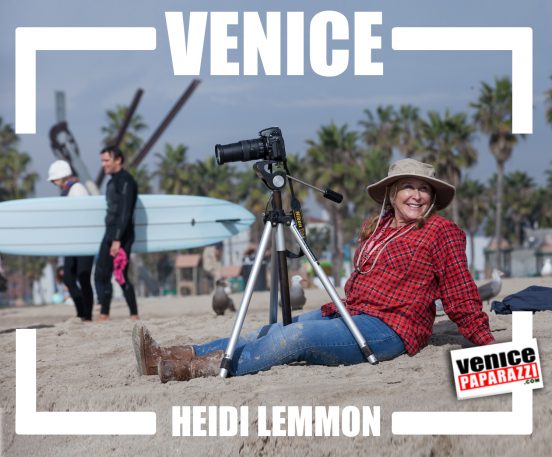 On Sat. July 29th the girls took over the Venice Beach skatepark to jam, meet, greet and have some serious fun shredding the bowl and snake run.
The youngest girls were under 5 and the oldest girl was barely over 50 and looked like a young girl out there ripping up the bowls. Amy Bradshaw is fit and healthy and has defied any signs of aging. Our other young lady Tracie Garacochea might be in a wheelchair but she is far from grounded. Tracie was dropping in to the big bowl and having fun with showing off her daredevil style all day!
The day started off with the Pup Cup, a special division for the very youngest beginners, followed by 11 and under and last but not least 13 and over. Powell Peralta pro & X Games Silver medalist Jordyn Barratt was on hand to support the girls and sign autographs. Last year's winner of the Vans Park Series, Element pro Hanna Zanzi was also in the house to demo and support the girls. Legendary skater and industry boss man Jim Gray was one the mic and kept the contest fun and moving along at a fast pace all day. He took some time out to shred the snake run, eat a Big Daddy Pizza and chow down a few Naugles Tacos, all part of his rigid volunteer contract. Skateboarding Hall of Famer and owner of Girl is Not a 4 Letter Word, Cindy Whitehead there to sponsor and remind the girls "It's Not about Pretty".  Kimi Kallman manned the product booth and Sharon Gelfand was registering the girls.  Dennis Martinez, Earl Okinaka and Steve Wright volunteered to judge and the always rocking DJ KRZA was spinning all day!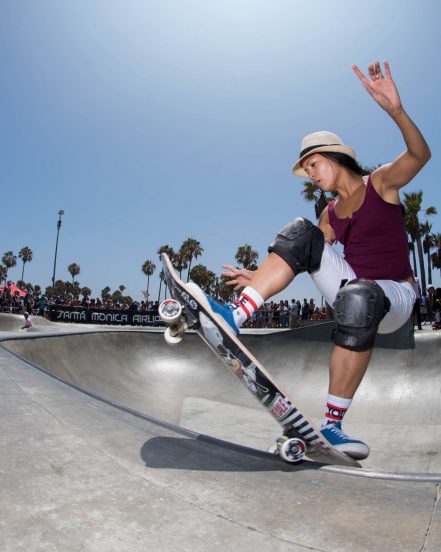 .
Venice local Big Daddy Pizza fed the volunteers and staff with gourmet pizzas and Naugles fed the athletes and hosted a Naugles Hippie Jump.
We had some legendary shooters out at the event. Many thanks  to: Gale Webb, Ken Hada, Chris Hooten, Jeff Greenwood, Ian Logan, Olga Aguila, Todd Fuller, Dakota Grone and Dan Levy.
Los Angeles Parks Commissioner Pillar Diaz came and along with Superintendent Robert Davis watched and cheered the ladies on.  Los Angeles takes their recreation seriously and we are very fortunate to have them show their support for the girl skaters and also have so much support from our skaters and filmers.
Thanks to everyone for doing their part and to all our amazing sponsors for making this event a great day.
.
Check out Ladies Jam photos by Chris Hooten!
.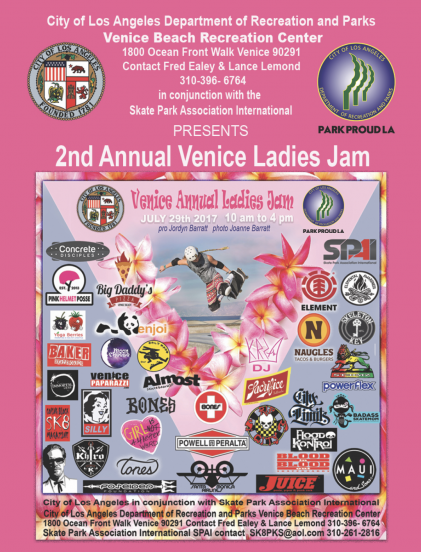 /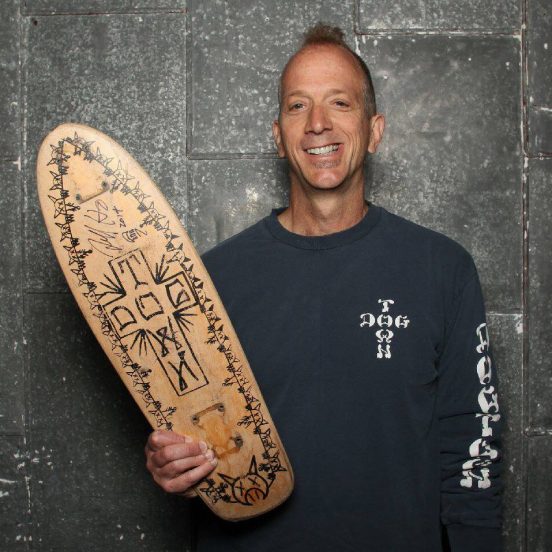 All photos below by the talented Chris Hooten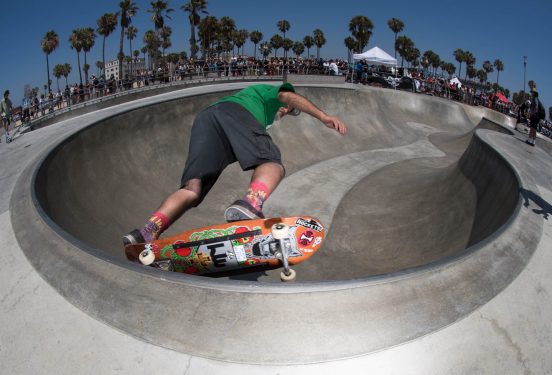 Judge Steve Wright taking a quick run.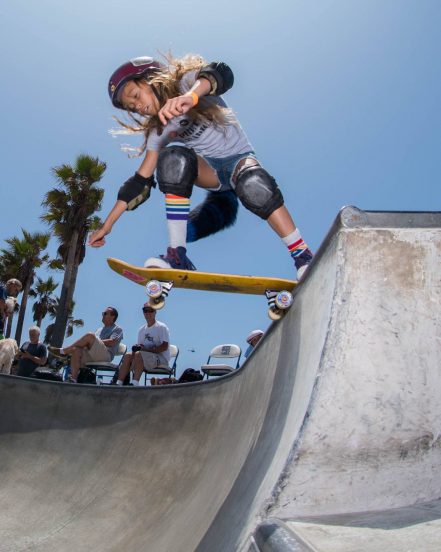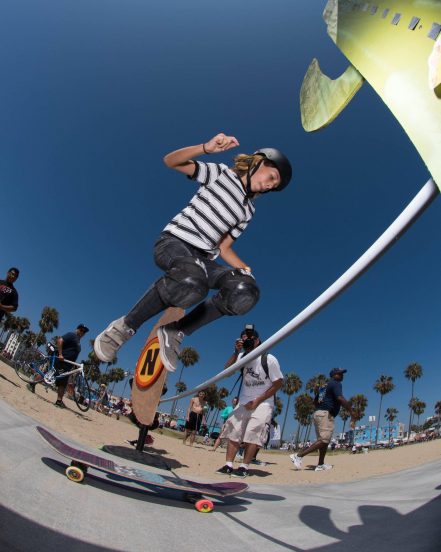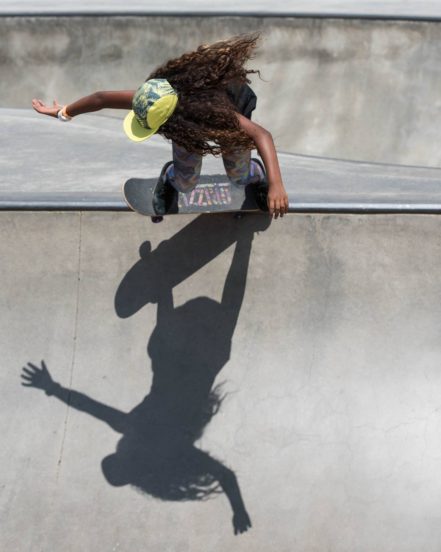 Venice regular Vianez Morales rocking it as usual.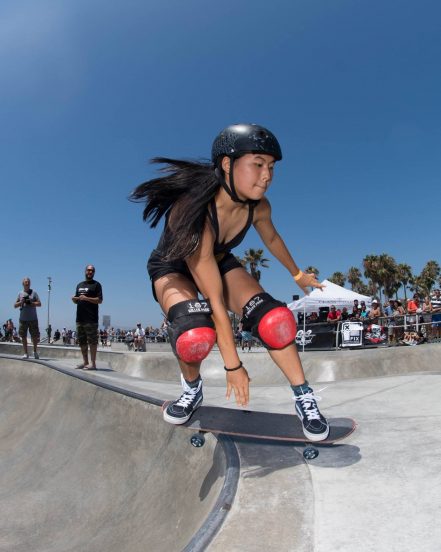 Tisa Rose Chan over the transition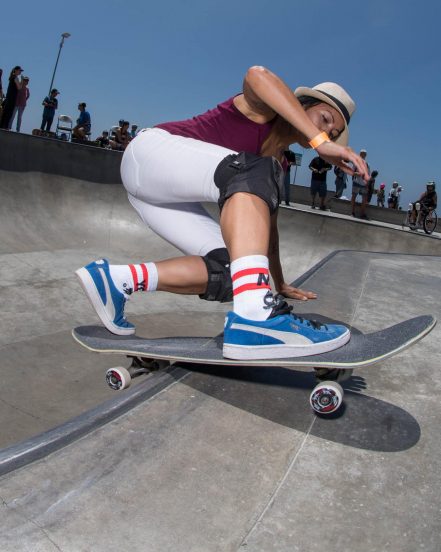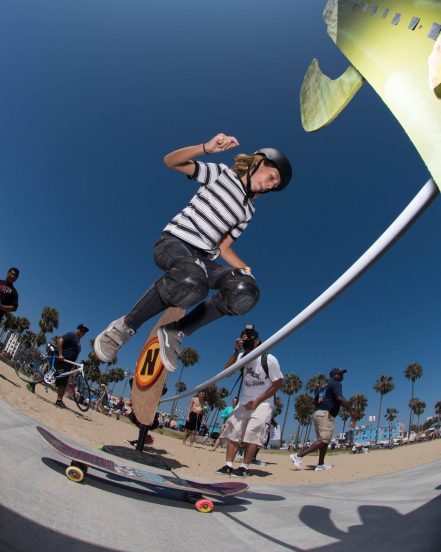 Stella Reynolds..Hippy jump — with Concrete Disciples.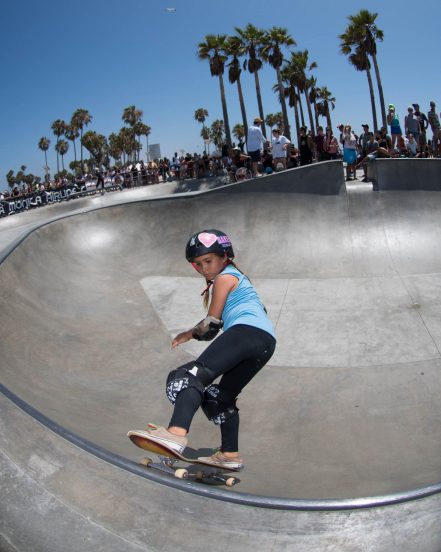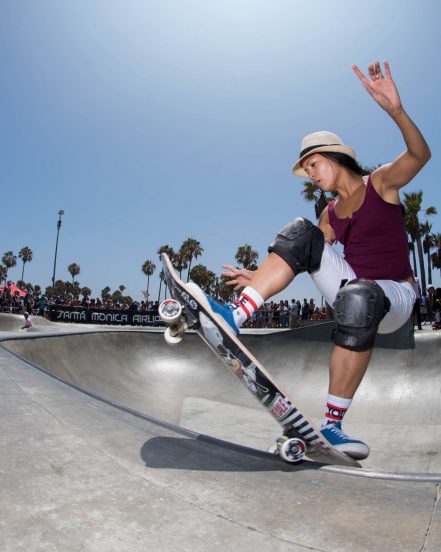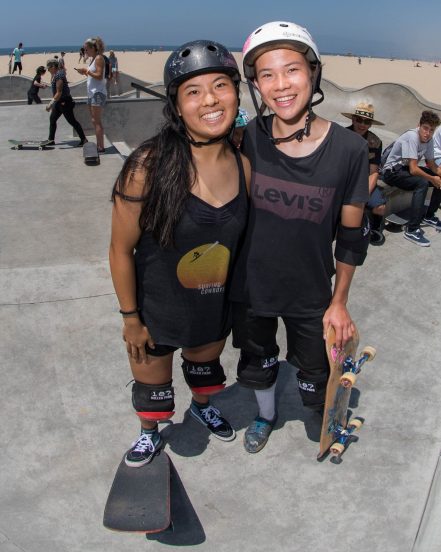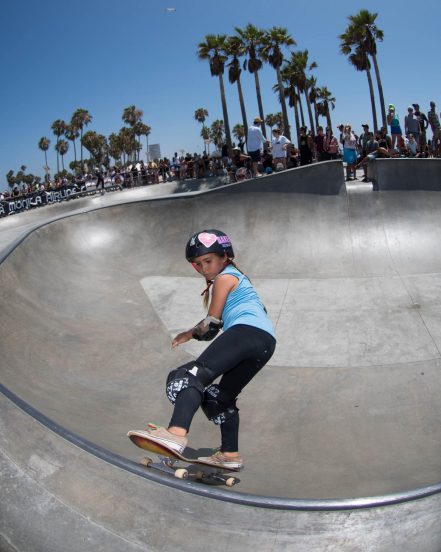 Kala Fernandez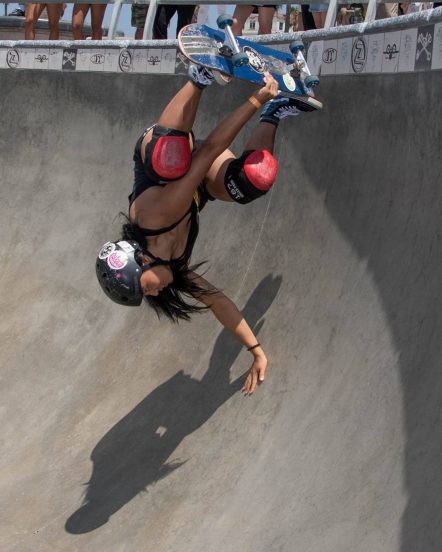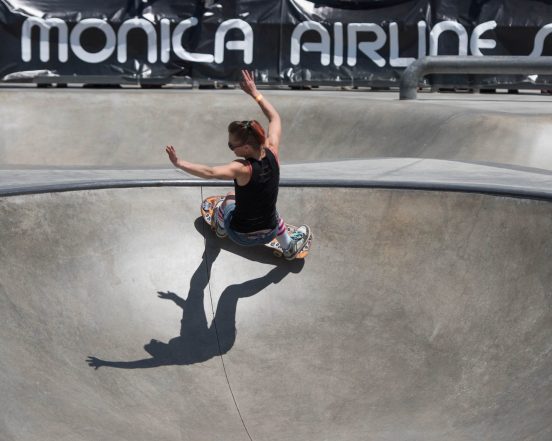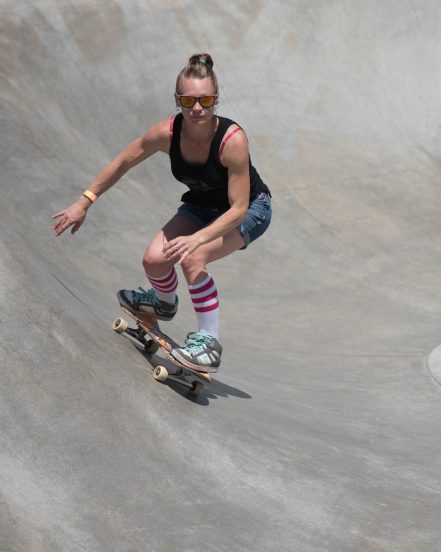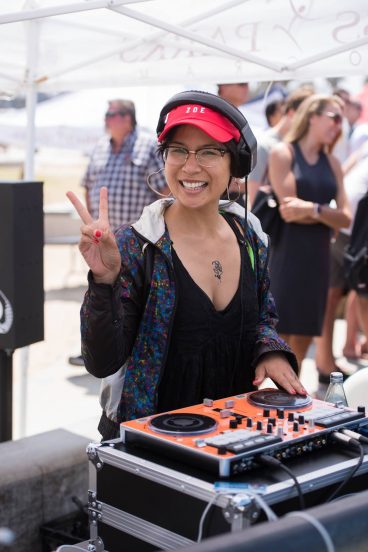 DJ Kyrza happily spinning the tunes all day.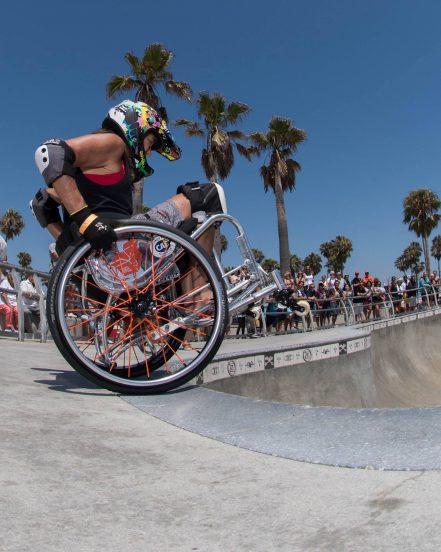 Tracie Garacochea into the big bowl.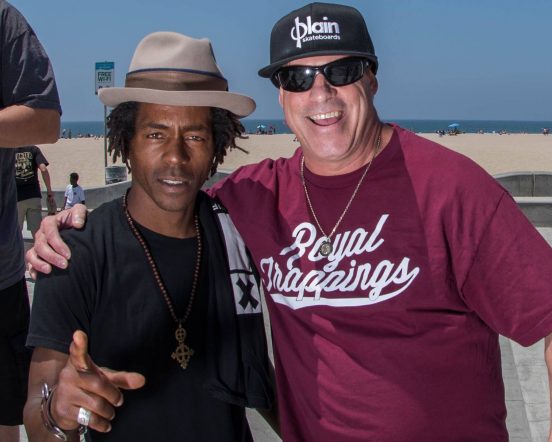 OG Tuma and Luke McCool hangin for the show.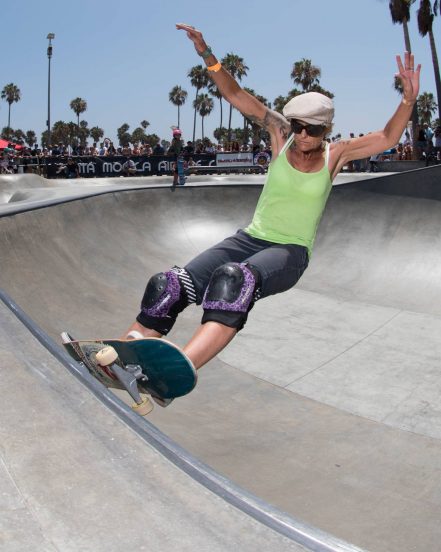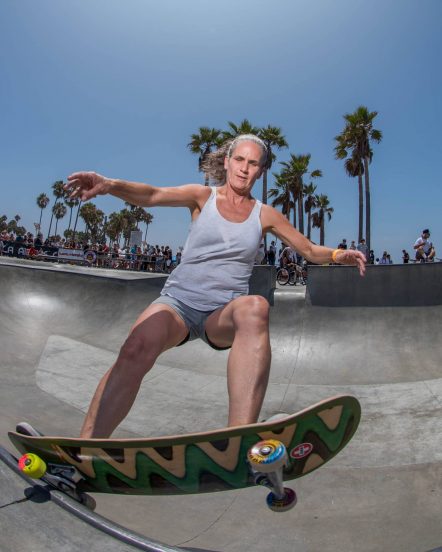 Amy Bradshaw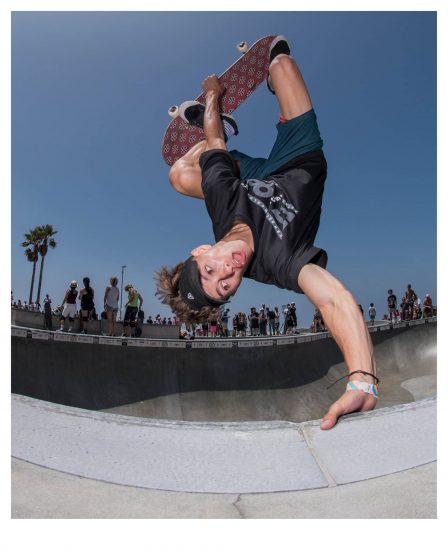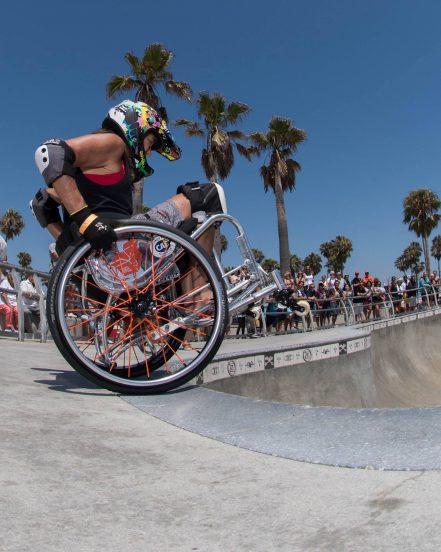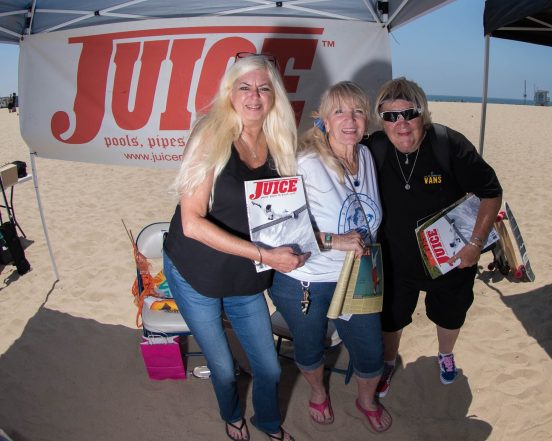 Juice Magazine's Terri Craft, OG Legend Patti McGee and Photo legend Gale Webb..