Stay local on New Year's Eve!  Check out this list of local NYE parties, NYE Fireworks, and  New Year's Day events!
.
Let's send 2018 off with a bang and bring in  2019 with a great big Venice welcome!  Venice Paparazzi  has the list for the best NYE parties, local hotel room deals,  and all the fantastic New Years Day brunches and activities!  Cha Cha check it out!/
Venice Paparazzi to be on the scene at Marina del Rey's New Year's Eve Fireworks and Glow Party.
Join us for a Glow Party with fun activities for the whole family!  Featuring Live DJs, Dance Music, Dancers, Circuit Breaker Robot, Face Painting, Bubbles, a Venice Paparazzi Photo Booth, Free photos and Giveaways, Food Trucks and More!  Starts at 7:00 p.m.
Two Firework shows: 
8:59 p.m. 30-second countdown and view the Times Square ball drop followed by an amazing 10-minute fireworks display.
11:59 p.m. 30-second countdown to celebrate New Year's Eve in Marina del Rey followed by another amazing ten-minute fireworks display.
For more info:    MDRHolidays.com
Shangri La La; a New Year Eve spectacular at James' Beach
James' Beach becomes the glorious tropical paradise for New Years Eve – Shangrila-La.  Start the evening with friends for dinner including your favorite cocktail . Follow with dancing under the stars and explore the delights of Shangrila-La. Noise makers, hats and three bars to take care of your beverage needs. An ice volcano offers up "Lava of Life" drinks between two waterfalls. Booths are available and large dining parties should call our hot line at 310-823-5396 for discounted tickets.
For event details visit:  www.eventbrite.com/e/james-beach-23rd-annual-new-years-eve-tropical-party-shangri-la-la-tickets-53193270504
.
Brennan's NYE Party!
Tickets get you a 4 hour open bar and unlimited buffet…so load up on those carbs and dance the night away! It wouldn't be a true Brennan's New Year's Eve without some live jams by Decadent Decades, a Venice Paparazzi Photo Booth, p, and some winter wonderland fun right here in Venice! We'll be streaming the ball drop live on all of our TVs and projector screen paired with a complimentary champagne toast for all.
So gather your friends and join us at Brennan's this NYE to kiss 2018 goodbye!  Details here!
Canal Club Venice Beach 2019 New Year's Eve Party.  
Join us at Canal Club Venice as we bid 2018 farewell & welcome 2018. Live Dj's provided by Venice Beats. We have various packages available for purchase. Buy your tickets now before they sell out. Party starts at 9pm – 2am.   www.canalclubvenice.com/nye
Surfside Venice is  going all out for the countdown to 2019!   
$10 @ door or FOR VIP FREE ENTRY:
Email your Full name and name of guests to: [email protected]
VENICE ! ~ NEW YEARS EVE BASH ~ ! VENICE
Polish your Rock Star sunglasses and put in your good liver.  It's gonna get a lil' crazy at Surfside as THE BROBOTS are going to melt faces with their high energy Rock N Roll to see the end of 2018 and bring in the New Year with all our friends.
Live Music from:
THE BROBOTS
"A tribute to Rock N Roll" w/ Very Special Guests & DJ Dragon Breath will be spinning between sets
NYE 2019 at Tony P's Dockside Grill in the Marina!
This New Year's Eve, you can enjoy music, dancing and the best food in town, without leaving your table at tony P's Dockside Grill.  That night, if you dine with Tony's after 9 p.m. on New year's Ever, your table is your until 2019!   Same great prices, balloon drop, party favors, music, dancing, champagne toast, and fireworks over the Marina at 9:00 p.m.  www.TonyPs.com
,
Ring in 2019 at Venice's only rooftop bar and lounge – Hotel Erwin's High Rooftop Lounge. 
With a lineup of top DJs, a photo booth, and a menu full of delicious drinks and snacks, all just steps away from the Venice Beach Boardwalk, this is the place you'll want to be when we wave goodbye to 2018.  
Tickets are $80 per person for table seating – which includes a table for the entire night (9pm – 2am),  Champagne toast, party favors, and a chocolate-covered fortune cookie bag – and $20 for standing room only. Tickets are $60 for hotel guests.Reserve your space by calling the front desk:(310) 452-1111  www.hotelerwin.com
Don't drink and drive!  Play smart!  Spend the night in Venice!
Check out this list of local hotels!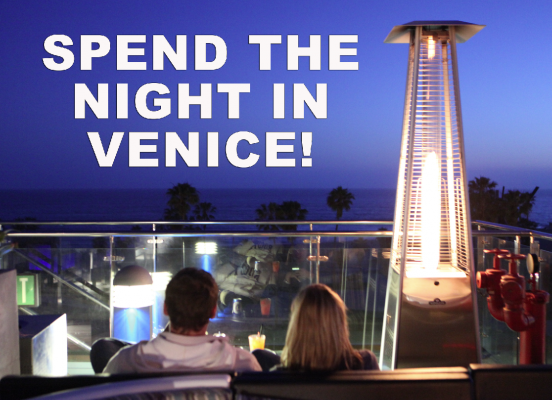 .
The Venice Penguin Swim is a great way to start off the new year in Venice!  
Plunge into the brisk Pacific Ocean with family and friends on Jan. 1, 2019.   Details here.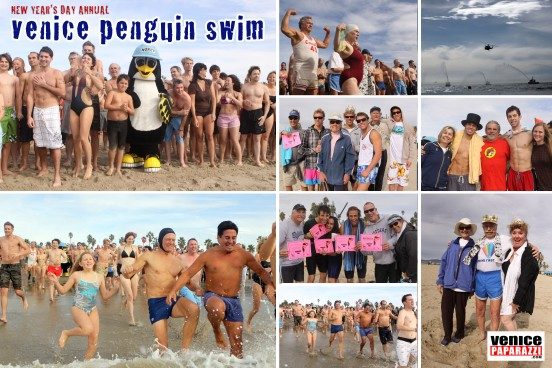 Celebrate the New Year with food and drink at the following locations. 
Bring the family to The Sidewalk Cafe!  
A Venice Boardwalk landmark for 41 years, The Sidewalk Cafe offers fresh, high-quality, well-prepared food with generous portions. And all of our soups and sauces are homemade. The outdoor covered patio provides a beautiful view of the beach and ocean while street performers and an eclectic crowd continuously entertain. View menu on thesidewalkcafe.com
Hama is open NYE and on New Years Day! Did you know that udon or ramen soup is the perfect cure for hangovers?
Established in 1979, Hama Sushi can be traced back in time to being one of the first sushi restaurants on the westside. Known for it's unique ambience and casual setting, Hama brings the freshest and friendliest service. Locals, tourists and newcomers can all enjoy traditional Japanese cuisine with unique fusion dishes. Located on the circle of Windward/Main street, a block from the famous Venice Boardwalk, Hama has been a part of Venice Beach's history for the past thirty years.
HamaSushi.com
New Year's by the Venice Pier at Simmzy's! 
Simmzy's  easily has the best draft and bottled beer selection of anywhere in the vicinity, and a breezy beach vibe patio that says "let's chill here."  And, the food as well is fantastic!  Their burgers are boss, and with offerings from short rib salad to tuna poke Simmzy's has something for every palette.    Simmzy's: "A local's pub serving artisan foods, craft beers & small production wines.  www.simmzys.com.
Brunch on historic Windward Ave at Surfside Venice!   
Surfside is your place to kick back and be comfortable: a haven from the lovable madness that is Venice Beach. Step off the busy boardwalk and relax into a long lazy afternoon with locals. All you need to do is take a moment to sit down & unwind!  You'll find us at the Venice Breakwater on the corner of Windward & Speedway. If you know the hood, you'll find us! All your friends are here, we've got the beer & great food – join us for dinner and we'll even do the dishes!  www.SurfsideVenice.com..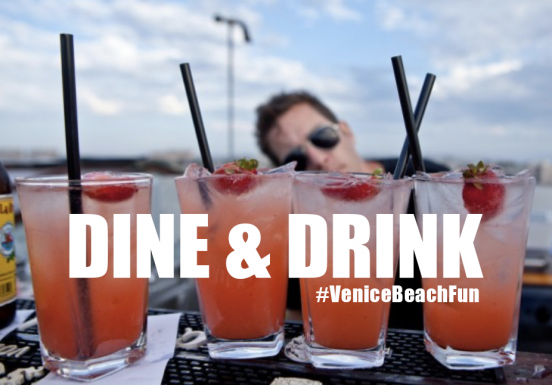 Celebrate a New Year at Tony P's Dockside Grill in the Marina! 
Chill out with a marina view while dining on crab legs, creole, bloody Mary's and beer.  Or relax and watch the game in Tavern while dining on wings, fish and chips, pizza or pretty much anything you like.  Either way, Tony Ps' has you covered!  www.TonyPs.com
Dine and drink at Barlo Kitchen and Cocktails!   
At Barlo, we strive to provide our guests with first-rate food and beverage by sourcing our ingredients from the highest quality local and artisan producers. To the greatest extent possible, we source from local producers that we feel embody the values and principles that mirror our own: locally produced, artisan quality, organic, sustainable, humane animal treatment, and minimal processing.  http://hotelerwin.com/barlo-kitchen-and-cocktails,
Start the New Year with healthy habits at Muscle Beach Juice Bar!
Power up on wheatgrass and ginger shots, fresh juice, smoothies, protein shakes, peanut butter and jelly, breakfast burritos, vegetarian options, more!  View menu!  Muscle Beach Juice Bar is located on the Venice Beach Boardwalk across from the world famous Muscle Beach Gym.  1809 Oceanfront Walk.  Venice, Ca 90291.
100+ Venice Beach Fun Things to Do and See in Venice on New Year's Day!
There are endless fun things to do in Venice, California.  From special events to on going happenings, activities, attractions, and destinations, there is never a dull moment in our paradise by the sea!  Check out our #VeniceBeachFun lists below.  Enjoy!
Want more Venice Beach Fun?

   
View and print Checklist and Map! 
VisitVeniceCA.com features organized lists of information helpful to visitors and locals alike!  As the sister site to the famed VenicePaparazzi.com, we are Venice's #1 events, activities, local deals, and information source! Have fun exploring our sites.