Interview by Venice Paparazzi's Alex Stowell
Venice Paparazzi had a chance to catch up recently with legendary muralist Rip Cronk.  Cronk is in town redoing his murals on the famous St. Mark's building. Rip  had much to say:

VP:  What are you up to nowadays, Rip?
Cronk: I live north of Weed, Ca with my wife, Lindsay.  We met in Hawaii and  have been together 32 years now.  We are currently raising "Paint" horses on a ranch up there.  I am down here for a few months working on these (the St. Marks) pieces.

VP:  Could you give us a little on your educational background as an artist?
Cronk: Sure, I have a B.A in Fine Arts from the University of Florida and a MFA from the University of New Mexico. I have painted murals in Venice, Hawaii, Auburn, Ca., Switzerland and West L.A.
VP:  Talk about your history in regards to Venice.
Cronk: Well, I arrived in here in 1979.  I have lived here several times for a total of about ten years.  The first mural I painted here was "Venice on the Halfshell."  It was at the old Venice Pavillion.   I am not sure exactly how many murals I have painted in Venice, but  some of the ones that are still up include the five story Abbot Kinney portrait on N.  Venice, the Jim Morrison on Speedway and the three on the St. Marks building.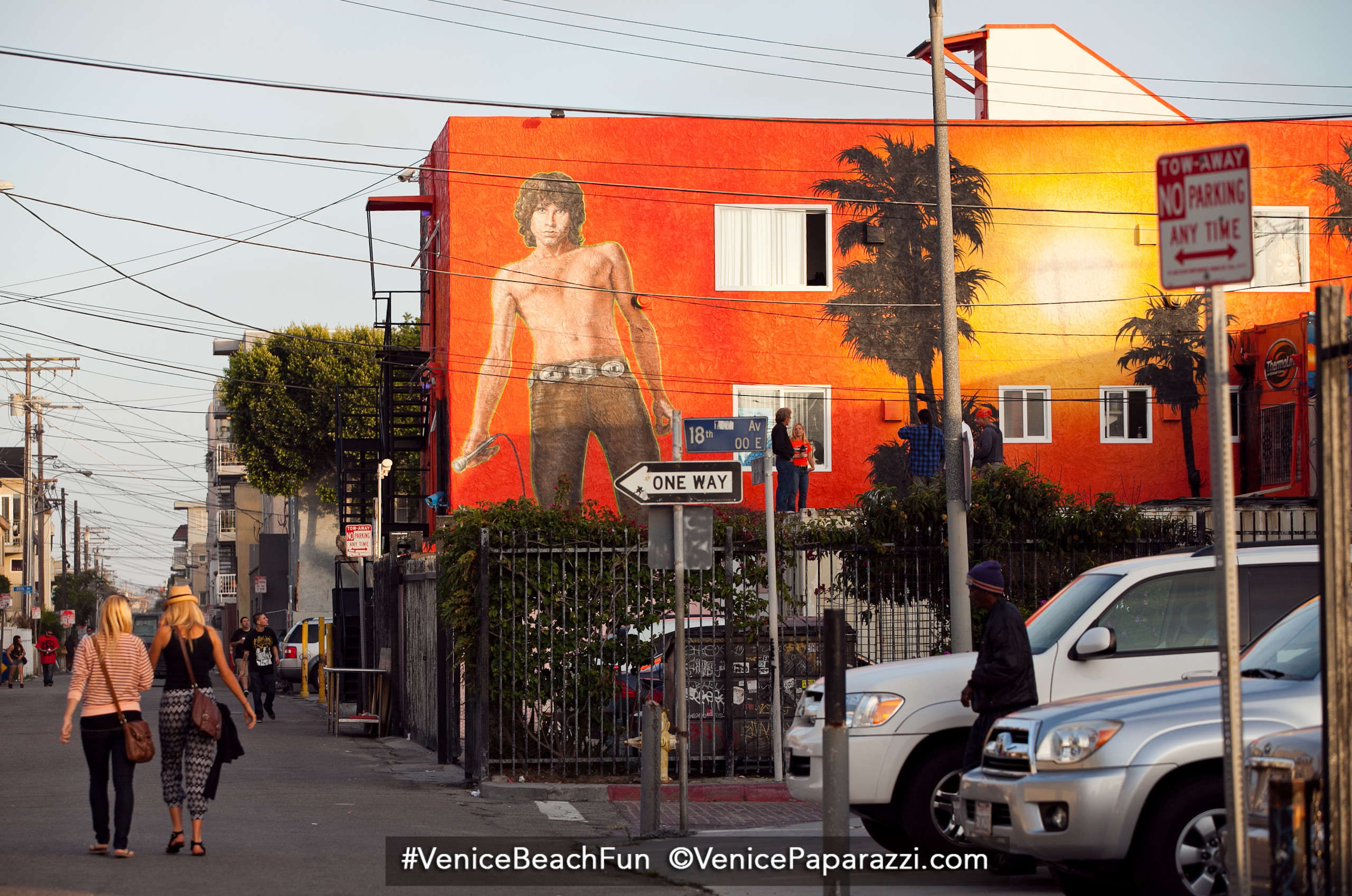 VP:  Could you give us a little of your artistic philosophy or motivation?
Cronk: Sure, well to me when you hear people say "art for art's sake," it does not make sense.  What makes sense is "art for cultures sake." As well, I do not think that artists "reflect society."  More accurately I feel they define it.  I am interested in "how fine art functions in society."  I want to play to a common audience.  I like my murals to create a common bonding experience for people.
VP: Do you have a specific goal when you start a mural?
Cronk: I try to create a cultural icon for each location.  Something with historical quality.  I want to effect society as an artist. The mural should define what culture is in Venice.
VP: Why murals?
Cronk: Because with murals you do not have to deal with galleries, owners and the trappings that go along with making art that sells. As well, the viewer does not need an art background to appreciate a mural.  And
you do not have to go to a gallery to see it.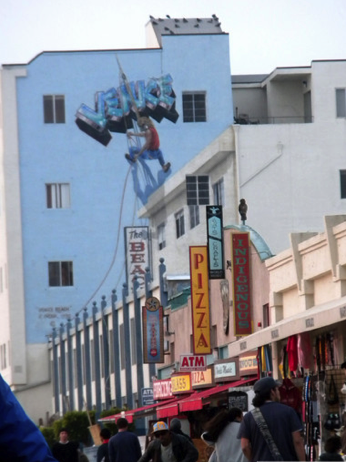 VP: Do you find one style of painting more or less difficult than another?  For example, are the photo-realistic murals harder to do than the more abstract ones?

Cronk: No, I think you can either do it or you cannot, and that holds true for most of the styles.
VP: Do you have any advice for upcoming artists?
Cronk: Yes, as soon as you have a look, let it go and find another one.  Also, there are no off days.
VP:  If you were not a painter, what would you be?
Cronk: Sculptor.
VP: What is Venice to you?
Cronk: A cultural vortex.
VP:  If you had to live in a time other than this, what would you choose?
Cronk: I would like to live in France in the 1860's, right about when the Impressionism movement was kicking off.  It was a great time.  That was well before the artist was dethroned by the camera.
VP: Who is your favorite musician?
Cronk: Neil Young.
VP:What is your favorite drink?
Cronk: I am a Budweiser man.
VP: So for the last four months, you have been working from dusk to dawn on the new Venice Kinesis mural on the side of Danny's Deli.  When you are  not painting, where do you go?
Cronk: For drinks and food, I go to Danny's Deli and the Sidewalk Cafe.  On Wednesdays, I will sometimes check out the Townhouse's Red light Wednesday's Burlesque show.
RIP CRONK WORKING ON THE VENICE KINESIS MURAL ON DANNY'S
———————————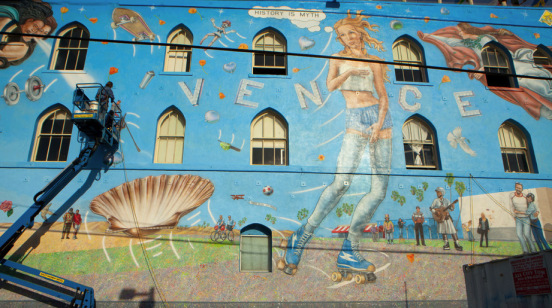 In this photo:  Name on Rice, hey that is me, Edizen Stowell, Venice Historian Jeffrey Stanton, Harry Perry, Johnny the Fly n Lion and….???)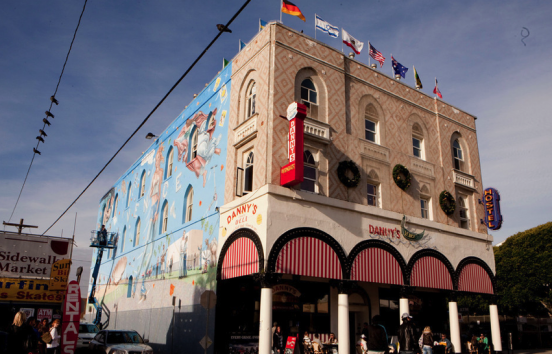 VP: And here is the big one Rip, and I am sure you knew it was coming.  Regarding your giant Jim Morrison painting on Speedway, how do you respond to the rumors that Jim's girlfriend brought his bones back from Paris and hid them in the walls of the building, and that you were in on this?
Cronk: Well Alex I tell you, that is not an easy one.  But in a word, I am forced to say no, I have no idea what you are talking about.  There are all kinds of international penalties for exhuming and exporting human remains.  So, yes I have heard the rumor, and no, I am not directly involved with this.
VP: Thank you Rip, this was fun!  For more on Rip Cronk visit his website,  www.rcronk.com
Rip Cronk living the life in Venice, California
Rip Cronk hanging out with the Jingle Bell Rocker's,
Venice Beach Suites and Hotel,
and past Chamber president Andy Layman, Johnny the Fly N Lion, the beautiful bartender Dakota, and other local residents at
Danny's
in Venice.
Photo credit:  Paul Rivas
Rip has been creating beautiful murals in Venice since the late 70's, and is currently restoring the Abbot Kinney mural on the side of Danny's.  His work is such a large part of Venice culture that we will be paying tribute to him with "An Evening with Rip Cronk" at Danny's Venice.   Join us as we recap Rip's history as a muralist and drink "Cronktinis" (Martinis made with rum, St. Germain, and Fresh Grapefruit Juice).
Danny's Venice 23 Windward Ave Venice CA 90291  www.dannysvenice.com