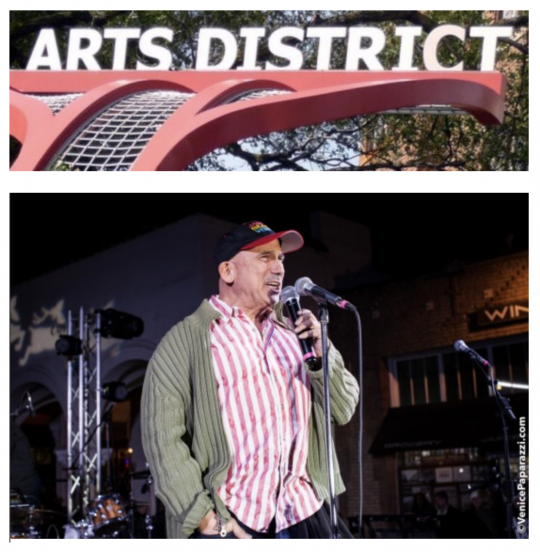 Here is a message from Venice's Daniel Samakow!  Written on 3/4/17
A PROPOSAL FOR A VENICE ARTS DISTRICT.
The other night I visited The Mar Vista art walk. As a co-founder of the Venice Art Crawl, I loved seeing their new neighborhood showcase for local emerging artists including many Venice artists. It reminded me of our early art crawls. Venice however, is in a different place with a different history, challenges and opportunities.
Venice is a world famous symbol of creativity, art, film, sports, fashion, design, writing, personal freedom; you name it. We've been an estuary for emerging forms of creativity for a hundred years, that's who we are. 100 years later we continue to attract creators and embrace new forms of creativity that rock the world. This fame has also attracted gentrification that has altered the nurturing nature of our community including the loss of affordable artist live, work and exhibit spaces. Change is inevitable. Our challenge is to continue to embrace positive change and new creativity while not losing the essence of our community and what brought us all here. It's a delicate balance.
One idea to help maintain that balance is through embracing change, establish a Venice Arts District along Venice Blvd from Lincoln Blvd down to the beach. Creating this new arts destination, a living message about Venice's commitment to arts along the main artery into Venice, Venice Blvd. would:
1.) share our inspirational community's past through museums of Venice history and Venice arts at the currently underutilized library complex plus possible galleries, classrooms, a sculpture garden and more, entranced from busy Abbot Kinney.
2.) begin to stem the current loss of artists and support the continued exploration by new emerging artists in Venice by dedicating as many low cost live /work spaces as possible in new developments proposed at city lots on Venice at Pacific and even in other developments like the Venice bus lot. This development of artists and showcase spaces, so close to the busy boardwalk, would be an engine of creativity and an arts destination much as similar artist live/work/showcase developments have worked downtown.
3.) concentrate a showcase for Venice arts into a district that creates synergy for existing institutions like PRT, Beyond Baroque, SPARC and existing galleries while adding new public sculpture, public art, galleries, performance spaces, theaters, screening rooms, etc.
4.) maintain our community's arts identity that would facilitate future arts related festivals and endeavors and help spur future arts related live/work/showcase developments and arts tourism in areas along Venice Blvd.
As ambitious as this may sound, this creative community needs such an outlet. Venice is filled with talented, generous individuals; famous and established artists and creative organizations that would want to add their contributions to this collective community expression through the future.
Last Friday I spoke to Councilperson Mike Bonin about this idea of a Venice Arts District and he asked that I report in this post that he fully supports the idea. He agrees that creating such a district would be seeding the preserving and revitalizing of arts in Venice and the upside may be enormous.
There are many issues and problems we deal with in Venice, but to me this is our great existential need. If Venice loses the energy of its artists and its arts identity, the world will have lost a great living inspirational treasure, the reason so many visit or start businesses here and the trust by all the Venetians who came before us to maintain this "estuary" for future generations.
So people ask what's next? How can I help? The next step is to email Councilmember Mike Bonin to voice your thoughts about it and show him that the community supports this idea as well. Mike's email is [email protected]
Once the community expresses its collective desire; together, we will embark on making it a reality; as many communities, even less famous ones than ours, have done throughout the country establishing arts districts and setting a stage for their next 100 years. Please share this, email this, as much as possible.
Thank you.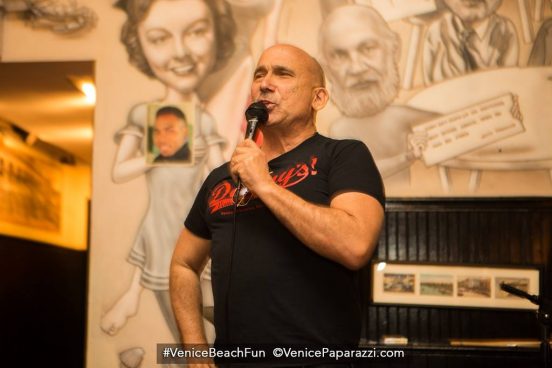 Artist, Venice resident, and Owner of James' Beach and the Canal Club
Community involvement:  C0-Founder of the Venice Art Crawl, Co-founder of Neptune Festival, one of the main guys who spearhead the Venice Sign Restoration, and much more!