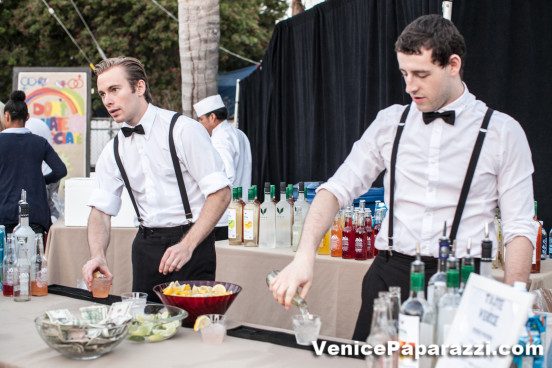 Make every hour count!  Check out this list of Venice food and drink specials starting at 8:00 a.m. and going until midnight!  Enjoy!
.
All day local deal from Jody Maroni's Sausage Kingdom – Venice.  $19.99 family meal.  4 all beef smoking' dogs, 4 regular drinks and 1 large fries.  A must have when in Venice, California!  An iconic Venice treat since 1979. 2011 Oceanfront Walk. (Located on the Venice Boardwalk)
9:00 a.m.-3:00 p.m. $20 bottomless mimosas at DUDLEY MARKET (Sat. & Sun.).
8-10 a.m.        SIDEWALK CAFE!  20% off bill. (M.-F).
9-11:30 a.m.  TONY P'S DOCKSIDE GRILL : Add Bottomless Mimosas for just $15 with purchase of any entree! Sat & Sun.  (Outdoor patio with Marina view)
11am – 3pm   CABO CANTINA $9.95 bottomless bloody Mary's & mimosas (Fri-Sun). 11a.m -2 p.m.
11am.-3pm   $5 Bloody Mary's and Mimosas at JAMES' BEACH  on Sat & Sun.
11:30a.m.-3:30 -p.m. M-F.   $18 bottomless mimosas, bloody mary's, and rum punch at Sunny Spot
 12-7 Sat. and Sun. The Brig  $6 mimosas,$8 bloody Mary's and Pimm's cups, $9 Micheladas.
12-4 p.m  Weekday Lunch specials at HAMA SUSHI.   (Free 2 hour parking)
1-2pm     1/2 all salads at Mercedes Grille.  Weekdays.
1-7 p.m.    Sunday Football Happy Hour all day at the CANAL CLUB
3-6pm   TONY P'S DOCKSIDE GRILL deep drink discounts on craft beer, wine and cocktails,  ahi sliders, mussels, pizza and more.   Extended happy hour 'til 7pm on Fri.
   THE SIDEWALK CAFE (on the Venice Beach Boardwalk)  $3 Bud drafts, $3.50 well & more (M.-F).
3-7pm    Extended happy hour on Friday's at TONY P'S DOCKSIDE GRILL  (on the Marina)
3-7pm  THE SIDEWALK CAFE! $5 wine, house margaritas, well drinks, $1 off all draft beer and food specials such as $6 burger, $5.50 sliders & $2 tacos (M-F in bar).
3:30 p.m. -6:30 pm daily  SUNNY SPOT: $5 select brew, $6 wine and $8 signature cocktails.
3:30-5:30 Vito's Pizza  $2 slices, $4 beers and $5 cocktails.  Great spot for when you are in S.M.
4-7 pm daily The Brig  $5 beers, $7 wine by the glass, and $7 Cosmo and Sweet Tea Coolers, and $9 Old Fashions and Collins.
4-5 pm    THE GREEN GODDESS   1/2 price on selected 1/8's.  from 4-5 daily.
 4-7 pm    HAMA SUSHI. Daily happy hour, $5 sushi, $1 off brews & more!
4-7 daily Simmzy's  $4 beers, $5 and $6 food.  RAD!
4 – 8pm   CABO CANTINA:  2 for 1 on all drinks daily
4:20- 7:20 VENICE BEACH BAR  $5 Golden Road brews, well drinks and wine, and $3 wings and wedges.
5-7 pm    Daily happy hour bites and drink specials at BARLO KITCHEN + COCKTAILS.  Barlo is located in the first floor of Hotel Erwin
5 – 7pm    CANAL CLUB  happy hour daily includes $6 margaritas, sake, $4 select draft and various appetizer special including $5 sushi rolls, sliders and wings!
5-close     1/2 price Sake all night long at the CANAL CLUB on Wednesdays
6p.m -1am  1/2 price wine night at JAMES BEACH on Mondays
6-8 pm  ON THE WATERFRONT.  (Venice Boardwalk Outdoor patio and bar) Where the view is as good as the brew!
10 pm-midnight  CABO CANTINA-: 2 for 1 drinks (Sun – Thurs). 
TOP NEIGHBORHOOD BRUNCH & HAPPY HOUR HOTSPOTS!
,
James' Beach:
 Lunch: 11:30 to 3pm W-F. Weekend brunch 11am – 3pm. Bar open 'til 2am.
Cocktails & Dining "Beach Style." Menu features a wide variety of seafood, meat and vegetarian items. Beautiful outdoor patio. Home of the "I Love You Man" fish tacos.  60 North Venice Blvd. | 
jamesbeach.com
 | 310.823-5396
Sunny Spot:(Washington and  Abbot Kinney)  
Inventive, colorful  twists on some of your favorites, like calamari and bruschetta, make this a foodie destination.  And, they have: $18 bottomless mimosas and bloody Mary's M-F from 9:30 a.m.- 3:30 p.m.,  $5 brews, $6 wine and $8 cocktails during happy hour daily 4-7., And $3 PBR's and ¢.50 wings  during the games. It is always sunny at Sunny Spot!  822 Washington Blvd.  Marina del Rey, CA 90292  
sunnyspotvenice.com
Dudley Market: 
Simple elegance is what they do at Dudley Market, and they do it well!  Brunch on the weekends is from 9:00 a.m.-3:00 p.m. and includes things such as salmon Benedict latkes, grass fed burger, pickled mackerel toast, and shrimp and grits, to name a few.  And, they have $20 bottomless mimosas, and $6 drafts as well.  Woohoo!
http://dudleymarket.com
9 Dudley Ave. Venice, CA. 90291
The Sidewalk Cafe: (Large outdoor patio, restaurant and bar on the Venice Boardwalk)
Eat, drink and people watch on the Venice boardwalk. Serving a variety of American, Mexican, Italian cuisine and signature drinks from the full bar. Open for breakfast, lunch & dinner. Satellite sports packages shown here.   Sidewalk Cafe offers Sunset happy hour M-F 3-7 p.m.  It includes: $3 and $ 4 drafts, $5 well, $5 pulled pork sliders, $5 cheese burger and $2 tacos, among other things.   SWC boasts some of the best people watching in the world  and a super fun staff.  
1401 Oceanfront Walk | thesidewalkcafe.com
Simmzy's:  (By the Venice Pier)
This place is rad anytime.  But, happy hour  is extra awesome, with $4 select beers, and $5 and $6 food. Outstanding service from a knowledgable, friendly staff, a huge selection of great beer, and fantastic food make it a destination to be visited time and time again.  And, on the weekends they have brunch items that include cream cheese stuffed french toast, sangria and chorizo breakfast burrito. Their burgers are boss, and with offerings from short rib salad to tuna poke Simmzy's has something for every palette.  Simmzy's: "A local's pub serving artisan foods, craft beers & small production wines."  37 W. Washington Blvd. Venice, CA 90292  
www.Simmzys.com
Tony P's Dockside Grill:   (In the Marina with large outdoor patio with Marina view)   
Voted by local newspapers and T.V. Stations! Tony P's Dockside and Grill has the best steak, seafood, outside dining, beer selection, bar food, blood Mary! Westside #1 Sports Tavern and Happy Hour. One of top three fish and chips, American BBQ and martinis! Weekend Breakfast with Bottomless Mimosas at Tony P's!   Great patio with Marina view!  Every Sat. & Sun. 9:00 am – 11:30 am.   Monday – Thursday – 11:30 a.m. until 10 p.m.   Friday – 11:30 a.m. until 11 p.m.Happy Hour Mon-Thurs. 3-6 p.m. Fri.'til 7p.m. 4445 Admiralty Way, Marina del Rey, CA – 90292. 
www.TonyPs.com
On the Waterfront: (Large outdoor patio, restaurant and bar on the Venice Boardwalk)  
Where the view is as good as the brew!   Great deals on wine and beer every weekday from 6-8pm (except holidays).  Enjoy Swiss and German Beers and Food while you catch the most unforgettable sunset on their outdoor patio and beer garden!    Celebrating 20 Years of Great Views & Great Brews.  205 Ocean Front Walk.   
www.waterfrontcafe.com
Cabo Cantina: 30 Washington Blvd.  (By the Venice Pier)  
Cabo Cantina is the ultimate sports event and pay-per-view fight destination with giant frothy margaritas, a fire pit, juke box, outdoor patio & tasty mexican favorites. Open 11am – 2am daily.  Cabo double up the happiness with 2 happy hours daily, one from 4-7 p.m. and then LATE NIGHT HAPPY HOUR from  10- midnight.  But wait, it gets better, all drinks are 2 for 1 during said times.  And on the weekends they have $9.95 bottomless Bloody Mary's and Mimosas from 10a.m.-3p.m!   Add their great daily food specials and Cabo Cantina might just be the happiest place on earth.  Woohooo!   Check out all of Cabo Cantina's neighborhood specials.  
View menu on thecabocantina.com    |30Washington Blvd. Venice, Ca 90292
BARLO:  (Located in Hotel Erwin)
We are stoked that BARLO now has happy hour, as both their food and drinks are outstanding!  They have chicken and waffles, poutine, fish sticks and many a more unique mouth watering offerings at discounted prices.  As well, their trademark, handcrafted cocktails and artisan beer and wine selection is also discounted from 5-7 p.m. daily. And, y0u can enjoy it all in the cool, laid back vibe of the Hotel Erwin.  If you have not been to BARLO, you should go, it just might be your new jam!  Open 7am daily. Dinner menu 'til 11pm.  
1697 Pacific Ave. | BarloVenice.com | 310.452.1111BarloVenice.com
Hama Sushi:  (On the Windward Circle by the Venice Sign)  
Sushi makes people happy, and happy hour sushi is even better!  Hama has happy hour from 4-7 daily and ALL DAY HAPPY HOUR ON THE WEEKENDS!  Offerings include $2 miso, $5 hand and cut rolls, discount Saki and beer and a whole of other things. MMMM good!  Also, check out their lunch hours 12-4 p.m.  Free 2 hour parking.  We love their bento boxes.   
213 Windward Ave. (on the Windward Circle) | hamasushi.com 
Venice Beach Bar:
Live Music on the boardwalk every happy hour at this iconic Venice location.  Add $5 beer, wine, and liquor and $3 food offerings, and it is, as we say, the jam!  323 Oceanfront Walk. 
Venice Beach Bar
Marina Grill and Bar!  (In the Marina, across from Mother's Beach)
Experience the flavor of the Marina at Marina Grill and Bar!   Open for breakfast, happy hour and dinner and features a full bar.  The Marina Grill & Bar invites you to discover the freshest flavors in Marina del Rey, CA dining. Choose from an unmatched breakfast buffet, enjoy daily happy hour specials 4-7 p.m.,  and discover classic entrees with California flair.  Try their breakfast buffet for 14.95!   Marina Grill and Bar is located in the Hilton Garden Inn Marina del Rey!  4200 Admiralty Way.  Marina del Rey.  Ca. 90292.  
Website