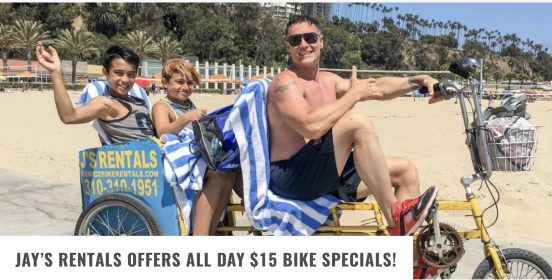 Venice Beach Fun:  Cruise the coast!  Fun for the entire family!
Need a bike or skateboard?  Jay's Rentals has what you need to experience the beach, bike path,  and boardwalk 
Venice Beach Fun Details:  Ride the path all the way from Venice to Marina del Rey, Santa Monica, Playa del Rey, Pacific Palisades or Palos Verdes!  The bike path that runs along the sand in Venice is 22 miles long and extends from Palos Verdes through Pacific Palisades, with a brief in-land detour. Its smooth concrete surface is great for bicycles, roller skates and skateboards alike.  However, pedestrians are not allowed, so, if you want to walk then you should do it on sand. There is no better way to take in the scenery of the area beaches than a casual ride up and down the coast. Or, if you are looking for exercise, hit the path hard and stop off at the rings in Venice or Santa Monica for some pull-ups and dips. Check out Jay's Rentals for bike rentals!  And the best part is that there are no cars, so, you can enjoy your ride without risk or exhaust fumes. Embraced by tourists and locals alike, the bike path is one of the treasures of Venice and is not to be missed.
TIPS: If you go north on the path you will head into Santa Monica and into Pacific Palisades. Go south, and you can ride all the way from Marina Del Rey to the Palos Verdes peninsula (Tip: Once in Marina Del Rey there is a slight inland detour.
Click here for  bike path information and photos!   Check out Jay's Rentals' list for all self propelled transportation.
.
Hours:  Open Daily Sunrise to Sunset!
Address:  1501 Ocean Front Walk. Venice, California.  90291.   (Located on the corner of Windward and Speedway.  Next-door to Danny's Venice)
To book your rental or lesson, call (310) 392-7306 or email –

[email protected]

.
Website:  www.JaysRentalsVB.com
.

___
.
Jay's Rentals also offer Surf Lessons!
Jay's Rentals offers surf lessons with four extremely talented expert surfers.  Come hang at the beach and learn how to surf today!
SPECIAL:  $70 gets you 1 hour of instruction, plus 2 hours of board time after the lesson.
.
Click here for more information or book your surf lessons now!
For more info, visit   www.JaysRentalsVB.com