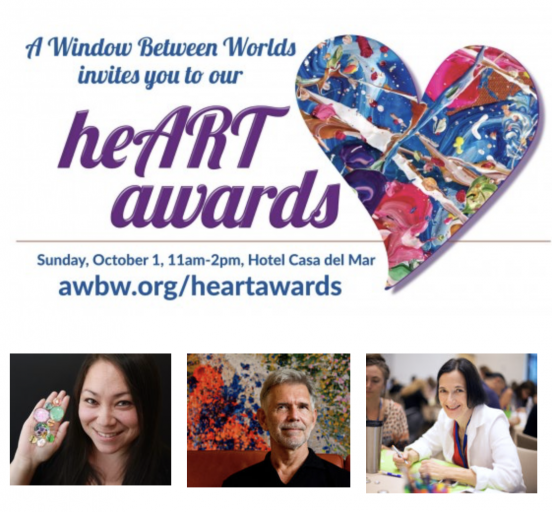 On Sunday, October 1, 11am-2pm, local nonprofit A Window Between Worlds (AWBW) will hold its signature heART Awards at Hotel Casa Del Mar, in Santa Monica (1910 Ocean Way, 90405). This special brunch honors three incredible community members who embody core values of AWBW's mission to cultivate and support a network of transformative arts programs empowering individuals and communities impacted by violence and trauma.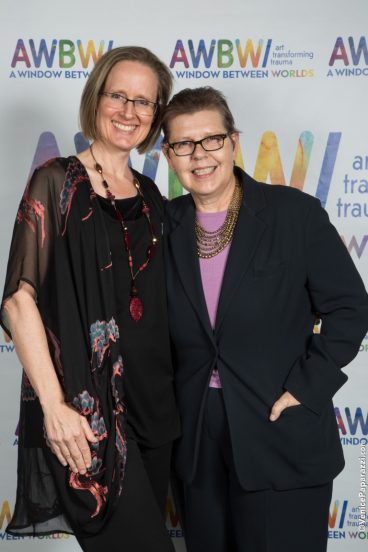 Guests will enjoy a delicious champagne brunch, luxury auction items, and the opportunity to bid on artwork created by awardee Mike Chearney in collaboration with AWBW founder Cathy Salser. Titled A Window Between Worlds, this piece consists of 36 individual canvases, painted as one. Two of these pieces — A Window of Breakthroughs and A Window of Faith — are recent ArtSlant Prize winners.
As part of AWBW's community outreach, AWBW collaborates with contemporary artists who uphold a commitment to transformation through art. Mike Chearney's artwork does exactly this — channeling healing energy through color, vibration and connection. He will be honored with the Creative Vision Award at this year's heART Awards.
Dr. Susan Lee will receive the Compassionate Witness Award for her commitment to creating a safe, non-judgmental space for her clients to express themselves. Trained Windows Program Leaders across the country use AWBW trauma-informed art curriculum to open up communication with participants, and Lee's work at United American Indian Involvement in Los Angeles is a shining example of the difference this approach can make in the community.
Advocating for AWBW and the use of art as a healing tool for nearly 20 years, Dr. Lin Morel will be presented with the Community Impact Award. As AWBW Board President from 2009 to 2016, Morel's passion and dedication have been instrumental to the organization's growth and impact.
Tickets for the brunch, and spotlights about the awardees, are available at awbw.org/heartawards.
Event sponsors include Kaiser Permanente, NBC/Universal, Foley Family Wines, and Tito's Handmade Vodka.
/
All proceeds directly benefit AWBW's transformative arts programs to fund scholarships, art supplies, trainings, curriculum development and the launching of new programs.
.
About AWBW: Founded in 1991 by an ambitious young artist, AWBW is able to reach over 30,000 women, men and children each year by partnering with various human service organizations around the country. We train and support staff at these organizations in facilitating AWBW's unique healing art curriculum.
.
By providing an environment that promotes safety and healing, AWBW's art workshops help survivors of trauma to communicate and connect, as well as develop a renewed sense of hope and possibility. This allows individuals, families and communities to process their experiences in order to move forward towards less burdened and more productive lives. www.AWBW.org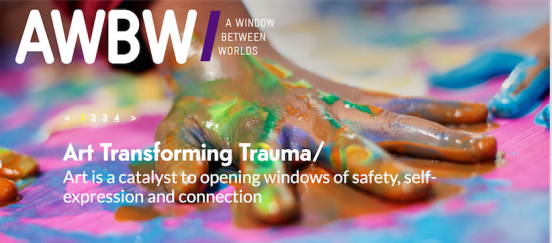 .
To learn more, contact  Lindsay Angrisani.
/
If you're interested in getting involved in this event, donating an auction item, or joining the Host Committee, please email Lindsay Angrisani at [email protected] or call (310) 310-396-0317.
/
For more info and to purchase tickets:  https://awbw.org/calendar/heart-awards/