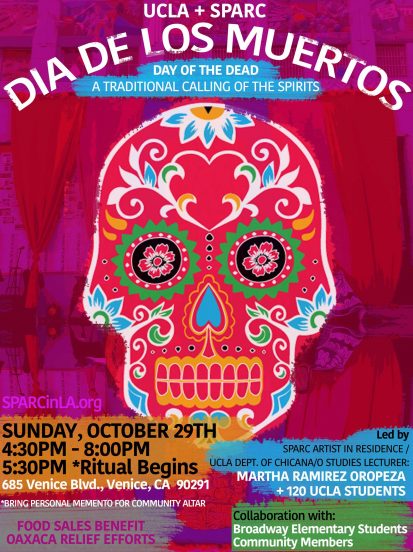 Here is a message from the host.   On Sunday, October 29th at SPARC's historic headquarters since 1977 (Old Venice Police Station), SPARC-UCLA presents their annual:
"Día de los Muertos / Day of the Dead" ceremony to honor the dearly departed with the annual ritual of The Calling of the Spirits. 4:30PM-8:00PM
The traditional ceremony will start at 5:30PM, guided by UCLA instructor and SPARC's Artist in Residence, Martha Ramirez-Oropeza, and her 120 UCLA César E. Chávez Chicana/o Studies Department students. This year Martha partnered with the students of Broadway Elementary School to present their own altar using momentos and decorations they produced from their workshop at SPARC!
We will also be selling food for the Oaxacan Relief Efforts.
SPARC ART
, 685 Venice Blvd, Venice, California 90291

————————–————————–——-
About Día de los Muertos: the joyful and colorful ritual is celebrated throughout Mexico and around the world. Scholars trace its origins to the Pre-Hispanic observances recorded in the ancient manuscripts called códices. The twenty-day months of Miccailhuitontli and Huey Miccailhuitl, which occurred in August, were dedicated to the Lord and Lady of Death. The Spanish invasion however, imposed their Catholic, All Saints Day, changing it to November 1st and 2nd. As the Europeans expanded their influence throughout the continent, the ritual evolved. With the creative genius of master engraver, José Guadalupe Posada, who created the famous image of, La Catrina, the ritual acquired a political-satirical edge. Today, it combines a profound observance of honoring those who have passed and, especially in urban areas, a playful calaca/skeleton spirit.
The celebration traditionally takes place on November 1st. Nine days before, tombs are swept and decorated with flowers, and on November 1st, altars are set with photographs of the deceased, and the delicious food that awaits the tired souls that come from Miktlan, land of the dead. On the altars are sugar skulls, colorful tissue paper cut-outs, marigolds, candles, water and the favorite foods and beverages for the departed. In some towns such as Ocotepec, Morelos, the elder, still invites the spirit of the dearly departed relative, to come to dinner. This tradition, however, comes from an ancient practice recorded in the códices, in which the elder climbed on the rooftop of the family house, and facing North, invoked the spirit of the ancestor to come to the feast; this "Invocation to the Four Winds and Calling of the Spirits" will be enacted by UCLA students. Live music will be presented and traditional Pan-Dulce (Mexican sweet bread) as well as Mexican hot chocolate will be served. Food vendors will be present (cash only).
Community members are encouraged to bring personal memento for community altar!