View Venice, California through the lens of Venice Paparazzi.   Locations targeted:  The Beach, the Bike Path, Venice Art Walls, and the Venice Boardwalk between 19th Ave-Windward Ave.   Camera gear used:  5D Mark III with the  24-70 mm.   We kept it at 24 mm wide for the majority of the photos below.
Thank you to this week's Venice photo adventures sponsor Venice Breeze Suites.
One of the best things to do in Venice is to cruise and enjoy the the 22 mile coastline on the Bike Path.  22 miles of coastline views.  The bike path that runs along the sand in Venice is 22 miles long and extends from Palos Verdes through Pacific Palisades, with a brief in-land detour. Its smooth concrete surface is great for bicycles, roller skates and skateboards alike.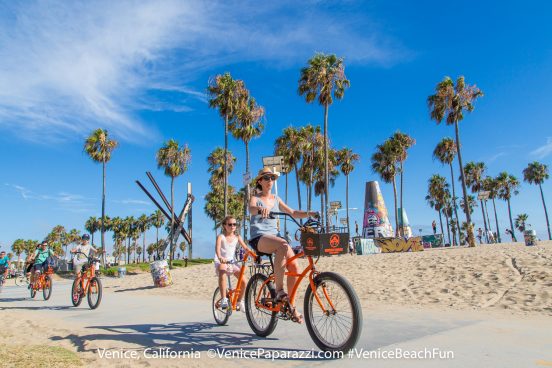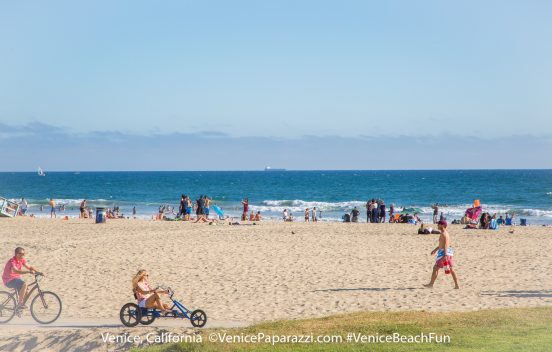 Need a bike or skateboard?  Jay's Rentals has fat tire beach cruisers designed for cruising the shoreline!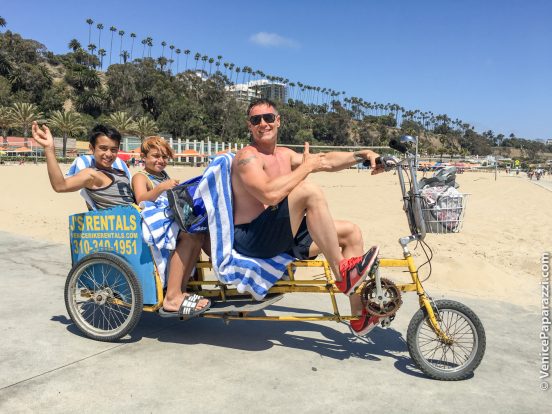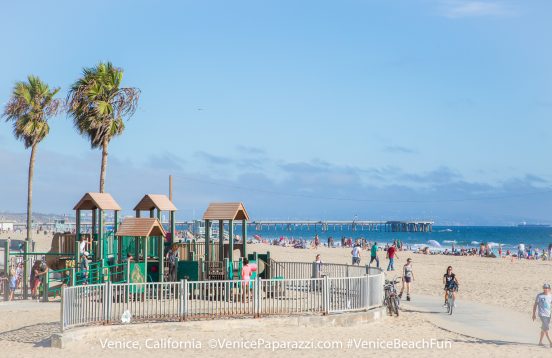 Let the children run free at the Venice Play Stations.  Two locations on the beach.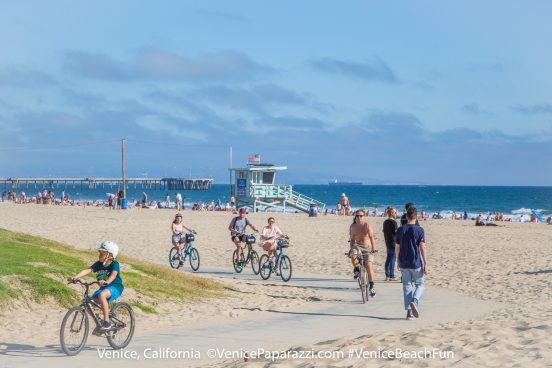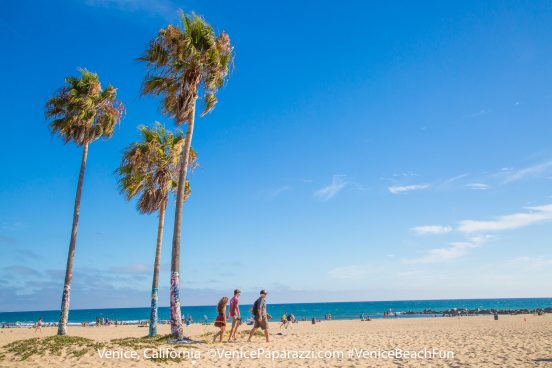 Spend day at the beach!  This is the thing that makes Venice the most special place on earth. Sure we have great culture and people, but it is the magnificent Pacific that makes it all happen. This three-mile beach is manicured daily and the lifeguards are on duty, so grab a towel and head down to the sand.  Surf, swim, body board and splash around in the Pacific Ocean. Go for a deep sand run or power walk in ankle deep water. Sunbathe & relax. Keep an eye out for dolphins. Volleyball courts also available.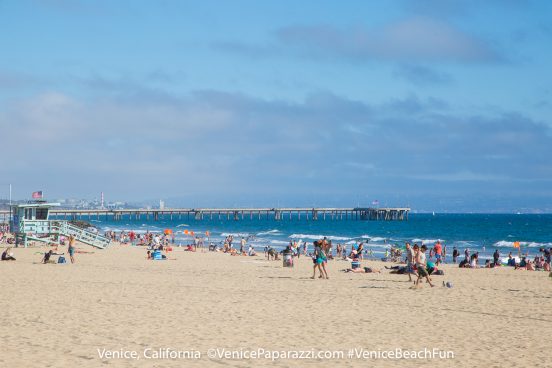 Pose down at Muscle Beach Gym.   Located steps from the sand on Venice Beach Boardwalk, Muscle Beach Gym is one of the treasures of Venice.  Once the home gym of bodybuilders Arnold Schwarzenegger and Lou Ferrigno, the newly outfitted facility still serves the community as the only outdoor weight room around.  If you are into pumping iron or just want to see a piece of living history, then stop by Muscle Beach Gym.
–
If you are on the boardwalk, and craving an ice cream, or need to power up for a workout, then you have to try the coconut vegan ice-cream from Muscle Beach Juice Bar, located in the orange building across from Muscle Beach Gym.  It is incredible.
.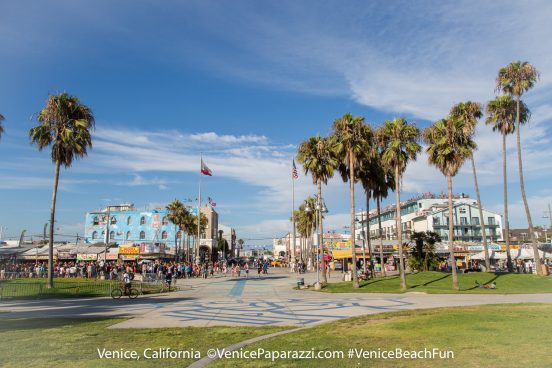 Windward Plaza.  Home of Jay's Rentals, which has $15 all day rentals,  The Sidewalk Market, Surfside Venice, home of a rad happy hour and live music, as well as  the Venice Sign.  Blue lines in the center of the photo represents the Venice Canals.  Check it out.
.,.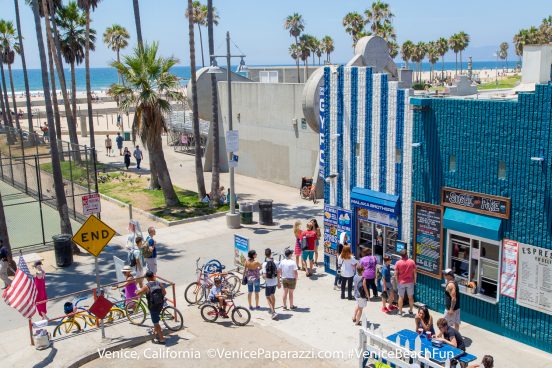 19th Ave Food court on the Venice Boardwalk houses Malaka Brothers, Sushi and Poke, Expresso Yo'Self, Muscle Beach Nutrition, and Muscle Beach Juice Bar.
.
Now who's craving brunch?    View the best Venice restaurants and bars here!
.
For all Venice Beach Fun, check out www.VisitVeniceCA.com
.,.
Thank you to this week's Venice Adventures' sponsor  Venice Breeze Suites.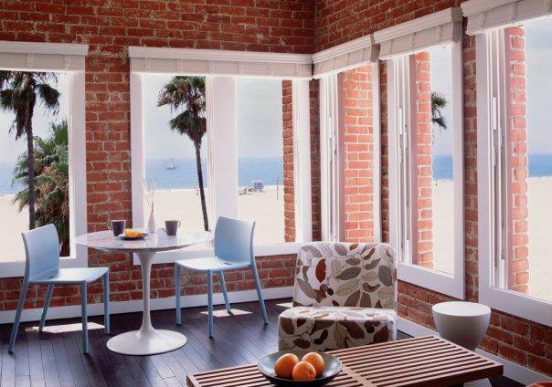 About Venice Breeze Suites:  Directly on the Venice Beach & Boardwalk Venice Suites offers a unique brand of laid-back luxury beach living, extended-stay amenities and home-like conveniences not available at typical Venice, California hotels. We are equally ideal for executives and savvy travelers seeking an entirely new level of comfort and sophistication.
/
The On top of our uniquely affordable extended-stay rates, save even more by cooking at home in an ocean blue tile gourmet chef's kitchen and entertaining friends and business associates on the stunning rooftop terrace with a BBQ. Or, if you're not in the mood to cook at home, stop by one of the many nearby Venice Boardwalk restaurants and coffee shops, just 300 feet from our Venice Beach, California property. Don't be surprised if you may not ver want to leave.  Book your room now and enjoy Venice! 
.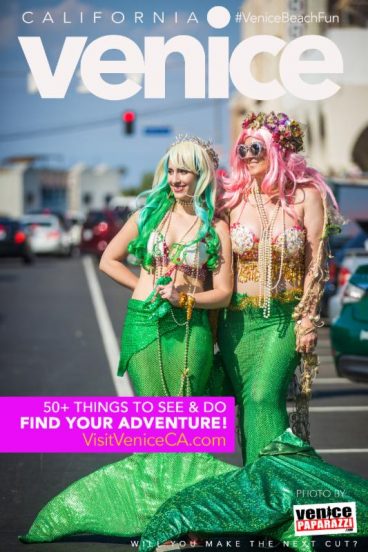 VisitVeniceCA.com features organized lists of information helpful to visitors and locals alike!  As the sister site to the famed VenicePaparazzi.com, we are Venice's #1 events, activities, local deals, and information source!
Check out some of our awesome lists!
.
Explore Venice with this FREE activities checklist and map
Whether your visiting Venice, California, or live in the V and need a stay-cation, no experience is complete without checking out each of the listed attractions and unique neighborhoods that make up our city. 
View and print 

Venice Activities CheckList & Map!  
For all Venice Beach Fun, check out