Venice is a physical town!  And there are tons of workouts to check out. Here is a  slew of suggestions to get you into lean, mean fighting shape!
1.  Train at the beach!   Run the dune at Venice Breakwater or at the Venice Pier!  Every winter the County bulldozes the beach and creates a 150 yard long dune.   It is the perfect workout tool.  Run up and down it diagonally to your hearts content.  It is a low impact, cardio intense jam that is sure to get you sweating. 
2. Surf, swim, body board and splash around in the Pacific Ocean. Go for a deep sand run or power walk in ankle deep water. Sunbathe & relax. Keep an eye out for dolphins. Volleyball courts also available.  You can rent surf, body and skim boards at several spots if you do not have your own. Or, grab a Frisbee or a ball for some catch.  Marvel at the planet's largest ocean or meditate into your own universe, either way the beach has the perfect spot for everyone.  Showers and bathrooms located by and on the beach at the Venice Pier, North Venice Blvd, 17th St., Market St.  Brooks Ave. and Rose Ave. Admission is free!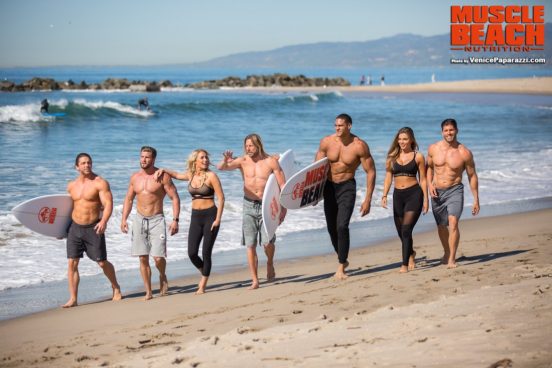 3.  Grab a workout a the iconic Muscle Beach Gym on the Venice Boardwalk.  Outdoor gym with free weights, machines, power rack, powerlifting bumpers & more. Bodybuilder Hall of Fame also found here. $10 day pass or $20/month.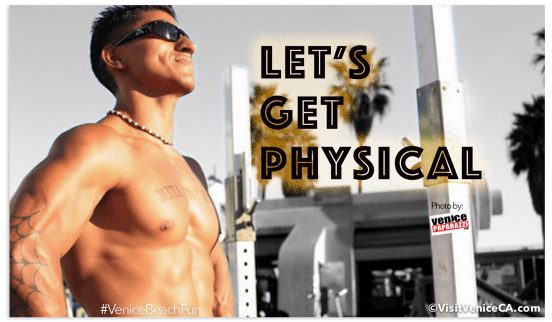 4.  Start the New Year with healthy habits at Muscle Beach Juice Bar!   
Power up on wheatgrass and ginger shots, fresh juice, smoothies, protein shakes, breakfast burritos, vegetarian options, more!  Located on the Venice Beach Boardwalk across from the world famous Muscle Beach Gym.  1809 Oceanfront Walk.  Venice, Ca 90291.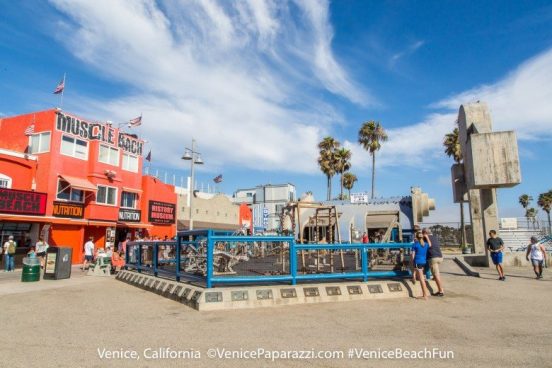 While at Muscle Beach Juice Bar, get the Muscle Beach Souvenir cup!  Grab the iconic orange dumbbell cup for your favorite smoothie drinking workout fiend.   As well, for all your supplement needs, check out Muscle Beach Nutrition, located next door to the juice bar.  In this photo:  Muscle Beach Nutrition Athlete.  www.MuscleBeach.com
5.  Work out at the Venice Recreation and Parks Center! Venice's ocean front recreation is known the world over! From the iconic Muscle Beach Gym to the basketball courts, no trip to Venice is complete without a day in the park.  The Rec & Parks office offers handball, basketball, boxing bag rentals free with valid I.D. Paddle tennis racquet rental $5 with valid I.D. Instructors also available. Courts are first come first served.  View flyer  to view full list of Venice Recreation and Parks' facilities.      
7.  Soar high and skate at the Venice Skatepark!
 27,000 sq. foot park. Two bowls, snake run, rails, stairs.
8. Play a game or two of 
Paddle Tennis!
 11 courts!  Paddle tennis racquet rental $5 with valid I.D. Instructors also available. Courts are first come first served.
9.  Ride or skate the bike path!
The bike path that runs along the beach spans 17 miles, from Pacific Palisades to the Palos Verdes peninsula. No pedestrians on path!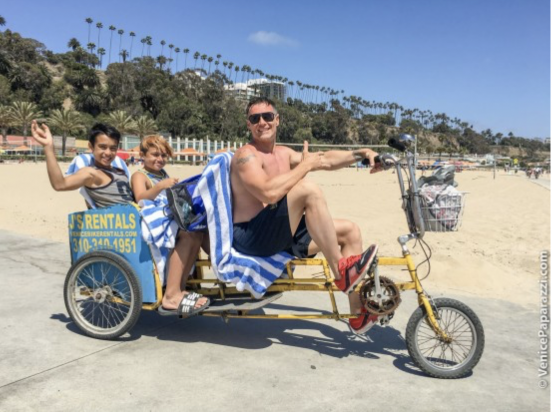 10.  Need a bike, skate or board for a day?   
Jay's Rentals: Jay's has bikes, tandems, blades and skates for cruising the path.  Rent hourly or by the day.  And, when you are done they can teach you to surf!   1501 Ocean Front Walk  Venice, CA  (310) 392-7306.  Ask them about their $15 all day rental special
Maui and Sons:  Rent a skateboard, take a lesson and drop into the big bowl at the Venice Skate Park!  Maui and Sons is the only place in the V that gives full on skate lessons.  They will equip you and show you how it done!  Or, you can rent a board and skate the bike path. Either way it will be rad!  And, they also do full package surf lessons!  1415 Oceanfront Walk Venice, CA (310) 392- 6284.
11.  Power walk and be entertained on the Venice Boardwalk!  
Before you know it, you will hit your 10,000 steps!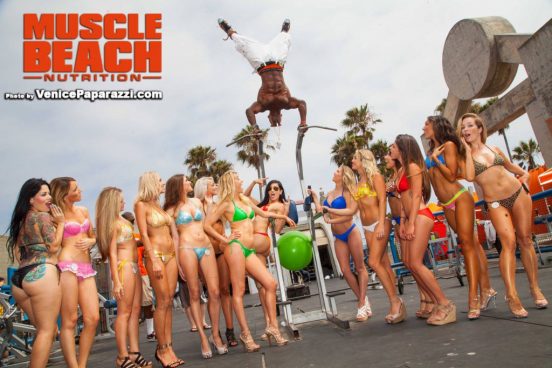 12.  Commit to a daily walk in the Venice Canals!  
Many of the streets in Venice were once canals. What is left is just a fraction of once abundant waterways, which were laid out by city founder Abbot Kinney to be a miniature version of Venice, Italy.
14.  Power up in the Venice Sandpit!  
The sand pit includes
 two rings set, high & low parallel bars, balance bar, horizontal bar, and 2 climbing ropes.  Check out Venice Dynamics Bootcamp Wednesdays & Fridays 8am-9am only $5 meet at Venice beach sand pit.
15.  Fly like a superhero at the rings in Santa Monica. 
 Great work out!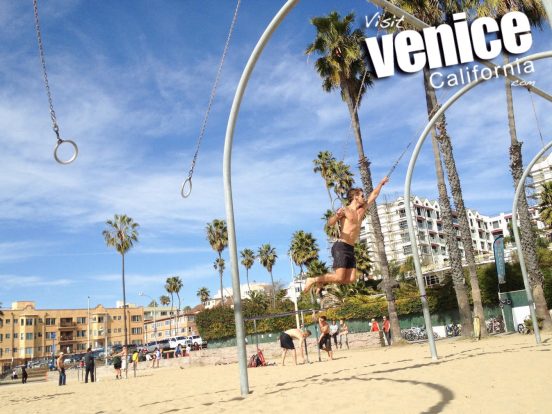 16.   Dance it out at the Venice Drum Circle or Roller Skate Plaza.  The Roller Skate Plaza has a Live D.J. and dancing every weekend.
17  Sweat it out at the Handball courts
! 4 three wall courts and 3 one wall courts.
18.  Box it out at the Boxing area by the Venice Sandpit!
  6 speedbag platforms, 2 heavy bag areas.
20. Want to take a surf lesson?  Check out Jay's rentals or Maui and Sons!  They both have packages that include wet suits, boards and a qualified instructor. And, they also have body boards,  beach supplies and more!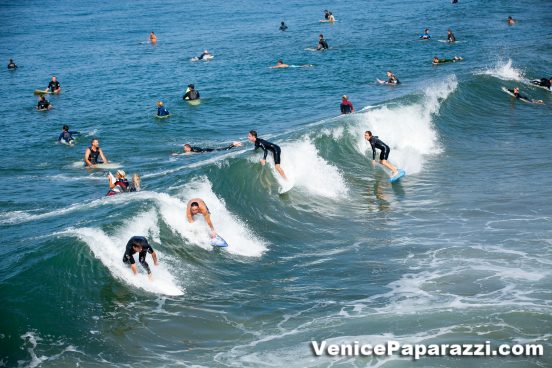 21. Ride a beach cruiser up the beach on the sand!   Jay's Rentals has fat tire beach cruisers designed for cruising the shoreline!
22. Grab your Fitbit, and power walk Venice using the Venice Activities CheckList and Map!  If you take photos #VeniceBeachFun
Here is some inspiration!
Click here for additional physical activities!