Take part in the world's BIGGEST volunteer day to protect the ocean!
Here is a message from Heal the Bay!  Coastal Cleanup Day is the world's largest volunteer day to protect our environment.
In coordination with a statewide and global movement, together we'll make a big dent in removing trash and debris from the environment. During Coastal Cleanup Day 2017, volunteers removed 800,000 pounds of trash and recyclables from California's coast and inland waterways in only three hours. There's power in numbers.
Date: Sat, September 15, 2018
Time:  9:00 AM – 12:00 PM
What is Coastal Cleanup Day all about?
Coastal Cleanup Day is a local volunteering event celebrated in communities worldwide. How it works is simple. Volunteers pick up trash and the items are tallied up to raise awareness about our major pollution challenges. Plastic pollution and tiny trash are increasingly the most common things we see littered in our environment in addition to the number one item we find: cigarette butts.
About the host Heal the Bay.
Heal the Bay is an environmental nonprofit dedicated to making the coastal waters and watersheds of Greater Los Angeles safe, healthy and clean. To fulfill our mission, we use science, education, community action, and advocacy.   healthebay.org
View cleanup map below for this year's locations. 
Venice has two location clean up sites.  Be part of Team Venice!
Venice Pier.  Meet at Tower Buccaneer, 3100 Ocean Front Walk @Washington Blvd, Venice 90292
Venice Beach at Rose Ave.  Meet at Tower Rose, 300 Ocean Front Walk @ Rose Ave. Venice, Ca 90291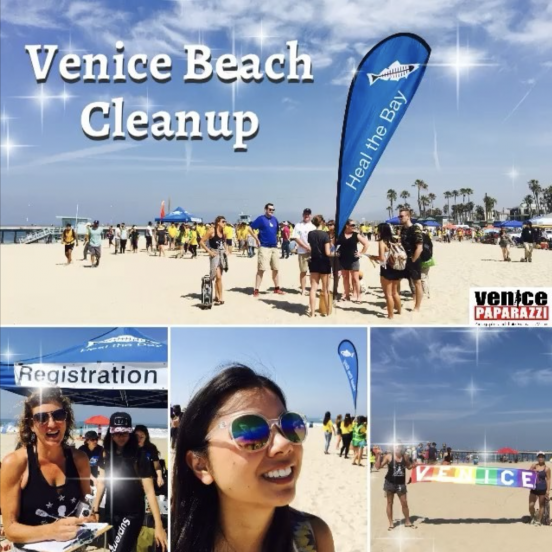 Hungry after the beach clean up?  Eat at one of these amazing Venice restaurants!