Do you feel compelled to do some philanthropic work?
Perhaps there is a cause near and dear to your heart that could use your wit, wisdom, time, and energy!  Maybe you are unsure where to pitch in. Well, you are in luck!  Our fantastic team has put together a list to make it easy to find out where to help!
Check out this list of local organizations that need your support! 
List organized by Amy Dewhurst and Edizen Stowell.  Contact the local non-profit directly and find out how you can support them!
A Window Between Worlds (AWBW) – a nonprofit organization dedicated to using art to help end domestic violence.   Through creative expression, battered women and children gain a sense of renewal and power. www.awbw.org.   For other domestic violence resources, see our Domestic Violence Resource List.
Boys and Girls Club of Venice:  Our mission is to enable all young people, especially those who need us most, to reach their full potential as productive, caring responsible citizens.  (310) 390-4477. www.bgcv.org
California Wildlife Center is a non-profit organization dedicated to the rescue, rehabilitation and release of native California wildlife.   Enrich your life or further your education by helping CWC rehabilitate orphaned, ill, or injured wildlife from the Santa Monica Mountains, Malibu beaches and surrounding areas of Los Angeles and Ventura counties. Volunteering is a great way to meet others who share your concern for wildlife and to learn about our native animals and the environment. HOTLINE: (310)458-WILD HOSPITAL: (818)591-WILD    www.californiawildlifecenter.org
Venice Arts mission is to ignite youths'imagination, mentor their creativity, and expand their sense of possibility through high quality, accessible media–based arts education programs; and to serve as a catalyst for people of all ages, living in low–income or underrepresented communities, to create and share personal and community stories through photography, film, and multi–media.  (310) 578-1745. [email protected] www.venice-arts.org
Venice Family Clinic – Our mission is to provide quality primary health care to people in need. Founded in 1970 by Phillip Rossman, MD, and co-founder Mayer B. Davidson, MD, it has grown from a small storefront operation into a community health system with ten clinic sites in Venice, Santa Monica, Inglewood, Mar Vista, and Culver City. We serve 24,400 men, women, children, teens, and seniors annually. We provide more than 106,000 primary care, specialty care, mental health, dental, and health education visits annually.   visit www.venicefamilyclinic.org/volunteers
NKLA (A Best Friends initiative):   Volunteers needed for dog walking/cat comfort at NKLA pet adoption center *West L.A.).  If you love animals, and like to exercise, the animals at the "No-Kill Los Angeles" shelter (NKLA) need your help. We need volunteers to help get our canine friends out of their kennels for their daily walks and playtime activities. If cats are your preference, we also need volunteers to spend time socializing with our feline friends.  A morning or afternoon of dog walking is more rewarding and fulfilling than any gym workout! Volunteers are needed for any and all hours (open 8AM to 8PM, 7 days a week), but weekday shifts are especially important. Please visit the website (nkla.org/Volunteer) for more information, or to schedule your orientation to begin helping our animal friends.
Airport Marina Counseling Service:  (AMCS), founded in 1961, is a nonprofit, community-based mental health clinic that serves the LAX, South Bay and Westside areas of Los Angeles. The mission of AMCS is two-fold: to provide affordable, community based mental health services, and to train mental health therapists. For more info:  www.AMCShelps.com.
Heal The Bay:   Heal the Bay is a nonprofit environmental organization dedicated to making Southern California coastal waters and watersheds, including Santa Monica Bay, safe, healthy and clean. We use research, education, community action and advocacy to pursue our mission.  1-800-HEAL-BAY www.healthebay.org
Surfrider Foundation – environmental organization dedicated to the protection and enjoyment of the world's oceans, waves and beaches for all people, through conservation, activism, research and education. (949) 492-8170  www.surfrider.org
Life Rolls On:  Life Rolls On is dedicated to improving the quality of life for young people affected by spinal cord injury and utilizes action sports as a platform to inspire infinite possibilities despite paralysis. In addition to unique quality of life programs, Life Rolls On champions spinal cord injury awareness and offers outreach to individuals and their families at the onset of injury.  For more info, www.liferollson.org
Meals on Wheels West:  Meals on Wheels West's Delivering More Than a Meal program needs volunteers to deliver meals to our hungry homebound clients in Venice and MDR. We deliver a hot, nutritious lunch to people who have difficulty purchasing and preparing meals due to age, chronic illness, accident, frailty, disabilities or other physical or mental health issues. We serve veterans, seniors, newly discharged hospital patients and other people with mobility issues.  We need people to deliver meals Monday – Friday. Pick-up the meals at 10:30 and you will complete deliveries in about two hours.  www.mealsonwheelswest.org
Sustainable Venice:  A sustainability and green-living community of local pioneers, activists, innovators, collaborators, and conservationists in Venice Beach. Resource for local markets, restaurants, non-profits, and social networks. SustainableVeniceCA.com
Badge of Heart:  Partnering with the Community to help Police Officers sponsor families in need (Victims of Crime or Family Hardship).  BadgeofHeart.org
826LA is a non-profit organization dedicated to supporting students ages 6 to 18 with their creative and expository writing skills, and to helping teachers inspire their students to write.  www.826la.org
Angels at Risk – a non-profit organization dedicated to helping teenagers and their families at risk for drug and alcohol abuse. Angels at Risk believes that when the issue of addiction is addressed very early on in life that the future of teenagers, kids and their families can be changed forever. We know that by embracing the teenager's struggle that the entire family is given the gift to heal and grow together.  www.angelsatrisk.com
Beyond Baroque Literary/Arts Center is is located in our old Venice City Hall, built 1906. The Center offers an extensive program of public readings, free workshops, a project room, bookstore, publications, and chapbook/small press archive. During our nearly forty years in Venice, we have nurtured and presented many of the best writers, artists, and poets from the West Coast, around the country, and world. The Center is unique for its combined range of activities, constantly moving back and forth between the underground and the literary and artistic establishments.  beyondbaroque.org
Community Healing Gardens:  Community Healing Gardens is a non-profit organization fostering community through urban gardens, providing food for those in need and educating our culture about the importance and urgency of a planetary and human health. communityhealinggardens.org
.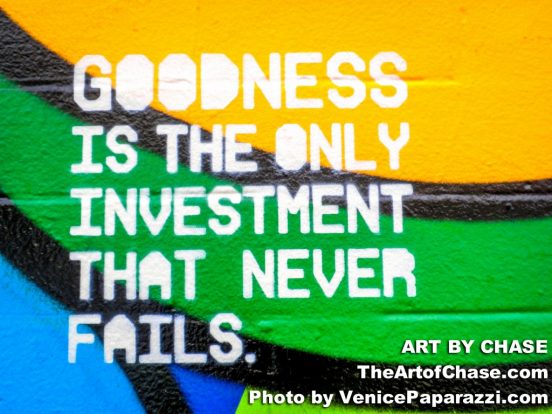 Electric Lodge – a laboratory for artists and environmentalists. We engage our community through the visual and performing arts, innovative classes, programs and seminars, providing experiential contexts and opportunities for dialogue. The Electric Lodge is a torch bearer in the effort to stimulate public understanding and support for the creation of a sustainable worldwide eco-system. electriclodge.org
Full Circle Venice: Full Circle Venice is a non-denominational non-profit community-based center located in the heart of Venice, CA.  We offer a spiritual and artistic environment within which people may develop their potential as reflective beings and connect with other members of the Los Angeles community. fullcirclevenice.org/
Girl PACT:  Girls PACT is a Los Angeles based nonprofit whose mission is to combat unplanned pregnancy among young women ages 15-24 by revealing the power of self-confidence. Our comprehensive sexual health curriculum is designed to clarify positive personal values, teach sexual health, develop assertive communication skills and promote healthy relationships. Weekly workshops, social events and awareness campaigns open conversations about self-worth, friendship, dating, love, respect, abuse, boundaries, consent and sex. The powerful directives inspire young women to make sound, educated decisions with confidence and poise.  girlspact.org
Kiss the Ground:  Kiss the Ground is a California-based 501(c)(3) environmental non-profit telling a new story about our ability to regenerate land and reverse climate change by building back healthy soil. We create media, campaigns and educational curriculum that raise awareness and empower individuals to take action. Behind the scenes, we connect and work with a wide range of stakeholders – farmers, educators, brands, NGOs, scientists and policy makers – to advocate for regenerative agriculture and the restoration of healthy soil worldwide. Kiss the Ground is co-producing the self-titled feature-length movie to be released in 2017. kisstheground.com
Harvest Home – provides shelter and assistance to homeless pregnant women. As a full-programmed residential home, we equip our residents with the knowledge to make healthier life decisions; cultivate their parenting skills; and increase employability through education. Our ultimate goal is that each woman will leave the home spiritually strong, with a new-found sense of self-worth, and better prepared to support and care for herself and her child. Harvest Home is where new lives begin.   www.theharvesthome.net
.
Inside/Out Community Arts:  Through visual and performing arts workshops, performances and festivals, our missionis to give youth from all backgrounds the tools, confidence and inspiration to make a positive difference in their communities and the world…from the inside out.  (310) 397-8820 www.InsideOutCA.org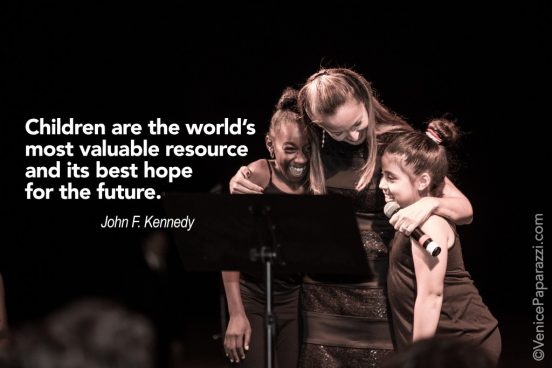 The Neighborhood Youth Association. Providing full day care and after school programs for at risk youth from 2-18 since 1906.   www.NYAyouth.org
Oakwood Recreation Center – To learn about programs and facilities, laparks.org/dos/ereg/facility/oakwoodRC.html.
Rotary Club of Playa Venice Sunrise:  
Rotary is a worldwide organization of more than 1.2 million business, professional, and community leaders. Members of Rotary clubs, known as Rotarians, provide 
humanitarian service, encourage high ethical standards in all vocations, and help build goodwill and peace in the world.  www.playasunrise.org 
Pacific Resident Theatre:   Based in Venice, California, Pacific Resident Theatre is a company founded by actors and dedicated to producing the classics, rarely performed plays, and the works of new writers.  www.pacificresidenttheatre.com
Pieces:  We at PIECES pride ourselves in providing opportunities in the arts to young people through their transition from childhood into adulthood. Many of our members find it nearly impossible to pursue a career or education in the arts or other fields, mostly due to financial stresses. Not to mention, our members are no longer eligible for similar free programs because of their age and often come from under-served communities.  www.piecesarts.org/
Safe Place for Youth (S.P.Y):  Our program prioritizes low barriers for entry, harm-reduction, a trauma-informed approach, and the provision of a safe, supportive environment.   Basic human needs are addressed through a "safe haven" atmosphere of hope and concern. SPY provides three core areas of service provision: Street Outreach, Drop-in Center, and Case Management. facebook.com/SafePlaceForYouth/
SPARC-Social and Public Art Resource Center – an arts center that produces, preserves and conducts educational programs and community based public art works.SPARC espouses public art as an organizing tool for addressing contemporary issues, fostering cross-cultural understanding and promoting civic dialogue. Working within this philosophical framework, over the last 31 years SPARC has created murals and other forms of public art in communities throughout Los Angeles and increasingly in national and international venues. SPARCinLA.org.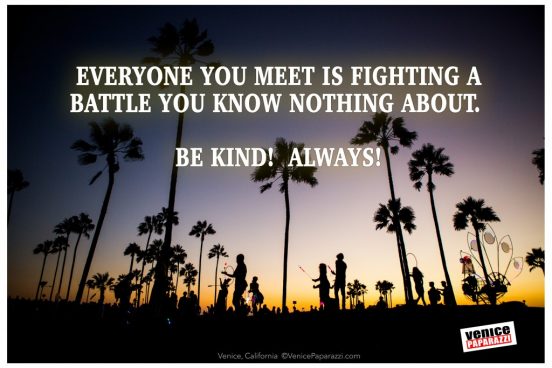 St. Joseph Center – the agency provides a variety of emergency and ongoing programs to assist low-income and homeless individuals and families in the West Los Angeles area. Services include child care, emergency food, homeless support services, mental health services, personal goods, services for older adults, services for veterans, and a thrift store.For more information please contact; Tiana Rideout, Volunteer Services Coordinator (310) 396-6468 x 326. www.stjosephctr.org
St. Joseph Homeless Service Center – referrals to shelter, has pre-arranged beds with Samoshel. Services include child care, emergency food, homeless support services, mental health services, personal goods, services for older adults, services for veterans, and a thrift store.  Hampton at Rose. (310) 399-6878
CES:  The Coordinated Entry System for All Populations aligns the Single Adult, Family, and Youth Systems into a seamless, collaborative, county-wide platform for housing and service delivery to homeless households. lahsa.org/ces
Los Angeles Homeless Services Authority:  LAHSA's mission:  To support, create and sustain solutions to homelessness in Los Angeles County by providing leadership, advocacy, planning, and management of program funding.  For more info:  www.lahsa.org/about
Venice Homeless Committee:
An ad-hock committee of volunteer community members is an arm of the Venice Neighborhood Council and acts as the voice of the community on all topics involving the homeless. The committee has created multiple innovative programs adopted by the city and meets monthly, usually the last Monday of each month.  
Contact: 
[email protected]
Venice Reunification Program.
Founded and overseen by Homeless Committee chairman Will Hawkins, the all volunteer program is funded entirely through donations and works hand-in-hand with area non-profits, city agencies and community members to reunite homeless people with their families in an effort to assist people off the street. Since the program launched in December 2016 over 20 individuals have been assisted into housing saving the city over $2 million in housing and services.   
Contact: 
[email protected]
Venice Forward: 
A community collaborative and coordinated plan to end homelessness in Venice. Venice Forward is a new collaborative convened by LA City Councilmember Mike Bonin that is dedicated to changing the way civic organizations and private social services approach homelessness. Rather than separate entities providing on-demand services from their individual silos, Venice Forward brings them all together – to collaborate with one another- share resources and best practices – with the common aim of ENDING homelessness.  
veniceforward.org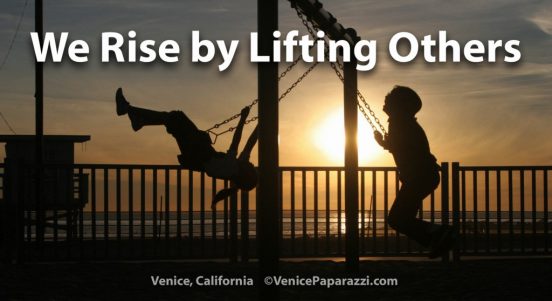 St. Robert's Center
– provides emergency food, information and referral and motel vouchers for residents of Santa Monica, Venice, LAX Airport, West Los Angeles, Beverly Hills, and Culver City areas, including Malibu, Topanga, Pacific Palisades, Brentwood and Bel Air.  People who are undocumented or homeless are also eligible for assistance. (310) 392-8701.
Venice Art Crawl :  Pop up galleries all over Venice 4 times a year.  The Venice Art Crawl is 100 percent volunteer produced and we wouldn't be anything without you! So thanks and enjoy our shows!  www.veniceartcrawl.com.
–
Venice Arts Council:  Venice is a vital hub for artistic activity in Los Angeles and the world. The Venice Arts Council celebrates and supports this tradition through preserving old roots and encouraging spirited new growth in the culture and community we cherish.   310-306-7372. [email protected]   www.veniceartscouncil.org
Venice Community Garden:  To allow people the ability to grow their own food locally, which is what is most important in these times. So the community can begin to connect with Nature, the Earth, the Soil and themselves, once again, and ultimately affect those around them to do the same. facebook.com/Venice-Community-Garden-347068893038/
Venice Chamber of Commerce:  The Venice Chamber of Commerce is a vital organization of local business leaders. Our goals are to promote and protect the local business community, to enhance the image of Venice and to stimulate networking among members … resulting in growth opportunities for all.  www.venicechamber.net
Venice Community Housing Corporation (VCHC) works to preserve the economic, racial and social diversity of Venice and the surrounding area by maximizing affordable housing and economic development opportunities and providing needed social services to the area's low-income population.  (310) 399-4100. Linda Lucks.   www.vchcorp.org
Venice Community Service Center:  The agency provides health services, mental health services and substance abuse services for people of all ages who live in the Los Angeles County area.   (310)399-9883
Venice High Alumni Association – www.venicehighalumni.com
Venice Historical Society – Strives to increase public awareness of Venice's irreplaceable historical, cultural and architectural resources. To gather and disseminate information for the preservation of structures and neighborhoods in Venice. To engage in activities that will promote the preservation and enhancement of the unique historic features of Venice.  (310) 967-5170. [email protected] www.venicehistoricalsociety.org
Venice Neighborhood Council – We are governed by state and local laws and assisted by the City of Los Angeles Department of Neighborhood Empowerment.  (310) 606-2015. [email protected] www.grvnc.org
Venice Peace & Freedom Party –  We represent the working class, those without capital in a capitalist society. We organize toward a world where cooperation replaces competition, a world where all people are well fed, clothed and housed; where all women and men have equal status; where all individuals may freely endeavor to fulfill their own talents and desires; a world of freedom and peace where every community retains its cultural integrity and lives with all others in harmony.  www.freevenice.org
Playa Venice Rotary Club: Rotary is an organization of business, professional, and community leaders united worldwide who provide humanitarian service, encourage high ethical standards in all vocations, and help build goodwill and peace in the world. www.playasunrise.org
Venice Skills Center – classes are designed for participants who seek to acquire a vocational skill, upgrade their current skills or master minimum competencies which will increase their marketability. We welcome adult students who can benefit from the programs offered as well as minors (students 16-18 years of age) who have been accepted into the Alternative Education and Work Center.  (310)664-5820. www.lausd.net/Venice_Skills_Center
Venice Skate Alliance:   The Venice Skate Alliance is a community group dedicated to everything SKATE the happens in Venice and surrounding areas.  facebook.com/pages/Venice-Skate-Alliance/106552323590?sk=info&tab=overview
Vera Davis Mc Clendon/Oakwood Youth and Family Center – Services at the center include adult/child mentoring, case/care management for at risk families, clothing, computer classes, family and individual counseling, health screening, job search/placement, occasional emergency food assistance, parenting skills development, recreational activities for youth, specialized information and referral for off-site social services and tutorial services. Agencies supported by CDD funds provide counseling programs, case management programs, child care and early childhood programs, day labor programs, dental treatment, domestic violence programs, medical services, mental health treatment, shelters, traffic safety programs.(310)305-1865
–
Westminster Schools' Endowment Group.  lausd.net/Westminster_Magnet/Westminster_Magnet/Home.html

———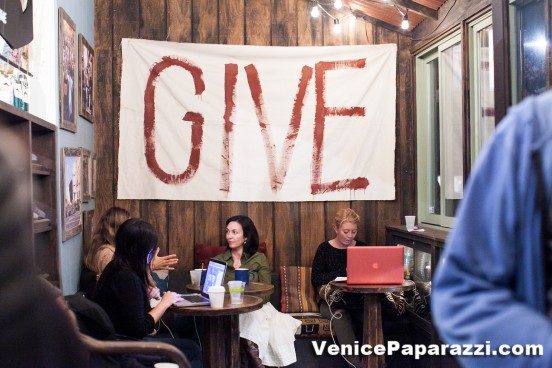 Did we miss your organization or event?  
Please send the name,  description and website of your organization to Edizen at [email protected]
Thank you!
–