Compete in a tournament, play a fun game, or watch some of the world's best paddle tennis players in action at the Venice Beach Paddle Tennis courts on the Venice Beach Boardwalk.
Paddle/Pop Tennis is a game that looks like a cross between ping-pong and tennis. The court looks like a scaled down tennis court and the rules are the same as tennis as well. The racquets resemble large ping pong paddles.  The Venice Beach Paddle Tennis Tournament is widely regarded as one of the toughest and best Paddle Tennis tournaments in the World to win, because the Venice Beach Paddle Tennis recreational facility is where most of the top professional players live and practice their games year round.
2020 VENICE BEACH PADDLE/POP TENNIS TOURNAMENTS
Events hosted by the City of Los Angeles Department of Recreation and Parks
March 28-29 Spring Break Doubles
May 9-10.   Nueve de Mayo Singles
June 20-21.  US Open National Doubles
Aug. 29-30.  US Open National Singles –
Oct. 3-4 . Triples City Cup
Dec. 12-13 Holiday Fun:  "Kings & Queens of the South Court"
• Triples City Cup is a world cup format tournament.  Each tem consists of a male, female, and a senior player.
View flyer below!
ADDITIONAL INFO:
the court is 50 feet long by 20 feet wide.
uses a deadened regulation tennis ball.
paddles are foam composite or wood.
same scoring as tennis.
faster play with longer rallies than tennis.
underhand serve only, single fault.
doubles or singles
NUMBER OF PADDLE TENNIS COURTS: 11 Regulation size courts.
WHO CAN PARTICIPATE: Anyone.  All ages!
ADMISSION FEE:  Free to the public. Open play:  No fee/reservations. First come basis.  NOTE: Tournament and permits take precedence on courts.
RACKET RENTAL: $5 per racket (Valid I.D. required)   Rackets and tennis balls are available at the Recreation and Parks Office.  1800 Ocean Front Walk.  Venice, Ca 90291.  310.399.2775
For more paddle tennis info or to register:
Venice Beach Recreation and Parks Office.  1800 Ocean Front Walk.  Venice, Ca 90291.  310.399.2775
Fan and follow Pop.Paddle.Venice!
Pop.Paddle.Venice are: Katrina Glusac, Christine Lee, Leslie Martino, Gino Bejarano, Daniel Wulfe Hellmund, Mike Rogers, and Sam Yuspeh. We help LA Dept of Recreations and Parks to organize the yearly tournaments and to promote our beloved sport.  facebook.com/pop.paddle.venice
.
.
/


Here is what Paddle Tennis Champion Scotty Freedman has to say about the sport.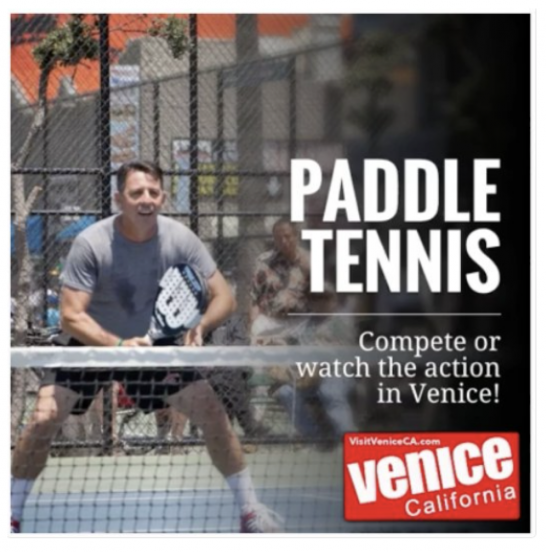 Scotty Freedman has played Paddle Tennis for over 40 years, and has  won the most championships in Paddle Tennis sport's history.  191 in all, too many to list.
What do I love about paddle tennis:  I love the fact that people of all different skill levels and abilities and levels of play can think and understand the game of Paddle Tennis at their respective levels of play exactly like i think and do the game, playing the game  at the games top level like i do is entirely different.  Venice beach paddle tennis courts are an eclectic mix of people from all different backgrounds, be it unemployed and hanging at the beach everyday or the richest of the rich in Los Angeles, they all have "ONE COMMON GOAL" they love the game of paddle tennis.
LOCATION:  Venice Beach Paddle Tennis Courts: 1800 Ocean Front Walk. Venice, CA 90291 310.399.2775  |   310.396.6764–
PARKING:   South City Parking Lot:  2100 Ocean Front Walk. Venice, Ca 90291.  (End of Venice Blvd. approximately 4 miles from the 405 freeway)
Click here for all Venice Beach Fun!