Venice is different. Sure, it's California, but it's an area of California unlike any other; an area that Hotel ERWIN has personified since the '70s with its eclectic décor, friendly staff, and predominant location right on Venice Beach and adjacent to the world-famous Venice Beach Boardwalk. From day one, Hotel ERWIN has offered guests an experience that could not be found anywhere else, and now, decades later, the hotel is still a go-to hotspot for locals, out-of-towners, and SoCal day-trippers.
ROOMS.SUITES
Sun-seekers, Boardwalk revelers, Venice first-timers and L.A. staycationers unite. Come one, come all, and experience what Hotel ERWIN and Venice is all about. Big on vibe, color, and that cozy beachfront comfort, our rooms come with all the usual goods like free WiFi and big TVs, plus some even have partial oceans views. Rooms with ADA accessible enhancements are available too. Of course, if you wanna see the ocean, just take a step outside. Feeling like a baller? Try a suite. They've got kitchens and separate living and dining areas.
HIGH ROOFTOP LOUNGE
Venice's seaside scene is at High Rooftop Lounge. A local watering hole where the cocktails are craft, the beer is cold, and stunning sunsets are always on tap. Take a load off on a comfy couch, get lost in sweeping views of the Pacific Ocean, and watch the vanilla clouds turn to twinkling stars as High sheds its chill daytime vibe for a kinetic nighttime energy. If bar bites aren't your thing, we've got a pizza joint downstairs in our lobby, so swing by Venice Way Pizza for a slice or two or just get the whole pie.
View photos from Hotel Erwin!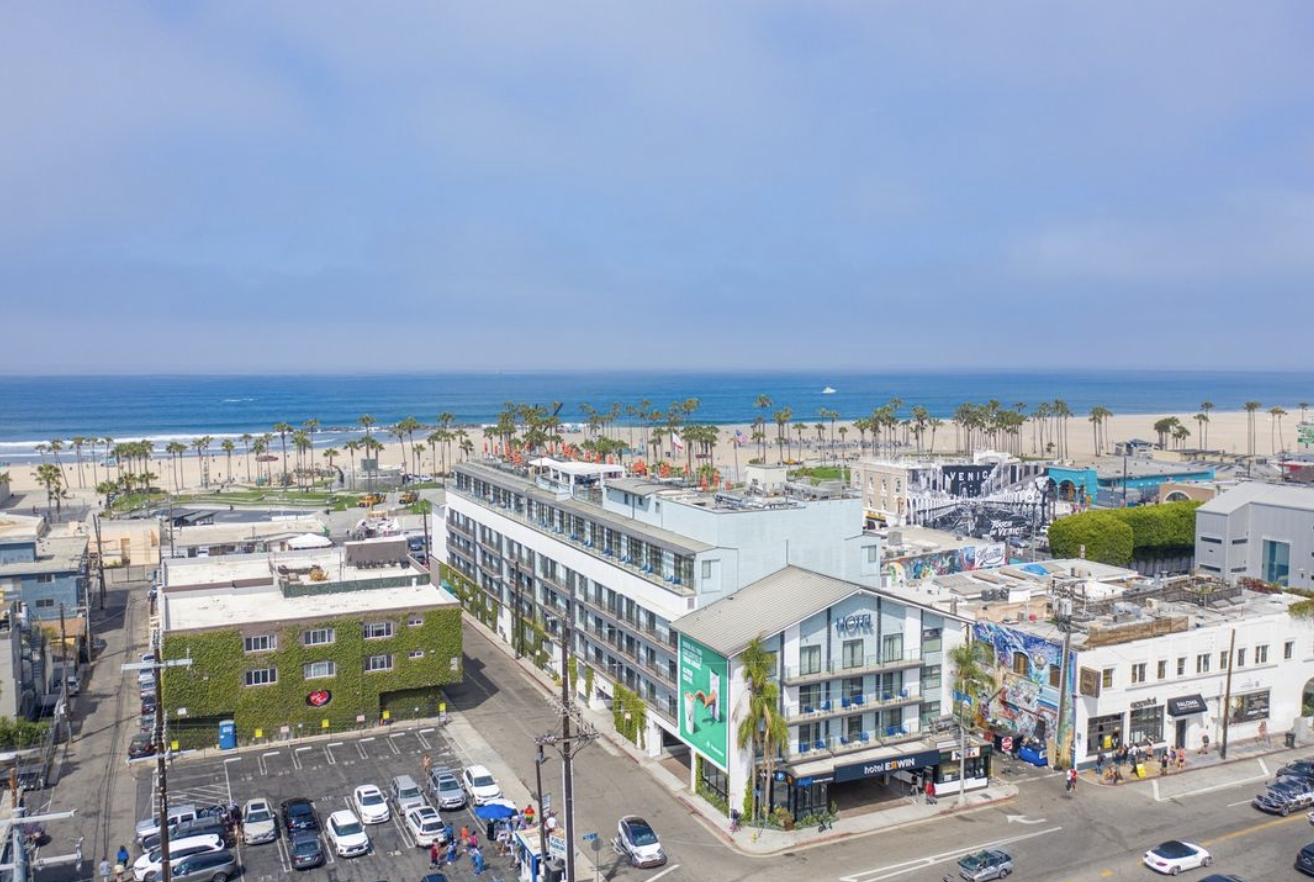 Photo by @pgsilver
The view from above Hotel Erwin at High Rooftop Lounge. Photo courtesy of Hotel Erwin
Hotel Erwin located steps to the beach!