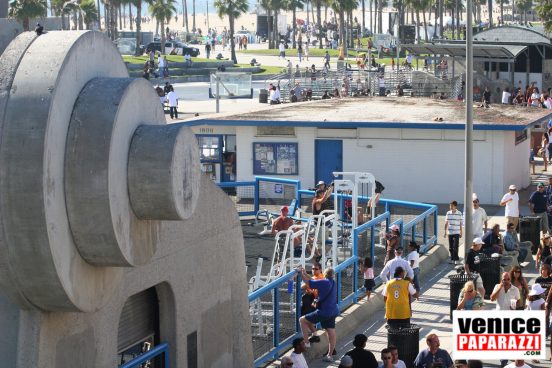 1800 Ocean Front Walk
Venice, Ca  90291
310.399.2775
An outdoor gym area on Venice Beach, Muscle Beach is a world-class California original. When visiting Venice Beach in Los Angeles, the gym lies directly south of the volleyballs courts and is a site to take in. Muscle Beach was created in the 1930's and has been a favorite for locals and celebrities alike. Kirk Douglas, Clark Gable, Tyrone Power, Jayne Mansfield, Jane Russell, and Mae West are a few of the celebrities while bodybuilders like Vic Tanny, Joe Gold (founder of Gold's Gym and World Gym) and Pudgy Stockton have used the gym's resources to sculpt their body and stay fit. The gym is one of the most popular attractions in Venice Beach and has been fully restored and refurbished. The area features chin bars at various heights, parallel bars, rings, small jungle gyms for children and a padded safe gymnastics area for tumbling. People have flocked here since the 1930's to experience the feelings of working out in the great California beach outdoors.
Summer Hours:
Mon-Sat: 8am – 7pm
Sun: 10am – 4pm
Winter Hours:
Mon-Sat: 8am – 5pm
Sun: 10am – 4pm
Membership Rate: 2010 = $150.00 per year; effective 2010 = $170.00 per year
One-Day Workout Pass = $10.00 / 7-Day Workout Pass = $50.00
*Information as of 12/09 – Subject to available information and subject to change.