Address: Rock & Roll Doggy  (Mobile Grooming) | (310) 295-2729 | http://www.facebook.com/RocknRollDoggy
Hours: Mon – Sun: 11:00 am – 7:00 pm
VP Review: Wow! Pancake, our red nose pitbull, is a shiny clean girl. It was her first time in a doggy salon so we got her the Rock Star Spa Treatment. Jaime Sol Black, owner of Rock & Roll Doggy, certified pet groomer, and songwriter of local band Dirty Suits, washed Pancake with such care and professionalism, that you would have thought it his own child. He was super knowledgeable on a variety of subjects, and saved me a trip to the vet to clean Pancake's infected ears. Jaime use to run a mobile grooming service, but now has a home in Santa Monica's Animal Kingdom. Way to go Jaime! Thanks again for taking great care of my Pancake. She still smells and feels so soft after three days. Also, I can't wait to see what you do with your new place. Pancake is also looking forward to getting beautified. Till next time.
About Rock &Roll Doggy
RockAndRollDoggy was founded in 2009 by Jaime Sol Black, who has always had a soft spot for his 4 legged friends. Born and raised into a family of professional rock-n-roll musicians, Jaime found that caring for animals was the only thing he loved as much as making music! He decided to go to school for pet grooming.After graduating, Jaime honed his skills as an employee for several concerns in and around Los Angeles. But he had his own vision of what dog grooming should be.
Starting out with nothing but his love of animals, a tool box, a portable dryer and a used bicycle, Jaime came up with the concept of Bicycle Pet Grooming. Enjoying the idea of not adding to the troublesome global warming problem, Jaime worked hard to build an excellent reputation with pet owners in Santa Monica and Venice. He was then invited to open Rock and Roll Doggy inside a pet supplies store in Santa Monica, were Jaime hinted at the true greatness that is Rock & Roll Doggy.
Always growing and expanding! To provided only the best service for all the Rock & Roll Pets. Rock & Roll Doggy is a fully operational bicycle mobile grooming service local to the Venice/Santa Monica/Brentwood & West LA areas.
ABOUT – BICYCLE MOBILE GROOMING: 
We are Mobile No need to brave the LA traffic, high gas prices, and add to global warming we can come to you. Bicycle Grooming is the greenest and most pet friendly way to keep your pet clean n' happy, our preciseness and attention to detail are sure to impress you and your pet. Best of all, you and your pet never have to leave your home, Rock & Roll Doggy comes to your door.
To book a Bicycle House Call:  Jaime at: (310) 295-2729
Jaime is a licensed/professional/accredited/highly-acclaimed pet stylist. Licensed by the State of California, and certified in Pet CPR.Please contact us with questions about any aspect of our business. We're always happy to hear from fellow animal lovers who also believe our pets are truly rock & roll.
-Jaime Sol Black Founder/Owner


Rock & Roll Doggy Menu of Services.
Bath (Full Shampoo, Conditioning, and Massage)
Brush and Hand Drying with Blow-out
Ear Cleaning, Anal Glands Expression, Nail Clipping
Gold Spa Treatments:
Type of Dog Short Hair Long Hair
Petite (up to 20lbs) $40  $45
Small (21-40lbs) $45  $50
Medium (41- 60lbs) $55  $60
Large (+61lbs & Poodles) $65  $70
Platinum Treatments with Haircut & Styling
Petite (up to 20lbs) $55
Small (21-40lbs) $65
Medium (41- 60lbs) $75
Large (+61lbs & Poodles) $88+up
Bob Marley Package: $15 Add on
The Ultimate relaxation treatment for you and your dog! It starts with a Thai coconut for you, and for your Dog a Calming tonic, a warm homemade coconut milk-bath massage, and a moisturizing Paw Rub.
Student Special!  (Valid w/ your student ID)
Petite/Small $35 Spa / $40 Haircut
Medium/Large $45 Spa / 50 Haircut
E Street Dog Special!
A Package just for that special Rescue — For your Rescue adopted within 30 days !
Petite/Small $25 Spa / $35 Haircut
Medium/Large $40 Spa / $45 Haircut
The Rockabilly "Build For Speed" Bath Special!
All Breeds and All Sizes: $20.00 *extras cost extra!
$15 w/ Venice Paparazzi local deal card!
"The Old Blue Eye's" a.k.a (Guapo's Special)  $30
For itchy dogs in need of relief! Starts with a complimentary bully stick, then a itch relief shampoo  & cream, followed by a full body leave in and dry apple cider vinegar wash.

One-on-One Consulting You've got questions. We've got answers.
A la Carte Services:
Back-Stage Hair Dyeing & Highlights $20/$15 with any Spa Package
Face, Feet, & Tail $25/$10 with any Spa Package
Feet Trim $10 / $5 with any Spa Package
Rear Feather Trim $10 / $5 with any Spa Package
Sanitary Trim $10 / $5 with any Spa Package
Teeth Brushing $10 / $5 with any Spa Package
Ear Cleaning $8 / $4 with any Spa Package
Ear Hair Removal $8 / $4 with any Spa Package
Nail Clipping $10/ $5 with any Spa Package
Nail Grinding $13/$9 with any Spa Package
Moisturizing Paw Rub $10/ $5 with any Spa Package
Soft Paws $60
External Anal Glands Expression $10
De-Matting $10 per 15 minutes
Hand Stripping $55/hr $45 with any spa package
Spa Treatment – Add Ons
Coconut Milk-Bath $10
De-Shedding $13- $20
Whitening $10
Medicated/Flea Bath $16-$18
Here is a shot of Jaime (in green hat) and the rest of the band members to The Dirty Suits. Click here to read more about them.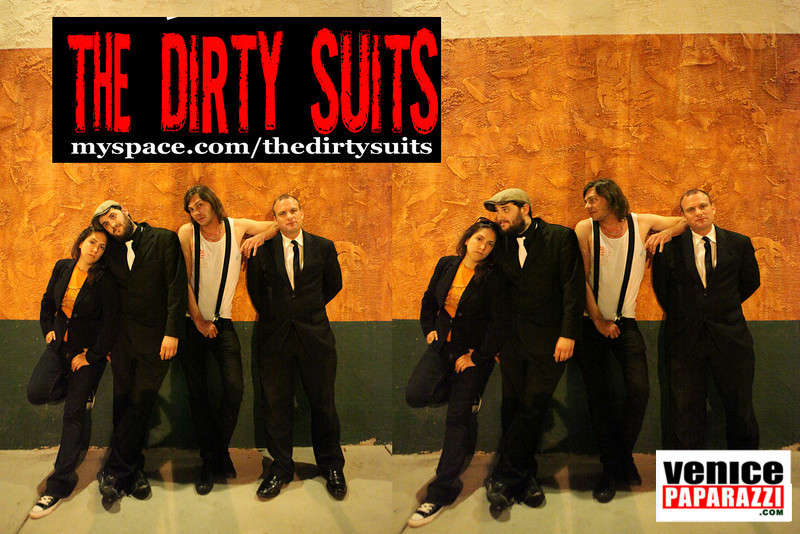 Jaime Sol Black
Rock & Roll Doggy Pet Grooming inc.
Certified Pet Groomer
The Dirty Suits (LA)
Songwriter and Guitarist.
Phone: (310) 295-2729