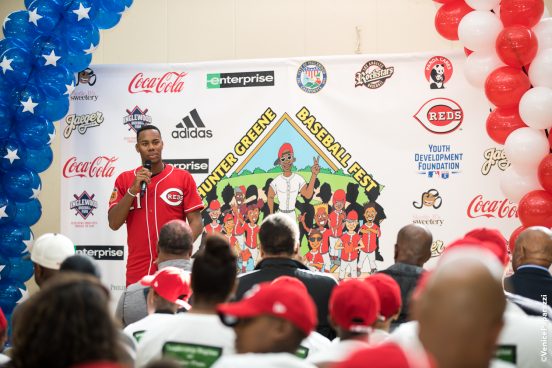 Venice Paparazzi rolled out the red carpet for  the inaugural Hunter Greene Baseball and Leadership Camp on January 7, 2018.  View event coverage below!
Here is a message from the host Rockstars Baseball Club.  Over 400 current and former professional baseball players, campers, volunteers, coaches, elected officials and community members, joined Cincinnati Reds top prospect Hunter Greene at Darby Park in Inglewood for a day of baseball, leadership development and fun.
The inaugural Hunter Greene Baseball Fest & Leadership camp was free to all in attendance with the support of several sponsors, the City of Inglewoood and the Inglewood Baseball Fund.
Here is a message from Hunter Greene.   "My camp committee & I are excited 2 announce my baseball camp will go on the road in 2019!   1 camp per year.Coming 2 a city/state near you in January 2019. And yes, live DJ, lunch, leadership training, kid zone & reptile zoo will be included. Great event 4 kids who love baseball." For all updates, fan and follow Hunter Greene on Twitter, Instagram
About Hunter Greene:   Following info from Wikipedia.  "Christian Hunter Greene  is an American professional baseball pitcher for the Cincinnati Reds organization. He attended Notre Dame High School in Sherman Oaks, Los Angeles, California. The Reds selected Greene with the second overall selection of the 2017 Major League Baseball draft."  Click here for full article./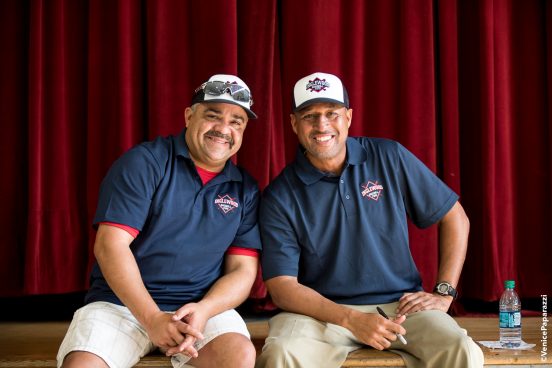 About the host LA Rockstars.  
 The LA Rockstars Baseball Club was founded in 2007 to provide "next level" baseball opportunities for aspiring players from urban communities in Los Angeles Cou
nty. Our focus is to maintain a competitive travel baseball program that emphasizes quality instruction, playing MLB rules and acting as a feeder to the national RBI, Urban Youth Academy and USA Baseball programs. Our goal is to get players prepared to play in high school and college by giving them instruction and information from a coaching staff made up of former college and professional players. We focus on developing the spirit of competition and detailed baseball skills that are demanded by high school coaches, college coaches and scouts.  For more Rockstars Baseball info, visit rockstarbaseball.com,  and join them on Facebook, Twitter and Instagram.
In this photo right:   LA Rockstars Founder Erikk Aldridge.
Here is a fun Venice fact:  Rockstars Baseball's founder Erikk Aldridge was the Venice Boys and Girls Club's Executive Director from 2006-2013.
View event coverage by Venice Paparazzi!
Need event photographers or a custom photo booth?  Hire Venice Paparazzi for you next event. HireVP.com