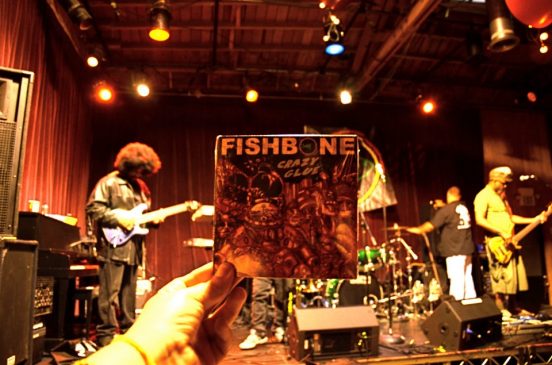 Event coverage:  Rafaela Hess
Event name: FISHBONE EP 'Crazy Glue" CD Release Party
Description: Fishbone screening and performance @ Bootleg Theater, Silverlake.
About Fishbone: (taken from Wikipedia.com) Fishbone is a U.S. alternative rock band formed in 1979 in Los Angeles, California, which plays a fusion of ska, punk rock, funk, hard rock and soul. Critics have noted of the band: "Fishbone was one of the most distinctive and eclectic alternative rock bands of the late '80s. With their hyperactive, self-conscious diversity, goofy sense of humor, and sharp social commentary, the group gained a sizablecult following during the late '80s, yet they were never able to earn a mainstream audience."
Fishbone was assembled by John Norwood Fisher (bass, vocals), with his brother Phillip "Fish" Fisher (drums); Angelo Moore, who sometimes uses the stage name "Dr. Madd Vibe" (vocals, saxophones ranging from sopranino to bass, and theremin); Kendall Jones (guitar); "Dirty" Walter A. Kibby II (vocals, trumpet); and Christopher Dowd (keyboards, trombone, vocals).
Thank you's to Fishbone, Kaycee Smith, and Shawn London
Note:  To view additional photos from this event, click on the "view photos" button at the bottom of the page.
Event photo highlights below: 
___________________________
Be in the know of upcoming Venice events, local deals and more by visiting VenicePaparazzi.com or  by joining the Venice Paparazzi facebook fanpage and twitter.  Click on the "like" button on our Facebook Fanpage and join us on twitter.com/venicepaparazzi. Thank you.
Hire Venice Paparazzi to be your photographers!   Venice Paparazzi is a photo offering event coverage, red carpet, photo booths, on the spot printing, green screen, and on site portrait studios.  Visit hirevp.com for a complete list of services.
Removal of your photos:  Contact us directly if you would like your images removed from our websites.   310.745.1064 [email protected]