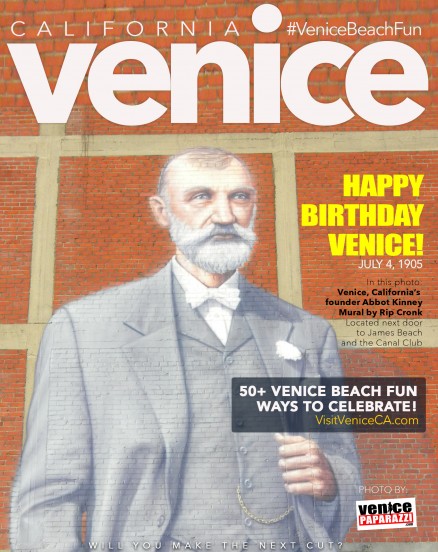 The legendary Abbot Kinney introduced the world to Venice in 1905 on the 4th of July.
The Venice Chamber will celebrate the 112th Birthday of "Venice of America" and 4th of July, with the annual changing of the historic VENICE Sign to red, white and blue bulbs.   The Venice Sign will shine red, white and blue starting  July 2nd at 12 midnight.
About the Venice Sign:  Spanning across Windward Avenue at Pacific, the VENICE Sign in lights is a modern day replica of the one originally installed in 1905 by the legendary Abbot Kinney.  It is a defining symbol of Venice, past and present.  View all Venice Sign photos by Venice Paparazzi.  For more Venice Sign info or to adopt a bulb, visit  www.VeniceChamber.net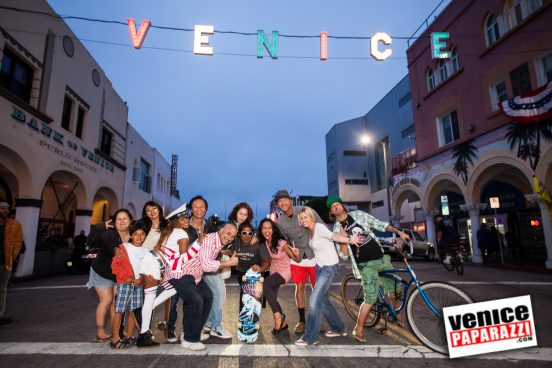 .
Thing to do this 4th of July weekend:
.
Snap  

a selfie under the iconic Venice Sign, and #VeniceSign, #VeniceChamber and #VeniceBeachFun.

 Location: Windward and Pacific Ave.
/
//
And, why not take a selfie with Venice's founder Abbot Kinney himself!  #VeniceBeachFun.  The Abbot Kinney mural by Rip Cronk is located on North Venice Blvd. next door to James beach and the Canal Club, 60 North Venie Blvd. Venice, California.  90291.
/
/
/
/.

/
A Venice History Lesson by Alexander Stowell
.
Welcome to Venice!  Let's have a short history lesson on this magical place.

Venice was founded by tobacco millionaire Abbot Kinney on July 4, 1905. Kinney's idea was to created a place dedicated to health, higher learning, and education.  A place where people would come to relax and enjoy the ocean air while following intellectual pursuits.  After opening, Kinney brought in professors and writers to deliver lectures to what he thought would be well attended seminars.  Much to his disay, the idea flopped!  It turned out people were much more interested in carnival rides and side show attractions.  So, Kinney gave the people what they wanted. He built and amusement park, a pier, a miniature steam train, 16 miles of canals with gondola rides, and more. 
Kinney died on Nov. 4 1920 from lung cancer. By 1925, Venice was in shambles, unable to govern itself.  So, Venice voted to become part of the City of Los Angeles.  In 1930 oil was discovered, and up went the oil rigs.  Venice's once pristine air turned into a cloud of toxic fumes and the canals became polluted, dirty eyesores. Venice became known as the "Slum by the Sea."
Time went on, the oil boom dwindled, and WW2 came to an end. The newly remodeled and renamed Lincoln Place apartments were originally built to house WW2 veterans.
As the 1950's got going, bodybuilding became all the rage in Venice.  The original Muscle in Santa Monica  inspired a culture of outdoor fitness, weightlifting, physique contests, and gymnastics.
In the 1960's the Beatniks, followed by the hippies, migrated to Venice.  Cheap rent and a vibe of individuality fed a culture of artists, musicians, and poets. Famously, The Doors formed in Venice in the late 60's and were a staple around the Venice/Santa Monica area.
Then came skateboarding.  Originally known as sidewalk surfing, Venice is largely credited as being the birthplace of modern skateboarding.  The pioneering Zephyr team, home to Jay Adams, Tony Alva, Stacy Peralta and many more, was run by Jeff Ho out of a local shop. They eventually  became known world wide as one of the most influential skate teams ever.
Venice's punk rock culture, born in the late 70's continued on into the 80's.  Most notably with local band Suicidal Tendencies skyrocketing to international stardom. The aggressiveness of Venice's skate/surf culture was a perfect compliment to the punk rock movement, and both scenes flourished.
In the 1980's the crack epidemic hit Los Angeles, and Venice had its own problem with gang wars. This continued into the 90's and Venice's reputation as a rough town was well warranted.
In 2000 the city redid the boardwalk. Part of this process was to tear down the Pavillion, which had been a make shift skatepark for years.  People would bring in plywood and make ramps, or just skate on the existing concrete structures. On Oct. 3 2009, after many years of activism on the part of Geri Lewis and others, the famed Venice Skate Park opened on the beach.
Through the first decade of 2000, Venice continues to go through changes.  A large influx of tech companies has driven up real estate prices in the area and there is a constant dialogue about what is happening to Venice's cultural roots.
Some cool facts about the V
Pop Culture:
Venice resident Robert Trujillo was a bass players for Suicidal Tendencies, and currently plays for Metallica.

Stacy Peralta went on from the Zephyr team to produce movies and has a skateboarding line.

Tony Alva went on from the Zephyr team to have his own skateboard line and also has a rock band that plays around town.

Suicidal Tendencies singer Mike Muir's brother, Jim Muir, is the owner of the DogTown brand skateboards and apparel.

The first documented surfing demonstration on the mainland U.S.A took place in Venice in 1907.
/
Demographics and geography:
Venice has about 40,000 residents

Venice is the biggest tourist attraction in Los Angeles and second in So.Cal only to Disneyland.

Venice had about 16 million visitors last year, and 7 million of them were under 35 years old.

Venice is bordered by Santa Monica to the north, the Pacific Ocean to the west, Marina del Rey to the south and Culver City to the east.
.
–
Check out Detour's audio tour "Venice: Abbot Kinney's Impossible Dream."
/

About Detour:  
Beautifully produced GPS audio walks that take you beneath the surface of cities around the world.  Detours are narrated by locals who know the city best, and are infused with cinematic scoring and storytelling by some of the best writers and sound designers in the world. Taking a Detour is like walking around inside a movie.   Available on iOS and Android.   Detour has audio tours for the following cities. Los Angeles,  San Francisco, New York City, Chicago, Los Angeles, Austin, London, Paris, Berlin, Barcelona, and Marrakech.  
View all LA Detours!
/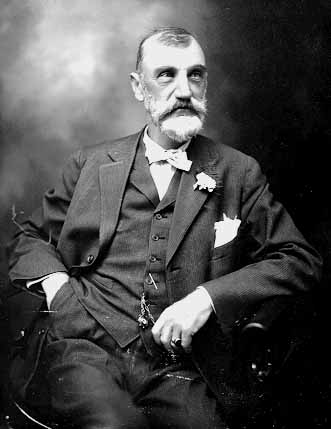 About Detour's Venice -Abbot Kinney's Impossible Dream:  Discover how Venice was created — and almost destroyed — and meet the spirit of town-founder Abbot Kinney.  When Abbot Kinney bought land on the Southern California coast over 100 years ago, it was nothing but a swampy marsh. But Kinney was a world traveler and had a wild vision — to transform this acreage into his very own "Venice of America."
Here is a great website on the history of Venice, Ca  Westland.net
Visit Don Westland's website  www.westland.net/venicehistory for more on Venice History. His interactive educational site (online since 1996) covers the history of Venice Beach, California. It features timelines, historic articles and photographs, interactive maps that when clicked on show historic views, and a list of movies filmed on Venice's streets, amusement piers and canals.
____
Here is a good book on Venice, California history!    Pick up a copy of Jeffrey Stanton's book "Venice, California – Coney Island of the Pacific." You can find him on the Venice Boardwalk on the weekends!  The book contains over 300 photographs, mostly B/W, but a few in color appeared as postcards or are more recently taken photos by the author. Many are full page-sized archival quality photographs of great historical interest. Additionally, there are a half-dozen schematics of amusement park layouts.   There is extensive well-written & well-researched textual material on the rise and fall of Venice, its heritage & many eccentricities over the past 100 years.   You can also order online here!   Click here for more info, or contact Jeffrey Stanton directly at [email protected]
.
Click here for more Venice History!
.
For all Venice Beach Fun:  www.VisitVeniceCA.com