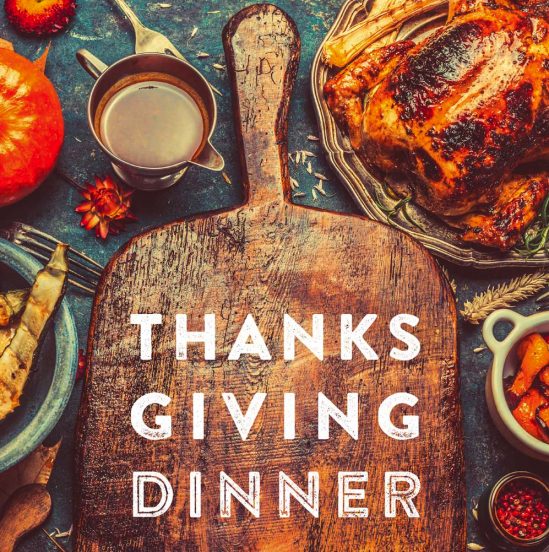 The Sidewalk Cafe on the Venice Beach Boardwalk,  Cabo Cantina by the Venice Pier, and Barlo Kitchen and Cocktails by the Venice Sign are open on Thanksgiving, Thurs., Nov. 23, 2017.   Get your turkey fixe at these fine establishments.
Details below
//
Yummy turkey dinners at The Sidewalk Cafe​ for $13,95.  Enjoy your meal with a Venice sunset and Venice Beach boardwalk view.  A Traditional Dinner with Turkey, Stuffing, Mashed Potatoes, Yams, Cranberry Sauce, Peas & Carrots, Rolls & Butter. $13.95.  Add Pumpkin Pie for Dessert $3.95.  Served 11 AM-5 PM.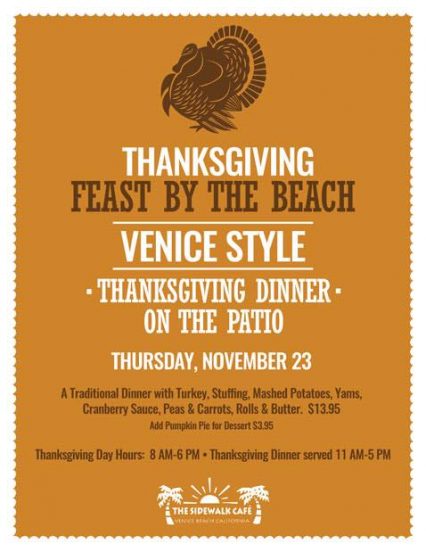 The Sidewalk Cafe is "the best place to people watch on Venice Beach."  A Venice Boardwalk landmark for 41 years, The Sidewalk Cafe offers fresh, high-quality, well-prepared food with generous portions. And all of their soups and sauces are homemade. The outdoor covered patio provides a beautiful view of the beach and ocean while street performers and an eclectic crowd continuously entertain. Live acoustic music in the evening provides the perfect complement to dinner by the sea. Check their calendar here for music and upcoming events.  Whether you come for breakfast on the beach, lunch in the sun, or dinner at sunset, you are sure to enjoy at The Sidewalk Cafe. Look for the red and white awning near the center of the Venice Boardwalk!  1401 Ocean Front Walk. Venice, Ca. (On the Venice Beach Boardwalk).   www.TheSidewalkCafe.com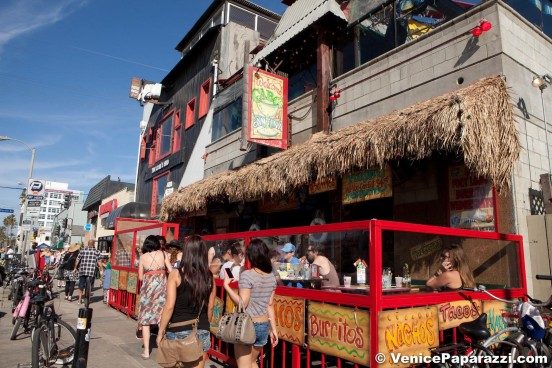 Wow!  Cabo Cantina​ is serving "All You Can Eat" Turkey Dinner with all the fixings for $10.95.   Dinner served from 2:00 p.m. 'til they run out!
Cabo Cantina is the perfect place to enjoy good drinks, good food, and good prices in a fun. Cabo sports a casual atmosphere filled with upbeat party hits and classic rock booming from their jukebox. Their famous 2 for 1 Happy Hour lasts from 4 to 8pm, 7 days a week, with a 2 for 1 Late Night Happy Hour at all locations!   Cabo Cantina Venice Beach.  30 Washington Blvd. Venice/Marina del Rey. (By the Venice Pier)  www.CaboCantina.com
.
,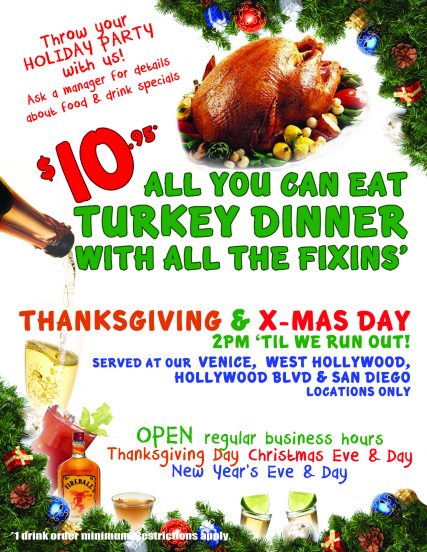 .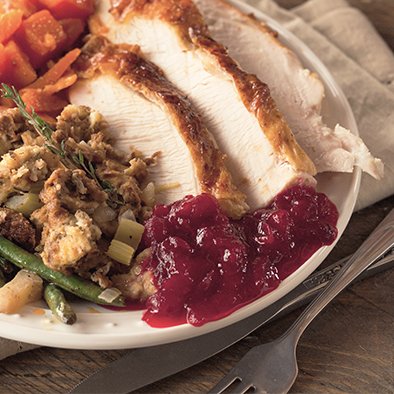 Have Thanksgiving dinner with Barlo Kitchen and Cocktails.   On Thursday 11/23 from 3-10pm, Barlo Kitchen & Cocktails will be serving up a special Thanksgiving Day menu.  To make a reservation call 424-214-1063
About Barlo Kitchen and Cocktails:  At Barlo, we strive to provide our guests with first-rate food and beverage by sourcing our ingredients from the highest quality local and artisan producers. To the greatest extent possible, we source from local producers that we feel embody the values and principles that mirror our own: locally produced, artisan quality, organic, sustainable, humane animal treatment, and minimal processing.  1697 Pacific Ave.  Venice, California . (In Hotel Erwin) hotelerwin.com/barlo-kitchen-and-cocktails