Hey there readers!  Alex Stowell of
Venice Paparazzi
here.  I was on Lincoln Blvd. the other day,  and saw an older woman who lived in her car, and her car was getting towed.  She was hysterical, thrashing about screaming, crying and flailing on the sidewalk, and I can see why.  With her dwelling seized and likely no money to get it back ever,  she was looking at life sleeping outside with the imminent threat of rape, robbery, assault, and murder.
I wanted to help, and not just her, but the throngs of elderly, beat down souls who sleep on the sidewalk, hungry and cold.  And I am sure I am not alone in bearing witness to these events, or feeling compassion.  So, we at Venice Paparazzi started to compile a list to make it easy for people to act on their kind nature.
So,  what can you do to help?  When you encounter people you sense really do need, and would accept some guidance, you can give them info. on where to go to receive services from professional homeless helpers!
.
Thank you to 
St.
Joseph Centers
' Regional Coordinator Lindsay Saunders submitting information for this article.
CES Entry Points and Outreach Resources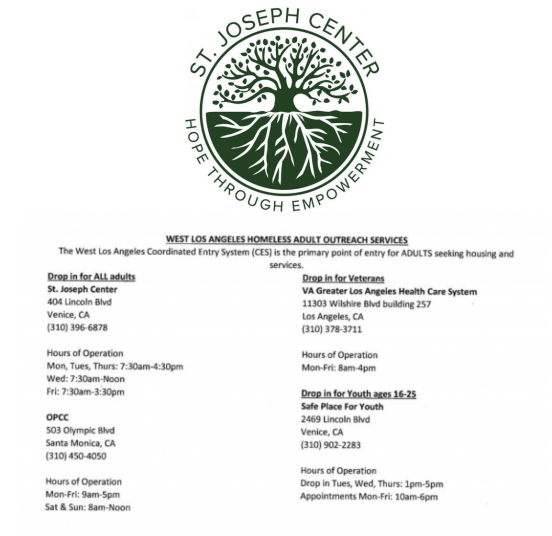 Encounter a homeless family?  Please have the family call: 211
Drop in centers for single adults:  
St. Joseph Center 
404 Lincoln Blvd, Venice, CA, (310) 396-6878
Hours of Operation: Mon, Tues, Thurs: 7:30am-4:30pm, Wed: 7:30am-Noon, Fri: 7:30am-3:30pm
The People Concern,
503 Olympic Blvd, Santa Monica, CA, (310) 450-4050
Hours of Operation: Mon-Fri: 9am-5pm, Sat & Sun: 8am-Noon
Drop in for Veterans, 
11303 Wilshire Blvd building 257,Los Angeles, CA,(310) 378-3711.  
Hours of Operation:Mon-Fri: 8am-4pm
Drop in for Youth ages 12-25:  
Safe Place For Youth, 2469 Lincoln Blvd, Venice, CA, (310) 902-2283
Hours of Operation: Drop in Tues, Wed, Thurs: 1pm-5pm, Appointments Mon-Fri: 10am-6pm 
Mental Health Services:  
Mental Health Urgent Care Center, Exodus Recovery 
11444 W. Washington Blvd. STE D Los Angeles, CA 90066-6024
Hours of Operation:  23 Hour psychiatric crisis center open 24 hours a day, 7 days a week, 365 days per year.
DMH SB-82 Mobile Triage Team call (310) 482-6600 to make a referral
Psychiatric Mobile Response Team
call (310) 482-3260
Teams have legal authority per Welfare and Institutions Code 5150 and 5585 
Info for a homeless person with a pet.  Pets do not disqualify anyone from receiving services, but they can be a barrier when someone has an appointment for a service where pets are not allowed. If an individual uses the animal for emotional support, teams will work with them to complete the necessary paperwork. Our winter shelter which opens 12/1/17 should allow pets if they are registered.
The Teen Project's National Text Shelter Free Cell Service!  Youth can text SHELTER and their ZIP code (SHELTER 90210) to the phone number 99000 from anywhere in the nation and receive a response with a local shelter.
WINTER SHELTERS ARE  NOW OPEN!

    Dec. 1, 2017- Feb 28, 2018.  
Select shelters may operate until March 31.  5:00 p.m- 7:00 a.m.  (times may vary)
Clients must utilize the pickup locations in order to enter, rather than going straight to the location.
Free rides to the shelters daily in Venice:  
Venice Beach Boardwalk, North Venice Ave at Ocean Front Walk, 5:00PM, 6:00PM & 7:00PM.  
First to Serve: (310) 906-7688.    View all SPA wide shelters and pick up locaitons 
HERE
!
Winter Shelter Hotline:  1-800-548-6047
Storage Restrictions:  Only 1 small bag per client.
WANT TO LEARN MORE OR FIND WAYS TO GET INVOLVED?  
Here is a list  of homeless resources and services put together by
Venice Paparazzi
's Edizen!  Let us know if we missed any resources or tips!  Thank you!
St. Joseph Center:
We empower homeless and low-income people in LA to achieve self-sufficiency through outreach & engagement, housing, mental health services, and education.
For more info:  St. Joseph Center,  404 Lincoln, Venice, CA 90291. 
www.stjosephctr.org
CES:  The Coordinated Entry System for All Populations aligns the Single Adult, Family, and Youth Systems into a seamless, collaborative, county-wide platform for housing and service delivery to homeless households. For more info:  www.lahsa.org/ces
Los Angeles Homeless Services Authority:  LAHSA's mission:  To support, create and sustain solutions to homelessness in Los Angeles County by providing leadership, advocacy, planning, and management of program funding.  For more info:  www.lahsa.org/about
.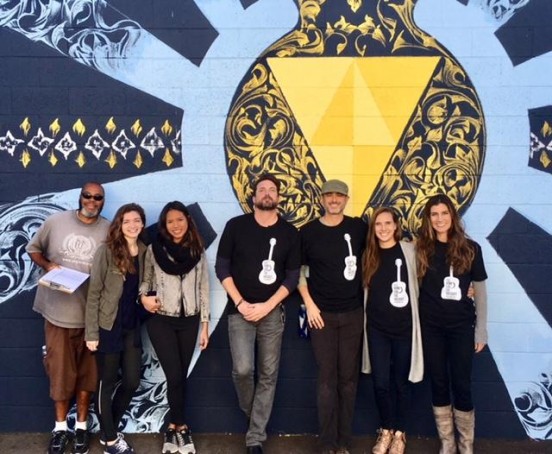 In this photo:  Venice Neighborhood Council's Homeless Committee chairman Will Hawkins and volunteers
Venice Homeless Committee:
An ad-hock committee of volunteer community members is an arm of the Venice Neighborhood Council and acts as the voice of the community on all topics involving the homeless. The committee has created multiple innovative programs adopted by the city and meets monthly, usually the last Monday of each month.  
Contact: 
[email protected]
Venice Reunification Program . 
Founded and overseen by Homeless Committee chairman Will Hawkins, the all volunteer program is funded entirely through donations and works hand-in-hand with area non-profits, city agencies and community members to reunite homeless people with their families in an effort to assist people off the street. Since the program launched in December 2016 over 20 individuals have been assisted into housing saving the city over $2 million in housing and services.   
Contact: 
[email protected]
Venice Forward:
A community collaborative and coordinated plan to end homelessness in Venice.
Venice Forward is a new collaborative convened by LA City Councilmember Mike Bonin that is dedicated to changing the way civic organizations and private social services approach homelessness. Rather than separate entities providing on-demand services from their individual silos, Venice Forward brings them all together – to collaborate with one another- share resources and best practices – with the common aim of ENDING homelessness.
Member organizations meet many times each month. They hold coordinated case conference meetings where case managers from each of these organizations discuss individual homeless people and collaborate on determining the most effective ways to help them and move them off the streets.
Monthly, representatives of Venice Forward, the community and city and county government meet to review the situation in Venice, share resources and ideas, and learn from successes and mistakes.  For Venice Forward resources and more, visit www.veniceforward.org
Meet the Venice Forward Team!
PATH. Making it home. PATH's mission is to end homelessness for individuals, families, and communities. We do this by building affordable housing and providing supportive services throughout California.   Since 2013, we've helped more than 7,000 people move off the streets and into their own permanent homes. www.epath.org/site/PATHServices/home.html
The Teen Project:
The College House:  The College House is for Transitional Age (18-25) year old young women lacking family support.   We provide everything they need to get their lives back on track, education, job training, internships, automobile matching and savings plans.   Each young woman has their own bedroom. The average stay is two years.  This house was the first of our homes and was built in 2010.  Since that time, we have transformed the lives of 59 young women.
The Teen Project's Rehab for girls:  The Teen Project has over ten years experience delivers 21st century solutions to address the unique needs of young women 18-29 years.  Our program is not just a treatment center, but rather a full life transformation. Rehab for a girls offer the lowest cost private pay and  We are the only center that combines treatment & vocational training delivering a full life transformation for young women in need.  When our clients complete the program, they are equipped with an entirely new life.
For more info, theteenproject.com
Los Angeles County Department of Mental Health (LAC-DMH):  The Los Angeles County Department of Mental Health, the largest county mental health department in the United States, provides mental health services for Los Angeles County residents. Mission:  Enriching lives through partnerships designed to strengthen the community's capacity to support recovery and resiliency.  dmh.lacounty.gov
Foursquare Church:  The Foursquare Church is a family of more than 1600 churches that exist to glorify God and advance His kingdom. Find a church near you as well as church and ministry resources for Foursquare churchleaders.  foursquare.org
St Joseph Center:  View about description above.
Spy. Safe Place for Kids:  Our program prioritizes low barriers for entry, harm-reduction, a trauma-informed approach, and the provision of a safe, supportive environment. Basic human needs are addressed through a "safe haven" atmosphere of hope and concern. SPY provides three core areas of service provision: Street Outreach, Drop-in Center, and Case Management.  Mission:  Safe Place for Youth's mission is to inspire, nurture, and empower the resilient human spirit of homeless youth by providing immediate and lasting solutions, one young person at a time.  www.safeplaceforyouth.org
Let us know if we missed any resources or tips!  Please send to [email protected]  Thank you!