On Thursday March 15, 6-10PM, the VAC will kick off the first art crawl of 2018!  Instead of having art events throughout the town, as in years past, this year the VAC will focus on  specific areas, this  first one being  Windward Avenue, between Windward Circle and the beach.
In honor of Women's History Month, the VAC will acknowledge Venice trailblazing women artists at the Legendary Women Artists of Venice event where Judy Baca, Jules Muck, Emily Winters, Meryl Leibowitz and others. This special event will take place at 8:00PM inside the Red Bull Room at Hotel Erwin, 1697 Pacific Ave, a short block south from Windward Avenue. This is an invite only reception. To get on the list, please email [email protected].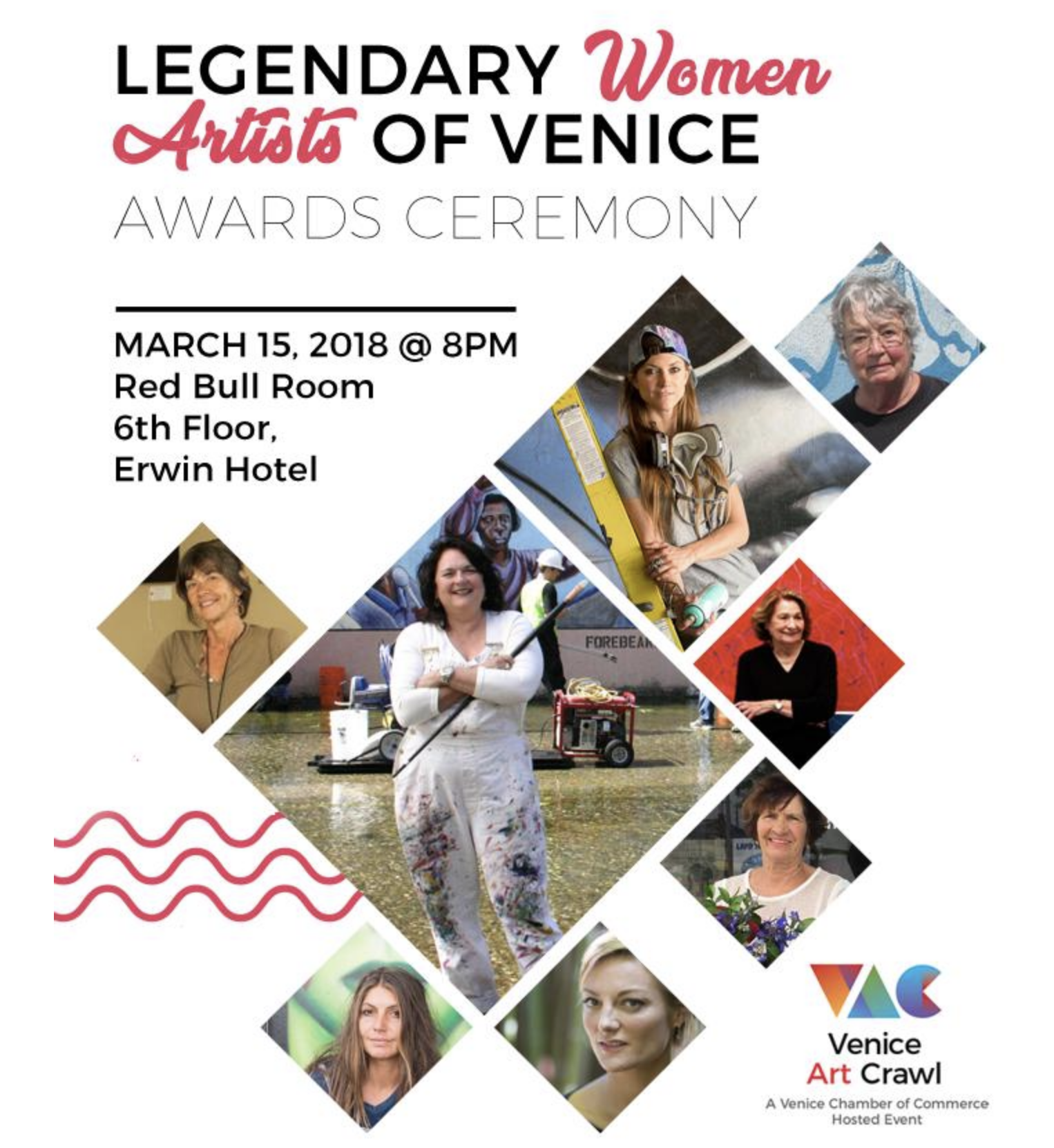 Aside from the happening at Hotel Erwin other artists that will be showing include: Lindsey Nobel  at Bank of Venice, 80 Windward Avenue, multi-media paintings by Richard Glass will be displayed at Glass Hair Design, 1501 Main Street at Windward Avenue, and  Edward "Pancho The Artist" Davila, will be present on Windward with his tattoo mobile bus.
There will be exhibits and pop ups at various restaurants along this stretch of Windward, including: Great White, Larry's, Hama Sushi, the Bank of Venice and Gotta Have It. 
Here are some of VP's favorites.
Check out the Venice Art Crawl fan page for all featured events.
View official map below for all March 15th events!
Where to get the official map!
Pick up the a map from the Venice Information Booth at Surfside, 23 Windward Ave. Venice, Ca 90291.

 

Download a map of all participating businesses at www.veniceartcrawl.com.

   
About Venice Art Crawl:  The VAC's mission is to preserve the arts in Venice, a place that has historically been known as a vibrant and dynamic art community. Our goal is to share, inspire and promote collaboration within the Venice community through mixers and art events. We are an all volunteer run non-profit organization which is a committee of the Venice Chamber of Commerce.
For more info or to participate in an upcoming VAC event, visit ww.veniceartcrawl.com.   .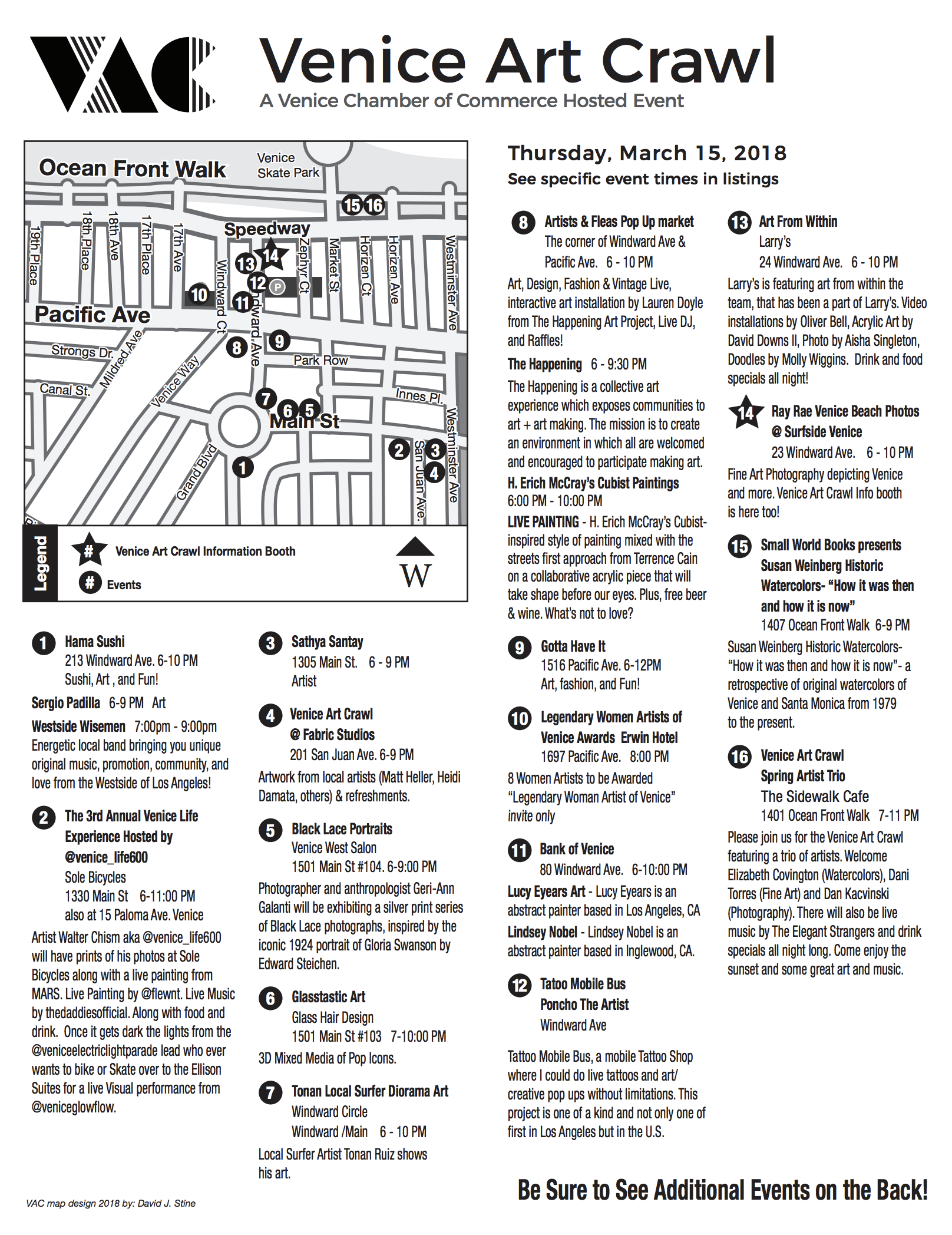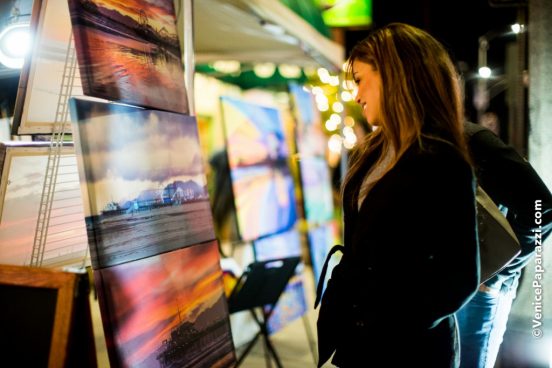 Artists, join the Venice Art Crawl!
Alex Stowell here.  Unleash your inner artist!  Dust off that skill set that you know you have, and get your art on!
Perhaps you have been too busy with earning a living to spend time creating art and trying to get it seen!  Well, that stops now!  The Venice Art Crawl makes it easy to show your art.  No more calling galleries yourself and orchestrating a showing yourself,  the VAC has all that taken care of for you.  It is a quarterly event of pop up galleries, and they are alway looking to match talent with a venue.  It is super easy to get a spot to show.  Here are the 2018 Venice Art Crawl dates!
March 15 – Windward Ave. Details below!
May 17 – Venice Blvd
July 19 – Washington Blvd.
September Venice AfterBurn
And, here is a super fun fact about the Venice Art Crawl.  It was founded by Venice Paparazzi's Edizen Stowell, Canal Club/James' Beach's Daniel Samakow, and Mike Newhouse.
Thankfully, it is going strong into its eight year.  A big fist bump to all the folks who have participated, and volunteered through the years!
View all past 2010 – 2017 Venice Art Crawl photos by Venice Paparazzi!  .
For more info or to participate in an upcoming VAC event, visit ww.veniceartcrawl.com.   .