First Friday's on Abbot Kinney Blvd. is a total scene, and now you can have LYFT do the driving! Woo Hoo!   
Every first Friday of the month, Abbot Kinney Blvd transforms into a late-night hub of activity, with stores open late, a delicious array of food trucks and live music and entertainment filling the streets.  The evening runs from 6 – 10 PM.
WHERE: Abbot Kinney Boulevard, Venice, CA 90291
WHEN: The First Friday of Every Month from 6 -10 PM
Food trucks on Abbot Kinney Blvd. is another fun feature of First Friday's!  Forty or so A-list trucks are invited to participate on the First Friday of every month. You'll find an ongoing rotation of innovative, new cuisines along with your standard favorites. The trucks are carefully vetted and assigned to particular spaces along the street.  Enjoy your meal in the Picnic Area on Palms Blvd.  Fun for the entire family.  Great date nights.  Fun thing to do with friends!   View map of food trucks here.  Bench Seating and Restrooms are on Palms Blvd.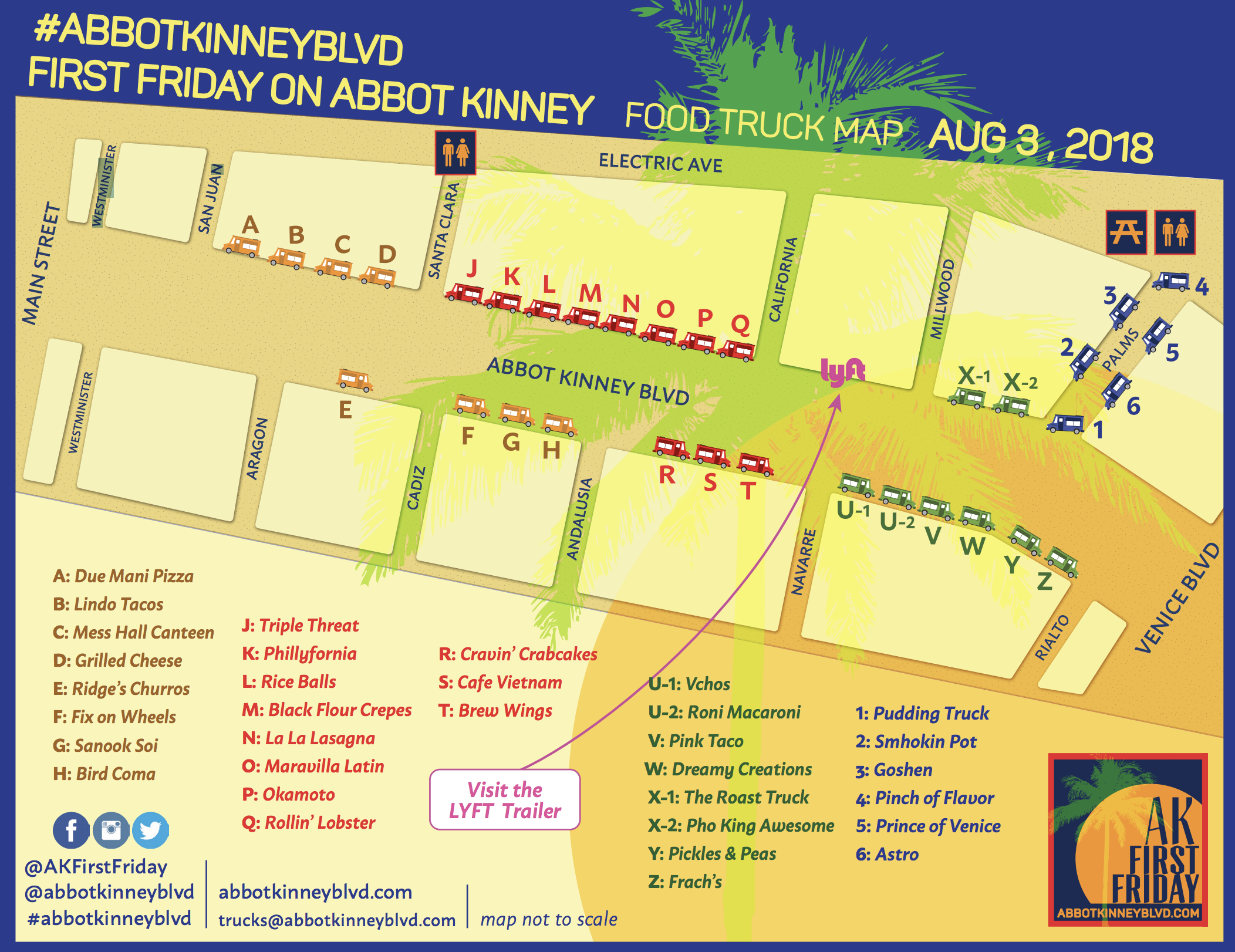 Here is a message from the Abbot Kinney Merchant Association. 
Take a Lyft on First Friday!  $10 off your ride!
Need a ride to Abbot Kinney on First Friday? Or after an evening of great food and drink? Head to the pick up/drop off zone at the 1400 block of Abbot Kinney, near Milwood – you can't miss the pink cones!
And new users enter code ABBOTKINNEY in the 'Promos' section of the app to receive $10 off your ride! (Subject to Lyft terms.)
Swing by the Lyft trailer for some goodies on First Friday!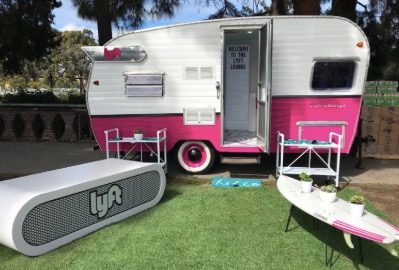 Venice Paparazzi Suggested Activities:
Go for a stroll and window shop.
Dine and drink at Salt Air, Sunny Spot, Hal's Bar And Grill or Casa Linda!
Need a caffeine fix?  Go to Tom's, Blue Coffee or Intelligentsia Coffee!
Keep you eye out for Venice murals by Jonas Never, Isabelle Alford Lago and more!
Get your hair done at Trim…Venice's hottest hair salon!
A cold press juice at Kreation is a must!
Do a Pilates class at Pilates Plus.
Ice cream and gelato at  Salt N Straw
Yummy donuts at Blue Star
Sweat, Stretch and Cycle at Beyond Bikram
Get some classic So. Cal apparel at Aviator Nation, Topo Ranch or Stronghold.
Fashionistas go to Principessa
_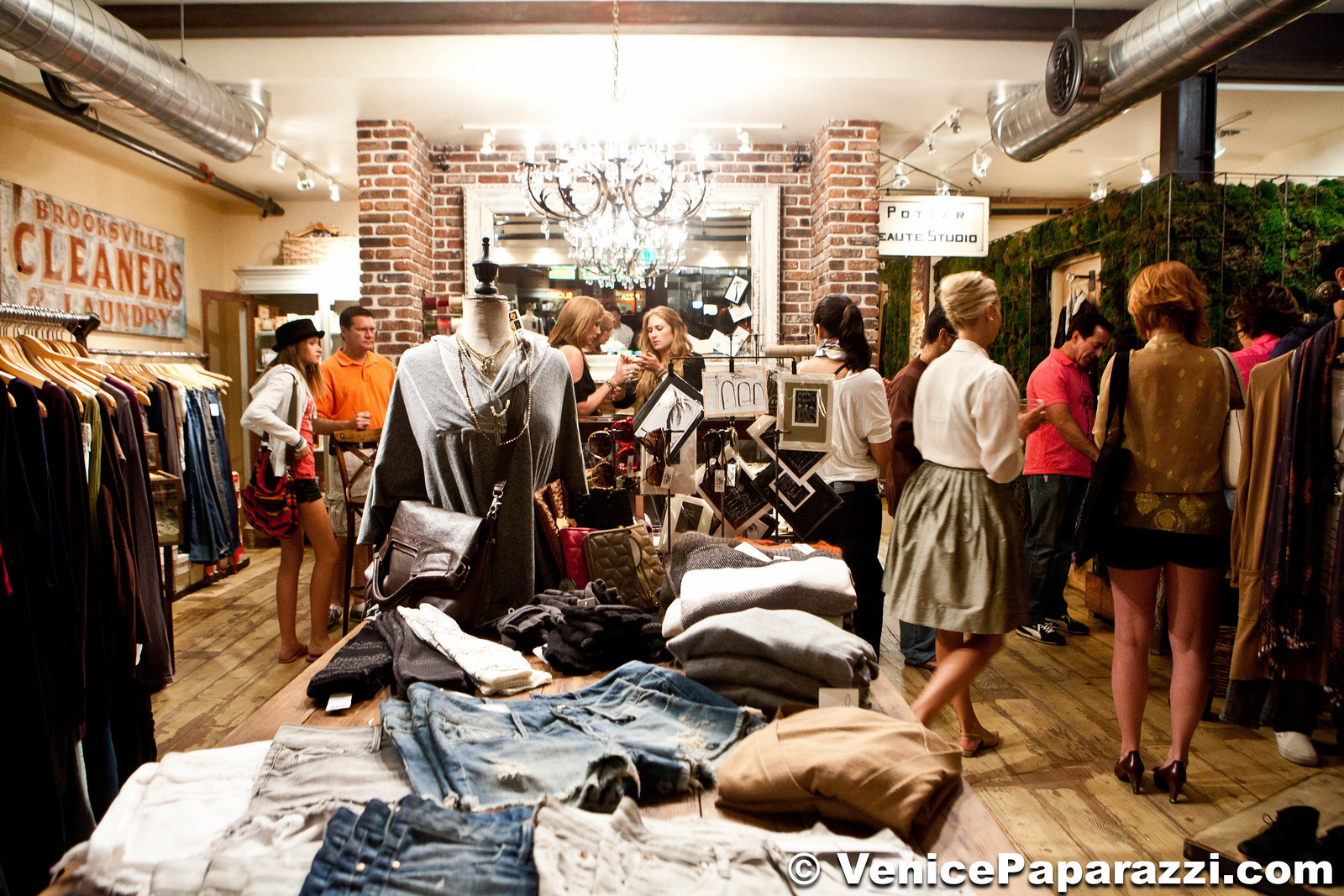 For all First Friday's event info, visit abbotkinneyblvd.com/firstfridays
PARKING:  Street parking and public pay lots on the east side of the street.  
Click here for more info on parking in Venice!
Click here for more info on Abbot Kinney Blvd.