Party at the Boys and Girls Club!
We will be debuting a public art installation, "The Faces of the Boys & Girls Clubs of Venice," as part of the Inside Out Project created by world-renowned artist, JR.
Stop by the Club to enjoy great food from some of our favorite local restaurants, Gjelina, Deus ex Machina, Ben & Jerry's, Yellow Fever and more, drinks, pickup basketball, live music, see our nationally recognized art on display and more!
Date:  Aug. 16, 6-8 p.m.  2232 Lincoln Blvd. Venice, Ca 90291.  View flyer for additional event info!
The Boys & Girls Club's mission is to enable all young people, especially those who need us most, to reach their full potential as productive, caring, responsible citizens.  Interested in getting involved? Contact Emily at [email protected] for more information.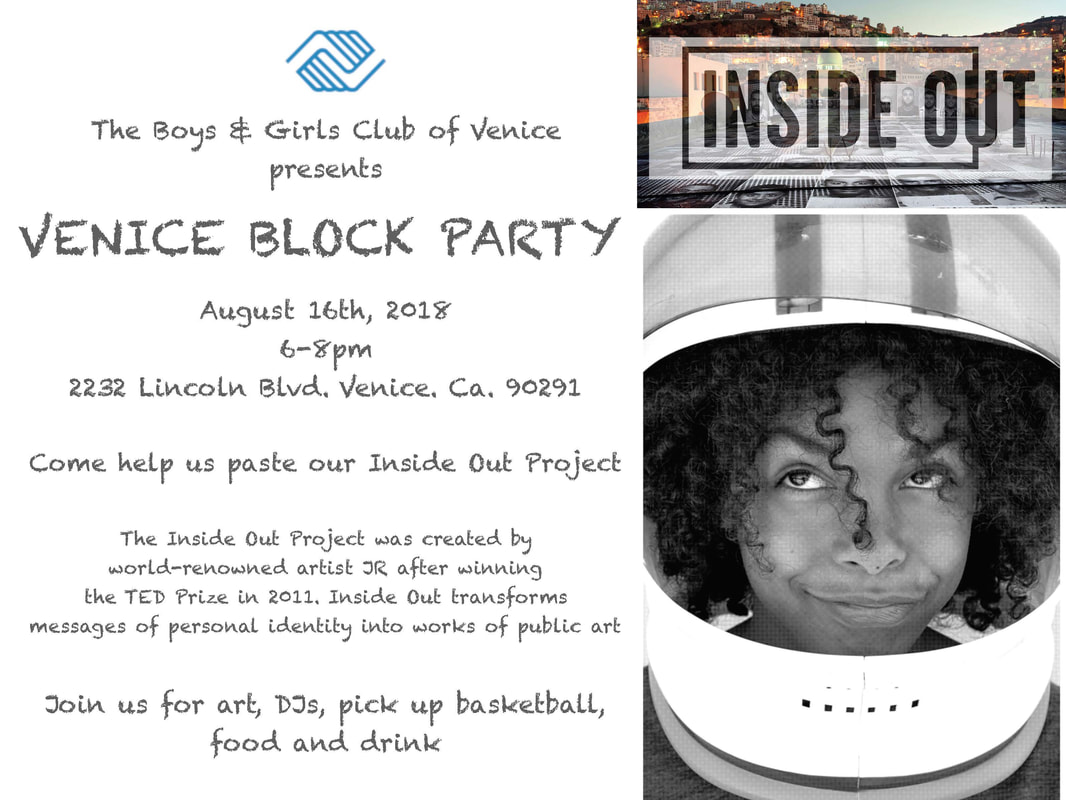 Also, save the date Sept. 28th for BGCV's 50th Anniversary Celebration Champion of Youth Gala!
​Boys & Girls Clubs of Venice is celebrating 50 years of youth service in the community. Since our beginning as a VISTA Project in 1968 our goal has been to improve the lives of the children in our   community and give them a place to become anything they can dream of. We are celebrating throughout the entire year and would love for you to join in our celebration! Thank you for 50 years of support and making a difference. Here's to another 50 years of impacting every child that walks through our blue doors.
Join the celebration and attend our 50th Anniversary Celebration on September 28th at the Jonathan Club in Santa Monica. It's going to be a wonderful evening, highlighting our Club's history, success and the amazing people that have made the Club a hub in the Venice community. Click here to get more information or to purchase your ticket today!
BE A VOLUNTEER!  MAKE A DIFFERENCE!   The Boys & Girls Club of Venice is always looking for enthusiastic, motivated, committed people who would like to be positive role models for the kids and teens who attend the Club.  Our volunteers are the backbone of our organization's operation.  Click here for more.
DONATE TO THE BOYS AND GIRLS CLUB OF VENICE!   Your contribution allows Boys & Girls Clubs of Venice keep the promise to our youth during their formative years when they need us most.   Click here for more info!
.