Today the Venice Paparazzi spotlight shines on the von Hoffmann family Todd, Theo and Kristina.  
How many years in Venice? What is your connection to Venice?
Todd & Theo: Started playing paddle down here in '82.  Theo moved to LA in '80 from NY, and we both moved to Venice in '86 and love the culture & history.  Raised a 30 yr old hecho en Venice daughter, Kristina Bambina ("Bam").
Kristina: Since I came home from Cedars in 1987.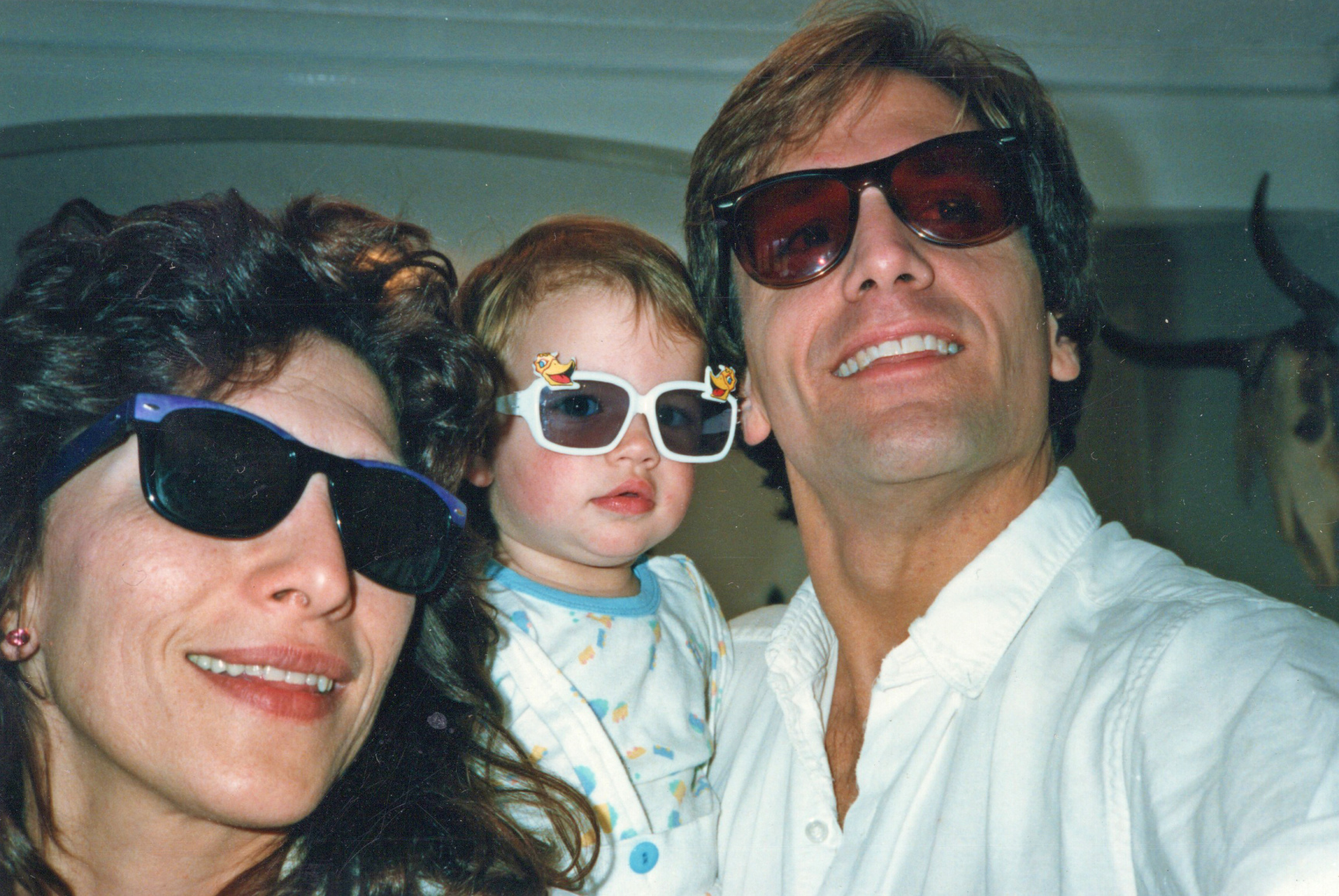 Tell us about your company.
Todd: Serial producer of Venice Shenanigans with my co-conspirator locals. Author, "Von Hoffmann Bros.' Bigger Damner Book of Sheer Manliness."
Collector of : Venice history, art, ephemera, firework graphics, nude black velvets,  hood ornaments, skulls, vintage patriotic bunting, and cigar boxes.
Kristina: By day, I work on climate change solutions, education, and events in Southern California at Climate Resolve. By night, I teach Hatha yoga to a number of badass clients in their 60s-80s and run a business called @WifeyInc with my best friend & wifey-for-lifey (hey Sanyu!). We sell cool vintage clothes and are producing a podcast called "Every Day I'm Hustlin'" featuring our favorite locals and their creative hustles. Look out for the interview with my Dad – and a very special guest appearance / dance-off with Mom – coming soon.
Theo:  I adore my creative husband and daughter's endeavors…. I am shy about some things but do participate when I can, love to march in Venice parades and speak my mind.  My business role is Life Assistant:  I am here to organize your life, support you, take care of everything you need done, and also a fierce supporter of environmental issues (my past work life at American Oceans Campaign was in protecting the health of our oceans).  FYI….Kristina has far surpassed my environmental expertise/knowledge and now teaches me!
How long in business, and how did you get started?
Todd: More of a lifestyle than "business."   I came to LA for a brief visit before sailing around the Pacific, had waaaay too much fun, and blew my travel fund.  A friend from The Improv in NYC got me a job in the mailroom at ICM.  Eventually I became a development executive and manager of writers before turning to writing myself.
Kristina: When I was born, my Mom went into the environmental industry to work on oceans conservation, so taking this path was probably fate.   As for my beloved side gigs, I've been thrifting since I was 12 (RIP Out of the Closet) and started practicing yoga at 21. I took a class in college, hated it, and then two years later, ended up in a different class with my boyfriend at the time and absolutely loved it. I have maintained a practice ever since (though not the guy ☺). It's all about the right timing and teacher.
Theo: I moved out to California in 1980 and worked in the entertainment industry at ICM and CAA for many years.  Then, thankfully, I was awarded a job at American Oceans Campaign after Kristina was born and well… the rest is history.  Became a fierce advocate of environmental protection, clean eating, organic produce and living a healthy lifestyle.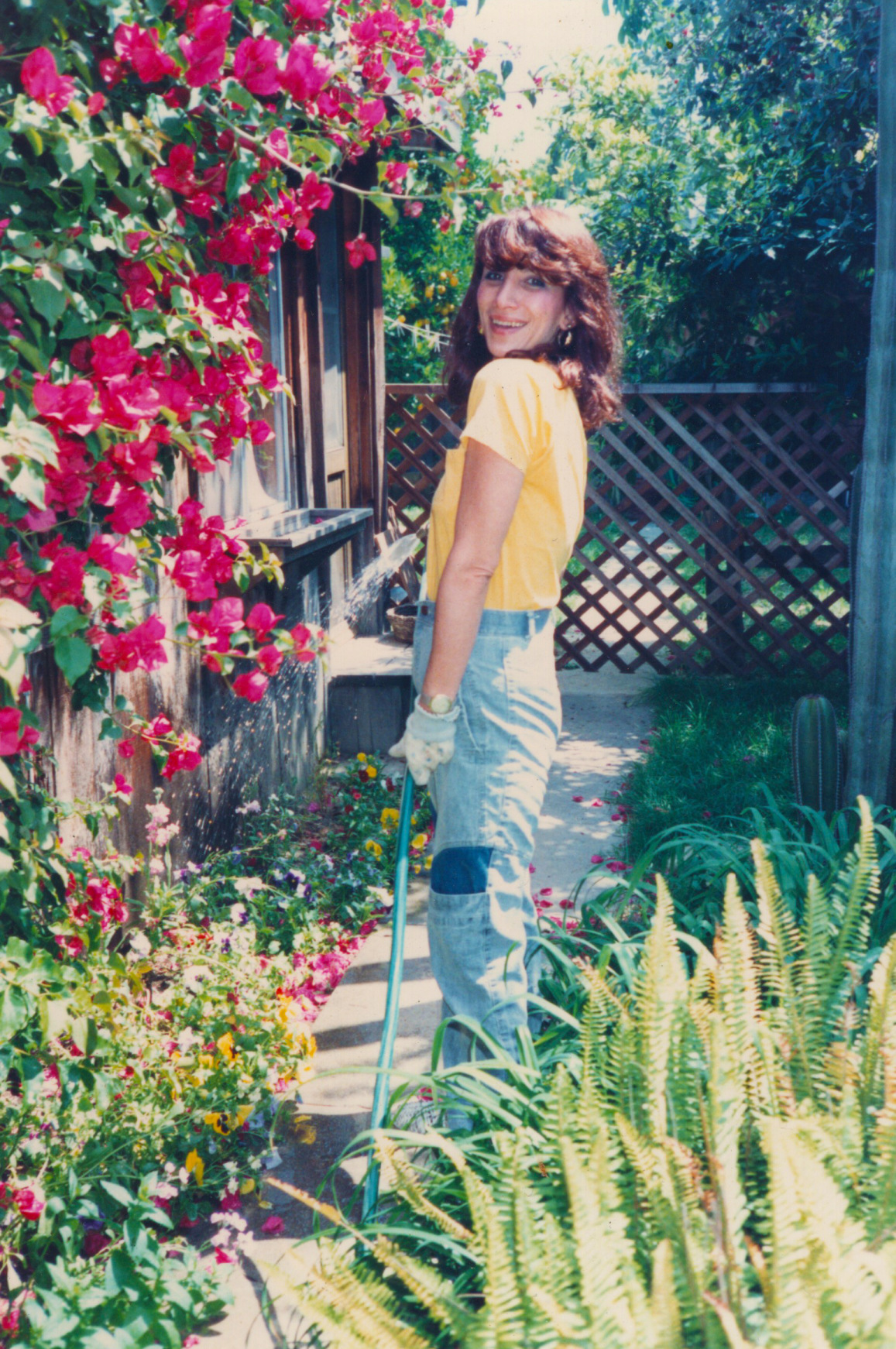 What accomplishments are you most proud of?
Todd: 30-plus wonderful years of marriage to TheoBaby, raising the best daughter we could imagine, writing my book, making my dad proud, building a house, playing softball for 20 years with the mighty LA Codgers & MexiCodgers, raising Shelties, adopting our 20-something year old Irishman Ciaran, restoring the Venice Sign with a great team, the history display in Danny's (now Surfside), Our 10-year run of the VNC Oakwood BBQ with Station 63 firefighters, serving as docent volunteers for the Venice Garden & Home Tour, Helping Esther Chaing with the history decor at Hama Sushi, helping Louie & Nettie Ryan reopen the Del Monte Speakeasy, now home to Venice Underground Comedy, and lastly the ever-expanding circle of incredibly talented and fun people we know.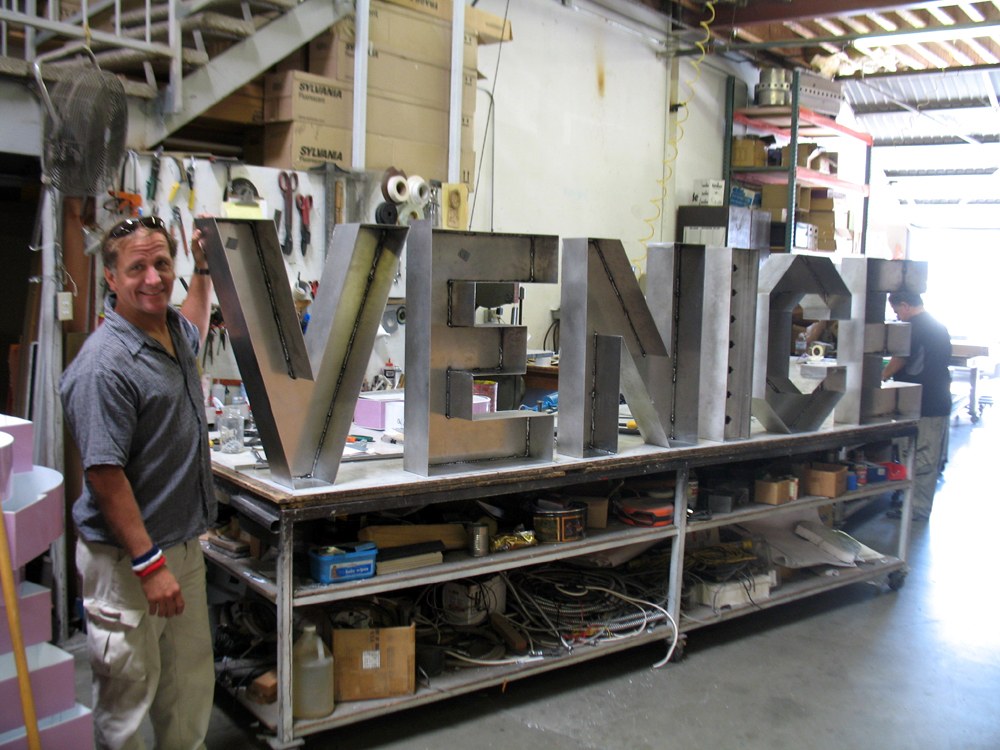 Kristina: Joining the Board of the Venice Heritage Museum so that I can share and celebrate the history, past and present, of this beautiful town that raised me.
Theo:  Thankful to be a part of everything Todd & Kristina have mentioned – and yes, the 30+ years of marriage, having Kristina, my favorite person!  What a joy to live in this wonderful Venice community.  IT IS HOME!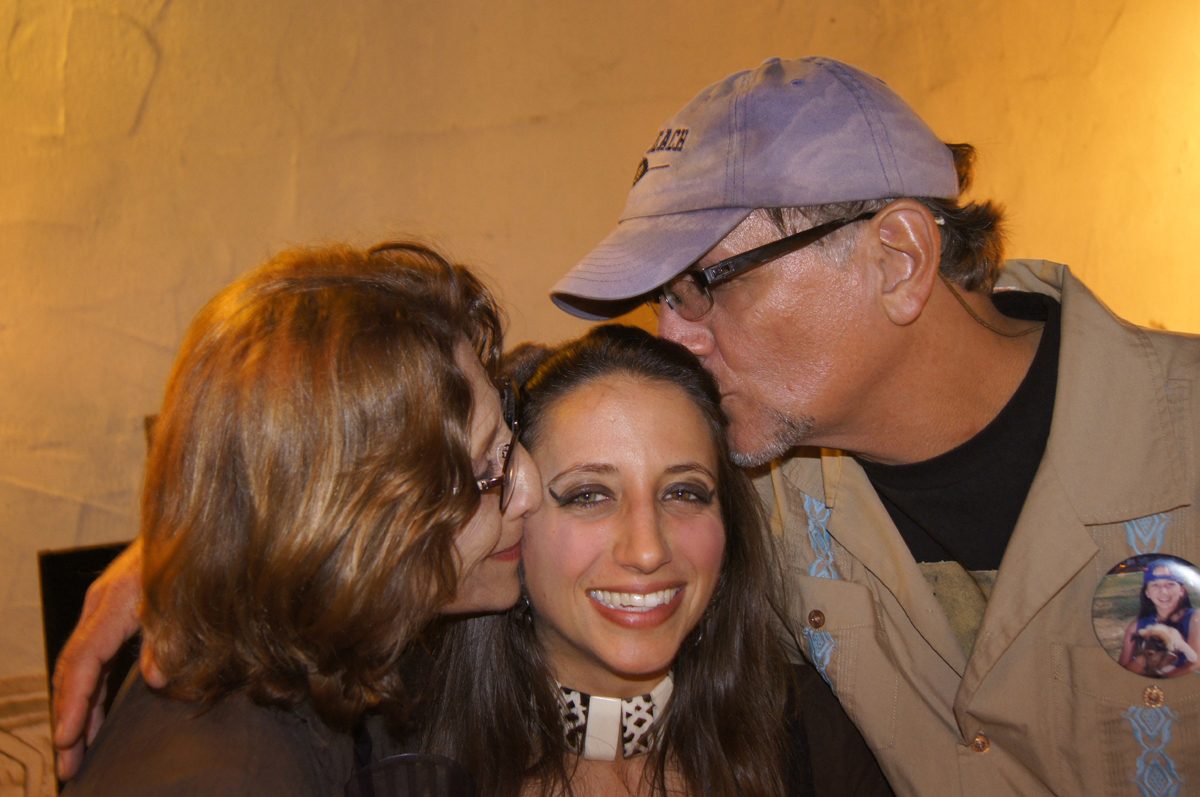 Future projects/Direction:
Todd: "Gopher Scramble VI", my "Caddyshack"-themed golf tournament returns to Penmar in 2019 – a benefit for our future Venice Heritage Museum.  It's sponsored by The Townhouse & Modern Drunkard Magazine and features Master Bagpiper, Graham Allan, loud clothes, great food, prizes & flying putters.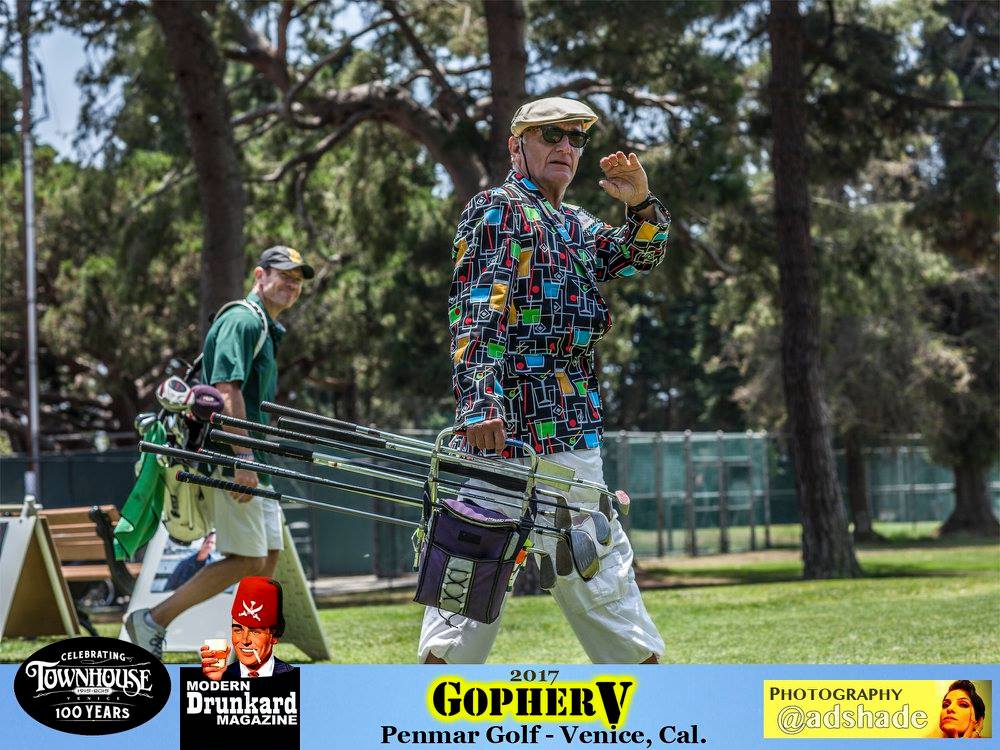 Theo: We just celebrated Summer Solstice with the Neptune Festival and our new King Tonan Ruiz & Queen Beth Allyn – a great time that coincided with Surfside's 1st anniversary.  Come join the next Mardi Gras Parade in 2019!   These are fun Venice traditions that date back to the '20s.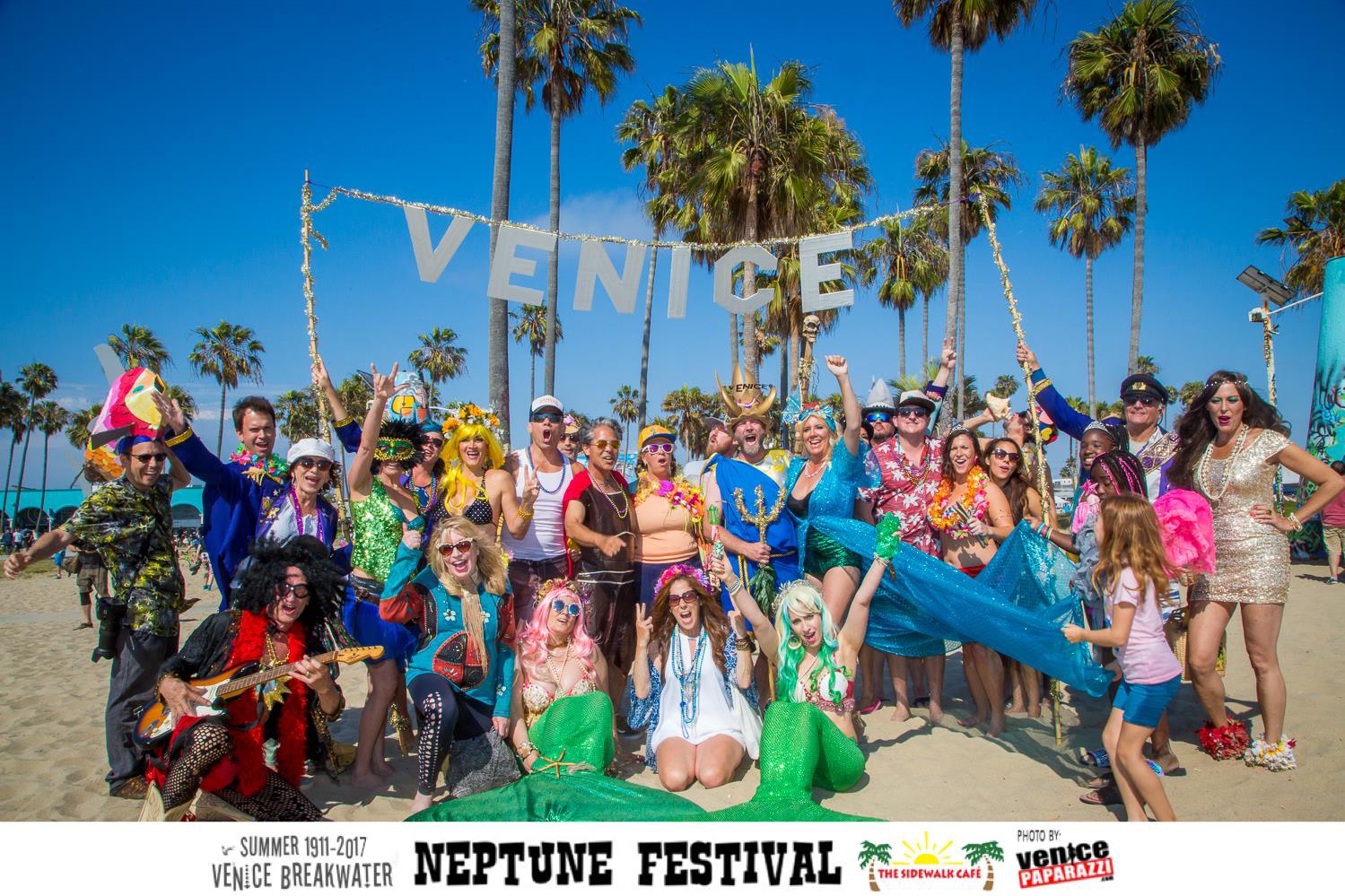 Kristina: Raising capital for the Venice Heritage Museum 
The money we raise will help restore the Pacific Electric Red Car and the donated Short Line Station ticketing house, which together will become the featured structures on our museum campus (with deep gratitude to Thomas Shin and David Hertz!).

What advice would you give someone starting out in your field?
Todd: Sorry bud, publishing's gone bye bye.  Make a short film with your pals and write more.  Then hit the steam.
Kristina: We may not need any more yoga teachers in LA (hah), but we always need more environmental advocates. The industry is really alive with opportunity here in L.A. and California. Update your LinkedIn, start searching for keywords that interest you, and reach out to people whose work you find inspiring. Keep the message brief and ask for a phone call or coffee. The worst they can say is no or nothing at all.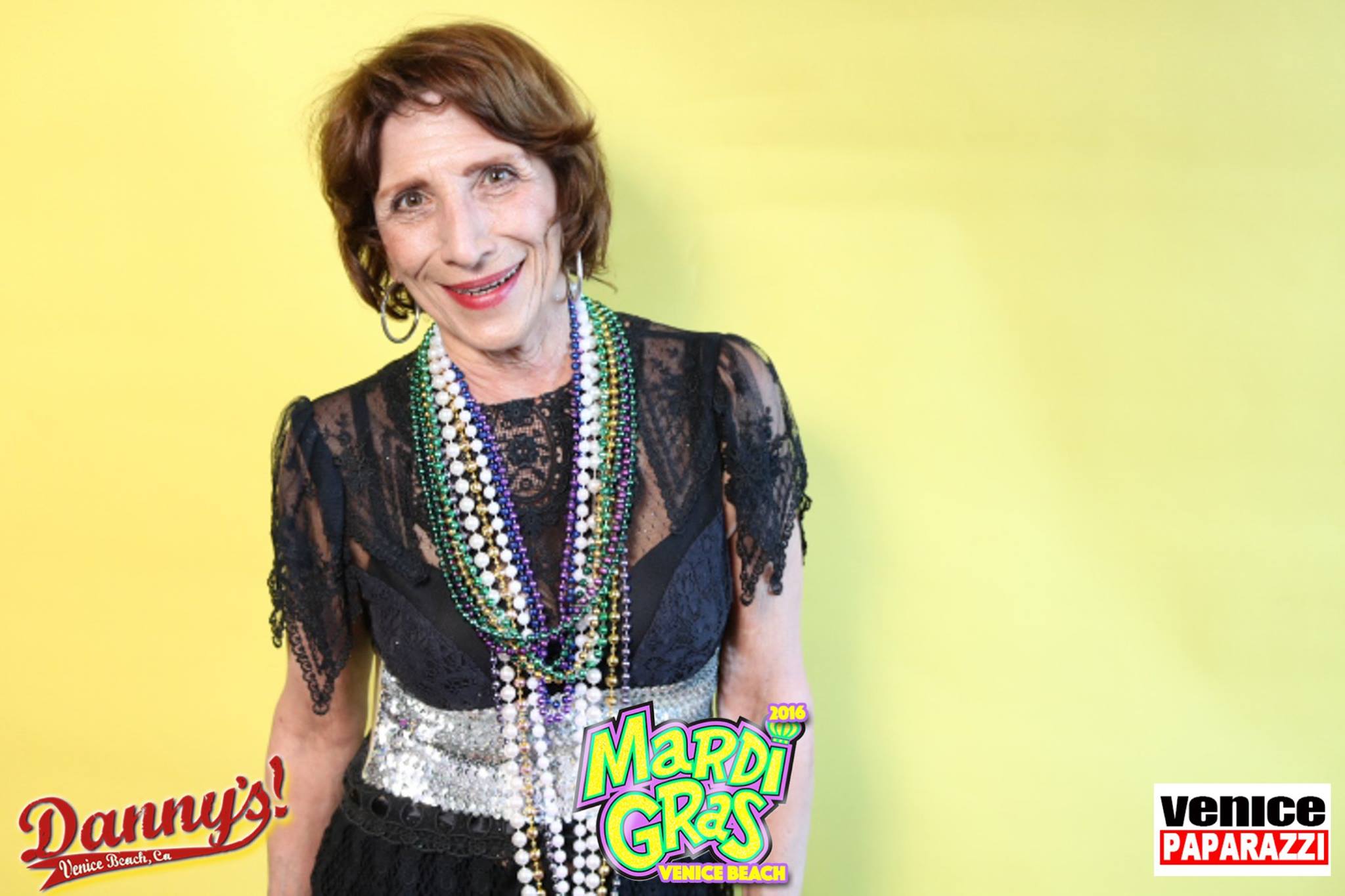 Theo:  We all need to do our part to protect our environment!  Conserve water, use non-toxic products in your garden. (Visit Environmental Working Group.com to find out about common products and their ingredients that are okay or not.) There are plenty of alternatives! Find out about environmental groups that support your interests. Water quality, ocean pollution, food, agriculture….the list is endless.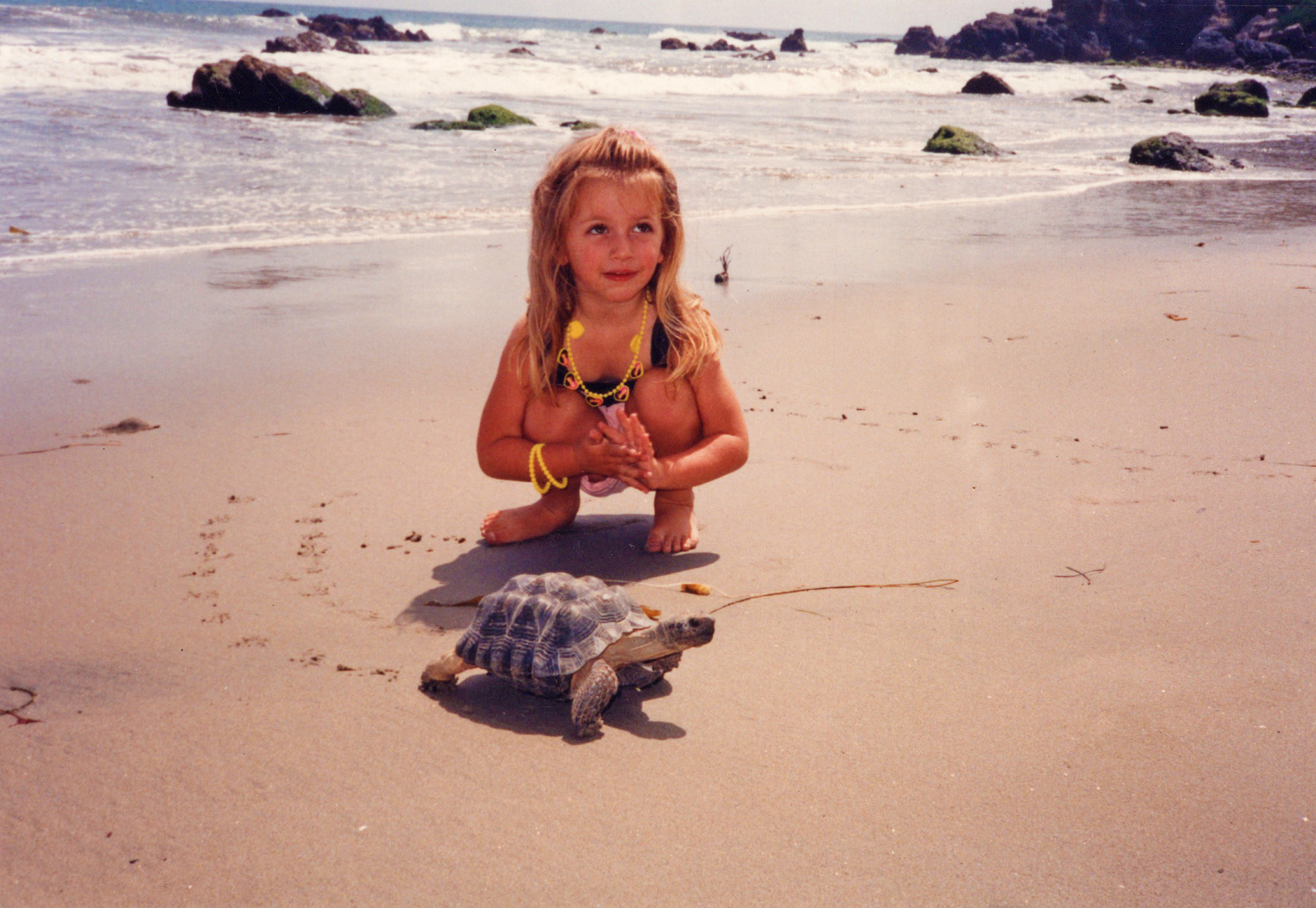 Where do you find inspiration?
Todd: From a wealth of kindred spirits who are not dollar driven jackasses.  Sipping Bloody Marias with some compadres in a dark secret place.  The Links.
Kristina: Pictures of old Venice. Stories from our VHF Historians. People celebrating their culture and roots in LA like @veteranas_and_rucas,  @jbk_photos, and @gz.jr.
Theo:  From family and friends and my Yoga practice.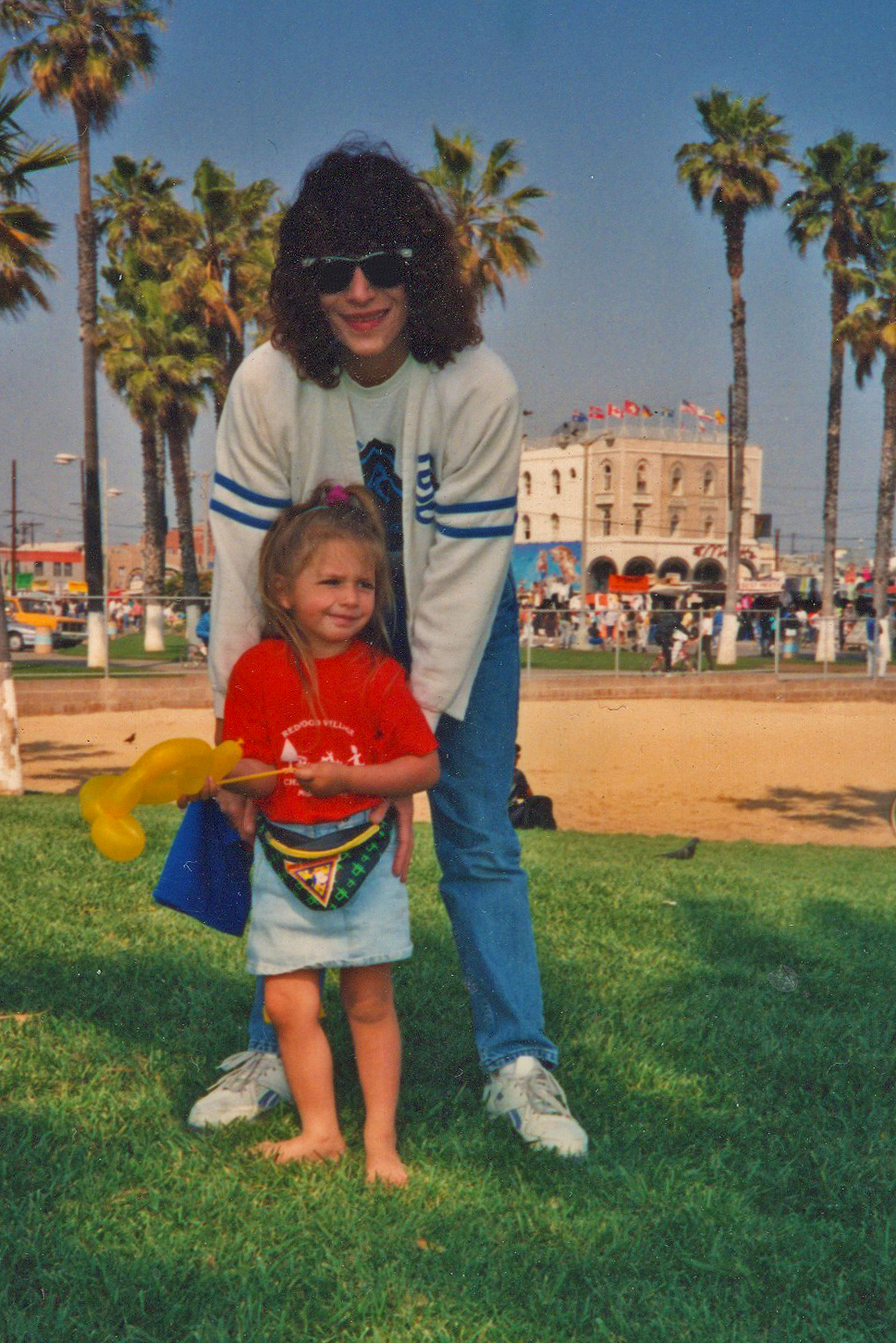 Favorite affirmation, mantra, or quote:
Todd: Count your blessings. Get over yourself. Hit 'em straight.
Kristina: I read an interview with Toni Morrison once about 10 years ago in which she said: "It's difficult not to worship the world, the unlikely possibility of this earth." Yeah, that kind of reverence pretty perfectly sums up my state of mind about life, people, creatures, the outdoors, all of it… Our existence is pretty wild and random when you think about it in the context of the universe. This attitude helps me find magic in the mundane.
Theo:  Do not really have a favorite one… but be grateful for what you have, your life, be kind to others and take time to appreciate this beautiful planet we live on.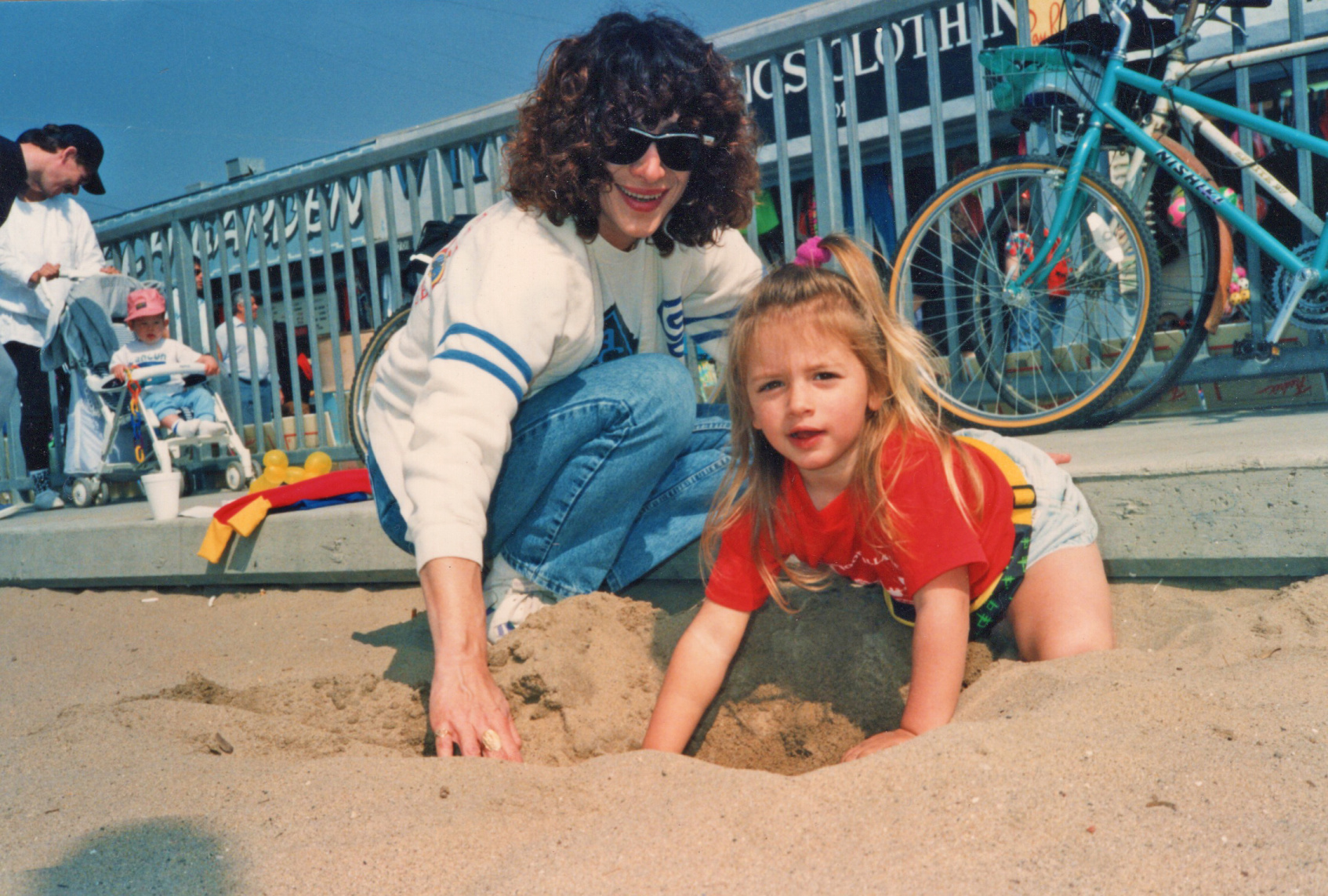 Favorite book, band or movie?
Todd:
Music: Soundtrack composers like James Horner, Bernard Herrmann, Hans Zimmer, Miklos Rozsa.

 

The Velvet Teen, a wildly underappreciated band that Kristina introduced me to when she was in high school (Song Title: "Jockey Full of Bourbon").
Book: Anything by P.G. Wodehouse.
Film: Read my Big Damn Book recommendations but here's 4:

 

"Pride and Prejudice"

 

(1940, Greer Garson version), "Braveheart", "Lonesome Dove" (OK, a miniseries), "The Adventures of Baron Munchausen".

 

(Also, must watch "Ben Hur", "The Godfather" 1&2, and "The Quiet Man" once a year.)
Kristina:
Music: Lately I've been revisiting my old CD collection, most of which came from Benway Records in the Venice Circle about 20 years ago

☺

Groups like Youth Brigade, Dilated Peoples, Minus the Bear – a lot of skate and surf punk, hip hop, and alternative rock.

Book: I recently read all of Junot Diaz's books back to back. He is a wizard at making the hyper-specific incredibly relatable, moving, and funny. If you haven't read his work yet, I envy you.
Theo: 
Book: I confess that I am not an avid reader these days but did read every book in the series by Diana Gabaldon:

 

'Outlander', 'Dragonfly in Amber', etc. Historical fiction/time-travel…I know….woo woo.

 

So you can understand why I am now a devout fan of Game of Thrones! 
Film:

 

Pride & Prejudice series (the newer one) and Downton Abbey. 
Music:

 

I grew up with a passion for disco dancing (sorry Todd) and collected lots of R&B, the Stones, Beatles and rock n'roll. Some I won't name or Todd will be embarrassed.

 

Definite divide of music taste in this family!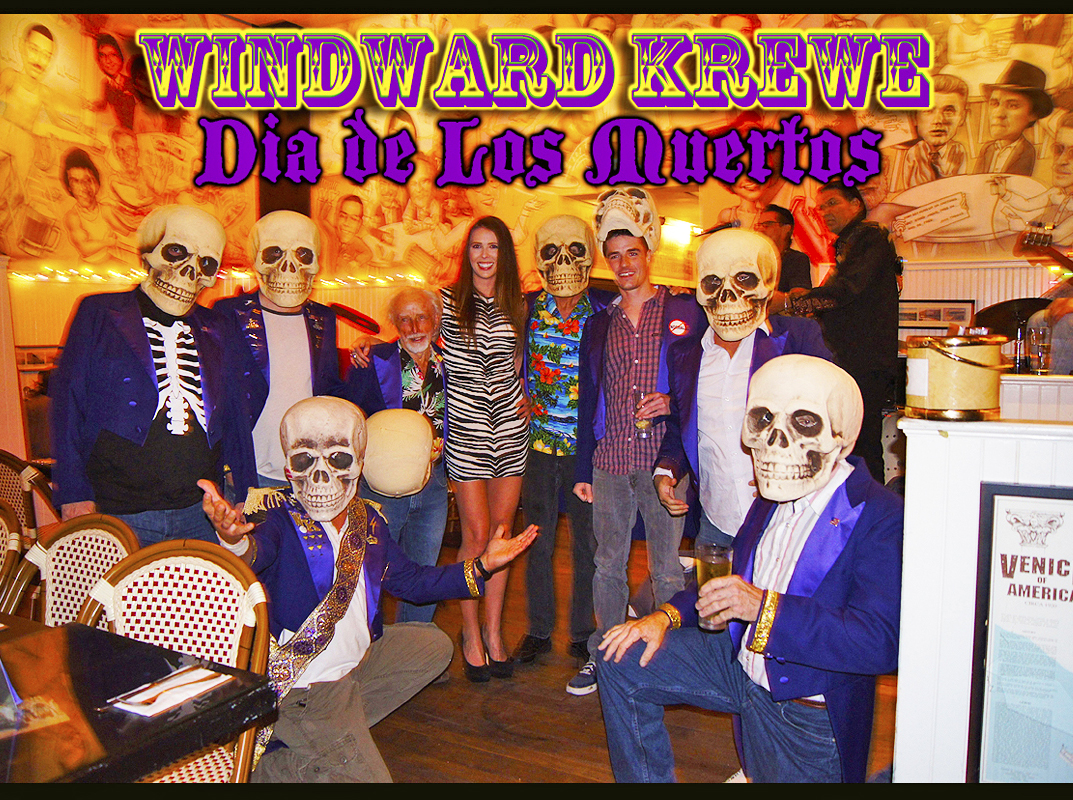 What causes do you support?
Todd:  
Live music & comedy in Venice

Our beloved pinko commie rag The Beachhead

Fire Station Station 63

And stamping out aggressive cluelessness.

Locals.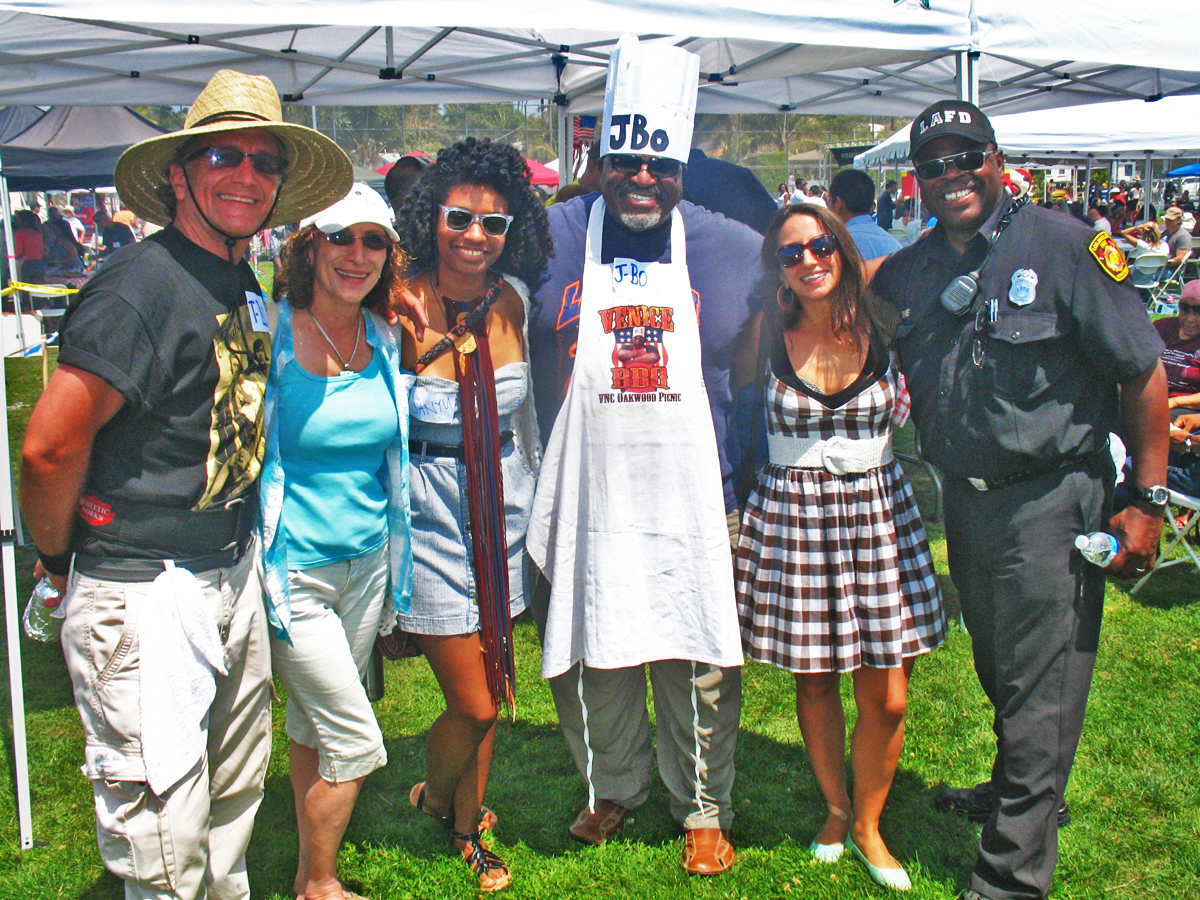 Kristina: Indivisible, because they're supporting political activists in other states that could use our support. (We've got it pretty good here in CA, at least broadly speaking.) Also, Color of Change for their work fighting racial injustice.
Theo:  Environmental groups, animal rescue organizations, The Gentle Barn, The Venice Heritage Museum, World Hunger.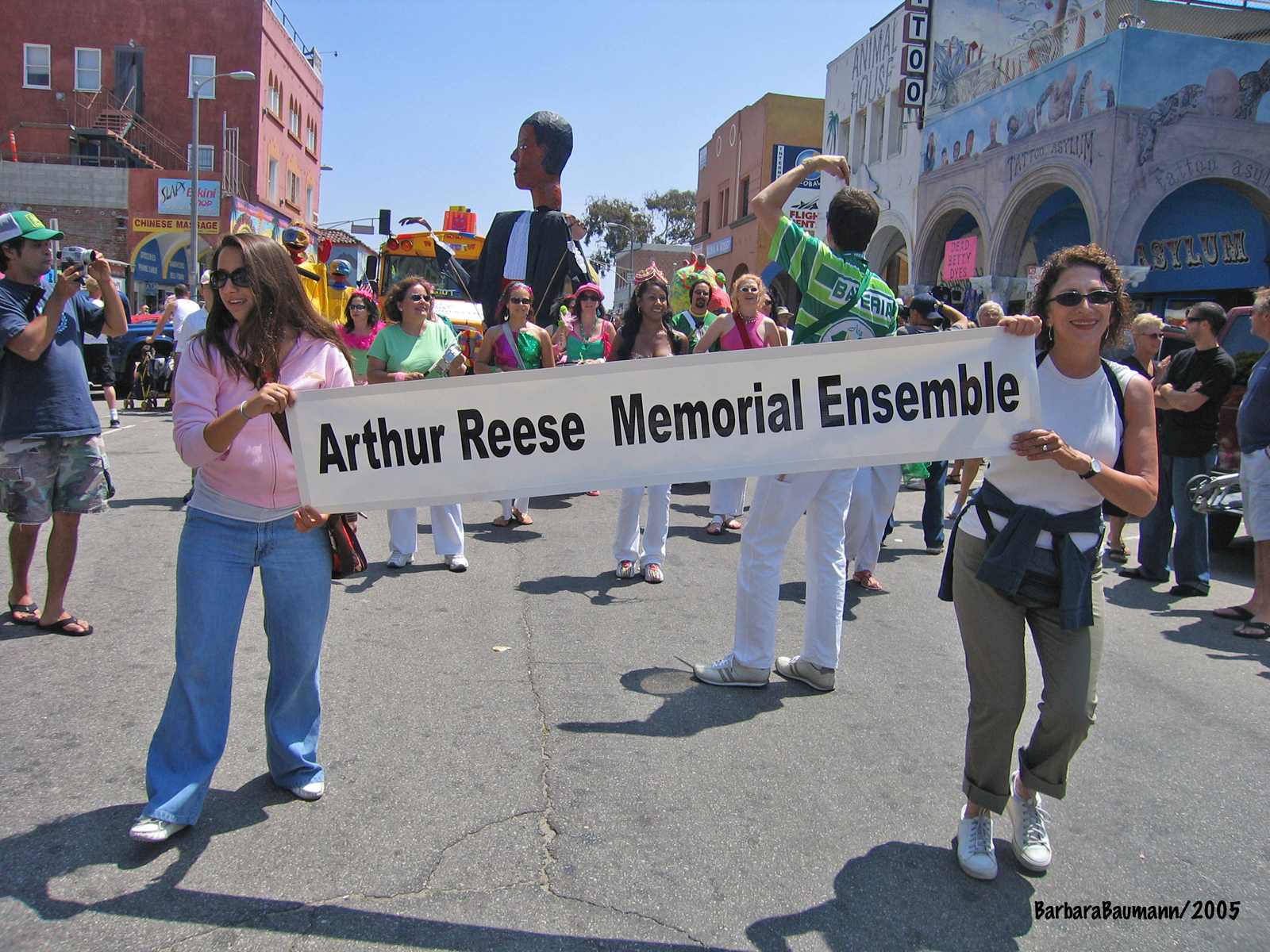 What's one thing we can do to make the world a better place?
Todd:  Remove the human infestation???  Maybe just the lawyers???  OK, let's just say live with joy, courage & honor – this ain't no dress rehearsal, breed & sprawl less.  And let's do something about the lifespan of dogs already – God's one serious blunder.
Kristina: Drive less and, since it's Venice, ride your beach cruiser or your skateboard more. Have a drink with your neighbors. And always, always, ask more questions.
Theo:  Drive a Hybrid or electric car.  Stop fighting people! Give up your weapons.  Communicate more, i.e. use your words not your hands.  Smile more at strangers.
List 1-2 things on your bucket list, and 1-2 on your VENICE bucket list
Todd:
Mine:
1) Return to Belize, scene of the last great adventure with my Mom & Dad.
2) Keep doing what I'm doing until that drink and a laugh with Mr. Brink.
Venice:
1) Get a damn museum built already.
2) Bring back the old Ocean Front Walk tram and serve as the Conductor with a proper hat and a flask in my uniform.
Kristina:
Mine:
Six weeks in Southeast Asia with Jeremy.

Make some dough so I can retire and become a full-time Venice yokel.
Venice:
Build the museum.

Film and record as many Venice elders as possible so that we can share and learn from their stories. Anyone interested in helping, please email me:

[email protected]

.
Theo:
Mine:
Return to Hawaii, visit Greece with Kristina & Todd

Put a small lawn in front of our house for Gus (our Sheltie) and build planter boxes so I can grow my own vegetables.

Successfully complete ONE push up from the floor…workin' on it, Kristina!
Venice:
1)  Open the Venice Heritage Museum
Anything else you want to share about yourself to the world? Fun facts.
Todd:  OK, my celeb moment: Drove down AKB and saw Tim Robbins on the sidewalk – called out, "Loved you in "Team America: World Police!!"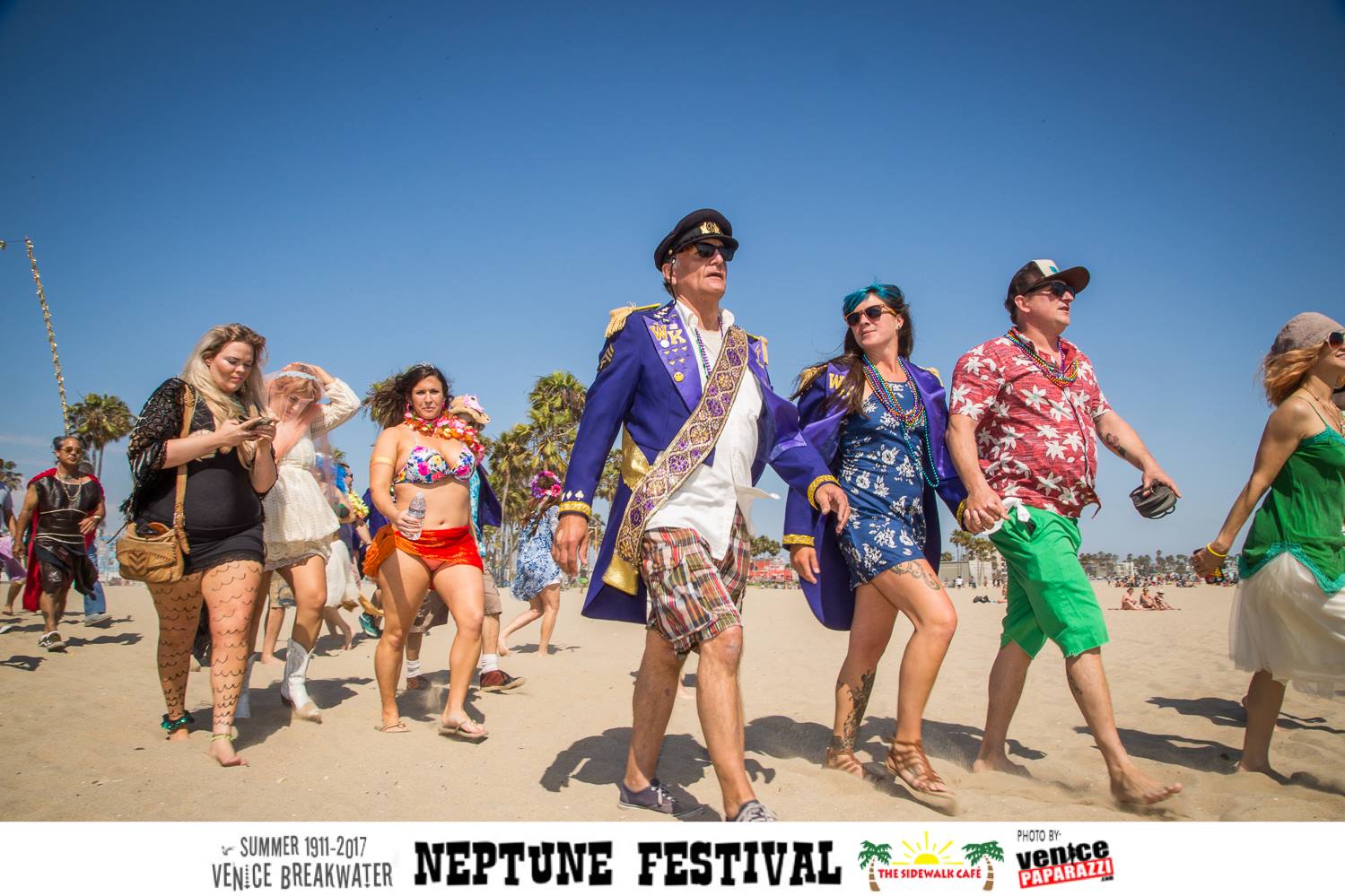 VENICE QUESTIONS
Describe Venice:
Kristina: Storied, legendary, loyal, tough, love.
Theo:  Home, lively, interesting, cool breezes, friendly.   
Todd:  A raw, artist-driven, continually inspiring, multi-cultural California dream town fighting for its soul.
Describe your perfect day in Venice: 
Todd: Coffee pondside with the hummingbirds & turtles, make breakfast burritos for TheoBaby & Myself, hit the gym, work on a gift, brunch & golf with friends, run my pup Gus at the beach, phone call with an old pal, dinner by Theo, catch the music of Brad Kay, Suzy Williams, Peace Frog, The Gumbo Bros. or The Jewpanese Brothers at Surfside, read "The Greatest Game Ever Played" in bed while TheoBaby sleeps so damn soundly.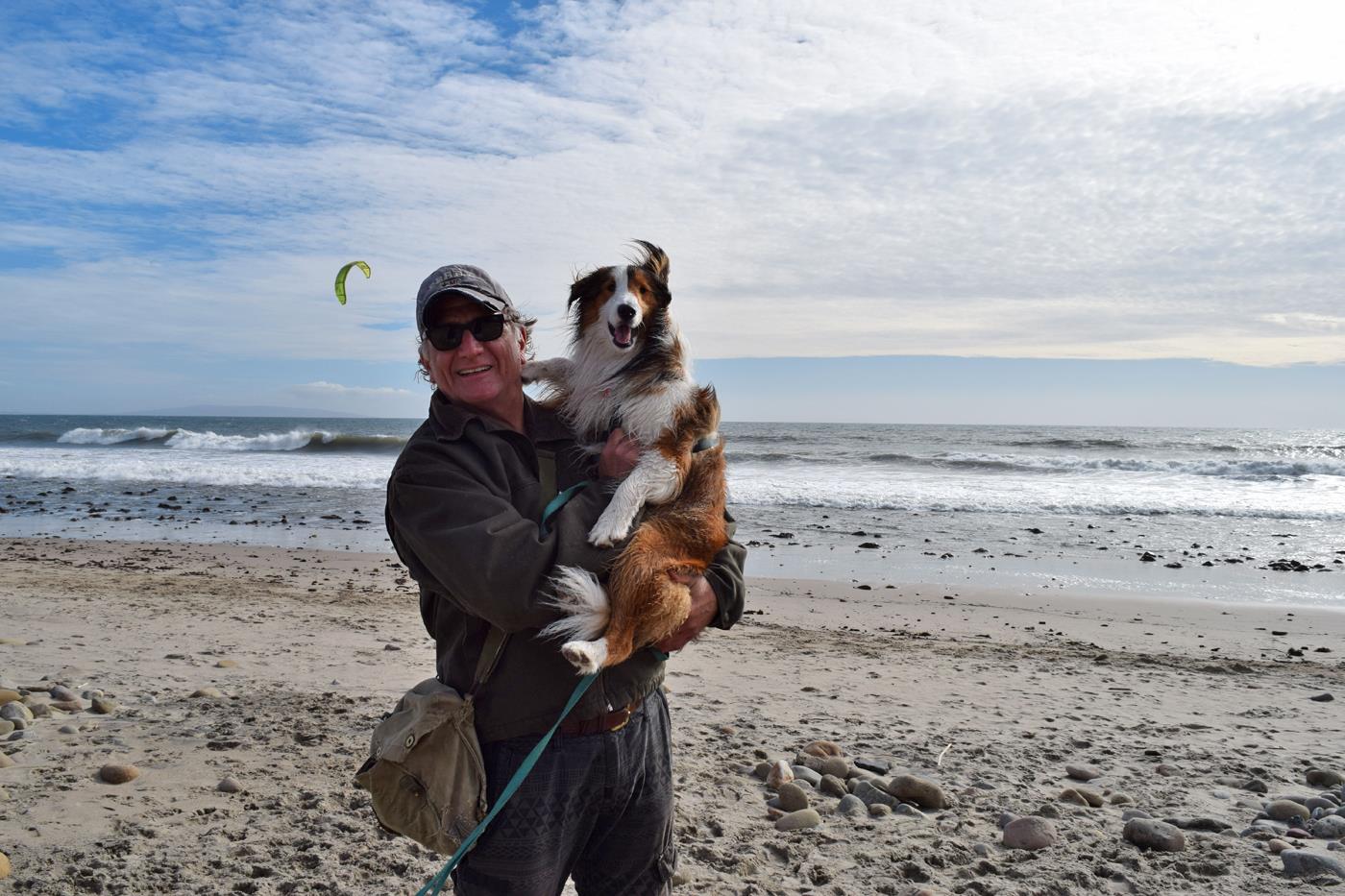 Where would you take a client that you want to land a deal with?
Kristina: None of us are really dealmakers, but in a perfect world, it would be over a couple of explicitly extra strong tequilas (there was a disclaimer on the menu) and freshly caught fish at Tlapazola. I still miss that place.
What is your craziest or fondest Venice experience?
Todd: The "Normal Is Dead" Parade with The Venice Beach Freakshow was definitely a standout – tragic to lose the Ray Family and that amazing place.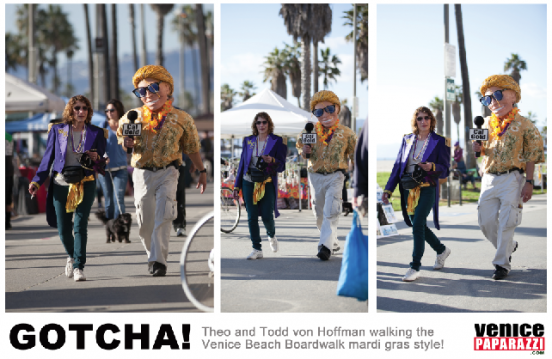 Theo:  Being selected as King and Queen of the Venice Mardi Gras Parade.  My ole' buddies from back east see us on FB and can't believe all the stuff we're doing. Venice is for fun-loving people!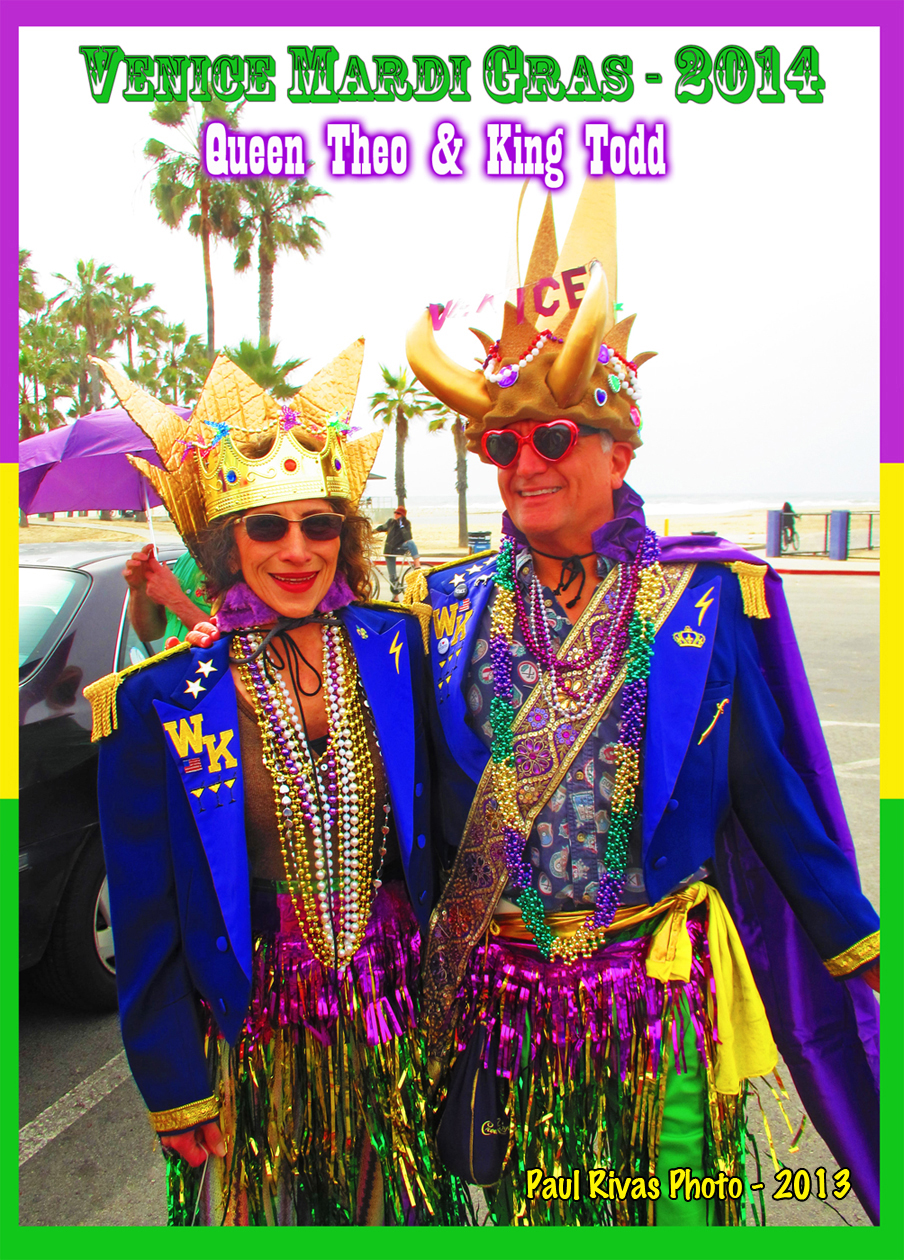 Any shoutouts or thank you's?
Todd: Venice Paparazzi is one of the greatest things to ever happen here.   Thank you Edizen & Alex, the coolest ass-kicking couple in town (literally), for documenting the Venice Renaissance.
Kristina: I'd like to thank Fox Swap Meet for the frilly socks and the jerseys throughout my childhood, Manny's Lowriders for my first sparkly banana seat on my beach cruiser, and the chefs and owners at Meditrina, Stroh's, and Flake for the employment when I was unskilled and in need of direction. Also, my landlord for giving me affordable rent that allows me to have a place to live in Venice.
Who should Venice Paparazzi cast the spotlight on next?
Stephen Pouliot

Tibby Rothman

Fred of Gonzo Africa

Jason Stroh 
HOW CAN ONE FIND YOU?
Email: [email protected] | [email protected] | [email protected]