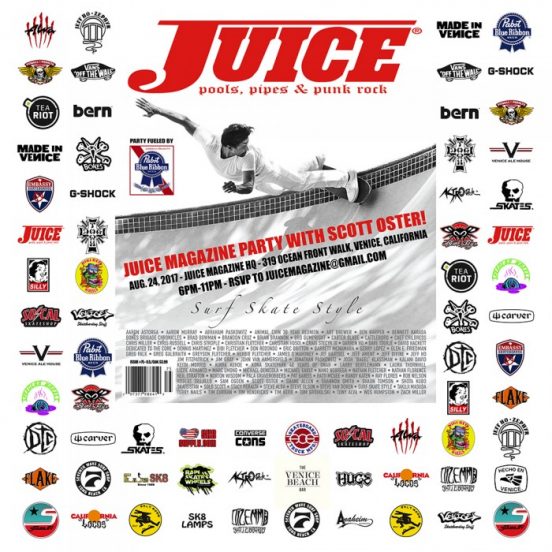 Party Time! The Juice is loose and the love for issue #75 has been amazing.
It was time to celebrate and  
Juice Magazine
  went big!  It was a star  studded surf skate style party at the Juice HQ on OFW on Thursday, Aug 24th, 2017 from 6-11pm. The
75th issue
celebration included:  a variety of music, surf skate style art and photography, food and drinks, raffles and prizes, skateboarding and autograph signings and the "State of Skate" Skateboard Wall, featuring new and vintage skateboards. As well Scott Oster was on hand signing his Juice Magazine covers.  
Special guests included:
  Christian Fletcher, Christian Hosoi, Robert Trujillo, Jeff Ho, Brad Bowman, Patti McGee, Laura Thornhill, Bennett Harada, Shota Kubo, Eric Britton, Brandon Cruz, Ray Flores, Solo Scott, Josh "Bagel" Klassman, Kirra Kehoe, Neil Carver, Michael Denicola, Carter Slade, Dennis Martinez, Brian Brannon and Jim Gray.
About Juice Magazine Surf Skate Style Issue #75:
Juice Magazine #75
is hot off the press at 148 pages deep, and Arto Saari shot this photo of Scott Oster for the cover as a tribute to Surf Skate Style. Scott Oster is, without question, one of the kings of style. This photo is a moment in time from Arto's pool that captures the essece of surf/skate style and pays tribute to generations of surfers and skaters around the world. This issue is dedicated to Shogo Kubo, who once said, "To me, style is everything."
VIP Guests Appearances by: Jesse Martinez, Peggy Oki, Micke Alba, Chloe Trujillo, Ty Trujillo, Dave Duncan, Dan Levy, Terri Craft, Daniel Castillo, Brett Sube, Willy Sions, Jeremy Parker, Masao Miyashiro, Cris Dawson, Kait Miyoran, Mary Prideaux, Violet Mae Miyoran, Lauren Wiley, Libby Knudsen, Vanessa Davey, Victor Blue, Mickey O'Keefe, Arthur Viecco, Paul Schmitt, Andy Howell, Nathan Pratt, Brandon Wong, Hailey Villa, Vern Laird, Joff Drinkwater, Haden Mckenna, Howard Hood, Pat Keiser, Mathew Curran, Lydia Ponce, Abby Deen, Christina Marquez, Sky Willie, Bridget Blitsch, Riot Harper, Alex and Presley, Quinn Daniels, Lil Bear, Nino Ben Amour, Denyse Tontz, Ryan, Assof & Shannon Raz, Pammy Brodowski, Kristen Rew, Peter Shu, Barbarita Giselle Acevez, Heidi Lemmon, Michael Brooke, Don Fisher, Tonan Ruiz, Elisabeth Fried, Andy Howell, Ken Hada, Apollo Hada, Joff Drinkwater, Thomas Calvert, Christine Gau, Andrew Slaughter, Rob Dog Howard, Jason Osorio, Chris, Buck, Kurt, Tony, Hillary Flowers, Jonathan Penson, Logan Penson, Steve Moreno, Akira Kinoshita, Joaquin Sahagun, Floyd Reid, Kaycee Smith, Kenny King, Howard Hood, Glen Stallings, Alaric Valentin, Paul Chestnut, Issa Scythe, Dakota Rayfield, Kelley Potter, Kimi Kallman, Vincent Quintanilla, Steve and Laura Jakobsen, Matt Gaudio, Daymond Dodge, Steve Ross, Shelby Rew, Mark Zamudio, Peck, Morena Medina, Endless Hosoi, Classic Hosoi, Christina Renee Bellsnyder, Ray Rae Goldman, Semira Ben Amor, Steve Mayorga, Knuckles, Mary Nelson, Roland Sanchez, Bruno, Oscar Galan, Jen Wolf, David Wiley, Cavier, Hal Ethridge.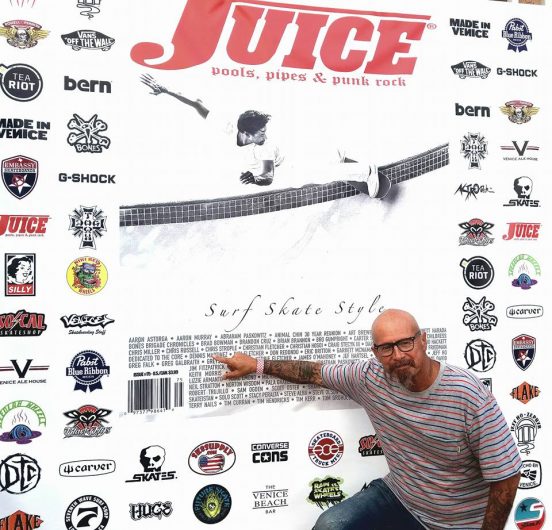 Dennis Martinez points out his name on the cover of the Juice Magazine 75 Surf Skate Style issue. Photo by Heidi Lemmon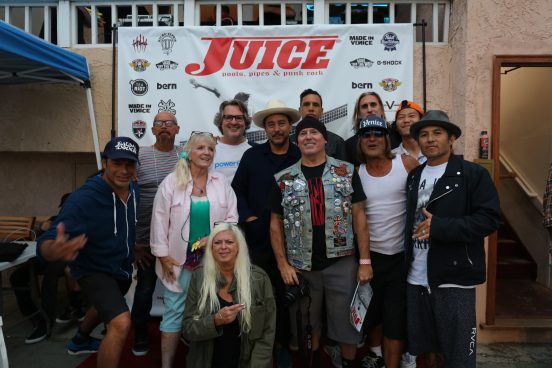 Legends line up with Robert Trujillo of Metallica, Dennis Martinez, Patti McGee, Terri Craft, Jim Gray, Scott Oster, Solo Scott, Brandon Jak Cruz, Michael DeNicola, Tonan Ruiz, Shota Kubo and Christian Hosoi. Photo by Dan Levy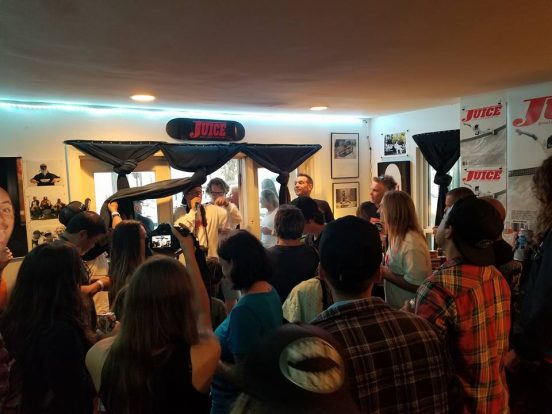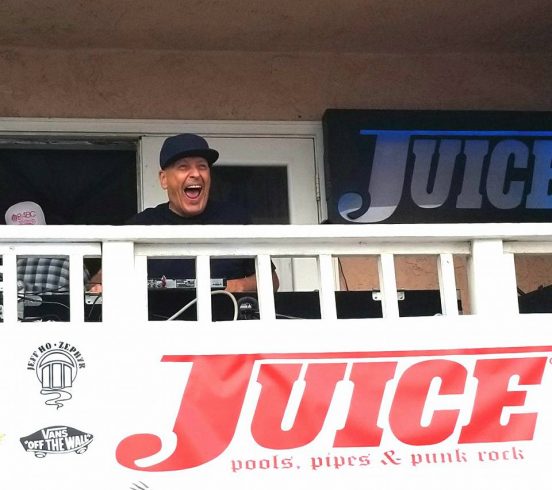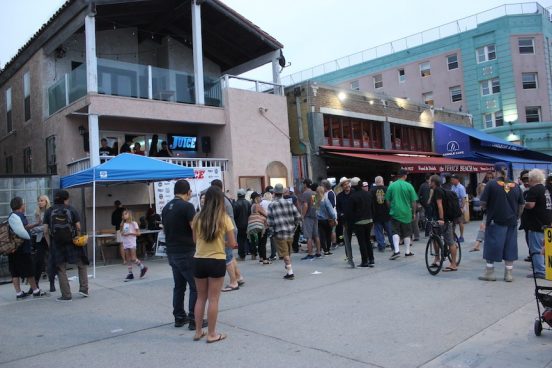 It was a rad block party on the boardwalk thanks to the Venice Beach Bar and the Venice Ale House. Photo by Vanessa Davey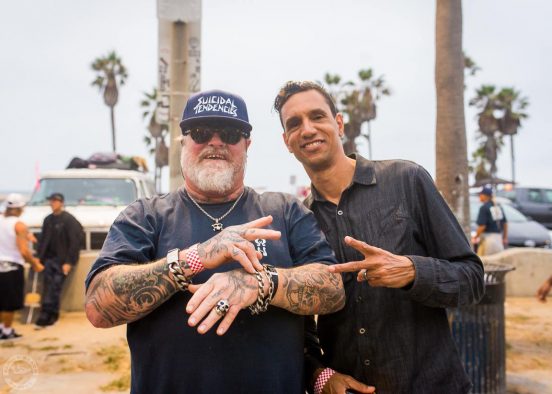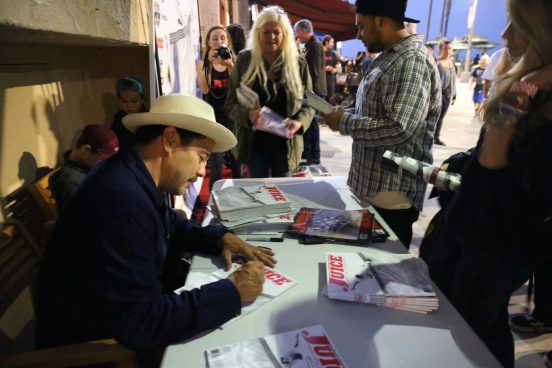 Dogtown legend and surf skate style master, Scott Oster, signed comp copies of his Juice Magazine cover, shot by Arto Saari. Photo by Dan Levy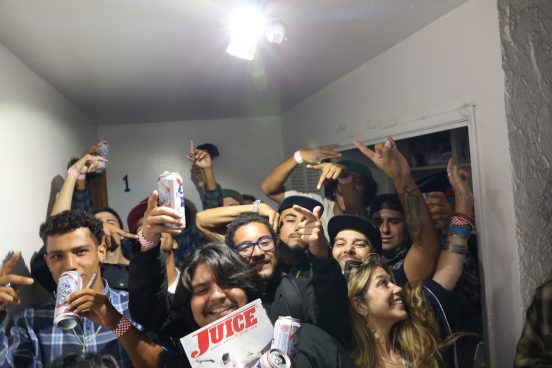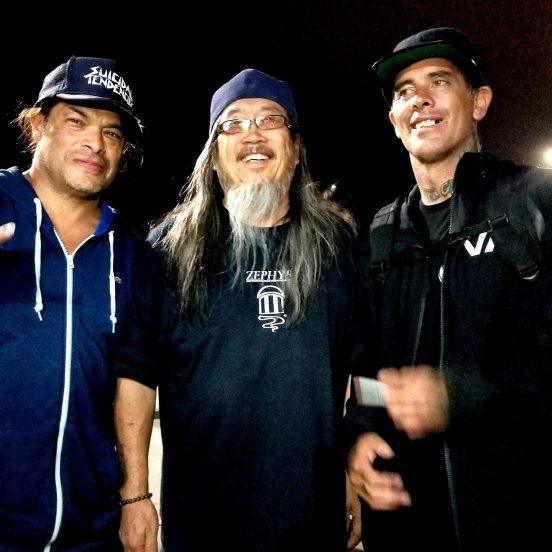 Christian Fletcher, Terri Craft, owner of Juice Magazine, and Jesse Martinez. Photo by Dan Levy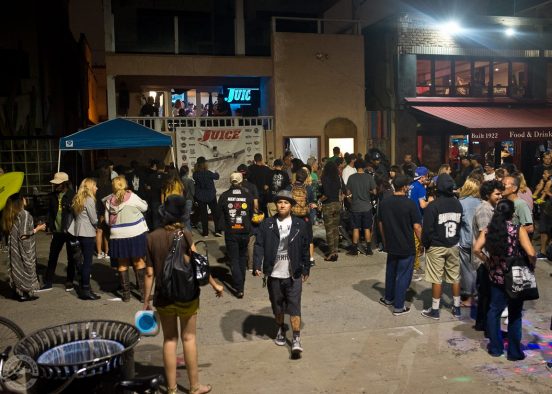 Hosoi struts through the crowd at the Juice Magazine Surf Skate Style party. Photo by Venice Beach Photos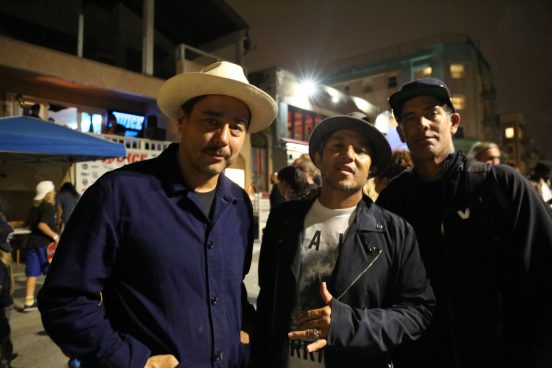 3 Kings of Surf Skate Style: Scott Oster, Christian Hosoi and Christian Fletcher. Photo by Dan Levy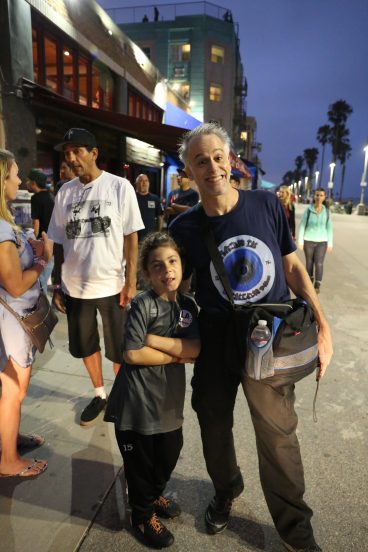 Director of the
Made In Venice Movie
, Jonathan Penson and his son, Logan with posters for the MIV DVD due out Oct 3. Photo by Dan Levy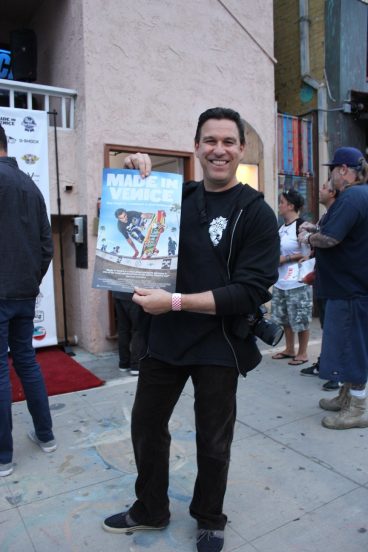 Ray Rae Goldman with his photo of Jesse Martinez on the new
Made In Venice Movie
poster. Photo by Vanessa Davey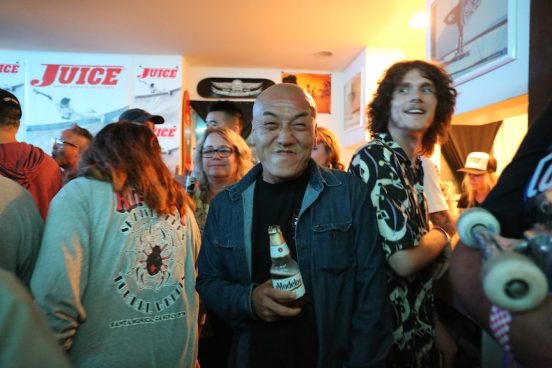 Akira Kinoshita of Black Flys Eyewear. Photo by Dan Levy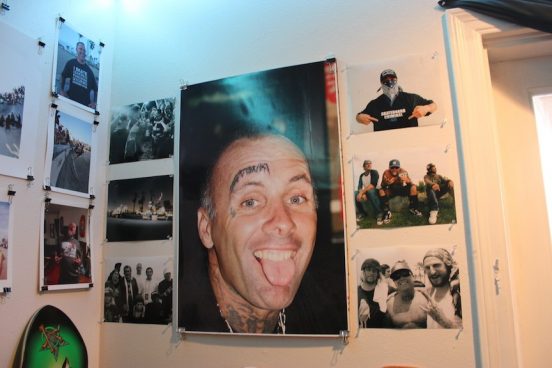 Dan made a special wall display tribute featuring photos of Jay Adams. RIP. Photo by Vanessa Davey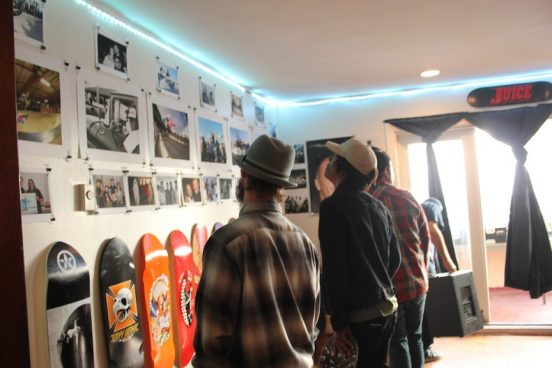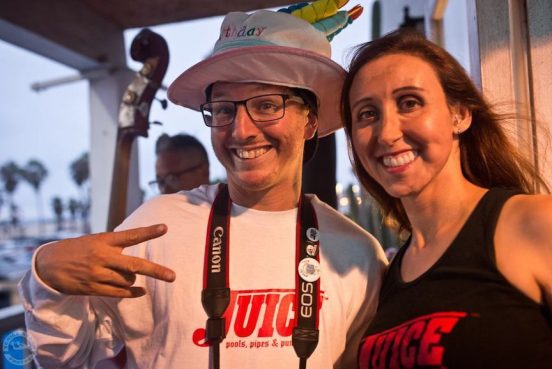 Lifeblood of Juice Magazine – Dan Levy and Vanessa Davey – having fun. Photo by Venice Beach Photos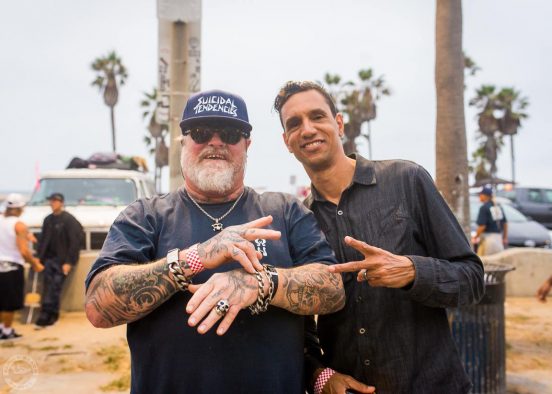 Kurt Skelton and Solo Scott representing Venice. Photo by Venice Beach Photos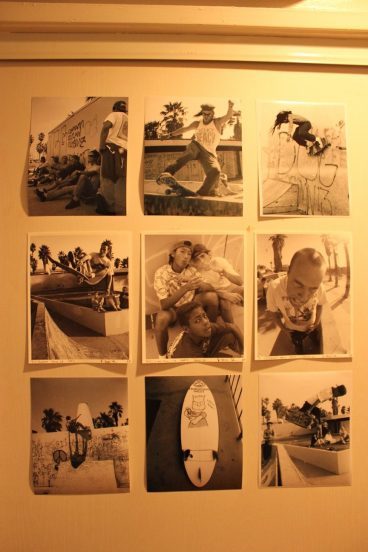 Josh "Bagel" Klassman's vintage Venice classic photography was on display. Photo by Vanessa Davey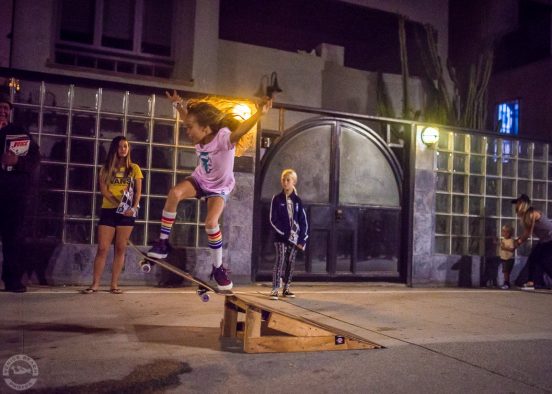 Juice brought out the mini launch ramp for the groms to skate on the boardwalk, and Presley ripped it. Photo by Venice Beach Photos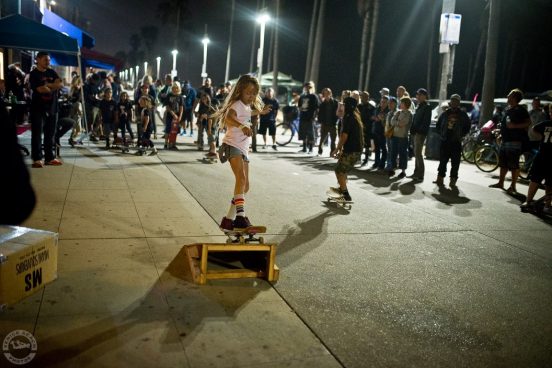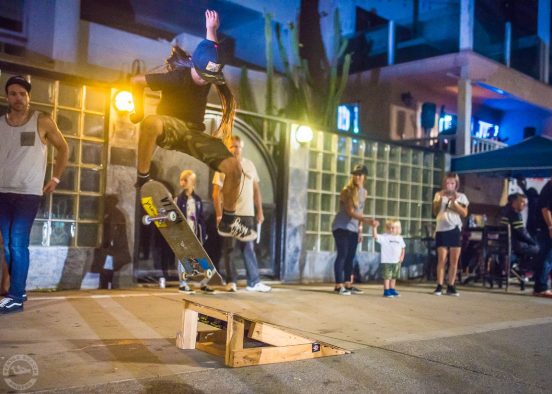 12 year old, Lil Bear, threw down some style in the super grom skate session. Photo by Venice Beach Photos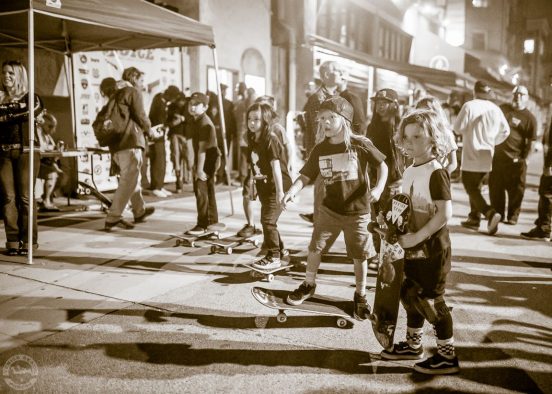 Super grom squad, Thomas Calvert, Presley, and Classic Hosoi.  Photo by Venice Beach Photos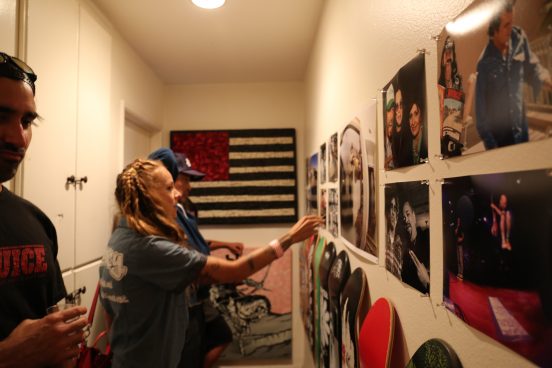 Robert Trujillo and his wife Chloe and son Ty check out the photo walls, while Andrew Slaughter reps Juice. Photo by Dan Levy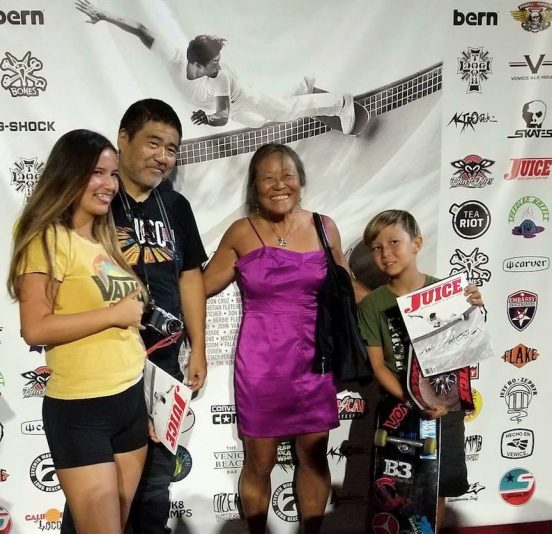 Ken Hada and his family with Z-Boys girl, Peggy Oki. Photo by Dan Levy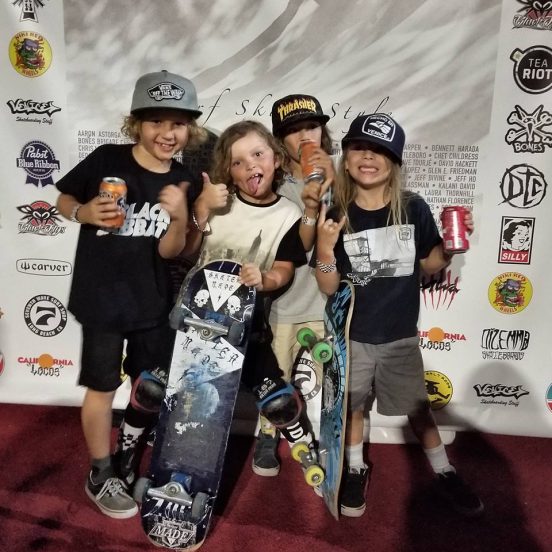 Special Thanks to: Dave Duncan, Libby Knudsen, Vanessa Davey, Christine Gau, Andrew Slaughter, Cris Dawson, Rob Dog Howard, Jason Osorio, Shota Kubo, Ray Flores, Jeremy Parker, Masao Miyashiro, Kait Miyoran, Mary Prideaux, Violet Mae Miyoran, Lauren Wiley, Chris
Special thanks to sponsors and event partners: Pabst Blue Ribbon, G-SHOCK, Made In Venice, Bern Unlimited, Silly Girls Skateboards, Flake, The Venice Ale House, Tea Riot, Niki Red Wheels, Jeff Ho Zephyr Productions, Speedlab Wheels, Venice Skateboarding Stuff, Embassy Skateboards, Hecho En Venice, Carver Skateboards, DTC Crew, Venice Beach Bar, Black Flys, Dogtown Skateboards, Powell Peralta, Bones Wheels, Vans, Alva Skateboards, So Cal Skate Shop, California Locos, Skull Skates, Anaheim Skateboards, Salt Rags, Wounded Knee Skateboards, Seventh Wave Surf Shop, Stability Skateboards and Astrodeck.
…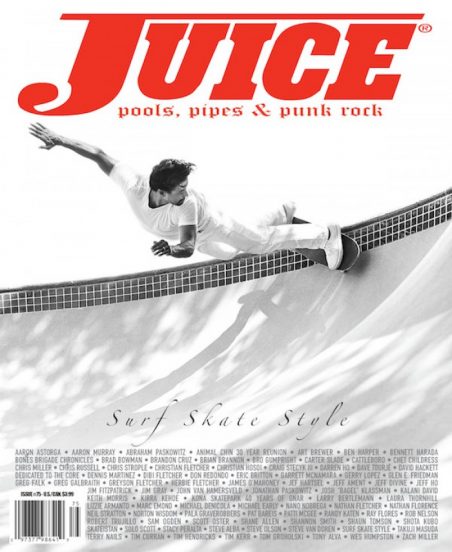 About: Based out of Venice, California, Juice is an interview magazine featuring skateboarding, surfing, art and music. Since 1993, Juice has been independently owned, and dedicated to the core. Juice Magazine specializes in coverage of core skateboarders, surfers, musicians, skatepark builders, artists, photographers, rock n roll, metal, hardcore, pools, pipes & punk rock.  Keep Skateboarding A Crime.
.
4 ISSUE SUBSCRIPTION Price: $19.95 + s/h
Juice Magazine 75 features:
  Aaron Murray, Aaron Astorga, Abraham Paskowitz, Animal Chin 30 Year Reunion, Art Brewer, Ben Harper, Bennett Harada, Bones Brigade Chronicles, Brad Bowman, Brandon Cruz, Brian Brannon, Bro Gumpright, Carter Slade, Cattleboro, Chet Childress, Chris Miller, Chris Russell, Chris Strople, Christian Fletcher, Christian Hosoi, Craig Stecyk III, Darren Ho, Dave Tourje, David Hackett, Dedicated To The Core, Dennis Martinez, Dibi Fletcher, Don Redondo, Eric Britton, Garrett McNamara, Gerry Lopez, Glen E. Friedman, Greg Falk, Greg Galbraith, Greyson Fletcher, Herbie Fletcher, James O'Mahoney, Jef Hartsel, Jeff Ament, Jeff Divine, Jeff Ho, Jim Fitzpatrick, Jim Gray, John Van Hamersveld, Jonathan Paskowitz, Josh "Bagel" Klassman, Kalani David, Keith Morris, Kirra Kehoe, Kona Skatepark: 40 Years of Gnar, Larry Bertlemann, Laura Thornhill, Lizzie Armanto, Marc Emond, Michael Denicola, Michael Early, Nano Nobrega, Nathan Fletcher, Nathan Florence, Neil Stratton, Norton Wisdom, Oliver Percovich, Pala Graverobbers, Pat Bareis, Patti Mcgee, Randy Katen, Ray Flores, Rob Nelson, Robert Trujillo, Sam Ogden, Scott Oster, Shane Allen, Shannon Smith, Shaun Tomson, Shota Kubo, Skateistan, Solo Scott, Stacy Peralta, Steve Alba, Steve Olson, Steve Van Doren, Surf Skate Style, Takuji Masuda, Terry Nails, Tim Curran, Tim Hendricks, Tim Kerr, Tom Groholski, Tony Alva, Wes Humpston and Zach Miller.  
Get Issue #75 on juicemagazine.com!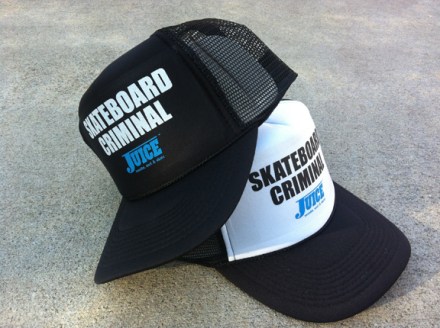 ..\.
SHOP LOCAL!  Get some cool Juice Magazine gear!
.

,
For more info, visit www.juicemagazine.com!
Facebook Live Feed:
  www.facebook.com/ JuiceMagazine/