Article by venicebeachmusicfest.com's  Joy Rosenberg. 
As part of Venice Beach Music Fest 12's celebration of the 50th anniversary of the Summer of Love, we talked with two of this year's festival musicians who were in Venice making music fifty years ago, in 1967: Bassist and vocalist George Bunnell, original member of Strawberry Alarm Clock, and Barry "The Fish" Melton, guitarist of Country Joe and the Fish, who will perform at VBMF12 with his band of '60s all-stars, Barry Melton and Friends. Here are their thoughts on life, music, and Venice, then and now.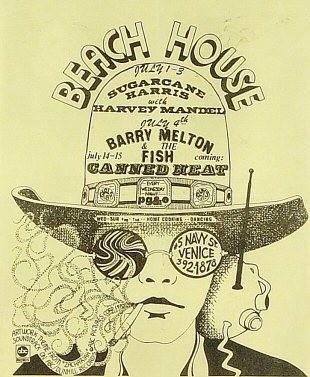 Venice Paparazzi: What is your connection to Venice?
George Bunnell: Let me start with a cool picture. This is us on Venice Beach during the filming of Mike Blodgette's TV show Groovy! circa 1967! The car was the VOX Mobile, built by George Barris Kustom Cars. Mark Weitz is playing a VOX organ at the rear. I'm sitting down playing flute. Randy Seol is on bongos. On drums is the late Lee Freeman, and that's Ed King on guitar (he later went on to join Lynyrd Skynyrd and co-wrote "Sweet Home Alabama").  We were performing "Rainy Day Mushroom Pillow." It was actually Steve Bartek who played flute on the record, but he was too young to join the band at that time. He is with us now, though! Strawberry Alarm Clock played at the Cheetah Club, which was under the Venice pier on Navy Street back in 1967.
[The band] also filmed its scene in the 1968 Dick Clark movie, Psych-Out with Jack Nicholson at the Cheetah Club, originally the Aragon Ballroom. We also played at St. Mark's in the late '80s.
Barry Melton: I grew up in North Hollywood, and I remember riding out to Venice with my parents in the early '60s; they wanted to meet Big Daddy Nord and find out as much as they could about the Beatnik movement—and, yes, we actually did meet him! In the late '60s, Country Joe and The Fish played at the Cheetah in Venice. I remember that the light show was particularly dazzling—there were these giant aluminum side panels where lights were projected, and the audience was great.  In the early '70s, I played a place called the Beach House (also on Navy Street). And, as a matter of great fortune, I've been playing the Venice Beach Music Fest and the Venice Spring Fling festivals for the past several years.
VP: Why was 1967 a great year for your band? 
George Bunnell: Well, for some of us, it was the year we graduated high school! We were all 18 years old, except for Mark, who was 21. So basically we started out with a landmark event (school's out forever!), and went into the Summer of Love being members of a rock band and writing all our own music. Then, to cap that off, we started becoming successful. Our single, "Incense and Peppermints" climbed the Billboard and Cashbox charts on its way to #1, and our first album reached #11! Then the Beach Boys came to us and asked us to tour with them and the Buffalo Springfield! We ended the year by doing their 5th annual Thanksgiving tour. We again toured with the same lineup for the Beach Boys' annual Easter tour in 1968. Also, in 1968, our second single, "Tomorrow" went to #23 on Billboard's Hot 100. Things don't get much better than that!
Barry Melton: 1967 was the year for the release of the first LP record for Country Joe and the Fish, Electric Music for the Mind and Body. 1967 was also the year of the Monterey Pop Festival, the granddaddy of all the great pop festivals.  It marked the U.S. debut of the Who and Jimi Hendrix, and included the Mamas and Papas in their prime, Simon and Garfunkel, Otis Redding, Ravi Shankar, and a host of others.  But most importantly, it helped Bay Area bands like Country Joe, and the Jefferson Airplane, the Grateful Dead, and Big Brother and the Holding Company reach out to a national audience.
.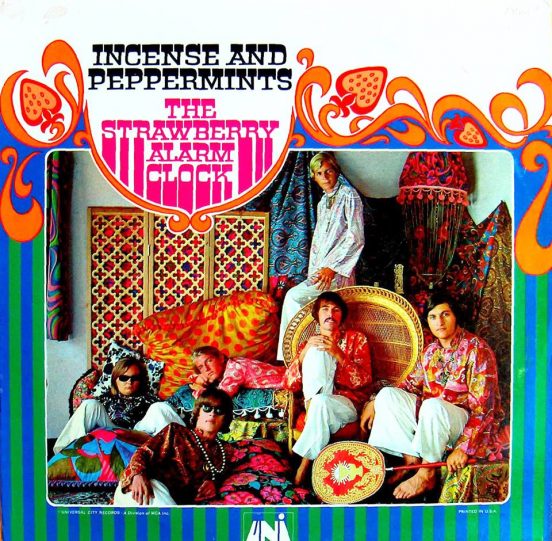 .VP: What can we look forward to at your concert at this summer's Venice Beach Music Fest 12?
George Bunnell: We will have a psychedelic good time! We have five original members, all of whom played on the first Strawberry Alarm Clock album, Incense and Peppermint. We will be performing most of the songs from our first album and many from our second and third, as well as some from our 2012 album, Wake Up Where You Are.
Barry Melton: It's my privilege to bring to the stage a handful of the very best musicians of my time:  Peter Albin of Big Brother and the Holding Company, Roy Blumenfeld of the Blues Project, David Aguilar (Norton Buffalo's longtime stage partner), and Greg Douglass, who wrote for and played with the Steve Miller Band and has an unrivaled list of musical accomplishments.
VP: What are your reflections on how the world and/or music have changed in the 50 years since 1967?
George Bunnell: We have fond memories of our heyday, which carry over to today. We are a very spirited lot, approaching our music much the same as we did way back when. We're all writers and arrangers, which is what keeps the fire burning. We do miss the days when the main focus with the bands was the songs and the playing. There's still a lot of that out there, but the big companies tend to look for the safe stuff and the things that fit into the starmaker machinery. That's okay, though. The same thing was going on back in the day! As for the world, the players have changed, but on the BIG stage we have the same old &%$#: war, dirty politics, inflation, depression, East vs. West, North vs. South, Russia, the Middle East, race riots, protests in the streets, marches on Washington…it's all here now just as it was back then, and we feel as relevant today as we did in 1967—maybe even more so.
Barry Melton: There isn't enough space or time for me to begin to reflect on how the world has changed in the last 50 years, but I can say a few things about changes in music, where very little has changed.  Of course, the whole music industry has changed—the way music is recorded, packaged, and sold is almost completely different than it was 50 years ago.  But really good songs seem to come and go in about the same proportions; really spectacular talent is still a relatively rare commodity, and there is still nothing in the world that makes me happier than live music delivered with passion and skill. The past 50 years have been a good time to be alive!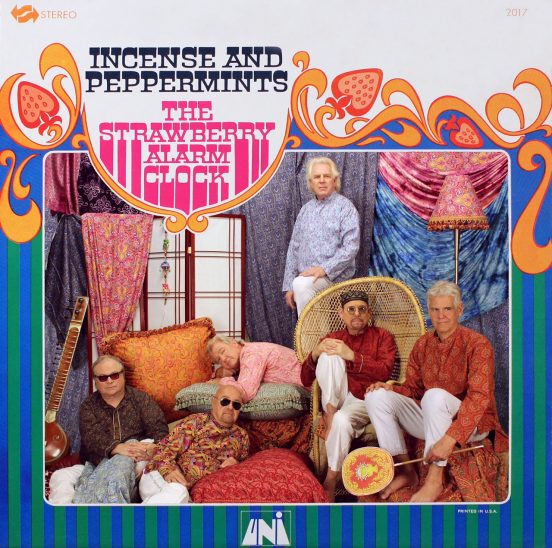 .VP: Describe your perfect day in Venice.
George Bunnell: For me it's cruising around old St Mark's and, of course, the Boardwalk. People watching: the starlets, skaters, skate boarders, bodybuilders, stoners, and tourists. There's a plethora of places to eat; we go to Rose Cafe for early lunch sometimes…Gjelina is the Italian favorite…and Gjusta is the deli favorite. Then there are the arts and crafts; second to nowhere!
Barry Melton: Of course, since I'm in Venice, I get to sleep in…First stop, is Zelda's Corner for a leisurely breakfast; only one or two donuts, though—I'm trying to limit myself and the donuts there are incredible. Then off to one of my favorite bookstores, Small World Books; I'll probably spend an hour or two browsing, as they've got stuff there you can't find anywhere else. Still on the waterfront, it's time to stop at a couple of surf shops to look at the latest designs and innovations; I'll be sure to include Maui and Sons Surf and Skate Shop, which I'm told has some pretty far out stuff. Lunchtime and it's off to the Sidewalk Cafe for some guac and chips, and maybe have a drink or two.  After lunch, it's time to get out the beach blanket and umbrella to watch the waves come in, splash some saltwater on myself (or jump right in) and experience the greatest gift Venice Beach has to offer—Venice Beach!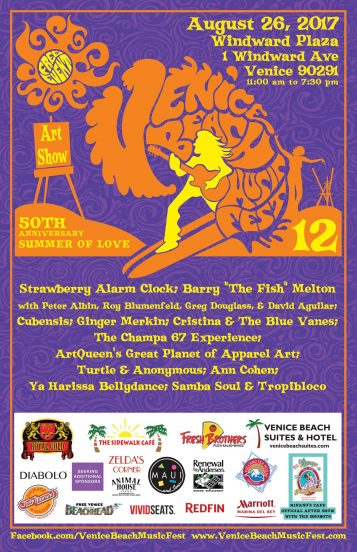 Come see Strawberry Alarm Clock, Barry Melton and Friends, and many other bands, dance troupes, and artists, at Venice Beach Music Fest 12; Saturday, August 26, 2017, from 11 A.M.to 7:30 P.M. in Windward Park, at the end of Windward Avenue between the boardwalk and the beach. .
For more info Venice Beach Music Fest info:  VeniceBeachMusicFest.com
For more info on Barry "The Fish" Melton:  counterculture.net/thefish
For more on The Strawberry Alarm Clock:  Strawberryalarmclock.com