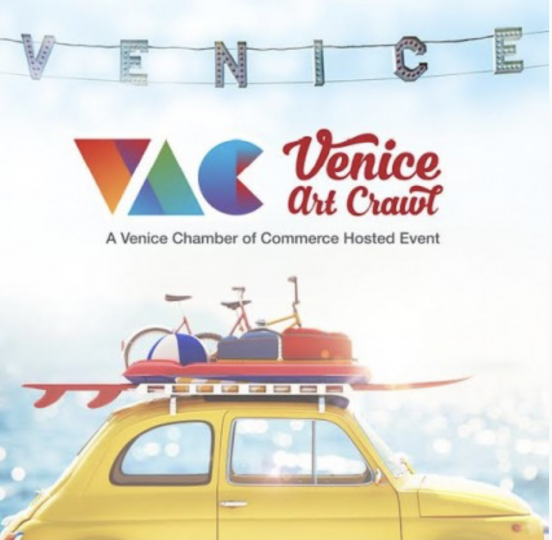 .
The Venice Art Crawl's mission is to foster and reinvigorate the creativity that has historically and currently makes Venice such a vibrant and dynamic community.  Our goal is to share, inspire and promote collaboration within the Venice community through mixers and art events. We are an all volunteer run non-profit organization.  Above flyer designed by the talented David Stine
.
Join in the Venice Art Crawl fun this Thurs. Sept. 21, 2017.  6-10 p.m.
.
Featured Sept, 21, 2017  VAC events:
.
Click on the flyer that interests you!
.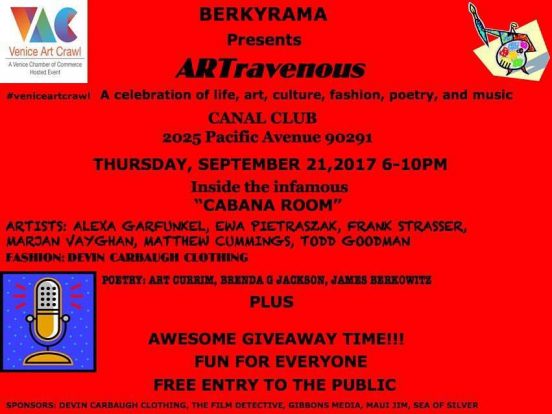 ARTravenous at the Canal Club, 2025 Pacific Ave.  A celebration of life, art, culture, fashion, poetry, and music. Artists: Alexa Garfunkel, Ewa Pietraszak, Frank Strasser, Marjan Vayghan, Matthew Cummings, Todd Goodman Poets: Art Currim, Brenda G Jackson, James Berkowitz Fashion: Devin Carbaugh Clothing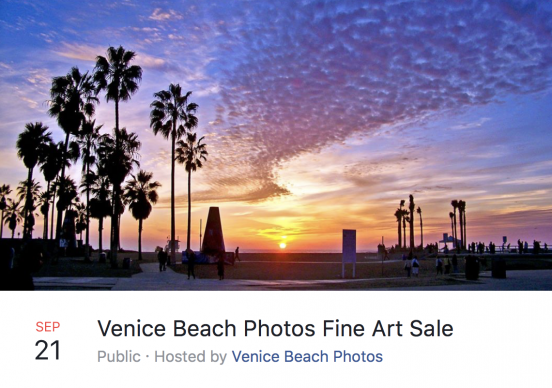 Venice Beach Photos at 2324 Pacific Ave.   Here is a message from the talents Ray Rae!  Huge collection of fine art photography on sale depicting Venice from behind the scenes. Something for everyone at every price range. From matted 5×7's to framed and matted 20×30 Venician landscapes. Everything must go!

A message from Surfside Venice,  23 Windward Ave.     We are proud to be supporting the ART CRAWL this Thursday 21st September! We will be hosting amazing artwork by:
CODY NOWAK | Experience painting as you have never before! Paint in VR life-size, three-dimensional brush strokes, stars, light and even fire.
JOCELYN HARRIS | Abstract acrylic artwork with a tropical vibe
MELISSA ISABELLA PARIS | "Venice Beach" art series featuring black and white photography + colored prints
The BROBOTS will be performing LIVE from 9PM til' late – Get down for a true tribute to Rock N Roll.
HAPPY HOUR | 3PM – 7PM | $5 Drinks | $6 Appies
DRINK SPECIALS ALL NIGHT
FRIDAY + SATURDAY
Check out the AFTER BURN bloc party and then come by Surfside Venice for beachside beats from Dj Petey Pete on Friday and DJ Sean Q on Saturday. Pins drop at 10pm each night!
VENICE ART CRAWL PRESENTS: SAGO PLASTICO.  Venice artist, Miranda Friedman, brings together a crew of creatives to perform her dark comedy, which uses video and sound art, a live organic music score and performance art. MORE INFO
6:30 – Sunset The artist will interview visitors who choose to be filmed on stage.
Sundown – 11 PM The story, performed by women as plants through a "plant transmitter," challenges viewers to think about the confines of comfort zones. Each participant and contributor had to get outside of his or her personal comfort zone to make the piece possible.
A collection of 3D mixed Media works by celebrity hairstylist Richard Glass @glasshair  at 1501 Main St #103
End of Summer Art & Music Event at the Rose Room.  hosted by Muyingo event
Artists Matthew Heller and Heidi Damata at 201 San Juan Avenue
We

❤️

Venice at Surfside Venice, 23 Windward Ave.
Join Sunny Bak at her studio for her iPhone photo show
Come check out @westside_wisemen at Hama Sushi,  213 Windward Ave.
@yayahermandune  will be showing his Rosasharns at Small World Books @smallworldbooksvenice.  Small World Books is inside The Sidewalk Cafe, 1401 Oceanfront Walk. 
Join @rankpapers at 405 Venice Way Venice, CA 90291
Welcome Elizabeth Covington (Watercolors), David Reid (Fine Art) and Dan Kacvinski (Photography), live music by The Elegant Strangers and drink specials at the Sidewalk Cafe, 1401 Oceanfront Walk.  The Sidewalk Cafe offers the best view of the boardwalk and a Venice sunset.  Sun sets around 6:55 p.m.

..

View and download the official Sept. 21, 2017 VAC map.
Click on the map for larger version!

..

,

For more events, visit  www.veniceartcrawl.com
View past Venice Art Crawl photos by Venice Paparazzi!

..

HireVP.com for your next event!

 

.
Save the dates Sept. 22 & 23 for Venice Afterburn!  View 2016 Afterburn photos!

/

For more VAC info:  www.VeniceArtCrawl.com

..

.

For all Venice Beach Fun, check out VisitVeniceCA.com

/

For more info:   www.veniceartcrawl.com