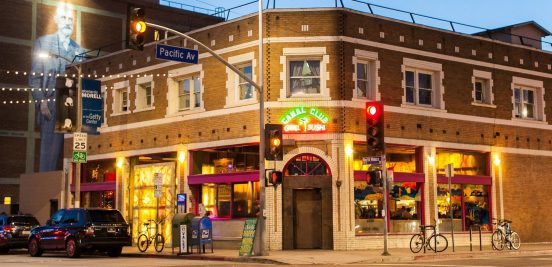 Need more gift suggestions?   Join the
Venice Art Crawl
at their Holiday Mixer and art pop up at
Canal Club
 this Thursday. Dec. 21st.
Art by our local artists make the perfect holiday gift!   Time:  
6-10 p.m.  $5 donation for entrance.
.
About:  The VAC's mission is to preserve the arts in Venice, a place that has historically been known as a vibrant and dynamic art community. Our goal is to share, inspire and promote collaboration within the Venice community through mixers and art events. We are an all volunteer run non-profit organization which is a committee of the Venice Chamber of Commerce.  For more info:  www.VeniceArtCrawl.com
.
FACT:  Canal Club held the first Venice Art Crawl community meeting in 2010!  Canal Club owner Daniel Samakow is one of the VAC Co-founders!
.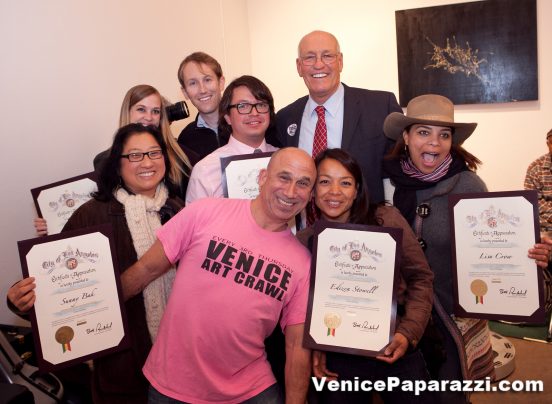 In this photo:  The original VAC Team with former Councilmember Bill Rosendahl at the 2nd year anniversary party in 2012.  Sunny Bak, Erin, David Zentz, Mark Rojas, Daniel Samakow, Edizen Stowell and Lisa Wilson.
.,.
Canal Club
Venice is now one of the top Los Angeles destinations for great food and drink. For 18 years, Canal Club has been a popular restaurant for locals and visitors seeking innovative raw bar offerings, sushi and wood grilled dishes inspired by Asian and Latino cuisines. Dishes created by chefs including the famed Michael Roberts, Shari Lynn Robins and others have been adorned by a new generation of local culinary talent.
Canal Club is a block away from the famous Venice canals, and across the street from its sister restaurant, James' Beach, also created by restauranteurs James Evans and Daniel Samakow.
"James' Beach celebrates the familiarity of American comfort food; so when we opened across the street we wanted to celebrate the exploration of other cuisines found in Los Angeles, mainly Latino and Asian. We do so with an emphasis on sustainable, local and quality natural ingredients." – James Evans