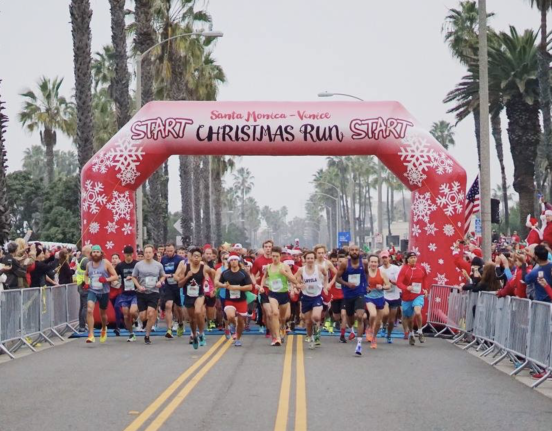 Bring the whole family and all your friends to Santa Monica on Saturday, December 16 to kick off the holidays with 6,000 of your friends, family, neighbors and fellow runners.   Photo from ChristimasRun.com
.
The Santa Monica-Venice Christmas Run, Los Angeles' largest holiday running event, will celebrate its 40th anniversary in 2017! This affordable, family-friendly holiday run is also a fundraiser for a worthy local non-profit. Participants can enjoy a 10K, 5K or kids run, or just spectate and cheer on their friends and neighbors.
The Christmas Run is Los Angeles' premiere winter recreational gathering and a great opportunity to don a holiday-themed costume (two costume contests will be held in '17) and come out and celebrate.
It all began in 1977 with 10,000 runners participating at the height of the first running boom. For the past three decades, the Christmas Run has not only remained a highly popular local event but a super way to kick off the holidays in a healthy, community-focused way, outdoors with thousands of other runners and walkers.
The Santa Monica-Venice Christmas Run has a 5K, 10K and kids run that wind through the beautiful streets of Santa Monica and Venice, including a long stretch along the famous Venice Beach boardwalk. It is flat, fast, and fun.
.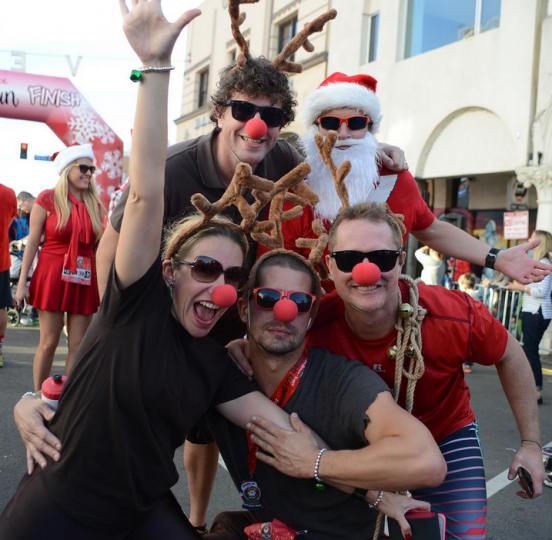 Photo courtesy from ChristimasRun.com
General Information
6:00 am – Registration
7:30 am – 5K Starts
8:00 am – 10K Starts
10:00 am – 1 K Kids Fun Run Starts
.
As in past years, the race start is adjacent to Santa Monica Beach on Barnard Way near the intersection of Ocean Park Blvd. The legendary Christmas Run 5K and 10K will run south from Santa Monica, down the world famous Venice Boardwalk, meander onto the scenic streets of Venice and finish at the iconic Venice Pavilion.
Photo courtesy from ChristimasRun.com
Awards.  
What says holidays more than Santa, Mrs. Claus, Reindeer and Elves!?! We encourage everyone to dress up in their favorite holiday costume and we'll have fantast
ic awards for the best individual, family, and group costumes!  
There will be two contests, one for each race.  Fun and prizes for the whole family Here are the categories:
.
Get to training, and see you on Dec. 16th!
For Team Venice updates, check out www.TeamVenice.com