Alex Stowell of Venice Paparazzi here. VP started as a photo kiosk on the Venice boardwalk in 2003.  In 2005 we went "hi tech" and got a website to house our galleries.  It was called Edizens.com. The first event to go up was the 2005 Muscle Beach Bodybuilding Championships.  In 2006, we switched to VenicePaparazi.com and got the DBA in said name.  The first official event as such was the Venice Originals Skateboard Shop grand opening. Since then we have had an unquantifiable amount of fun documenting Venice, and periodically we pause to celebrate the journey.
It has been 7 trips around the sun since 2011 when Venice Paparazzi hosted its 5th year anniversary bash at Hotel Erwin.    And what an evening it was!  A red carpet entrance, open bar, full catering, a super fun VP photo booth, an awards ceremony , and most of all, a standing room crowd of our favorite Venetians.  Venice Paparazzi's Edizen was presented an award of recognition from the City of Los Angeles.  Mark Antonio Grant, from Council member Bill Rosendahl's office, was there to present.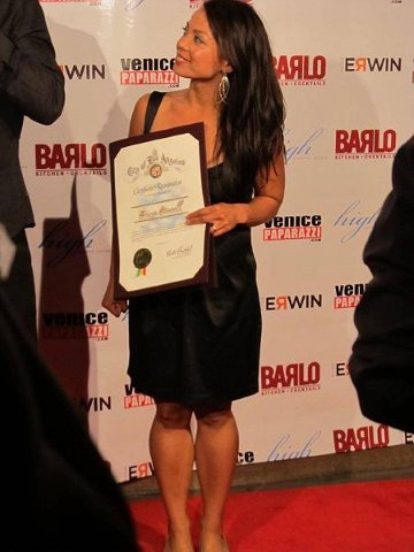 As well, Venice Paparazzi held an awards ceremony to recognize the hard working people who put on events in the community. The recipients were:   Venice Beach Music Fest,  Venice Art Crawl,  Venice Vintage Motorcycle Club,  Venice Eco Fest, XTP- Extreme Paddle Tennis,  Venice Surf-a-Thon,  Venice Carnevale,  Thanksgiving Throwdown,  Muscle Beach Venice events (Figure and Bodybuilding, Sumo and Muscle Beach Toy Drive),  Venice Beach Basketball League,  Venice Custom Bicycle,  and Venice Neighborhood Community BBQ.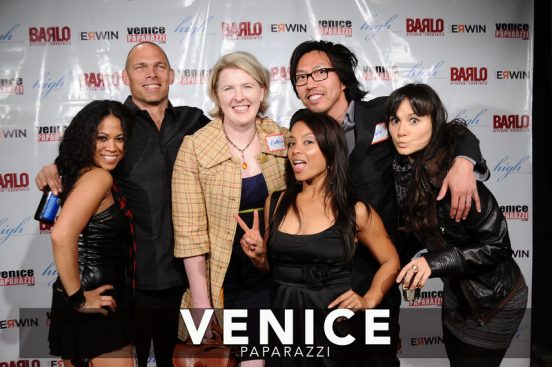 Check out photos below from the Epic 2011 Venice Paparazzi 5th Year Anniversary and Awards Ceremony.  Thank you Hotel Erwin and Barlo Kitchen and Cocktails for sponsoring our 5 year anniversary event.   Additional sponsors include: Kelley Baker Brows, Jim Robb, Paige Petrone of Paige Media, Control Printing, Sweet or Treat
Featured Photo:  Venice Paparazzi's Alex Stowell, Edizen Stowell, Vanessa Etheridge, Ross Alexander Wilson, and Madison.
2nd photo:  Kettlebell Boxing team Jon Kim,  Katherine Treadwill, Aileen Martinez, Lizzy Mulkey, Alex Stowell, Edizen Stowell.
We are thinking 2018 is the perfect time to do it again! 
Stay tuned for details on the 12th Year Venice Paparazzi Anniversary party!
.—–
View 2011 Venice Paparazzi Anniversary highlight photos below! 
One of the highlights of the event for me was having my sister Eden and Canadian friends Lucy and Brianna attend the party.
All guests were given 4 x6 prints in black folders to commemorate the night's event
Photo:  Venice Paparazzi's TV host Madison Frank
Photo:  Team Hotel Erwin – Barlo  (GM Ben Malmquist, Executive Chef Jason Wiggen and Ryan Wingo)
Photo:  Thank you Mark Antonio Grant and the City LA for the Certificate of Recognition.  Wow, super honored!
VENICE PAPARAZZI COMMUNITY RECOGNITION STATUES . 
Awards sponsored by Control Printing.  Control Printing one of the oldest true print shops left in the area. We use the latest equipment and good old fashion know how.12952 W. Washington Blvd.   Los Angeles, CA 90066   Tel: 310 827-7468 
control-printing.com
Photo:  Former Miss Muscle Beach Jill Rudison accepts the  award on behalf of Joe Wheatley and Muscle Beach events. 
www.musclebeachvenice.com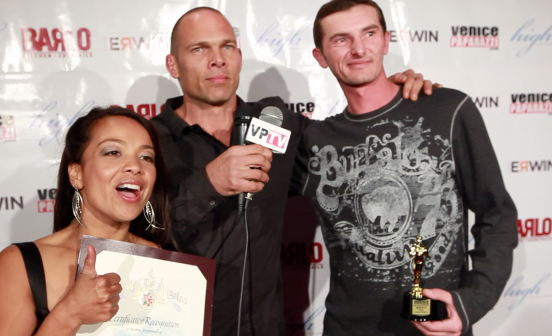 Photo:  Terry Talbot, event organizer of Venice Custom Bicycle accepts his Venice Paparazzi community recognition award.
Photo:  The Venice Art Crawl Board and staff -Daniel Samkow, Edizen Stowell, Lisa Crow, Mark Rojas, Isabelle Lago.  Missing in this photo:  Sunny Bak, David Zentz, Erin, Mike Newhouse , Dafodile, and Venice artists.
Photo:  Control Printing Alex and Nadine Rosales also awarded for their community spirit.
Photo:  Thank you Jim Robb of Pisco for sponsoring our  5 year event.
Photo:  VP team members Rachel Toczko, Steve Larson and Vanessa Sick.
Photo:  Christie Little and Lara McCaughrin of Vine Street Market.
Photo:  Erika Walker, friend and VP fitness and health expert Jill Rudison
Photo:  Emily Winters and Regina give Venice Paparazzi a thumbs up!!!!
Photo:  A party is not a party without
Sweet or Treat's
Andrea Tan's desserts.  Yummy!
Photo:  Andrea Tan, Edizen, Aileen Martinez and Lisa Crow.  We deserve these calories!!!!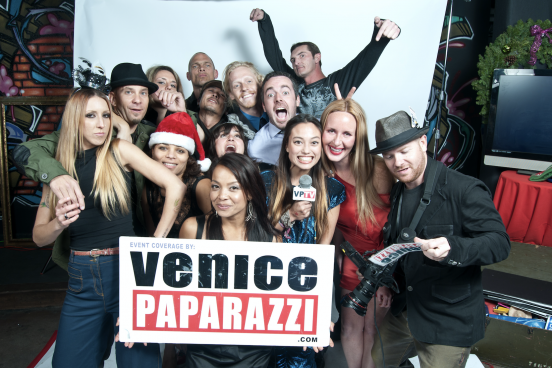 TEAM VENICE PAPARAZZI:  Thank you Ross Alexander Wilson, Lisa Crow, Rick Duncan, Ariana G, Michel Socik, Hunter Veloz, Moon, Terry Talbot, Brett Mazurek and  the Barlo staff for making  our 5 year Venice Paparazzi a huge success.  Missing from this photo: Aileen Martinez,  Madison Frank, Wendy,  Wes Parker, Courtney Dillon and Jeffrey Solomon