Venice's skate park is on the beach and it rules!
This 16,000 sq. foot skatepark is one of the only in the world located on a beach. It features two bowls, a snake run and a street section with steps, rails and platforms. The design for the 3.5 million dollar park came "from local skaters and skating professionals" touts L.A. City Councilman Bill Rosendal's office. The facility, which opened Oct. 3 2009 took 10 months to build.
Skate or watch the action at the Venice Skate Park! 1800 Ocean Front Walk. Venice, CA 90291. Parking Lot: 2100 Ocean Front Walk. Venice, Ca 90291. View additional parking and visitor's information.
UPCOMING SKATE EVENTS: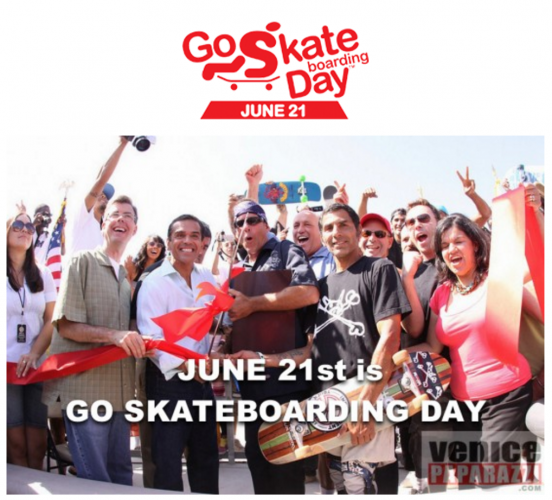 June 21 is Go Skateboarding day! Every year on June 21, skateboarders around the globe celebrate the pure exhilaration, creativity, and spirit of one of the most infuential activities in the world by blowing off all other obligations to go skateboarding. For more info, visit goskateboardingday.org. In this photo: Ger-I Lewis, Jessie Martinez, City Councilmember Bill Rosendahl, and Ex-mayor Antonio Villaraigosa at the 2009 Skate Park grand opening day
TBA  Life Rolls On – They Will Skate Again
TBA  Venice Ladies Jam at the Venice Skatepark
SKATE PARK RULES:
City of Los Angeles Department of Recreation and Parks Venice Beach Skate Plaza.
Hours: 9:00 a.m. to Sunset – Daily
-No BMX, scooter or bicycles allowed in the skate plaza.
-Helmets, elbow, kneepads required for all skateboarders.
-No unauthorized equipment, obstacles, or apparatus allowed.
-No glass bottles
-No graffiti, tagging or stickers
-No smoking, alcohol or drug use
-Dispose of trash in trash receptacles.
-No skateboarding or skating while under the influence or alcohol, drugs or the combined influence of alcohol or drugs.
-Do not skate when it's wet.
-No food or beverage within skating plaza area.
-Animals are now allowed in the skate plaza area.
.
Special events, contests or filming are not allowed in the Skate Plaza unless authorized by the City of L.A. Department of Recreation and Parks.  For permit and filming information, call 310.399.2775.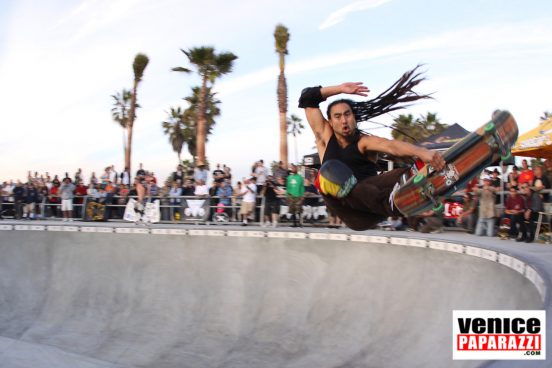 Photo: Skate legend Bennet Harada.
NEED A SKATEBOARD LESSON? Learn to kick flip, shred the snake run or drop into the big bowl with Maui and Sons' Surf and Skate Shop or Roll Model Skateboarding Lessons!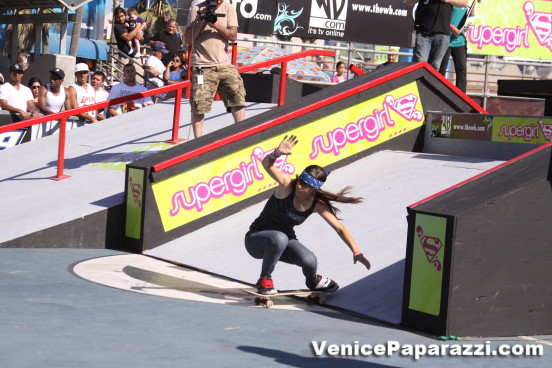 NEED A SKATEBOARD?
Maui and Sons' Surf & Skate Shop. www.mauiandsonsretail.com
Venice Originals Skateboard Shop. www.veniceoriginals.com
Venice Skateboarding Suff. www.veniceskateboardingstuff.com
Arbor Collective. www.arborcollective.com
Dogtown Skateboards: https://dogtownskateboards.com
RENT A SKATEBOARD at Jays Rentals or at Maui and Sons' Surf and Skate Shop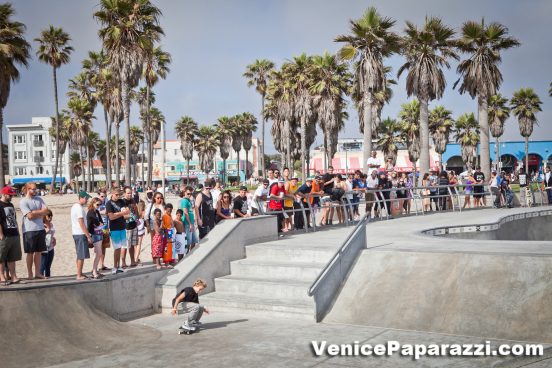 VENICE SKATEBOARD WEBSITES:
www.veniceskatepark.com www.JuiceMagazine.com Venice Skate Alliance
VENICE SKATE MOVIES:
Rising Son: The Legend of Skateboarder Christian Hosoi
Lords of Dogtown
Made In Venice – A Film By Jonathan Penson
VIEW PAST VENICE SKATEBOARD EVENTS! Photos by Venice Paparazzi.
Z-Flex Jay Boy Classic and Venice Originals' after party
Life Rolls On
Bassride-Skate-Contest
Tony Hawk and the Sonic Generation
View 2008-present skate event photo galleries by Venice Paparazzi
View all skate and surf pics by Venice Paparazzi!