On The Waterfront Cafe is one of Venice's destination establishments. If you live, work or visit Venice, chances are you have sipped a frosty glass of hefe-weizen while sitting on the boardwalk front patio of On The Waterfront Cafe.
Today, we are going to learn the story of On The Waterfront Cafe, and get to know its owner and founder, Stefan Bachofner..
Stefan bought On the Waterfront Cafe on Dec. 23 1994 and started the Swiss themed beer garden immediately after.
21 years into it, On the Waterfront Cafe is going strong.
Bachofner's passion for great food and beer started when he was young. "Growing up in Switzerland, you are bordered by four countries, there are several different languages and cultures and a whole lot of different food to be influenced by. " Taking the best of the best from it, Stefan created On the Waterfront Cafe.
"Gemütlichkeit" is a German word that roughly translates to total relaxation or chilling out place.  This is what Bachofner, a former ski instructor, says is the main idea behind On The Waterfront Cafe.
And, by all accounts it is a huge success.  Not only do regulars come from all corners of the earth to drink and watch the sunsets, but some of the employees have been there since day one. "Our average employee turnover is 12 years, and this allow me to not worry about the business when I am away."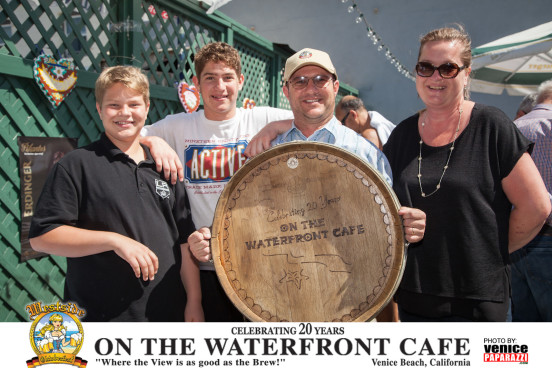 In this photo:  On the Waterfront Cafe's owners Stefan and Susi Bachofner with their sons Michael and Lucas. Missing from this photo is their oldest daughter Alice.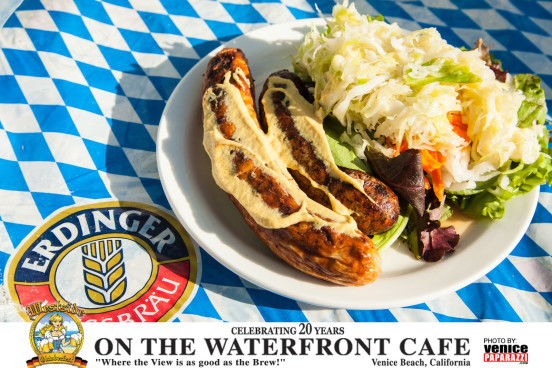 In his time away from On the Waterfront, Bachofner volunteers with the Special Olympics and spends time with his wife and children.  His two boys are superstar hockey players on the L.A. Kings junior team, and his daughter, Alice, is at C. U. Denver studying business and economics.
OTWF's  signature items are the bratwurst, Bavarian pretzel and Erdinger beer. However, Stefan says the most valuable thing you can get at OTWF is to watch the beautiful sunset and feel a happiness that is not for sale.
Try their Yummy Bündnerteller- 
swiss dried beef with original swiss cheese.  Click here to view their
menu! 
Stop by and say hi to Stefan at On the Waterfront Cafe!
 205 Ocean Front Walk. Venice,  Ca 90291
www.waterfrontcafe.com
.
If you looking for great place to eat by the LAX airport, visit Stefan's 2nd location Chalet Edelweiss location.  Austro-German foods from fondue to pretzels & schnitzels in a rustic space & on a covered patio.  8740 S Sepulveda Blvd, Los Angeles, CA 90045.  
www.chaletedelweiss.us