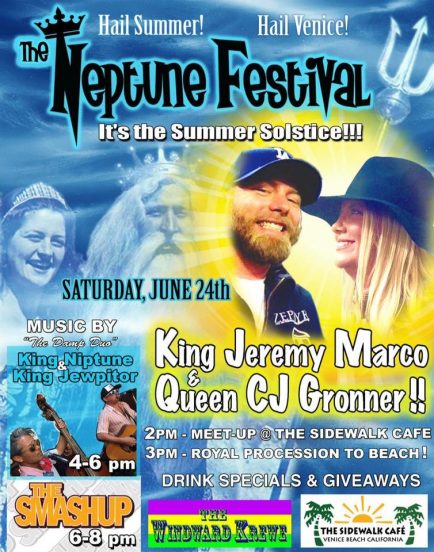 Here is message from event organizer Jessica Sugar Shack!
"Hey Venice party peeps!   Summer is on it's way!   The Venice Beach Neptune Parade is set for Saturday June 24, 2017.  Get your costumes ready and join in on the Venice Beach Fun!   The event is free, and open to all ages.  Come celebrate the beginning of SUMMER, and the crowning of Jeremy Marco & Carol J. Gronner!  I love you Venice."
.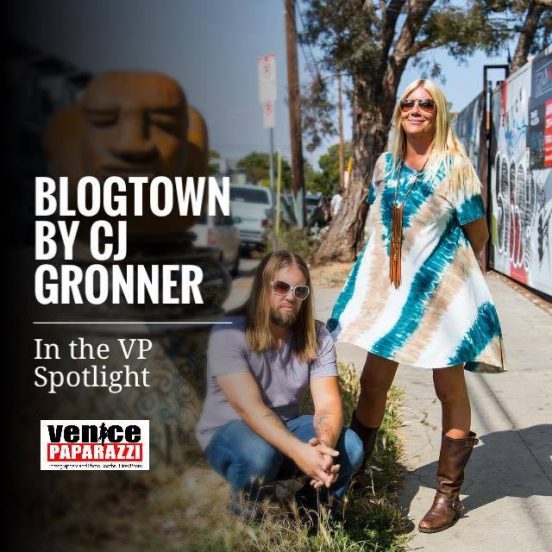 Here is a message from upcoming Queen Carol Gronner!
Hello, Venice!  It's time for the annual Neptune Parade!   Please join us this Saturday, June 24, at The Sidewalk Café, where we will meet at 2 pm for pre-party, then parade at 3 pm down the Boardwalk, across the sand to the Ocean, where King and Queen (Me this year!) Neptune will declare it officially Summertime in Venice!   With so much change happening in Venice, it's more important than ever to participate in local events, to show the world that the Spirit of Venice is still very much alive! It's fun for all ages, and I'd love it if you bring your kids along, so that they might have these wonderful memories that they will want to carry on to preserve a cool Venice in the future.
Mer-People attire is encouraged, but throw on anything crazy that will show the entire beach how much fun we have here in Venice!
*The party will continue back at The Sidewalk Café until 8 pm. I hope so much you will be able to join us for one of the most fun and happy traditions we in Venice have!  See you Saturday! Love to you all! Hail Venice! Hail Yes!
.
June 24th Neptune Festival event itinerary:   
2p.m. Meet and pre-party at the Sidewalk Cafe. Mix, mingle and enjoy drink specials and giveaways!
3 p.m. Royal Procession to the beach.   The parade will be chanting "Hail Summer! hail Venice!"
4-8 p.m.  After party and live music at the Sidewalk Cafe.  Music by Damp Duo and The Smashup.  Mix, mingle, dance, and enjoy drink specials and giveaways!
The Sidewalk Cafe, 1401 Ocean Front Walk.  Venice CA 90291. www.thesidewalkcafe.com
/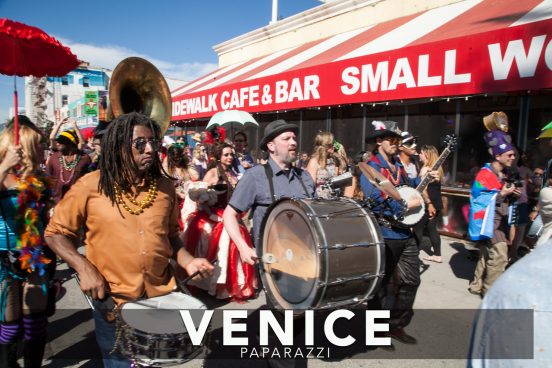 –
Venice History: 1938 –  It began with the arrival of King Neptune in an outrigger canoe followed by Queen Venetia's coronation and a royal procession along Ocean Front Walk. The queen read a proclamation commanding her subjects to engage in three days of fun and frivolity. The afternoon parade featured floats and costumed merrymakers wearing enormous plaster of paris heads that were manufactured in Arthur Reese's studio. Windward Avenue was roped off for a street carnival where wandering gondoliers entertained.  (Photos below and  above insert taken from www.westland.net)
/
'
View past Neptune Parade photos by Venice Paparazzi!
.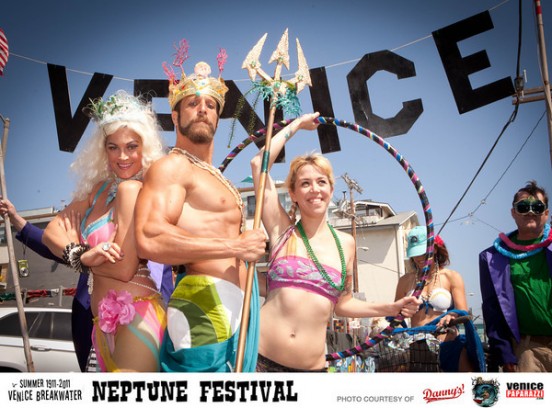 Top photo:  2011 Queen Sugar Shack, King David Soop Frison and Venice beauty Kaycee B Smith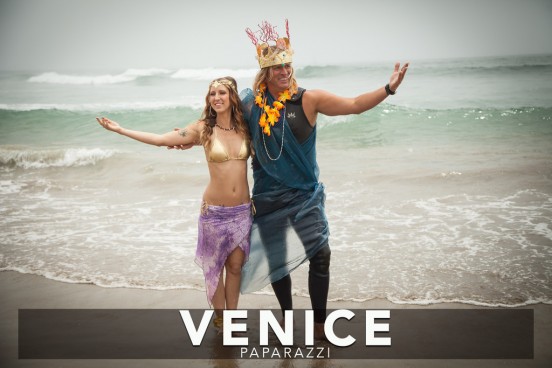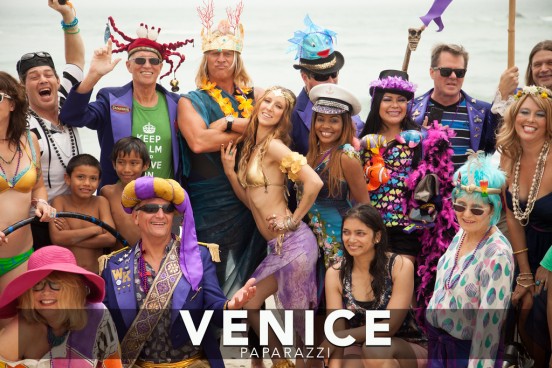 In this photo: 2013 King Chris Crash Carson and Queen Rachel Raspberry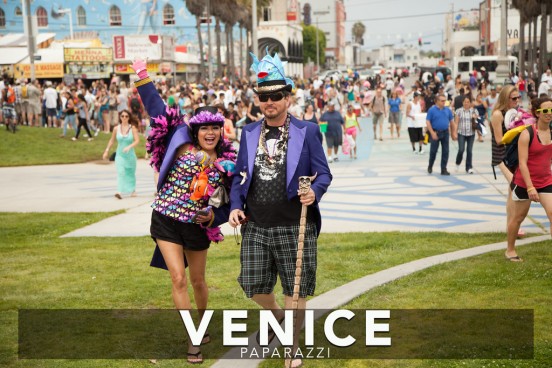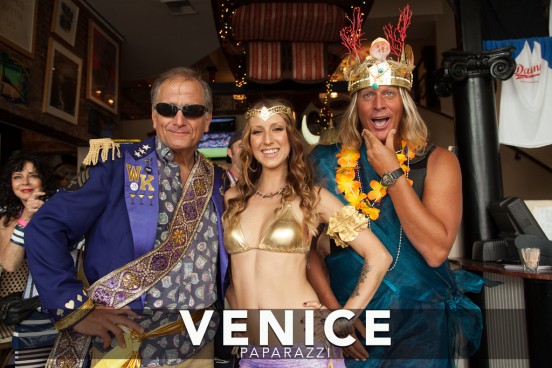 Left: Todd Von Hoffmann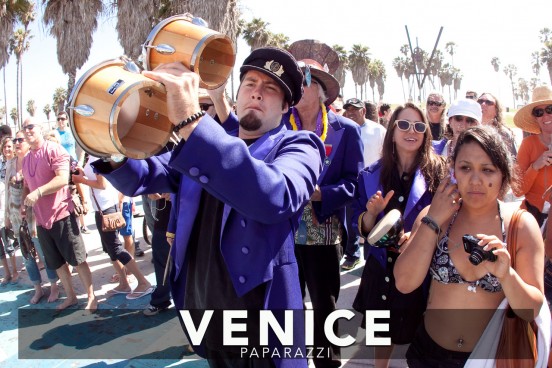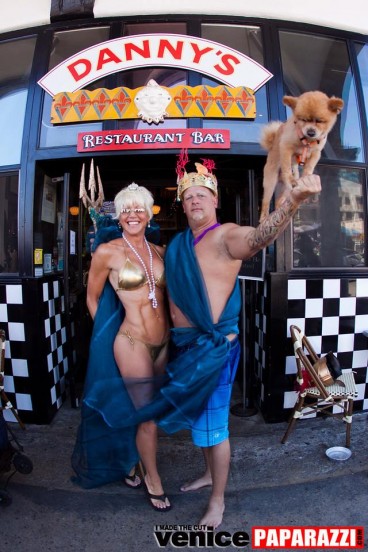 In this photo: 2012 Queen Christine Le Monde and King John Mitchell
=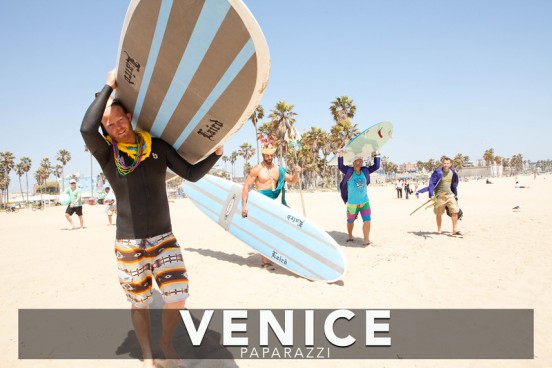 Christian from the Poseidon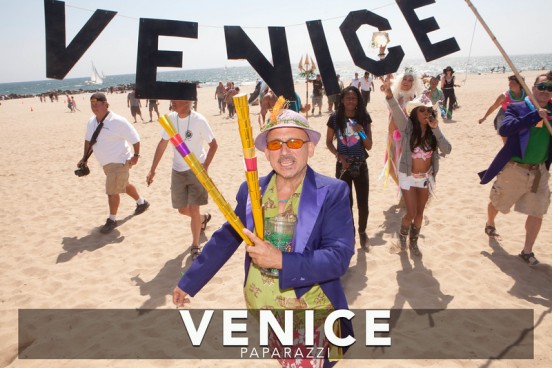 James' Beach, Canal Club's and Venice's friend Daniel Samakow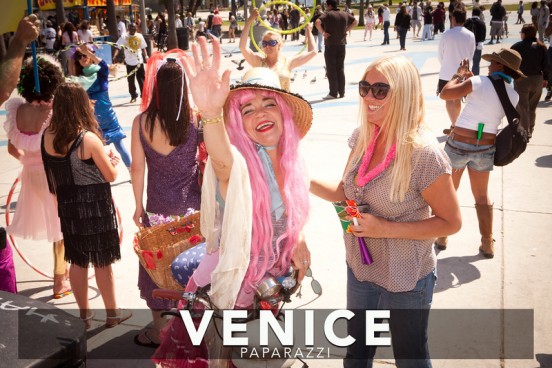 Suzy Williams and Carol Gronner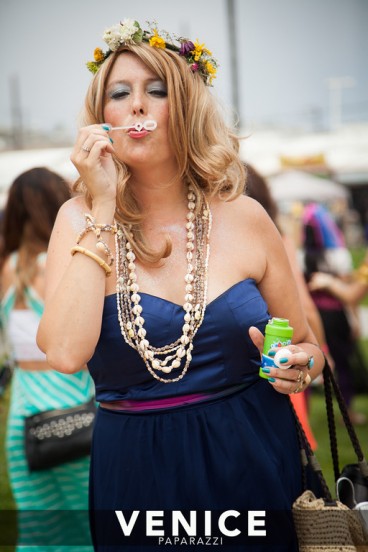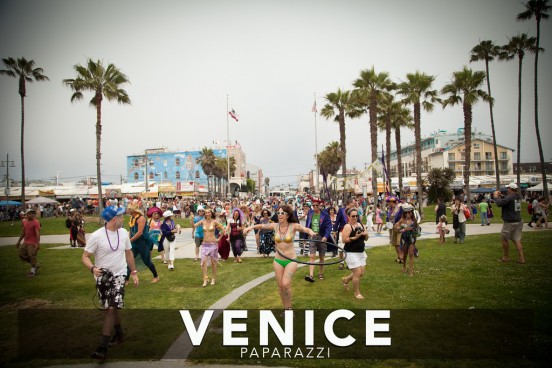 Kaycee Smith leading the parade!  Go Kaycee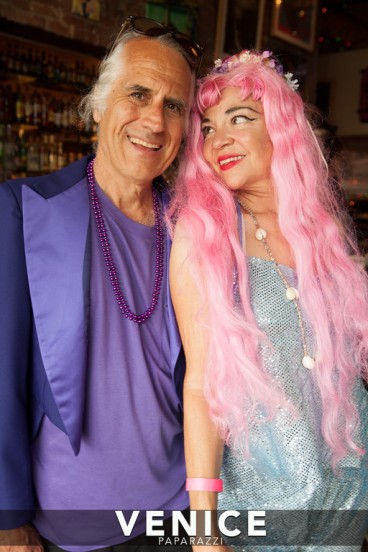 Right: Venice's songbird Susie Williams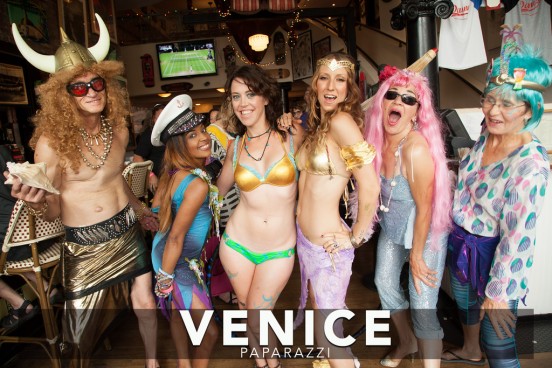 .
Click here to view past Neptune Festival photo galleries by Venice Paparazzi!
–
STAY TUNED FOR FULL NEPTUNE FESTIVAL EVENT DETAILS!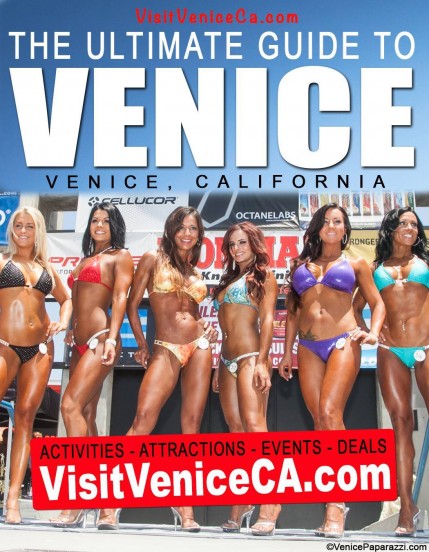 .
For all Venice Beach Fun, check out VisitVeniceCA.com