There are endless fun things to do in Venice, CA!  From special events, to on going happenings, activities, attractions, and destinations, there is never a dull moment in our paradise by the sea!
And, by assembling lists of all the awesomeness we have made it easy for you find adventures that suit your interests! Visit our Events Calendar and our Venice Beach Fun lists below!  Enjoy!
Check out this incredible list of 100+ Venice Beach Fun activities.
For live music, nightlife, theatre, festivals, art parties, and more, check out the Venice Events Calendar. 
Want more Venice Beach Fun?  Check out the lists below or visit our sister site VisitVeniceCA.com.  VisitVeniceCA.com features organized lists of information helpful to visitors and locals alike!  As the sister site to the famed VenicePaparazzi.com, we are Venice's #1 events, activities, local deals, and information source! Have fun exploring our site!
.
Explore Venice with this FREE activities checklist and map!

 

Whether your visiting Venice, California, or live in the V and need a stay-cation, no experience is complete without checking out each of the listed attractions and unique neighborhoods that make up our city. 
V

iew and print 

Venice Activities CheckList & Map!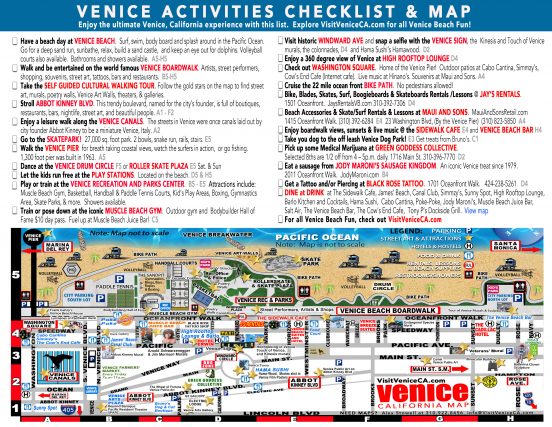 . .