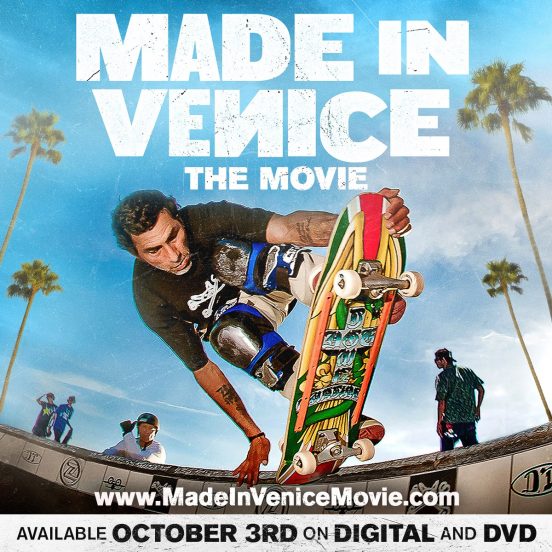 .
About:  
MADE IN VENICE
takes you on a rippin', shreddin' ride with the skateboarders of Venice, from "raising hell" on the beach in their teens to turning pro and putting "street skating" on the global map. But their biggest challenge of all wasn't becoming skateboarding legends, it was about getting what they dreamed of, and really wanted… a skatepark on Venice Beach for the community and the pro skaters of tomorrow.
Review by Venice Paparazzi's Alex Stowell:
"Made in Venice is a history lesson of how the V got where it is. There was over 40 years of footage, some never before seen. Taking the viewer through
the 70's, 80's, 90's to the current day, it covered the massive effort to get the skatepark built, and highlighted those involved. This film is an essential piece of history, acknowledging and paying tribute to the ground soldiers whose tireless efforts brought to fruition a skatepark on the sand that millions now enjoy. Know your history and honor those who came before you to create the world you now enjoy." 
,- 
Here is what Juice Magazine had to say about Made In Venice!    
"Made In Venice" the movie is the inside story of the skateboarders of Venice, California, and the struggle to make the dream of a skatepark come true.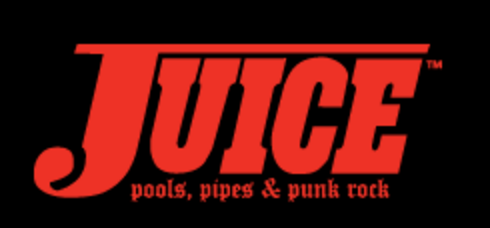 "Made In Venice" the movie features interviews with: Jesse Martinez, Todd "Ger-I Lewis" Gessel, Cesario "Block" Montano, Aaron Murray, Christian Hosoi, Craig Stecyk III, Skip Engblom, Jeff Ho, Jay Adams, Tim Jackson, Ray Flores, Jim Muir, Eric "Tuma" Britton, Jamie Quaintance, James "Jimbo" Quaintance, Solo Scott, Joff Drinkwater, Pat Ngoho, Eddie Reategui, Nathan Pratt, Dave Duncan, Dan Levy, Jereme "Stoney" Shadler, Bennett Harada, Julien Martinez, Steve "Primo" Primeau, Joe "Shmoe" Ayala, Victor Blue, Kiko Francisco, Anthony "Tonan" Ruiz, Bart Saric, Dennis Ogden, Scott Oster, Joey Tran, Wally Hollyday,  Lance Lemond, Mark Billik, Susanne Melanie Berry, Ruth Galanter, Lauren Seagrave, Heidi Lemmon, Katy Sullivan, Mike Bonin, Steve Mayorga, Mike Sherrod, Bill Rosendahl, Adam Hamilton, John Thomas, Zach Wormhoudt, Joe Connolly, Sgt Marc Reina, Asher Bradhaw, Pauline Bronon, Mario Narango, Mary Prideaux, Karington Smith and Dave Hackett… Surfing by Rick Massie… Featuring skateboarding by Tony Alva, Shane Borland, Chris Cudlip, Kien Lieu Donger, Aaron "Wheelz" Fotheringham, Connor Getzlaff, Mark Jones, Matt Lemond, Richard Massie, Gavin Obayashi, Papo, Adam Paul, Chris Rydgren, Bobby Rodriguez, Austin Seaholm, Kevin Stratil, Chris Swanson, Ennis Miller, Jereme "Stony" Shadler, Dave Duncan, Eric Dressen, Scott Oster, Christian Hosoi, George Wilson, Steve Hernandez, Mario Narango, Karington Smith, Pat Ngoho,  and many more.
View all Made in Venice hero spotlights by Juice Magazine!
/
Movie poster  above by the Venice Beach Photos' Ray Rae!
View Made In Venice Movie's 90 second trailer below!
/
/,- 
 Pre-order your DVD now at madeinvenicemovie.com