Did you know that The Sidewalk Cafe has been serving the locals and tourists since '76?  This iconic Venice hang has something for everyone, and is "known the world over as the best place to people watch on the Venice Boardwalk in Venice, California.  Stop by the Sidewalk Cafe and give one of their amazing staff a high five!   Just look for the red & white awning!   Validated weekday parking is available one block south at Market Street.  They  are open daily from 8:00 a.m. to 11:00 p.m.   The Sidewalk Cafe is located on the Venice Boardwalk!  1401 Ocean Front Walk.  

Venice, California. 90291. 

thesidewalkcafe.com.  View photos and Venice and Sidewalk Cafe history lesson below!
.
The Sidewalk Cafe offers:
•Happy Hour 3 -7pm, Monday thru Friday.
•Every Tuesday – All you can eat Tacos $5 8-10pm Bar Only
•Satellite sports packages shown here. 10 screens for all your sports actions. Showing all NHL,NFL,NCAAF,PGA,MLB games!
•Live acoustic music, Open Mic sessions, and a
 beautiful Venice sunset nightly.
VIEW SWC PHOTOS AND VENICE/SWC HISTROY LESSON BELOW!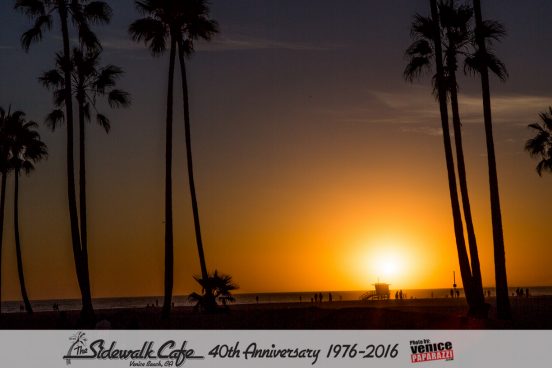 Here is a Venice and The Sidewalk Cafe history lesson:  In 1905, after winning the Venice land on a coin flip with his partners, Abbot Kinney built Venice-of-America to be a personal monument to Venice, Italy. He built a fantasy city with real canals, a wood boardwalk and piers with rides and water slides. It was a huge hit! Celebrities like William Randolph Hearst and Marion Davies strolled the Venice Boardwalk. Sarah Bernhardt performed in the Venice Auditorium; Charlie Chaplin clowned in Abbot Kinney's auto races, and Mary Pickford was rowed in her own gondola. Venice was the place to be!The building that now houses the Sidewalk Café was one of the last of Abbot Kinney's Venice buildings and was originally designed to be four stories tall, but only the first floor was constructed was built.

/

/

The building sold to the Harrah family (of gambling fame) and was turned into a bingo parlor (later called bridgo because bingo was illegal). During prohibition, Abbot Kinney's underground utility tunnels were modified to accommodate bootleggers who delivered liquor at night under the pier. In the 1950s and early '60s the building housed artists' studios and served as the crash pad for beatnik writers and poets such as Jack Kerouac. The building stood vacant for many years until 1976 when Mary Goodfader's bookstore, Small World Books, lost its lease in Marina Del Rey. Bob Goodfader, while bicycling on the bike path, saw the building and called the phone number graffitied on its front. The Goodfaders and their friends, Walter (Skip) and Penny Dixon bought the building as a new location for the bookstore.

Bob and Skip decided to open a small takeout place on the side, not in use by the bookstore. The eatery was such a hit that they expanded it into a patio restaurant. Venice experienced a rebirth with roller skating and skateboarding in the 70s.

The Boardwalk's unique entertainers, skateboarding's Z-boys, Muscle Beach's bodybuilders and Venice's basketball players attracted worldwide attention. The Sidewalk Café offered great food and a front row seat to the circus. Small World Books is one of the last surviving independent bookstores in Los Angeles and is still run by Mary. See what treasures that their staff can help you discover.

Bob passed away in 2002, but the Sidewalk Café is still being run by the people he trained including his son Jay, his protégé Steve, his general manager Kristen and his head cook Luciano.
.///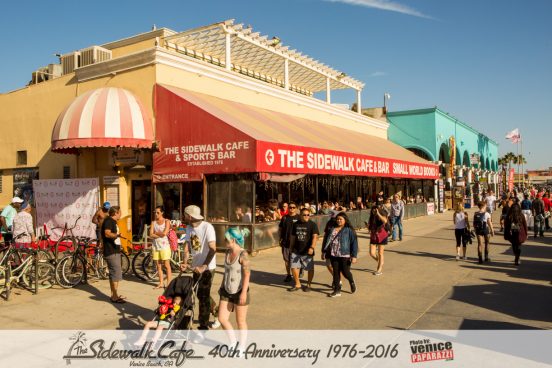 .
Venice Paparazzi was on the scene and rolled out the red carpet for The Sidewalk Cafe's 40 year anniversary party on Sept. 23, 2016.,The event was  a 70's themed costume party and was a community fundraiser that benefited The Venice Homeless Task Force and S.P.Y. (Safe Place for Youth).  View 40th Anniversary party and red carpet pics by Venice Paparazzi.
The Goodfaders.

The Sidewalk's Cafe's awesome General Manager Kristen Archival and her daughter Alex

;

Red carpet & custom press wall by Venice Paparazzi. HireVP.com for your next event!

Jay Goodfader and the awesome SWC manager

The Sidewalk Cafe's Steve Heumann and his amazing family

Cameron and the Sidewalk Cafe's Dakota

Best bartenders!

Venice Paparazzi photo booth fun.  All guests were treated to unlimited 4 x6 prints from the Venice Paparazzi photo booth.  HireVP.com for your next event!

.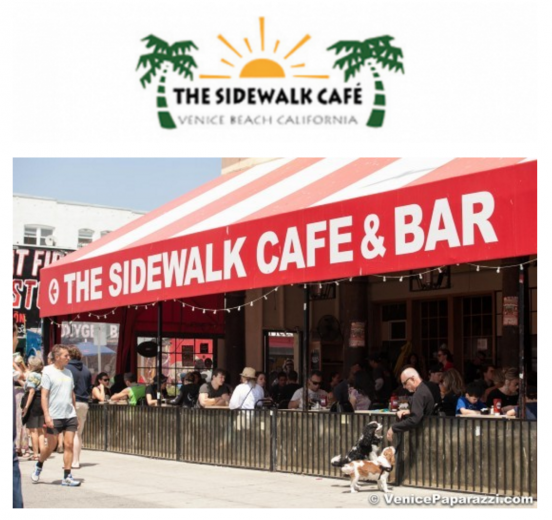 '
When in Venice… dine, drink, people watch and be merry at The Sidewalk Cafe.
 1401 Ocean Front Walk.  
Venice, California. 90291. 
www.thesidewalkcafe.com
.